A muralist and graphic designer who has created artwork for the likes of Pharrell Williams and rapper Big Sean, Miami-born Jason Seife started developing his intricate rug paintings in 2015. These meticulously painted two-dimensional reproductions in acrylic and ink provide a form of self-expression, and nod to his Middle Eastern heritage. We talk to Seife about his early years, his work, and his influences.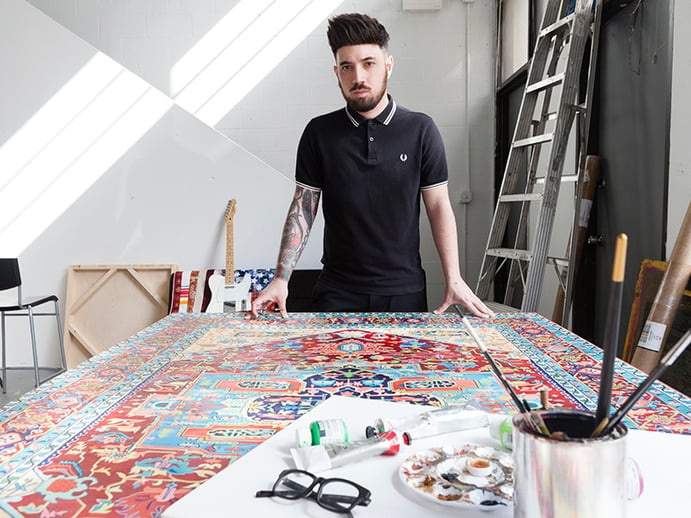 What is your earliest memory of art or being creative?
When I was young, I was obsessed with Bob Ross—I used to watch The Joy of Painting when I got home from elementary school. Bob even came out with his own brand of oil paints and I made my mom buy me some for Christmas. It's funny because I went straight to using oils—most people start with other kinds of paint—but it paid off in the end.
Where were you born, and what was your childhood ambition?
I was born in Miami to immigrant parents. They were always supportive of my interests. My mom is very artistic (she was my toughest critic) and my dad is a great carpenter, so I grew up in a creative environment. I knew I wanted to be an artist for as long as I can remember.
You've said before that an early art teacher encouraged you and led to you applying to art school.
When I was about 10 years old, my art teacher recommended I apply to a magnet school that specialized in visual arts, which I did. I really enjoyed it. Then I found out about a high school I wanted to go to, so I worked on my portfolio for four years in the hope of being accepted. But I was turned down, which I took quite badly at the time, and I stopped making artwork for about three or four years. And that's when I began learning how to play the guitar and getting involved in live music.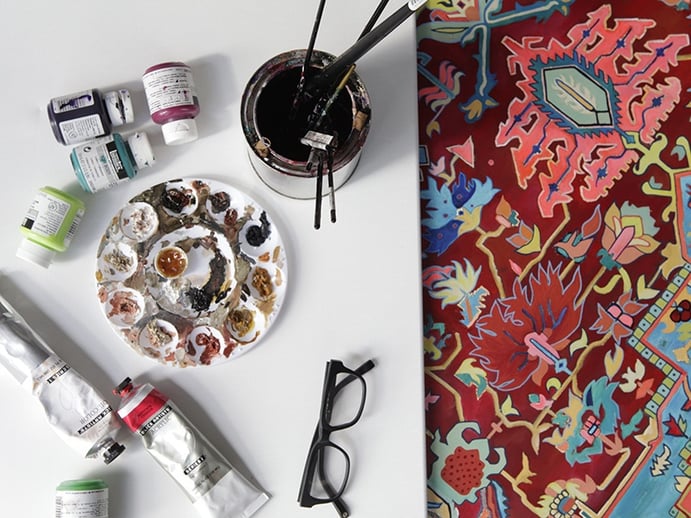 You are/were a muralist and graphic designer. Tell us about this work, and the collaboration with rapper Big Sean and the video he made with Nicki Minaj.
After playing in bands for a while, I realized my true passion was art. The most organic way to transition from the music scene back to art was through graphic design, as I could create album artwork, merchandise, and so on, not just for friends but for people whose work I admired. I met Big Sean through friends Mike Waxx and Mike Carson. I worked with them designing Big Sean's 'lion' logo and that led to other opportunities, such as creating tour merchandise and, eventually, painting the backdrops in the video [Dance A$$] that he and Nicki Minaj made. I've also designed artwork for Pharrell Williams and Mac Miller.
I've always been attracted to the designs of Persian rugs, both aesthetically and for the symbolism that goes into them
So how did you move from graphic design to painting traditional rugs?
While I enjoyed graphic design, at the end of the day I was only bringing the ideas of others to fruition and I really wanted to concentrate on my own work. But graphic design afforded me the opportunity to fund my own projects and, little by little, I made the transition to painting and creating artwork as a full-time career.
When did you start painting rugs? And why?
I didn't start the rug paintings until late 2015/early 2016. I've always been attracted to the designs of Persian rugs, both aesthetically and for the symbolism that goes into them. Part of my background is Middle Eastern, so it's something that was rooted in me from birth.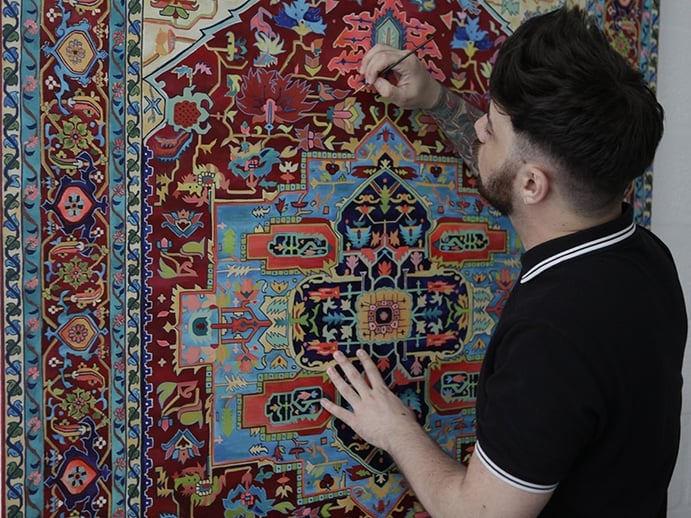 You've mentioned that the rugs reflect your mood when you paint them, and that the motifs are carefully chosen.
The original rug designs made by carpet weavers are embedded with a hidden language. Every choice is made with reason. Whether it is the fabric used, the colors, or how they're knotted, it is all predetermined and linked to where, when, and why they were made. I wanted to include that in my work, and the way I do this is by using certain motifs and colors to reflect specific moods.
Each painting, depending on size, can take between two and three months to complete, and my feelings and emotions can change a lot throughout the process. If I come in one day feeling stressed or anxious, I have a chart with specific colors for that and I'll only use those colors. The following day it might change. When I've finished a piece, I'm able to look back and see a hidden language that shows my thoughts and emotions throughout its creation.
How do you see your work developing?
I want to add a bit of abstraction into the works, still involving the Persian rugs as the root, but with more 'painterly' choices. I also enjoy the idea of introducing 3D and sculptural elements to my work. Similar to the piece I recently created for [basketball's] Kobe Bryant and Nike. There are a lot of places I want to take my work and ideas I want to explore, but I can't divulge too much yet!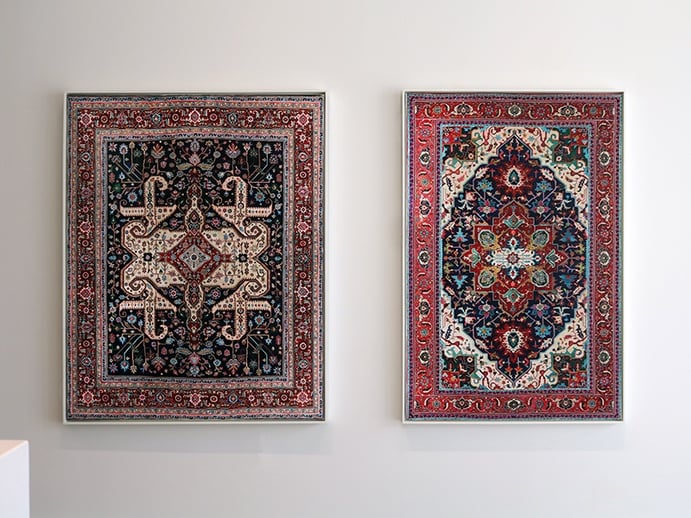 You're colorblind. When did you realize this and how has it affected your art?
At a young age, maybe eight or nine [I'm now 27], I had problems naming and associating colors, so I took a test that confirmed I was colorblind. It can cause a bit of anxiety knowing what I see color-wise in my work is completely different from what most people see, but I've learned to overcome that fear, be confident in my choices and try not to think about it too much. I take a lot of black-and-white photos of my work in progress, which allows me to see the shadows and highlights of certain colors that I can only identify in greyscale.
When I've finished a piece, I'm able to look back and see a hidden language that shows my thoughts and emotions throughout its creation
Whose work do you admire?
Vincent Van Gogh's The Starry Night was the first painting I fell in love with as a child, and I still love it. I also like Mark Rothko's works, George Condo, and the Old Masters, such as Caravaggio. I take inspiration from lots of different places. Not just art or other artists, but music and film too. Everyone from musicians Kanye West and Andrew Bird to film directors Wes Anderson and Christopher Nolan. They're all inspiring.
What advice would you give a child who wants to make art?
Never give up.
What do you like to do when you don't have a brush in your hand?
I still play guitar and write music frequently. So if I'm not in my art studio, I'll often be at a friend's music studio recording.