They light up big-name galleries and have appeared in films by Terrence Malick and Robert Rodriguez, but were it not for a wrong turn during a college road trip, Todd Sanders's neon artworks might never have existed."I missed my turn outside of Bastrop, Texas, and realized I was almost in Austin," he recalls. "My buddy and I agreed to drive into Austin, where I saw women with tattoos, cool neon, stuff I had never seen in East Texas. I told my buddy I was moving."
Here, the artist tells Luxury Defined about his influences and love of playing with liquid fire…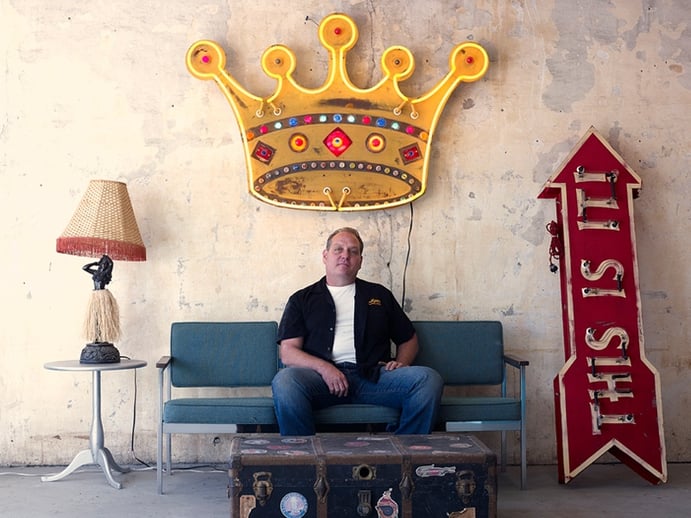 My work is over the top, big, and brash, kind of like Texas. I grew up in Texas, but I didn't know how much I loved it until I moved away for six months out of high school—I realized how much the state lived inside me. I have spent my career celebrating the spirit of the people and the place.
When I was a very small boy I had one dream, of growing up to be an artist. I kept the dream until I was getting ready to go into the world and was discouraged by people who loved me and wanted me to get a "real" job. So I decided to become a graphic design artist. I enrolled in advertising and graphic design at Sam Houston State University [in Huntsville, Texas] and that's when I started painting signs. After college I became a sign painter, then a commercial neon sign builder and repairer. I fell in love with typography and working in a shop, not at a desk. But 20 years later the little boy who wanted to be an artist kept nagging at me.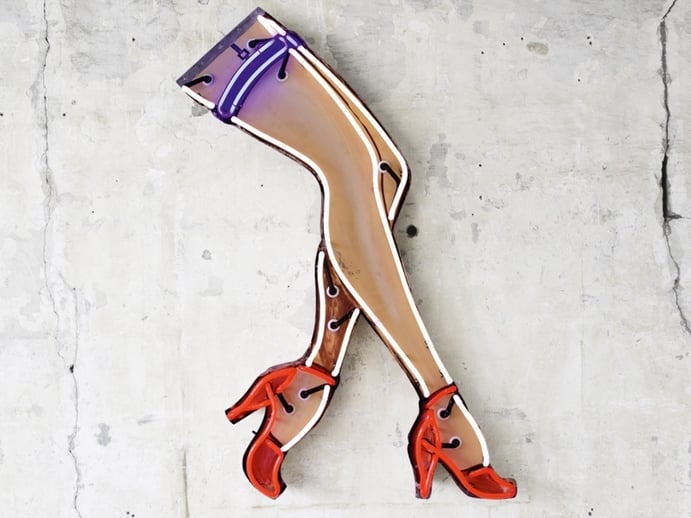 I moved to Austin in 1992. I'll never live anywhere else. I bugged a small neon sign-cum-art gallery called Ion Art to hire me. They finally gave in but told me they only needed me for two weeks. Three years later I hugged them goodbye and went out on my own. While I worked there I made my first vintage-style neon piece as decor for a local restaurant and fell in love with the mid-century classic neon aesthetic. In 1995, I opened Roadhouse Relics, a neon studio dedicated to creating weathered, vintage-looking commercial neon signs.

Neon is like liquid fire. It is a noble gas taken from the atmosphere and placed into glass tubes shaped like letters and images. [Using it in this way] first started in Paris, but has evolved into a truly American art form. Humans have admired the original form of this noble gas ignited in the sky as the aurora borealis for millions of years, and now, [through this method], can capture a small glimpse of nature's magic in the form of a neon piece of art.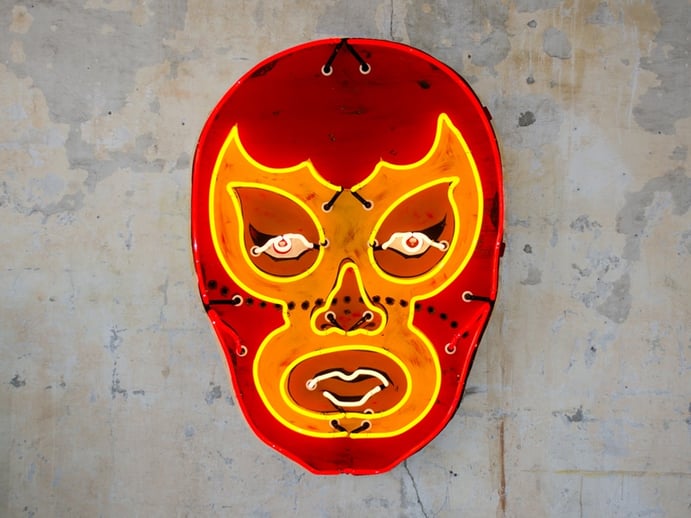 My mother influenced me to become an artist. My dad influenced me to work hard and be the best at what you do. The Pop artists influenced me in many ways—Rauschenberg, Warhol, even Dan Flavin. But the person who most influenced me to go for my dream and close my commercial sign business was my wife, Sarah. I told her my dream of making art, and she said, "Honey, I believe in you. Go for it."

My work space is in my gallery. It's small, about 20 feet by 30 feet. Some people think it's messy; some artists see it and think I'm pretty organized. I begin a design by doing pencil sketches on gridded vellum—10 to 20 sketches per piece. The design is all done by hand, not by computer. I sometimes work with clients, but prefer creating my own work and then offering it for acquisition. Neon is a medium in which every aspect is done by hand—by me, the neon bender, and the metal worker.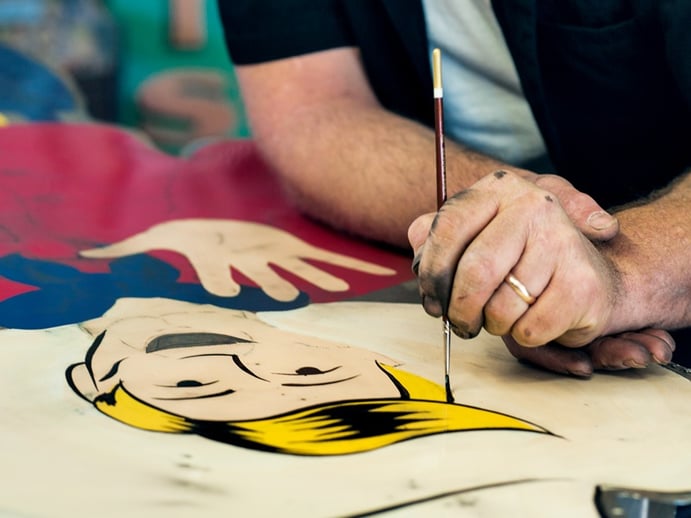 My ideas used to be very nostalgic, but I'm excited about introducing modern influences into my neon art. One of my favorite pieces is a huge question mark with the letters WTF. It's weathered to look like it's been on the side of the road for years. I love watching people try to wrap their minds around something that looks 50 years old but has a modern twist.

I had my first one-man show in Nantucket, Massachusetts, at Samuel Owen Gallery. Seeing my work on the same wall as Andy Warhol was a very humbling experience for me. It also allowed me to understand that people see my work as Pop Art. While I could never walk in the great man's shoes, we both started out as graphic designers who took a chance and tried to make history.
I'm inspired by Shepard Fairey. He put some works we collaborated on in a joint show he had with Jasper Johns. Fairey has a great style and is constantly creating. He has taken street art into the fine art world in an amazing way.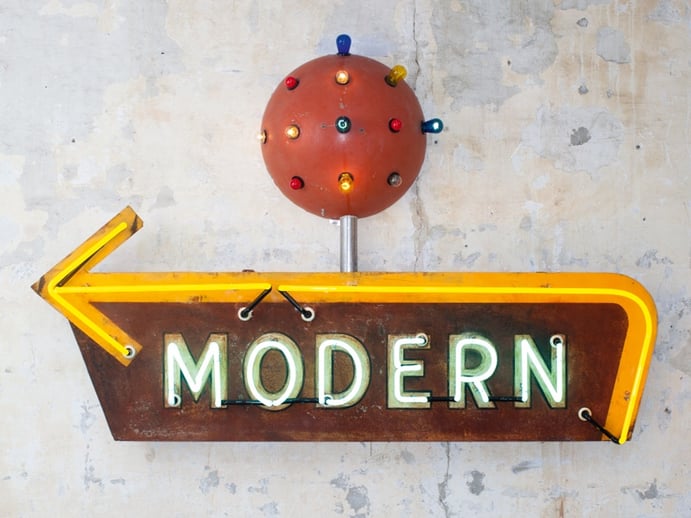 I've worked on over 20 films, but Terrence Malick and Robert Rodriguez are two of my favorite directors. My carnival banner was featured in Terrence Malick's The Tree of Life [2011] and a neon piece will appear in one of his future films. Robert Rodriguez hired me to make some film props for Spy Kids [2001] and he liked my work, so he kept calling back. They both found me through my reputation of delivering high-quality, period-accurate neon signs and art pieces.
My favorite piece of my own work is one I made in 2007, Sarah Will You Marry Me? We have it in our home, along with a tattoos neon that Sarah bought from me the day we first met, an Austin sign on an old travel trailer in the backyard, a neon cowboy hat, and a neon cowboy in my son's room, which I read bedtime stories to him under.
I once dreamed about creating a 20-foot collage piece that included various neon components and found objects on the backdrop of a vintage highway map mural. I'd love to see it in MoMA one day.