If walls could talk, what would they say? Every home has a few stories, but some grand estates have legends. Royalty, celebrities, and even scientific geniuses have given these exquisite homes a patina of intrigue.. For the most discerning seekers, these legendary homes combine architectural splendor with equally inspiring—and sometimes spooky—lore.
Check Mates
Penzance Point, Cape Cod, Massachusetts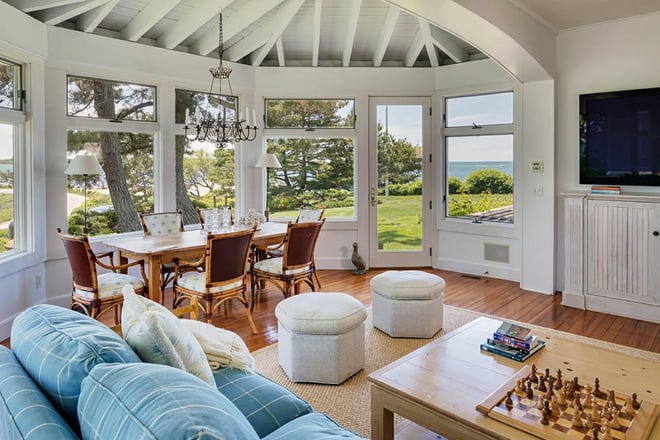 Nestled at the tip of Penzance Point on Cape Cod, Seven Winds is a classic Colonial Revival home in pristine condition in one of the Cape's most exclusive communities. Though its interior is contemporary, Seven Winds is a storied property, once home to Nobel Prize-winning Hungarian physiologist Albert Szent-Györgyi, who enjoyed playing games of chess against his formidable opponent and dear friend, physicist and fellow Nobel laureate Albert Einstein. Szent-Györgyi was born in Budapest to an aristocratic family in 1893, and became a Rockefeller Fellow at Cambridge University in the late 1920s. He is credited with having discovered Vitamin C, as well as the components and reactions of the Krebs cycle, for which he won the Nobel Prize in 1937. During World War II, he participated in the Hungarian Resistance, and after resuming his scientific career when the war ended, he spent his later years at Penzance Point.

Was the study at Seven Winds the room where a new idea was conceived, or a scientific puzzle solved over a long chess match? It will likely remain a mystery, but there are plenty of marvels at Penzance Point to inspire, from the architecture of the estate to the natural beauty of Buzzard's Bay and Great Harbor. Sailing and swimming enthusiasts will enjoy the easy access to the water, and culture lovers will flock to the nearby town of Woods Hole, which is home to a thriving art, music, and film scene. Plenty of great restaurants are located nearby, but the gourmet kitchen will surely beckon home chefs. Nearby Martha's Vineyard is also a prime spot for a round of golf. And of course, a game of chess in the study is an illustrious tradition well worth preserving at Seven Winds.

Limerick Legend
Glin Castle, Limerick, Ireland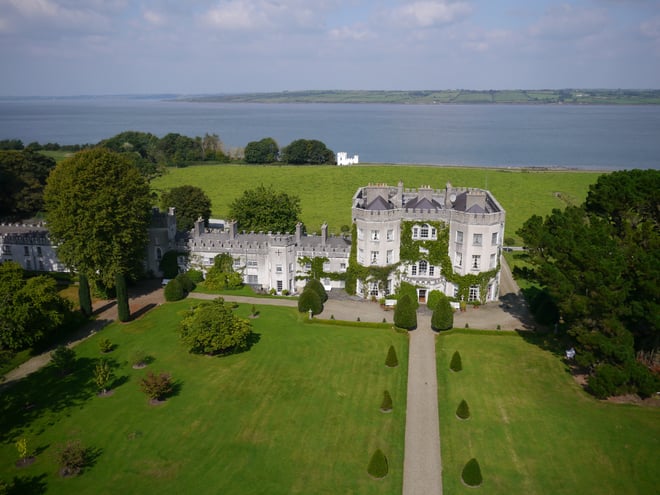 Landscape architect Catherine FitzGerald could be forgiven for feeling a sentimental attachment to her childhood home, Glin Castle, after all, it's been in her family, the hereditary Knights of Glin, for 700 years. One of Ireland's most exquisite great houses, Glin Castle is what's known as a "castellated mansion," comprising elements of original medieval architecture and later, Georgian style additions from the late 18th century. Catherine's late father Desmond FitzGerald, the last Knight of Glin, was devoted to the preservation and restoration of Glin Castle, collecting exceptional Irish furniture and decorative arts for the estate throughout his life, and helping establish the Heritage Trust in Ireland.

Like many ancestral estates in Europe, the heirs of Glin Castle operated it as an exclusive boutique hotel starting in the 1970s, which helped defray the costs of maintaining the castle, gardens, and grounds, which occupy nearly 400 acres. Jet set visitors like Mick Jagger, Marianne Faithfull, and socialite Talitha Getty visited, as well as numerous friends and colleagues of Desmond's from his years working at the Victoria & Albert Museum in London.

With an active bar license and an attached dairy farm, Glin Castle is ideally suited as an enchanting, luxurious retreat where the centuries-old tales of the Knights of Glin can live on in high style. The estate overlooks a scenic estuary of the Shannon River, and nearby Glin Village is a charming place to shop, stroll, or dine. The castle's interiors are largely neoclassical in style, though visual cues to the site's medieval history are present: three "gingerbread lodges," all designed to evoke the FitzGerald crest of double turrets, appear to "defend" the entrances. Inside, a "flying staircase" sits at the center of the front hall, and an exquisite Venetian window looks out over the manicured gardens. A mahogany bookcase in the library hides a secret door leading to the staircase hall. And with seven centuries of Irish history behind it, hidden doors are likely the least of Glin Castle's secrets.