With its inventive energy and uniquely laid-back vibe, sun-soaked Los Angeles has quietly become a cultural force to match New York, London, and Paris. Its sprawl of lively and individual neighborhoods is truly redefining the art, architecture, and culinary landscape.
Perhaps due to its relative youth—the city was founded in 1781—the cultural barometer is constantly shifting in LA, turning areas once known as down-and-out into cultural destinations in their own right.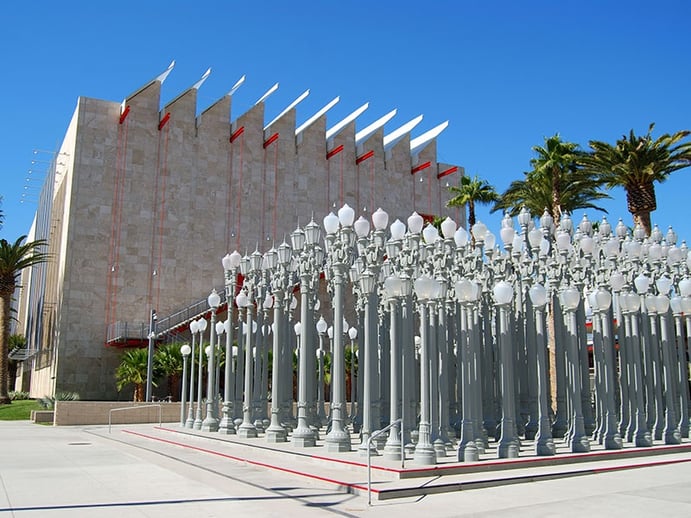 Beyond Hollywood's glittering façade, locals have always known the magic of their city. "If there was ever a melting pot it would be LA," reflects Zackary Wright, Christie's International Real Estate's Executive Director for Asia Pacific and Western North America. "Its canvas is vast and diverse, and you can expect to hear several languages spoken in the span of one block, with cuisine, entertainment, and art equally as varied. Most of all, the weather is about as perfect as it gets."
An art scene to rival the East Coast
The areas along and adjacent to Wilshire Boulevard, the main artery that courses from Downtown through Beverly Hills all the way to the Santa Monica Pier, have long been hot spots in the city's cultural scene. Many of the big museums are located here, as are the well-designed shops on Rodeo Drive and, more recently, a coterie of glamorous new dining spots.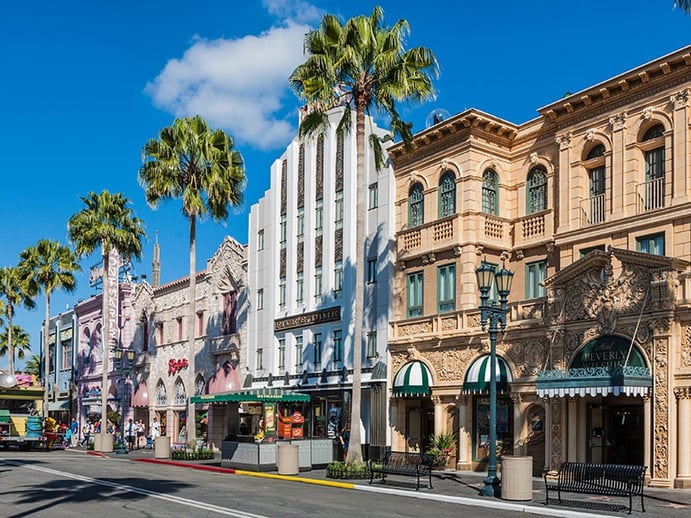 Central to it all is the Los Angeles County Museum of Art (LACMA), which houses a wide array of art and artifacts, from ancient Greek ceramics to interactive installations, and the soon-to-open Marciano Art Foundation, which will feature works from established and up-and-coming contemporary artists such as Barbara Kruger, Takashi Murakami, and Mary Weatherford.
If there was ever a melting pot it would be LA. Its canvas is vast and diverse
London- and Berlin-based gallery Sprüth Magers is nearby, and international gallery Hauser & Wirth recently opened a Downtown LA complex in a former flour mill. The multipurpose space comprises a bookstore, sculpture garden, graffiti-strewn courtyard for art tours and open-air soirées, and Manuela, a 140-seat farm-to-fork restaurant.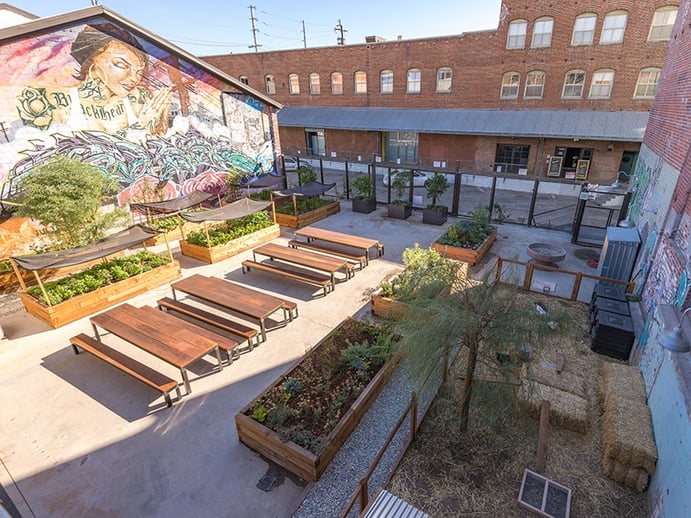 In April, Christie's makes a striking addition to the scene when it opens its West Coast flagship space in the heart of Beverly Hills. The sleek, two-story, 5,400-square-foot facility will host exhibitions, educational events, and live streams of sales from around the world.
"It will be a shining beacon for art aficionados," says Wright. "It's walkable from the boutiques and bistros of Rodeo Drive, so it offers a special new destination while out shopping or dining."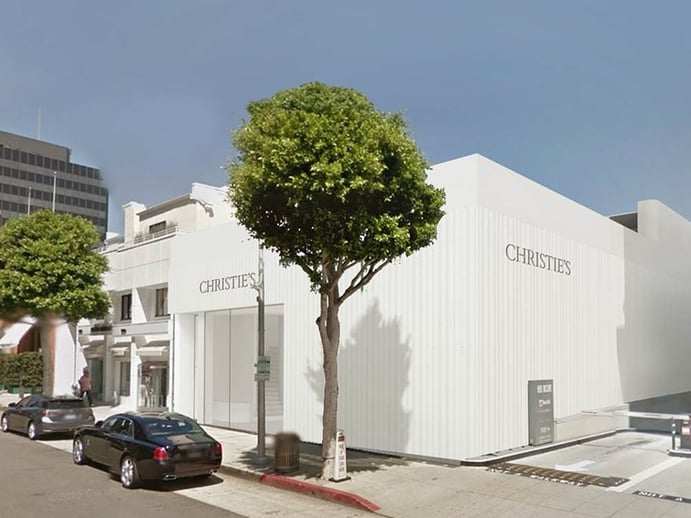 Architectural and natural wonders
Designed by wHY, which has also collaborated with LACMA and Marciano, Christie's interior's flexible design is truly multifunctional, while the simple exterior aims to enhance—rather than compete with—the vibrancy of Beverly Hills.
Christie's Beverly Hills will be a shining beacon for art aficionados
"Beverly Hills is very open and daring in its commercial and cultural architecture," says Kulapat Yantrasast, the design agency's founding partner and creative director. "One need only to look to the high concentration of luxury brands who have flagship stores here to realize this. However, for Christie's, there needed to be another level of depth to the architecture to reflect the legacy of this great auction house. The building, with its undulating white façade, is simple, but the proportion and detailing of the spaces inside should bring out the timeless quality of the architecture as a whole."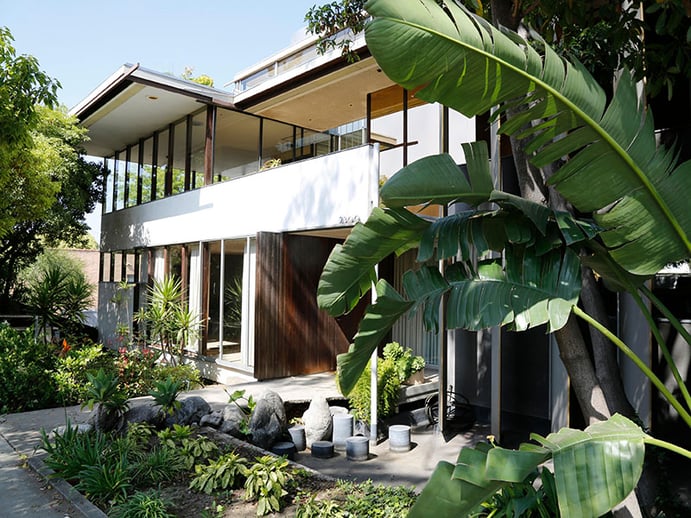 For Yantrasast, LA's architectural reference points are as diverse as its art. Thanks to Ray and Charles Eames, Richard Neutra, Ludwig Mies van der Rohe, and Frank Lloyd Wright, the city's love affair with mid-century modern design has never waned, and low-slung, concrete-and-glass masterpieces are dotted throughout the hills, framing the city's clear-blue skies and palm-fronded vistas. High up in the hills west of Bel-Air, the fabulous John Lautner-designed Sheats Goldstein residence has recently been bequeathed to LACMA by owner James Goldstein.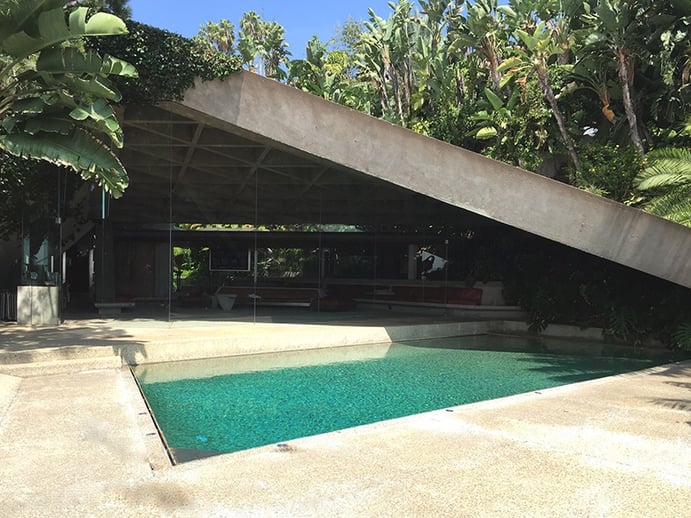 "LA's architecture has always been about openness and possibility for me," Yantrasast says. "It has tremendous influence on how I perceive art and culture, but equally I am drawn to the qualities of natural light, the colors of the sky, and the presence of nature within the city."
A paradise for nature and film lovers
For Wright, LA's appeal extends to its natural attractions—the parks, sea, desert and mountains provide a refuge of sorts when one needs it. The Griffith Observatory, the setting for much of the climactic action in James Dean's Rebel Without A Cause, is a popular pilgrimage spot among residents and visitors, as is the surrounding green space.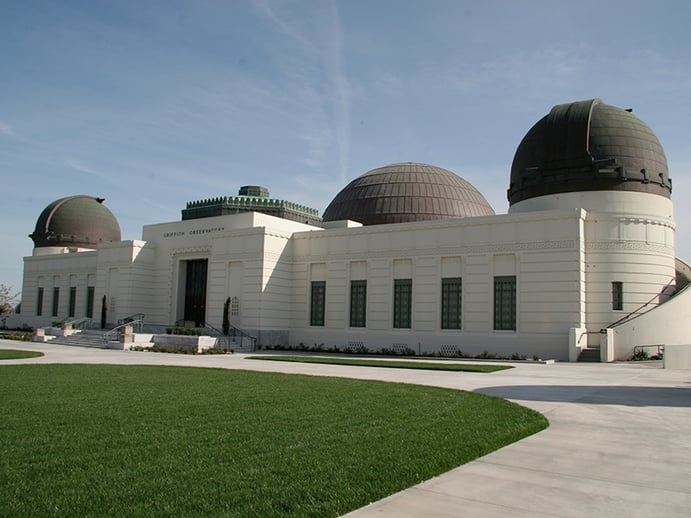 "It's a place of great natural beauty, with many hiking trails, a carousel, The Greek Theatre, and public telescopes for stargazing," says Wright. "Of course, the recent Oscar®-nominated La La Land has given it more exposure."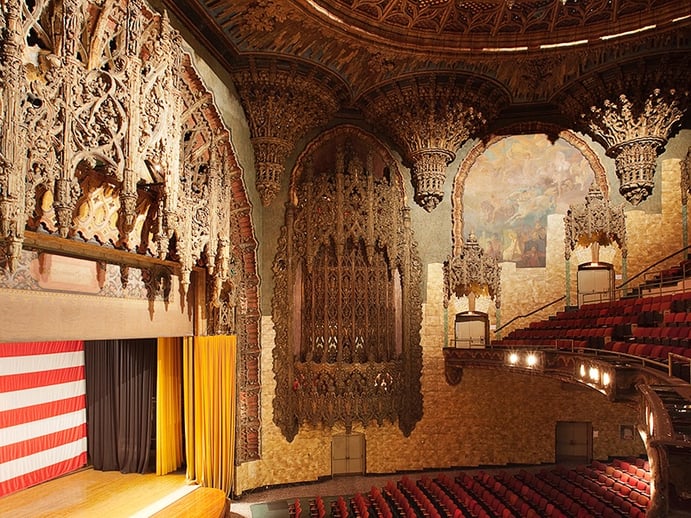 Movies hold great sway in the City of Angels, and for the ultimate experience, Wright recommends watching a classic like The Godfather or Rear Window under the stars at the Hollywood Forever Cemetery, or in the Theatre at Ace Hotel, a recently restored 1920s Spanish-Gothic revival building that buzzes with live music and film screenings throughout the year.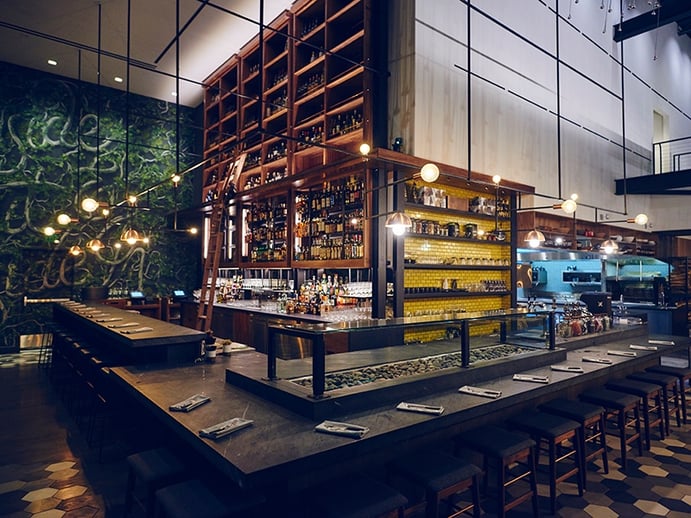 Glamour after dark
Adding to LA's exciting art and architectural scene is its sizzling culinary one, fired up by ethnic diversity, locals' health-conscious and breezy lifestyles, and a dazzling mix of adventurous Michelin-starred chefs and restaurants. Otium, helmed by French Laundry alum Timothy Hollingsworth, serves American farm-to-table haute cuisine, with some ingredients grown in the garden of its mezzanine. A luminous box nestled adjacent to The Broad contemporary art museum, the bistro itself is a work of art, with green vines growing across an interior wall, panels of glass raindrops on the ceiling, and a Damien Hirst mural of fish swimming across the back of the building.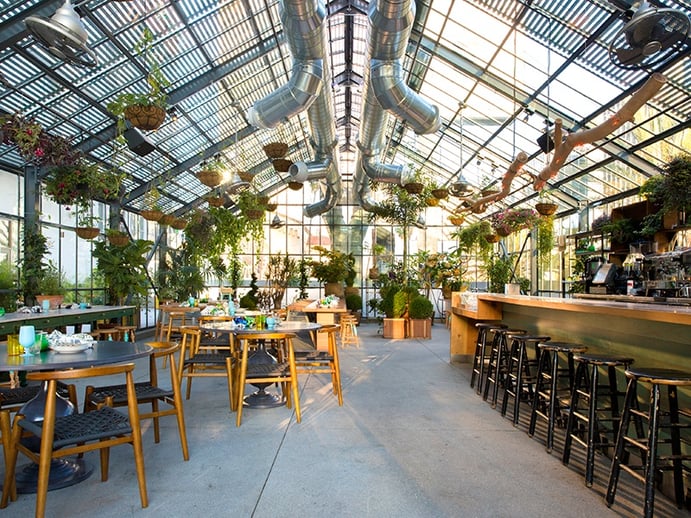 Homegrown talent Roy Choi's Commissary, a light-filled canteen inside a greenhouse at the LINE hotel in Koreatown, is another stunner that bubbles with originality.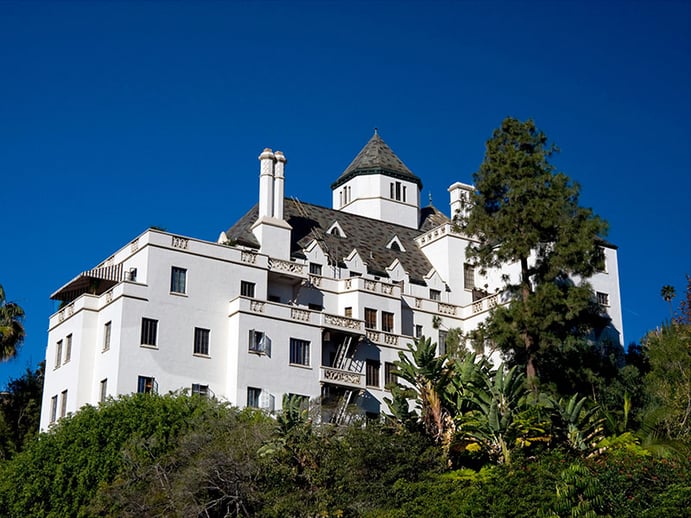 LA is awash with stylish indoor-outdoor bars and cocktail parlors. The secluded flower-filled gardens of the Chateau Marmont hotel, a storied showbiz institution, is the best place to soak up the local scene, while handcrafted cocktails are on offer at the Roosevelt Hotel's Library Bar, once Marilyn Monroe's hideout from the world. The clubby £10 (Ten Pound) bar at the Montage Beverly Hills is the most exclusive whisky bar in town, a sumptuous affair of marble, mahogany, and plenty of greenery that spills out onto an Italianate patio. And Perch LA, a Parisian-style tumble of terraces across three floors of the Pershing Square building, known for its fashionable crowd and well-curated French wines, is the perfect perch to catch the sunset.