The 88th Geneva International Motor Show promises to deliver when it comes to the next generation of stylish electric and self-driving vehicles. Expect to see electric concepts from Jaguar and Volkswagen, Honda's redesigned CR-V SUV with hybrid technology, and more traditional offerings such as the all-new Audi A6 and Mercedes A-Class. And those with petrol still coursing through their veins will be eager to see the debuts of exotica such as the McLaren Senna, the Ferrari 488 Pista, and the 310mph Corbellati Missile, which claims to be the fastest car in the world.
Ready to rev your engine? Take a look at our suggestions for luxury gifts for car lovers, inspired by the Geneva International Motor Show…
1. The watch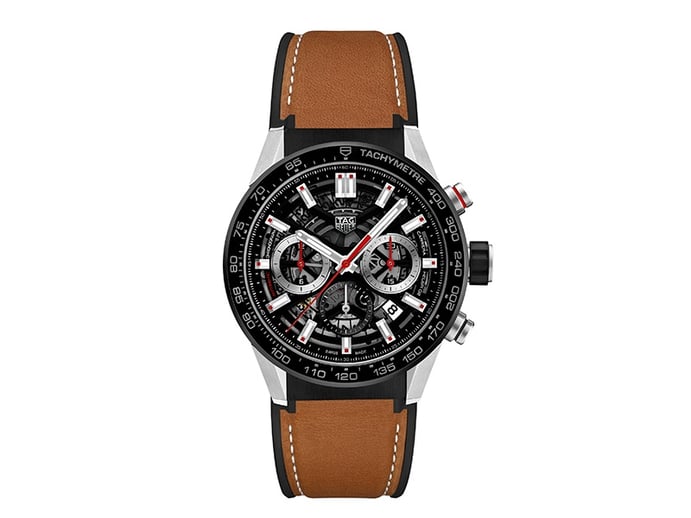 Tag Heuer has always been proud of its automotive heritage. To celebrate this year's 55th anniversary of the Carrera—arguably the company's most iconic timepiece—Tag Heuer is introducing the new TAG Heuer Carrera Heuer 02. Featuring a skeleton dial integrated into a 43mm modular case and a bezel with tachymeter scale, this new model boasts the stylish lines of the original 1963 watch, subtly updated for the 21st century. As well being water resistant to nearly 330 feet and boasting a deeply impressive 75-hour power reserve, the latest iteration of the classic Carrera has a brand-new, state-of-the-art engine Heuer 02 calibre automatic movement that reprises the original 3-6-9 counter layout from 1963, with chronograph minutes and hours at 3 o'clock and 9 o'clock, permanent small seconds at 6 o'clock, and a date window at four-thirty.
2. The sunglasses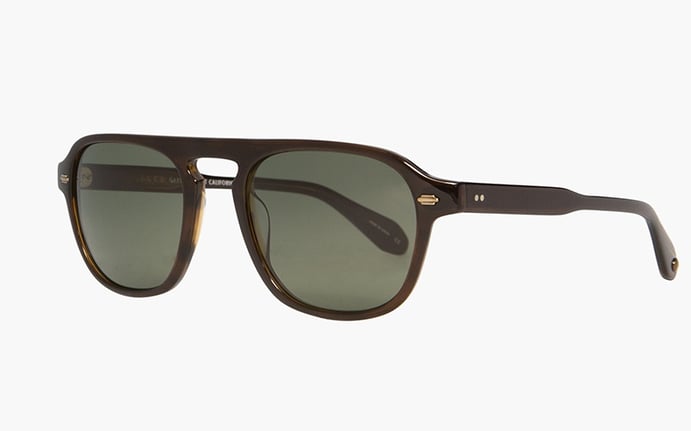 Designed in the ultra-hip Los Angeles enclave of Venice Beach, Garrett Leight's striking retro-style Grayson sunglasses feature an oversized handmade acetate frame with squared contours, metal temple plaques, and a high-set keyhole bridge. As with the rest of the company's products, the Grayson is named after a street in the neighborhood and is available in champagne with blue lenses, matte black with matte black mirror lenses, matte espresso with matte gold mirror lenses, and russet tortoise with grayish-green G15 lenses. But if you don't find those color combinations exciting enough, Garrett Leight's Modshop will make a unique, customized pair to your specifications.
3. The luggage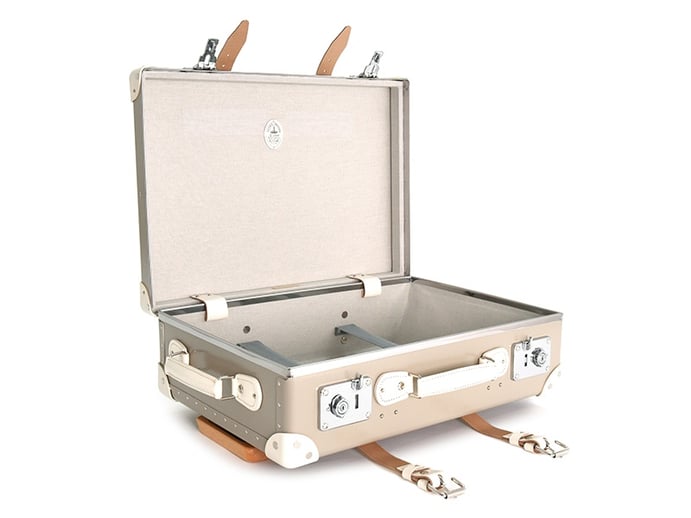 If you're planning a long-distance, luxurious road trip, let's say London to the South of France, it's essential that your luggage be at least as elegant as your destination. Globe-Trotter suitcases, handmade in England since 1897, are just that. Painstakingly constructed from multiple layers of vulcanized fiberboard, they boast authentic, old-school durability. Every case produced by the company's skilled craftsmen boasts fine leather straps and corner trim, giving each one a classic vintage look. With Queen Elizabeth II and Winston Churchill among their celebrated clients, Globe-Trotter's suitcases are the epitome of rich heritage and quality.
4. The convertible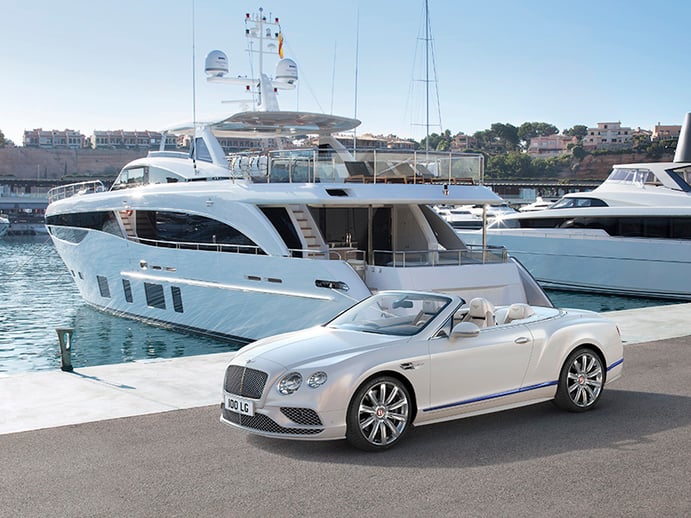 You have all the accessories, now what about the car itself? Bentley's Continental GT Convertible Galene Edition is inspired by the world of luxury yachts. Working with British craft expert Princess Yachts, Bentley's bespoke commissioning division Mulliner has created a sleek machine in Glacier White and Sequin Blue that "captures the iridescent sparkle of crystal-clear waters" and combines the best elements of ocean-going life with luxury motoring. Named after the Greek goddess of calm seas, the Galene features seats in linen and Portland hides, a center stack and console in specially developed pinstripe walnut, a hand-painted Jaume Vilardell illustration on the front fascia panel, and the powerful engine you'd expect from a Bentley (4.0-liter, twin-turbo V8). Just 30 vehicles will be produced worldwide.
5. Something extra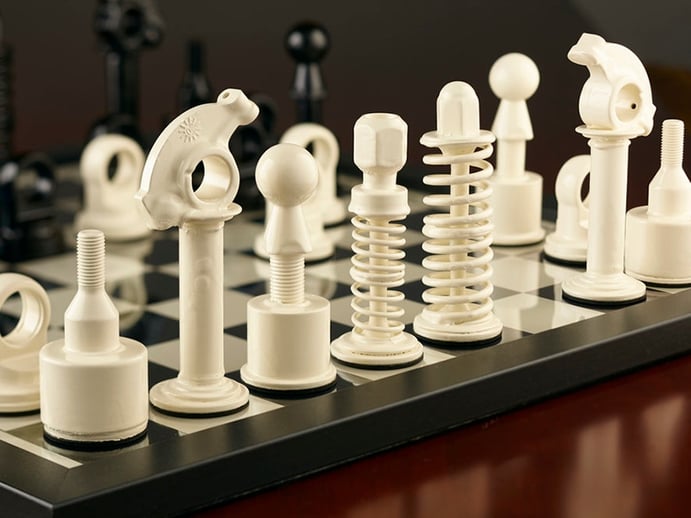 Handmade in the USA from classic engine parts, this chess set made for Me and My Car must surely be the perfect gift for the more cerebral petrolhead. As well as featuring a hand-crafted black-and-white chessboard, each of the 32 unique steel and alloy pieces—which are individually cleaned, shot-blasted, cold-welded, and hand-painted in limestone and black—are created using recycled parts from Aston Martin, Range Rover, and Lotus cars. Kings and queens are made from Aston Martin valves, valve springs, and valve guides; knights from Range Rover rocker arms; bishops from Aston Martin brake pistons and brake reaction balls; castles from Lotus wheel nuts and Aston Martin brake pistons; and pawns from shock absorber mounts. Enjoy a truly automotive endgame.
6. Something bigger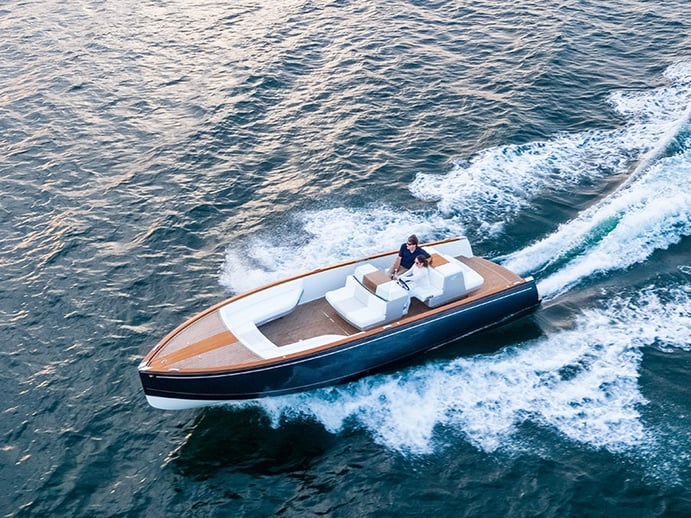 So it's not a car, but this yacht has automotive expertise from BMW at its core. The carmaker has inserted electrified powertrains into its i3 electric car and its luxurious limousines, and now Hinckley's first fully electric luxury yacht. As electric cars become more desirable and commonplace, it's a natural progression that other vehicles are following suit. The Dasher, named after Hinckley's first picnic-style boat, is a 28-foot-long vessel that comes with twin 80hp electric motors powered by rechargeable BMW lithium-ion batteries. And this isn't just an existing design with batteries replacing a traditional engine; the company says the boat has been designed "ground up, for electric propulsion."