One of the oldest works of art on earth, a Paleolithic cave painting at Lascaux in southwestern France, depicts a creature as recognizable today as it was circa 15,000 BC: a brown horse with a black mane, trotting along, its trademark long face staring straight ahead. Horses have figured prominently in art and design for much of human history for good reason: Until the advent of cars and trains, they provided the swiftest means of travel. They also played a key role in battle, and even had their own fitted armor, with some examples dating as far back as 2,500 BC in the Mesopotamian city of Ur. The era of horses' practical roles in transportation and war may be past, but the hold they've long had on the popular imagination remains. They signaled power and refinement in European paintings of nobility and royalty, helped illustrate battles and processions on the sides of ancient Greek vases, and feature in today's glamorous Rococo-inspired paintings of art world sensation Kehinde Wiley.
Horse-racing remains the second-largest spectator sport in Great Britain, and the annual British Champions Day at Ascot is a much-loved highlight of the spring social season—as is the Kentucky Derby in the US. Horses are lovely to look at, both for those who ride and for those who simply appreciate their fleetness of foot and natural elegance. Equestrians all over the world have found that a country estate with stables and plenty of pasture for horses is the ideal way to enjoy the ancient sport of horseback riding in a secluded setting. A home with state-of-the-art equine-focused amenities is also an ideal place to display art and antiques that reflect humankind's long fascination with these majestic creatures.
Equestrian Properties for Sale around the World
New England Pastoral
New Canaan, Connecticut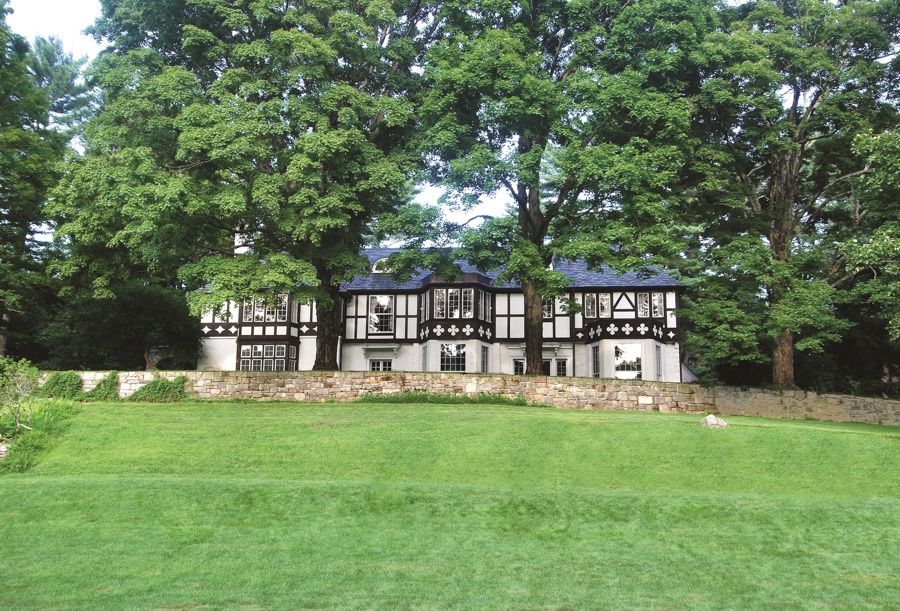 Situated on 128 lush acres, this classic Tudor-style estate in New Canaan is the ideal equestrian property. The horse barn was designed by famed architect Bartholomew Voorsanger, whose other projects include the National World War II Museum and the Asia Society Museum. The barn, which has its own security system, is built from mahogany and butternut wood and houses 11 large stalls, two tack rooms, and a hay room. Outside, there's a riding arena, seven paddocks, a trotter track, and five miles of gravel horse trails. The spacious interior has plenty of room for guests with 11 bedrooms and 10,000 square feet of living space, and two nearby guest cottages provide even more accommodations. This estate was built in 1926 and completely renovated in 1988, with more recent updates to the interior reflecting an elegant and understated New England aesthetic.
In the estate's wood-paneled library, a collection of equestrian-inspired antiques would look perfectly at home. This 1889 English equestrian painting by William H. Hopkins (1853-1892) and Edmund Havell (1819-1894) evokes the bucolic appeal of New England. Noted jockey F. Barrett is seen with champion horse Donovan just before winning the famed Newmarket Stakes. A 19th-century carved ivory toy cart from India in Christie's upcoming Interiors sale on December 16th is charmingly formal, with each horse standing in rapt attention, sporting intricately decorated saddles. And its English counterpart, a Victorian wood model of a mail coach being led by four horses, features the insignia of Queen Victoria, VR, painted on its side as well as tiny papier-mâché figures wearing top hats and bonnets.
An English Equestrian Oasis
Woodmancote, West Sussex, England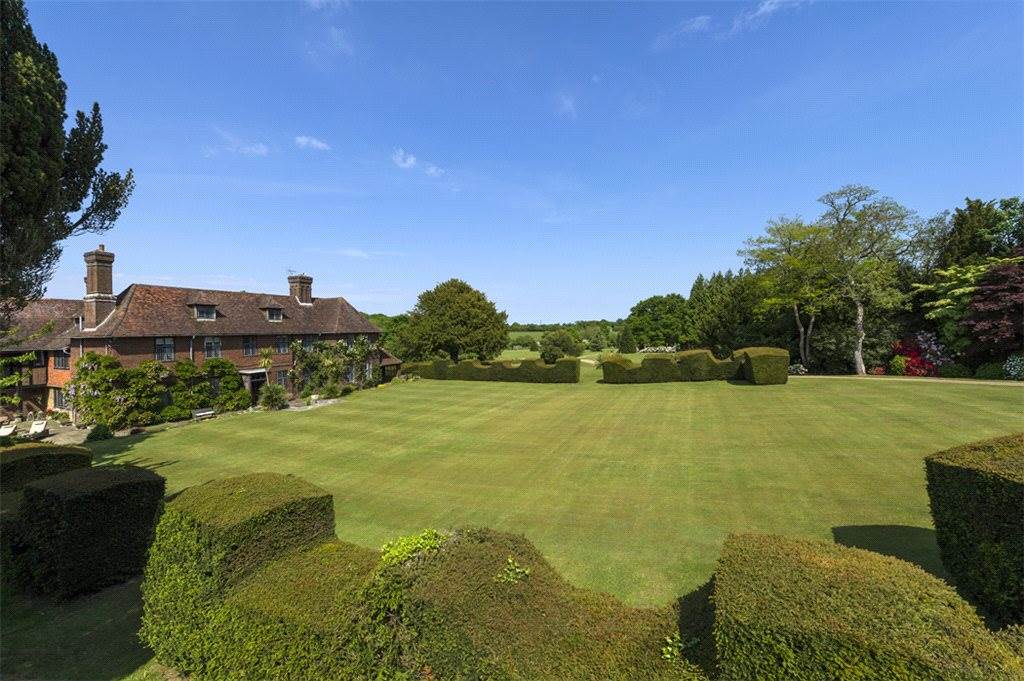 This Woodmancote property is mentioned in the Domesday Book from the year 1086, yet for all its historic beauty and charm, it's fully updated and modern, featuring everything from a state-of-the-art kitchen to deluxe equestrian facilities. Situated on 149 acres at the edge of South Downs National Park, this secluded English country house offers nine bedrooms and two guest cottages. The grounds include a walled kitchen garden, pool, tennis courts, a barn with ten stables, tack room, and a manége or riding academy. The lush woodlands, lakes, and fields surrounding Woodmancote make it a scenic and peaceful place to ride. The interior of the main residence is a mix of Tudor and Georgian styles inherited from the estate's long history. Carved wood paneling and mullioned windows in the entryway evoke a Renaissance dwelling, while the dining room and sitting room boast 18th-century proportions and architectural details.
This estate, with its long history and dynamic mix of architectural styles, would be a welcome setting for antiques from a range of time periods and cultures. This pair of Canosan Terracotta Horses in mid-prance was created by a third-century BC sculptor in Apulia (known today as Puglia, Italy). Each horse sports a top knot above its mane and a stylized zig-zag tail. Traces of pigment suggest these unique statues were once brightly colored. In a similar work from the other side of the world, this Tang Dynasty horse figurine in Christie's December 16th Interiors Sale in London has one foreleg raised and bows its head deferentially. Dating from approximately 618-907 AD, this ceramic horse was, like its ancient Roman counterparts, once brightly painted—traces of orange-red, red, pink, and black pigments are evident. And as a reminder that horses have figured in quite recent history, too, this remarkable 1921 photograph shows three British officers on horseback with the Great Sphinx in the background. Two of the horsemen are Winston Churchill and T.E. Lawrence, and the image is signed by Churchill and Lawrence, the latter of whom was better known as Lawrence of Arabia.