Having worked in distilled spirits for more than 40 years, Louisville, Kentucky, native Chris Morris is both a recognized authority on bourbon whiskey and a close observer of contemporary Southern society. Surely no man is better qualified to explain the connection between Woodford Reserve, where he works as master distiller, and the Kentucky Derby, the horse racing classic set for May 6.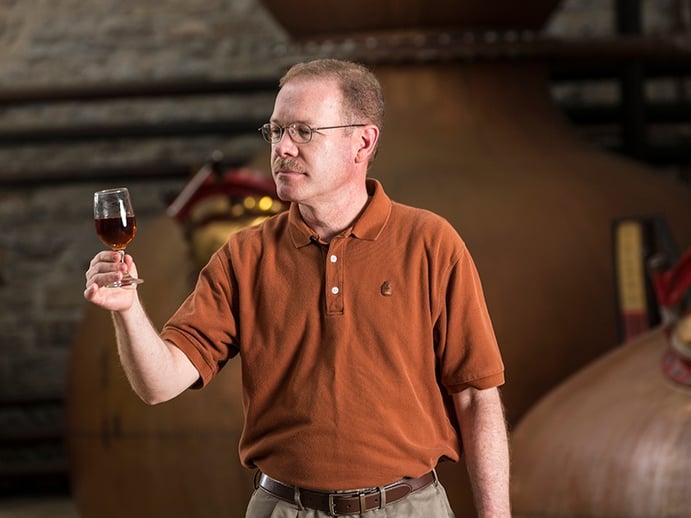 I'm responsible for the conceptualization of our new whiskeys.
It's always really gratifying seeing an idea brought to fruition. I started out in 1976 as a third-generation employee at Brown-Forman, one of the largest independent American wine and spirits companies in the world, where I was fortunate enough to come in at ground level and work a number of jobs. Over the years I learned about all aspects of distilling and was eventually selected to succeed Woodford Reserve's first master distiller, a career highlight for me.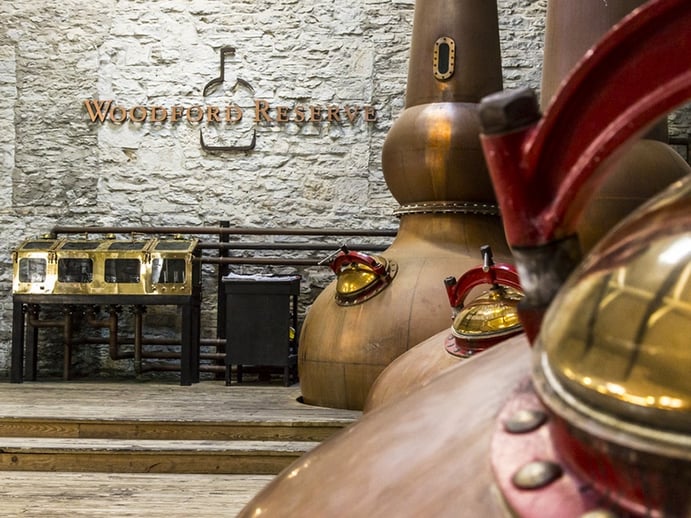 Most people don't realize we're a new whiskey.
Woodford Reserve was only introduced to the world a little over 20 years ago, in 1996. When we found our distillery it had been abandoned for some time. We wanted to put the "old" back into this new whiskey, so we completely deconstructed it—implementing traditional production processes such as the use of wooden washbacks and copper pot stills, which helped us to create a bourbon with a contemporary flavor profile.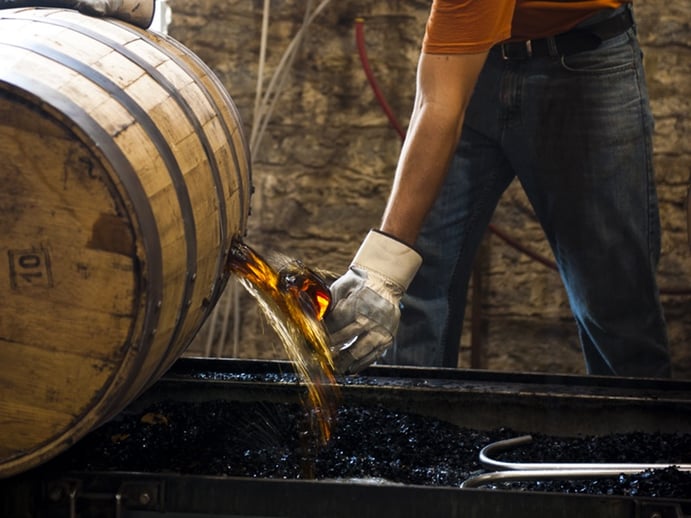 The process of making an American whiskey is actually no different to making Scotch.
If you could see the schematics of our distillery, you might think you're looking at a single-malt distillery in Scotland or Ireland. Where we see a big difference between the two is the flavor, as bourbon uses either corn or maize as the base ingredient. A single-malt Scotch would use malt or barely and might have the influence of peat to help achieve those wonderful smoky notes, whereas an American whiskey such as Woodford Reserve uses malt and rye, and is typically very barrel-forward, with rich vanilla and caramel notes and a really silky finish.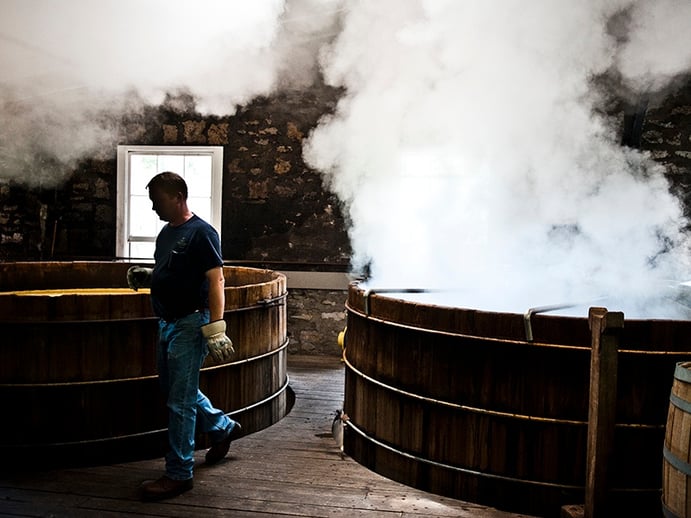 To qualify as bourbon, Woodford Reserve must spend time in new white-oak barrels that have been charred. We build and char our own barrels at our cooperage—then, after the spirit has matured, we select it based on flavor rather than age.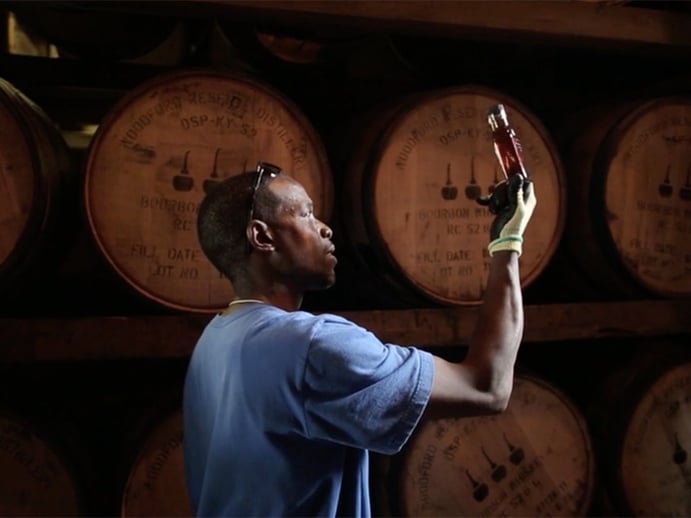 Over the past 10 or so years, bourbon has become both prestigious and popular.
Today, even the Scotch whisky industry, which was typically thought of as superior, is starting to include notes traditionally characteristic of bourbon in their products. I would never have dreamed of this 40 years ago.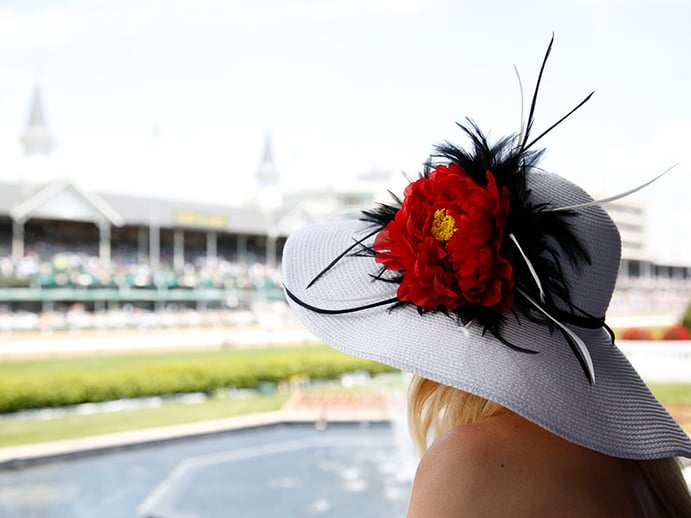 The people of Kentucky have been drinking bourbon since the 1800s.
Back then, bourbon was thought of as a local, unrefined drink. Today, people have a more global appreciation of flavor, and we wanted our bourbon to fit in with that, and to be a drink for people who appreciate fine spirits, wine, or craft beer. Our flavors are welcoming and familiar at the same time, and our production is in small batches, so we can be selective with our styles.
An American whiskey is typically very barrel-forward, with rich vanilla and caramel notes and a really silky finish
The Kentucky Derby: "The Most Exciting Two Minutes In Sports."
The race, the first leg of the legendary Triple Crown, started in the heart of bourbon country 143 years ago, yet we're the first bourbon partnership they've had. I think they chose us because we're forward-thinking. This year we've commissioned a special-edition bottle of our original Woodford Reserve, with artwork by award-winning equine artist Thomas Allen Pauly.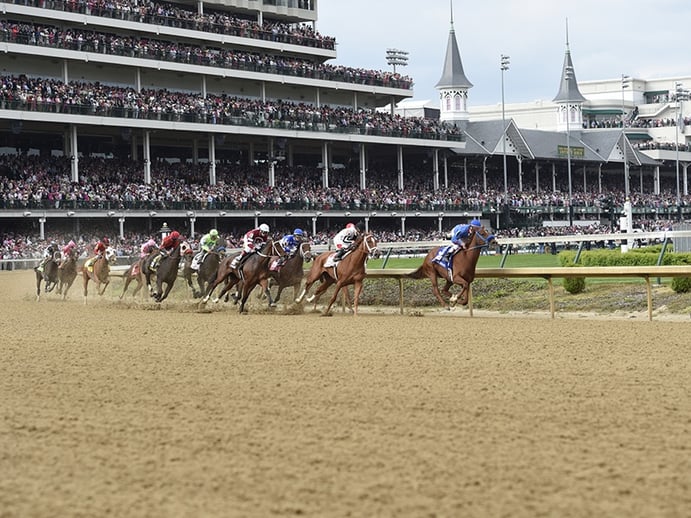 Our mint julep is the perfect race-day cocktail.
The mint julep has been the traditional beverage of Churchill Downs racecourse and the Kentucky Derby for nearly a century, and for 2017 we're paying tribute to the race's English roots. The Epsom Derby in the UK was really the template for the Kentucky Derby, and this year's julep, with its English-inspired flavor profile, is the best yet.
Today, people have a more global appreciation of flavor, and we wanted our bourbon to fit in with that
To sweeten it as a classic julep, we used Bourbon Barrel Foods' simple mint syrup, which is also made in Louisville, and for the 12th consecutive year we'll be serving them in our beautifully designed gold and silver commemorative cups, the profits of which will go toward supporting the Kentucky Derby Museum.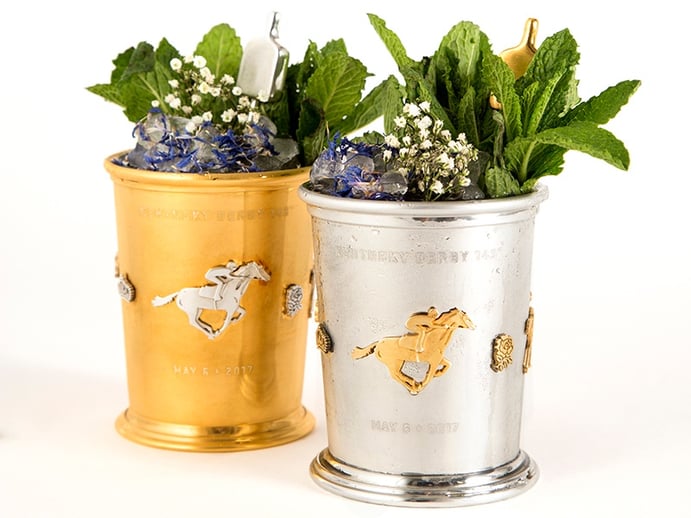 Woodford Reserve's 2017 Kentucky Derby Mint Julep
A couple of fresh mint leaves
1½ oz Woodford Reserve Kentucky Straight Bourbon
¼ oz Pimm's Liqueur
½ oz elderflower cordial
¼ oz Woodford Reserve Mint Julep Simple Syrup
1 dash Earl Grey bitters
To garnish:
Baby's breath
Fresh mint
Dehydrated edible blue cornflower
Rub the mint leaves around the rim of a julep cup, releasing their essential oils. Add all the ingredients and top with crushed ice. Churn with a bar spoon to distribute the flavors. Top with additional crushed ice. Garnish with the baby's breath and fresh mint, and finish with a sprinkle of the blue cornflower.