Earlier this year, Château La Coste, a vineyard in Provence, France, unveiled a permanent installation by Chinese conceptual artist Ai Weiwei. The sinuous work, titled Ruyi Path, uses salvaged cobbles to create a pathway that responds to the ancient routes and dry-stone walls on the property. The wine estate also inaugurated its new Photography Pavilion, designed by the Renzo Piano Building Workshop, with 10 seascapes by Japanese master Hiroshi Sugimoto.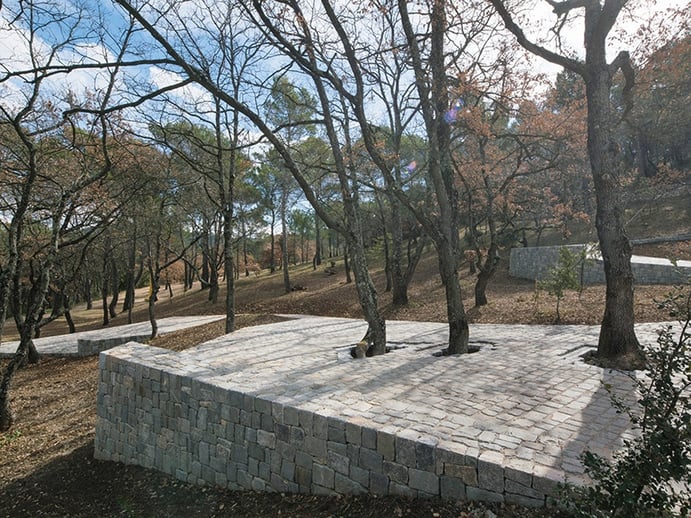 The idea of savoring the best in visual art while enjoying some of the finest wine is growing in popularity, and the château is one of an increasing number of vineyards that are as much about great art as they are about great wine.
Set 10 miles north of Aix-en-Provence, Château La Coste boasts an impressive
list of architectural structures designed by Pritzker Prize winners such as Jean Nouvel (the winery), Tadao Ando (the art center), and Frank Gehry (the music pavilion), along with works from the who's who of contemporary art (Tracey Emin, Richard Serra, and Sean Scully, to name a few).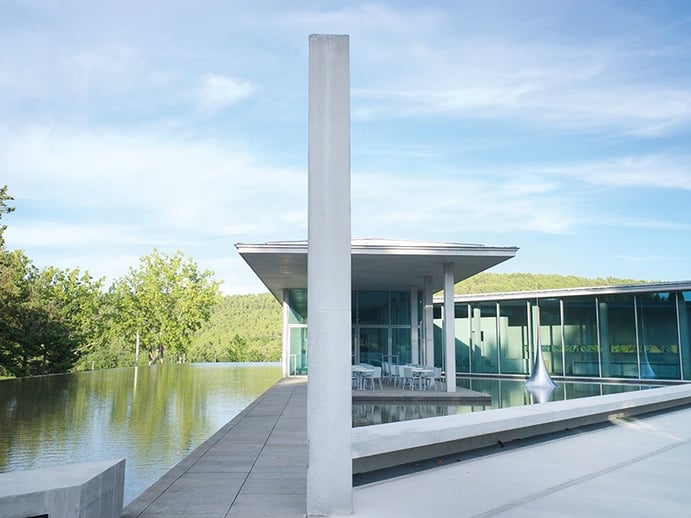 The project is the brainchild of Irish businessman Paddy McKillen, who bought the estate in 2002 and set about creating a 500-acre organic winery—including more than 300 acres of vines—that would also be an art destination in its own right.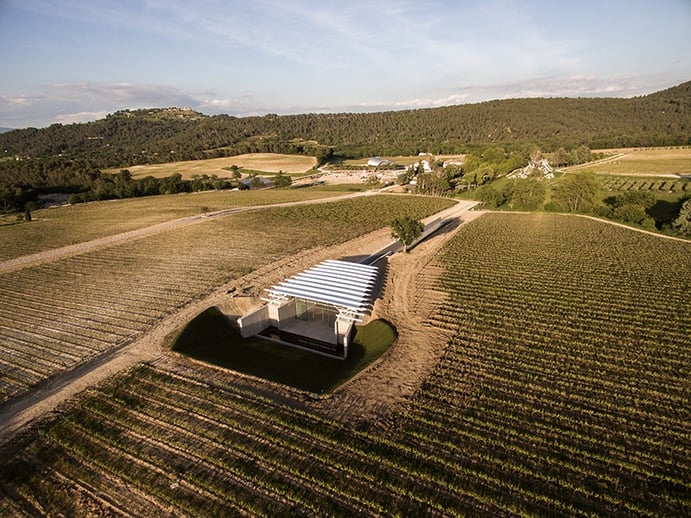 This art and architecture experience has been open to the public since 2011. "Some people come to taste wine and discover art, others come to visit the art and discover wine. Many visit simply because they have heard it is a beautiful destination," notes Daniel Kennedy, manager of the art and architecture project at Château La Coste. "However, one thing is for certain: there is a magic about the natural environment here that feeds into the wine."
Permanent, in-situ works are here forever; they are impossible to displace, physically or conceptually
Thinking space
Kennedy says around 95 percent of the artworks are made in response to a specific site, but adds, "even those placed after the death of an artist are very carefully considered. For the Alexander Calder, McKillen consulted the artist's grandson Sandy Rower and architect Tadao Ando about the placement. For the Jean Prouvé houses, the late architect's grandson Nicolas Prouvé collaborated on their restoration and placement."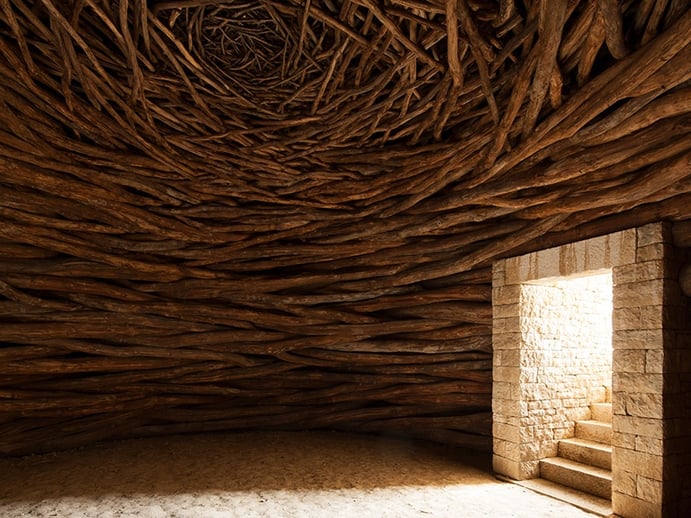 Most of the artists spend a long time choosing a location on the property. Andy Goldsworthy spent a month there making ephemeral works before he decided on his permanent Oak Room project—a net-like chamber dug into the earth and lined with woven oak branches—while Lee Ufan spent hours walking in the woods before deciding on a site for his House of Air. "The proximity to the vines, the view of the Alps, and the tranquility seemed to especially appeal to him," says Kennedy.
"It always feels special when an artist responds to the environment. Permanent, in-situ works are here forever; they are impossible to displace, physically or conceptually," Kennedy adds.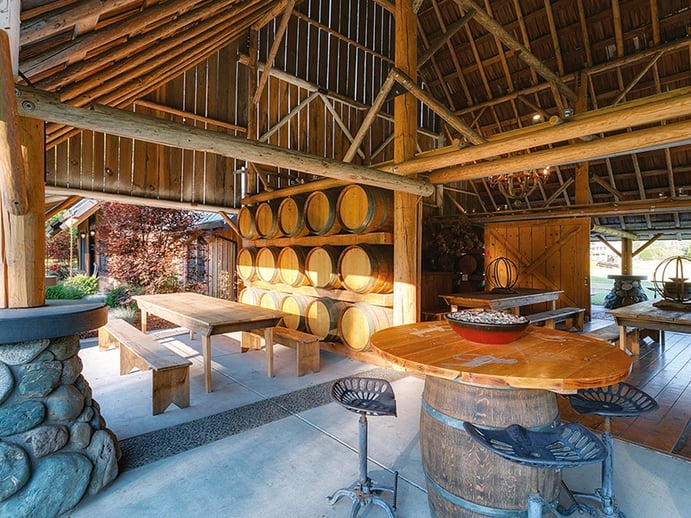 David Elswood, International Director of Wine at Christie's, says art and wine are often found together, sometimes on a very dramatic scale, and other times in more subtle ways. He notes how "the cultural sensitivities needed for the full appreciation of both art and wine have many connections relating to tradition and history, alongside the more obvious sensory areas, and the two passions complement each other so well."
A cultural calendar
The relationship between art and wine has been long established. Back in the 1970s, Robert Mondavi and his wife Margrit Biever Mondavi were establishing a fine arts program at their Napa Valley winery at a time when there were few visitors to the wine region. And while it started modestly with Sunday art shows, the Robert Mondavi Winery has developed a full wine, food, and arts calendar that includes its popular Summer Concert Series, which has featured performers such as Ella Fitzgerald and Tony Bennett in its long history, and exhibitions by artists such as Richard Diebenkorn, Wayne Thiebaud, and Nathan Oliveira—as well as the work of less well-known artists.
A tour of Napa Valley, California today offers an opportunity to see some significant works of art. Four miles north of the Mondavi estate, HALL St Helena and its nearby sister HALL Rutherford feature works by internationally acclaimed artists such as François-Xavier Lalanne, Jim Campbell, Jaume Plensa, and Nick Cave.
Or head south and a half-hour drive takes visitors to the Hess Art Collection, acquired over five decades by Swiss businessman Donald Hess, who focused on a limited number of artists with whom he had a personal relationship, including Anselm Kiefer, Gerhard Richter, and Francis Bacon.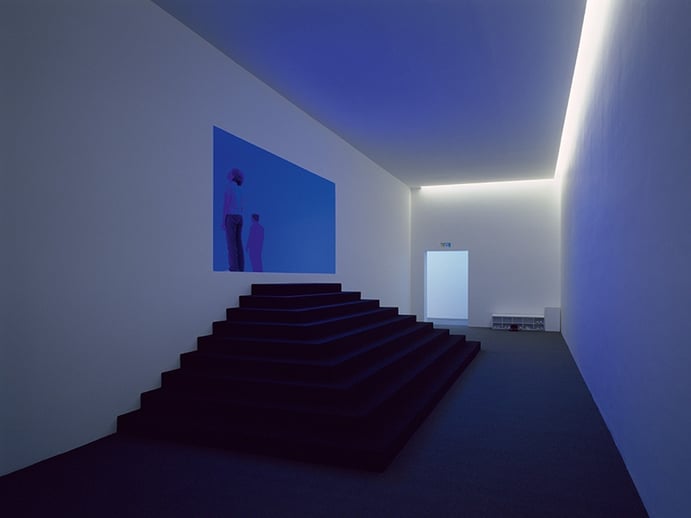 Another of Hess's vineyards, this time in Argentina, celebrates the work of eminent American light artist James Turrell. At more than 7,500 feet above sea level, the Bodega Colomé vines are some of the highest in the world, affording visitors breathtaking views of the Andean highlands. But it's not just the views that draw discerning visitors. Myrtha Steiner, curator of the Hess Art Collection, says Colomé is the perfect place for the James Turrell Museum as "there is no light pollution, which could disturb the appearance of the installations. It makes the visit a unique, 'pure' experience."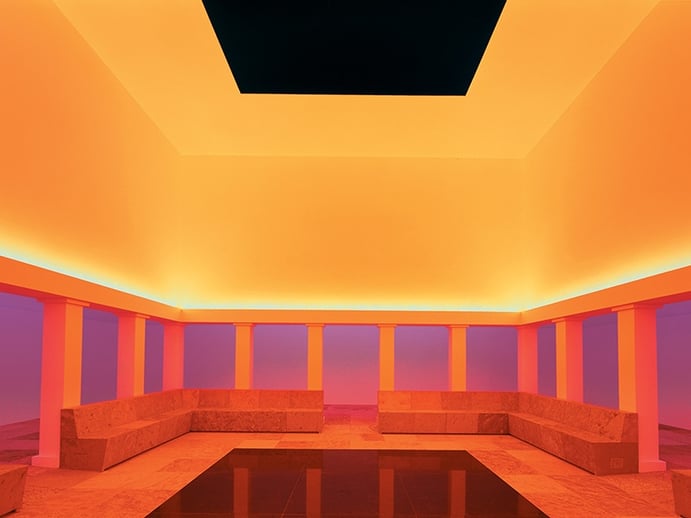 Opened in 2009, the 18,000-plus-square-foot museum is based on a plan created by Turrell himself and features nine of his light installations, representing five decades of his practice. It includes Spread (2003), a 4,000-square-foot walk-in environment of blue light, as well as Unseen Blue (2002), the world's largest "skyspace"—a specifically proportioned chamber with an aperture in the ceiling open to the sky—which surrounds an interior courtyard and peaks in intensity at sunrise and sunset.
Steiner says the artist carefully "choreographed" how visitors would walk through the various colors of his work: "For Turrell, it is crucial that you start with green, followed by purple, that you first see the glaring light of Stufe [1967], before you enter the darkest piece, Slant Range [1989]."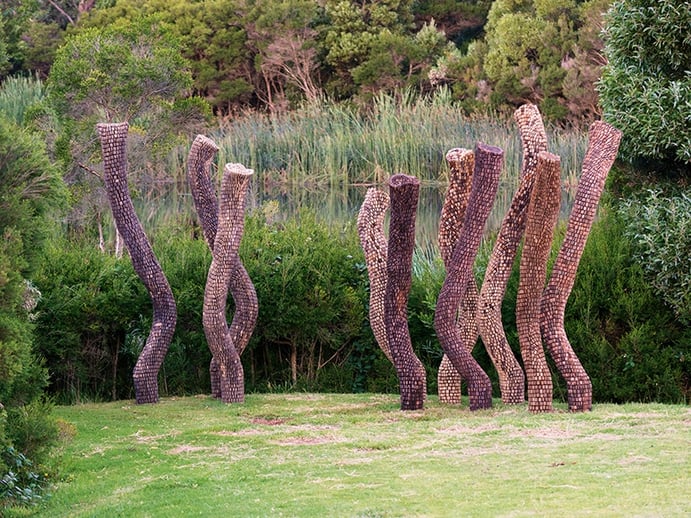 Presenting artworks in a vineyard also offers lesser-known artists a different route to the traditional galleries to reach new collectors. Australian sculptor Ben Carroll, who has participated in the annual Sculpture Prize run by the Montalto Vineyard in Victoria, Australia, found it carries a lot of prestige for sculptors: "Once I was aware of how much sculpture collectors focus on that annual collection of 25 to 28 works, I wanted to be part of it."
Collective appeal
Having entered the competition five times, Carroll won the top prize this year for his work The Bush of Ghosts, which he created especially for the Montalto Vineyard. "Having spent a lot of time installing and de-installing my works there, I have spoken to hundreds of people who have come to the vineyard purely because of the sculpture collection," he notes.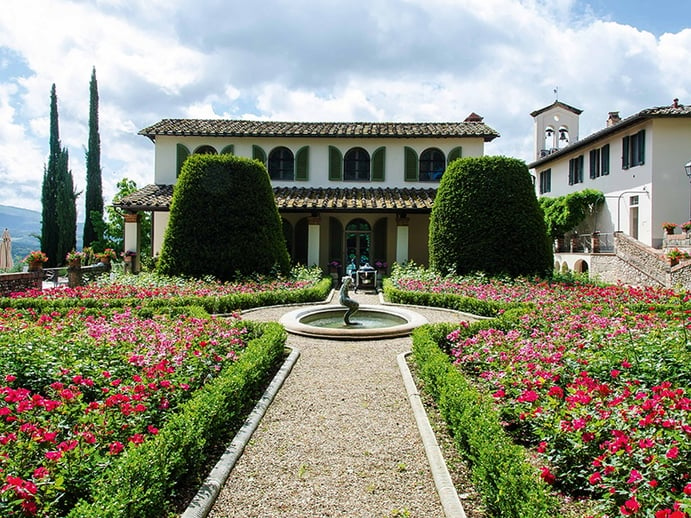 First launched in 2003, the prize enables the vineyard owners, the Williams family, to present an annual exhibition to draw visitors, while also adding to their permanent collection that now features 30 sculptures sensitively sited throughout the grounds. "We wanted to encourage visitors to explore the property and we felt that sculpture would interact with the beauty of the setting," says Heidi Williams. "We do get some people who come for the art experience who may not have otherwise visited, but for many it is the complete experience [that attracts them]."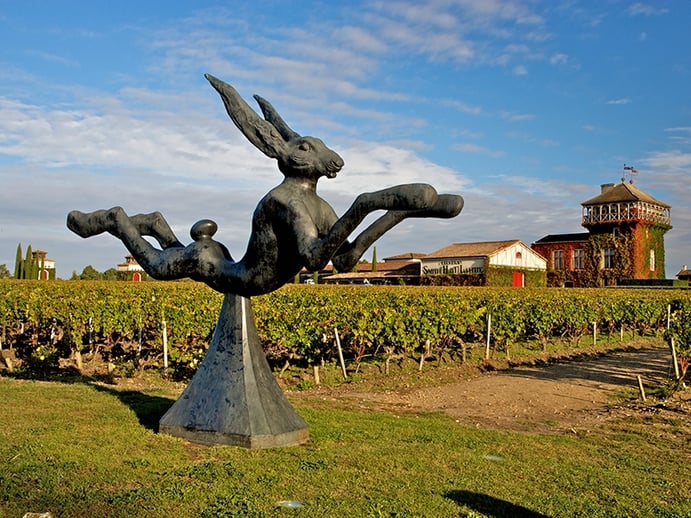 Another vineyard that has been adding to its art collection every year is Château Smith Haut Lafitte, one of the oldest wine properties in Bordeaux. Owner Florence Cathiard and her husband Daniel acquired their first piece, a large bronze by Barry Flanagan, in 1995 to celebrate their first great vintage. To date, the couple has acquired 32 artworks, including pieces by César, Wang Du, and Jim Dine that are now displayed around the château's grounds and vineyard—but Cathiard says Flanagan's bronze remains a favorite.
Watching over the old vines in front of the château, the giant leaping hare is
an indirect tribute to Bacchus, the Roman God of winemaking. "We loved that Barry Flanagan's hares are 'humanoids.' The hare is also the animal of Dionysus and Bacchus; they are very important for winemakers, as they protect the vineyard from rabbits, which are the scourge of a vineyard!" she says.