Rooms reserved for men to retreat to are nothing new. Such inner sanctums appeared in palaces in Europe from the 15th century, and were called cabinets. While answering practical needs – sprawling palaces were difficult to heat, so cabinets were cozier and offered privacy from the household – they also catered to cultured minds, lined as they were with books and art. The privacy of a man's cabinet was underscored by its proximity to his bedroom, rather like a woman's private boudoir, which traditionally adjoined her bedchamber.
Such spaces still appeal, albeit in a different form. Known today as the "den" or "man cave," but by no means the sole preserve of the gentleman of the house, they are a direct descendant of cabinets and come in a variety of styles, from the old-world to the contemporary.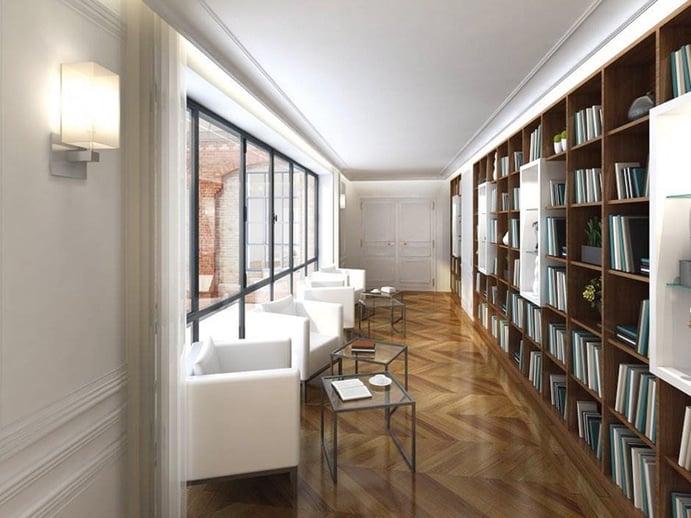 Reputedly, David Beckham is to have his own retreat in his new London mansion. A rising trend, as identified by Christie's International Real Estate's 2016 white paper, Luxury Defined, it's also an international phenomenon, surfacing everywhere from the US and Europe to Asia.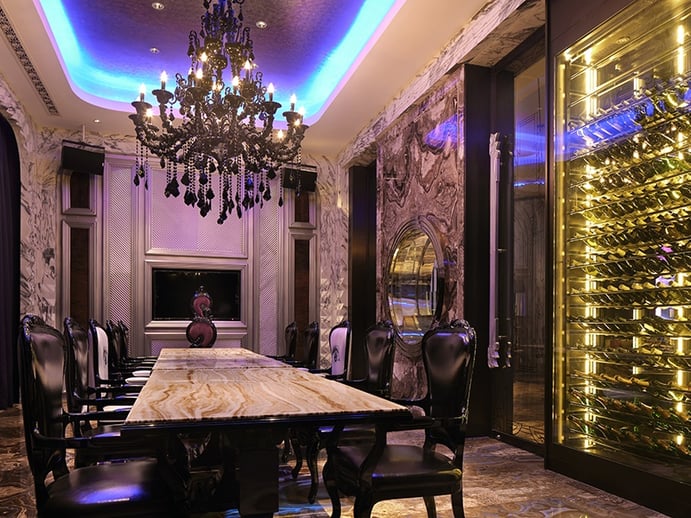 Just as the original cabinets provided an escape, today's versions often appeal as a space to switch off – literally – from our technology-dominated lives. "As people become increasingly connected through electronic devices and social media, there is a greater need to unwind and disconnect," believes US interior designer Ashley Whittaker. "They need a place to read, and to have a drink and conversation. It doesn't mean they can't watch a House of Cards marathon now and again, but it's that feeling of being removed that draws people into the den."
The next chapter
In the US, the den is rarely the exclusive domain of male homeowners and often doubles as a library where adults can truly relax and socialize. Whittaker has designed one such "library" in a family-owned duplex on Park Avenue, Manhattan. "The family has four children, and the library serves as an after-work escape for the grown-ups."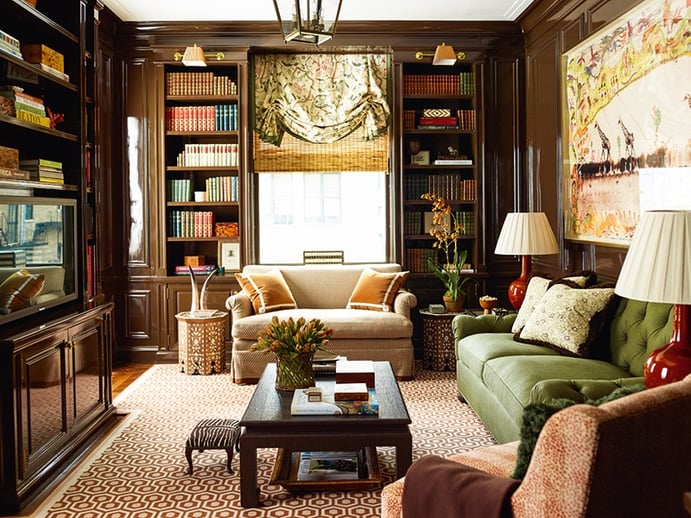 Its eclectic interior illustrates the way today's dens are decorated in myriad styles. A colorful artwork by American photographer Peter Beard, says Whittaker, served as "the starting point for the room's colors and overall feel – great art makes for great design." Yet there are traditional elements, too: leather-bound books (a throwback to the cabinets of yore), wood-paneled walls, an Austrian blind, and supremely comfortable sofas.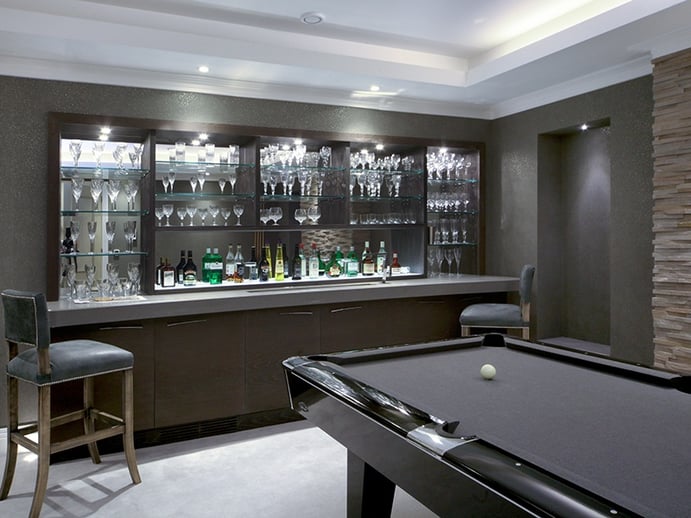 "Today's dens need to feel warm, inviting," Whittaker explains. "We love mixing natural materials – brass, wood, alpaca wool, and cashmere... They are comforting, but also provide contrasts that make any room more interesting."
Meanwhile, Robert AM Stern Architects, working closely with Arthur Dunnam of interiors specialist Jed Johnson Associates, has designed a similarly wood-paneled den, complete with chestnut-brown leather armchairs, for the owners of a maisonette in Chicago. "Although it's a den, it's equally the domain of the husband and wife," says Peter Morris Dixon, director of external communications at Robert AM Stern Architects.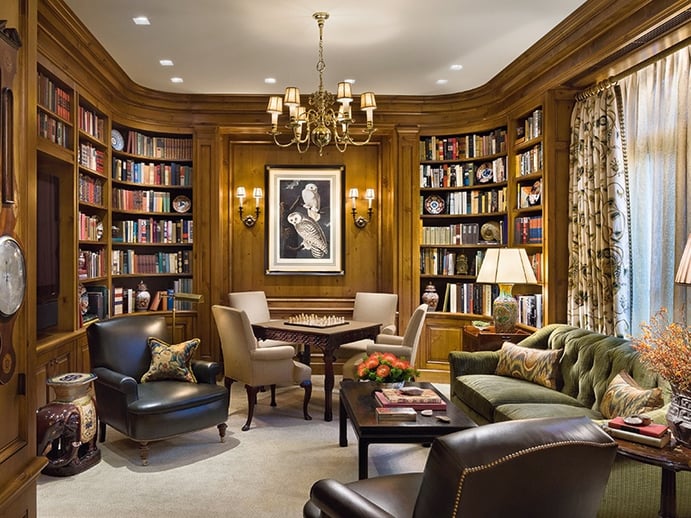 According to Randy Correll, a partner at the practice, dens have evolved in recent years: "In the past, they were places for men to 'den' – hang out with their male friends, drink, play cards, watch a ball game... Today, they're more for use by an individual and the immediate family. A den's must-haves include a comfortable sofa, video screen, great fireplace, soft carpet that feels good under bare feet, and shelves for books, family photos, and personal artifacts like diplomas and trophies. 'Den' connotes cozy, so textured materials and wood help make it intimate." Warm, atmospheric lighting, he adds, is crucial: "Lighting should come from table and floor lamps and wall sconces, not ceiling fixtures."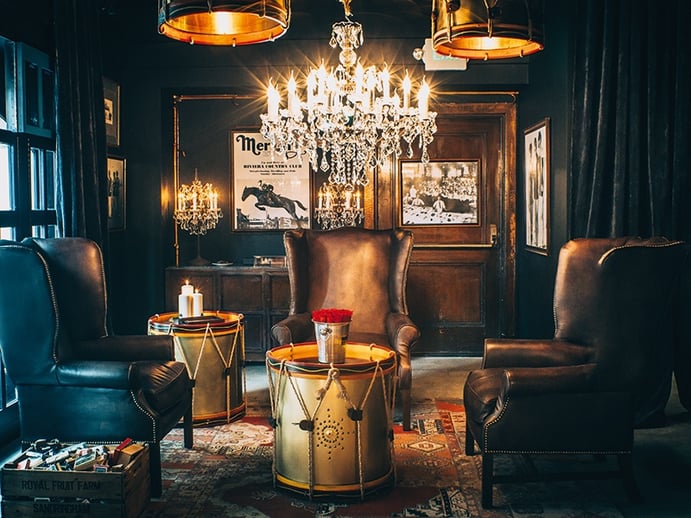 Coziness, given a playful, contemporary twist, is a hallmark of another den-like space: the Blue Room at the Los Angeles Athletic Club, originally founded in 1880. This was the meeting room of men's social club The Uplifters, a den whose "denizens" included Charlie Chaplin and Clark Gable. Today frequented by women, too, it has been given a maximalist makeover by British furniture and interior designer Timothy Oulton, and boasts industrial elements – the carpet was ripped up and the underlying concrete polished – with ceilings and walls painted black or navy blue.
We're finding that men's dens are a place to entertain friends and watch sports, not just a private retreat
A long-forgotten hidden staircase (used in the Prohibition era) is now its main entrance, accessed via a trompe l'oeil bookcase within the club, and Oulton's burnt-orange Chesterfield sofas sit alongside vintage-style curios that evoke the spirit of the 1920s, cabinets where members can store the whisky bottles they buy at the bar, and a giant drum converted into a bookcase.
Oulton likens the moodily lit space – which also screens classic movies and includes intimate areas used for private dinners – to a speakeasy. "The original speakeasies were exciting because they were illicit," he enthuses. "The modern speakeasy creates that same drama. It should have a heritage feel yet be modern." Of today's (wo)man caves, he says, "People travel more than ever and lead very fast-paced lives, so having that space to relax in and escape to is more important than ever."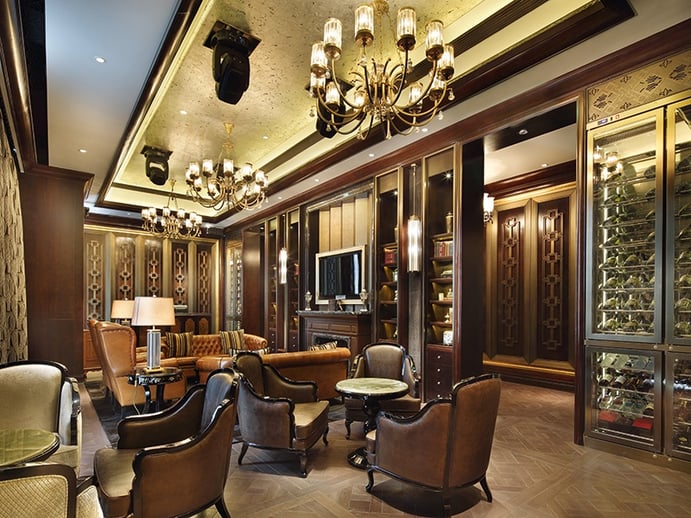 Art Deco and the 1920s also influenced the ultra-opulent gentlemen's lounge at Shanghai hotel Wanda Reign, designed by DB Kim. Here, guests can puff on cigars in an interior decked out with vintage photographs of Shanghai's high-society figures and such luxe finishes as white Carrara marble, Chinese jade, and gold leaf. Furniture is upholstered in leather and velvet. Yet modernity isn't shunned; there's an outdoor terrace specially designed to overlook the breathtakingly futuristic architecture of Shanghai's Pudong district.
Dens of ingenuity
In Europe, by contrast, dens are generally more conventionally masculine, bachelor pad-like spaces where cutting-edge technology is highly prized. One domestic den in Limanowa, Poland, designed by Art Cinema/3Logic, a member of smart-home-technology association CEDIA, functions as a media room that incorporates a home cinema with a state-of-the-art projection screen and surround-sound system, as well as a pool table and a bar.
People need a place to read, and to have a drink and conversation. It's that feeling of being removed that draws people into the den
According to Patryk Gut of Art Cinema/3Logic, "Modern men's dens are now more spectacular thanks to the possibilities of technology. Their must-haves include a home cinema, pool table, bar, and a place to smoke cigars and converse with guests. We've also designed women's dens. But in our experience they're not designed to be used by many people. Another difference is that, while men like big screens and audio and video equipment, women prefer these to be discreet – TVs behind mirrors, hidden speakers..."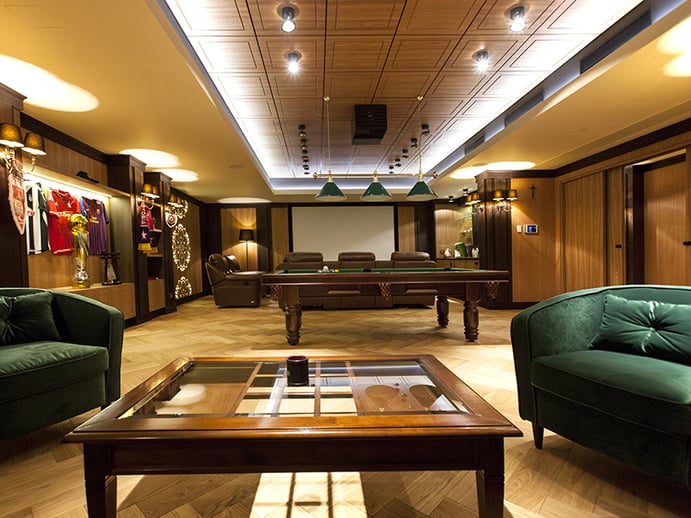 Going underground
Man caves in the UK, which typically occupy basements, similarly make a feature of cutting-edge technology. Luxury housebuilder Octagon Bespoke has created a den in a couple's house in Surrey. Both partners requested their own office, but the husband wanted to realize a boyhood dream of having his own den. This comes complete with a cinema, a fireplace powered by odorless bioethanol fuel, and a piano. Above all it's a social space with a bar that has been specially curved to face the center of the room and screen, and is fitted with a long, ice-filled tray where wine and beers can be kept cool during a party.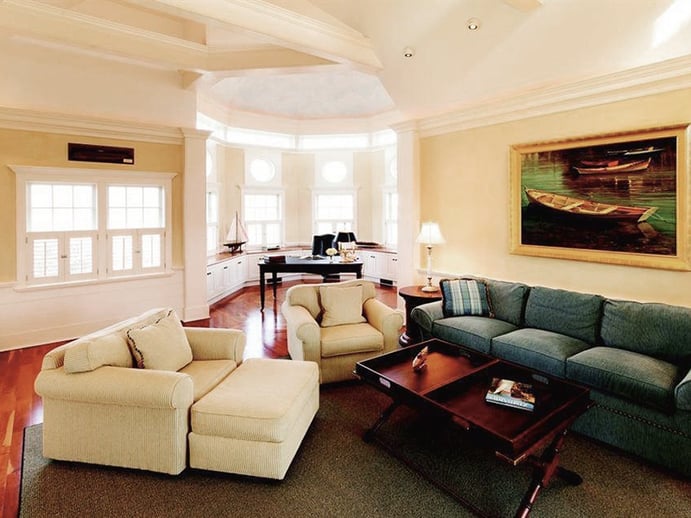 "We're finding that men's dens are a place for a client to entertain friends and watch sports, not just a private retreat," says Martin Brown, the firm's client liaison manager, who also designed the den's interior. "One must-have is an ice-maker by Japanese brand Hoshizaki, which crushes ice silently so it doesn't make any noise while movies are playing."
Another British den can be found at Anderson House, designed by Alex Isaac of interior design practice Morpheus London. Set in the basement of the Chelsea townhouse, it has a marble-topped bar, pool table, projector screen, and sofas upholstered in plush gray velvet.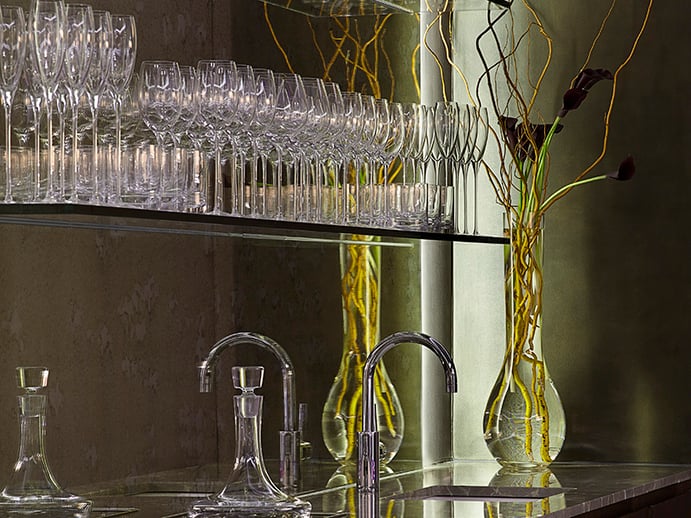 Isaac notes, "Technology – notably whole-house control systems that cover lighting, heating, sound systems, and security – play a huge role in today's men's dens. Key trends for male clients include rich timbers, metal details, and leather, mainly in gray, brown, black, and blue – tones that correlate with men's tailoring. A lot of men like furniture in styles redolent of a fit-out found in high-end shops such as Dunhill, Ralph Lauren, and Gieves & Hawkes."
Oulton concurs: "Today's man cave has evolved from somewhere associated simply with TV screens and fridges stuffed with beer. Nowadays, it's an elegant masculine sanctuary – more 'gentleman's' cave than 'man' cave."