Martin Hulbert doesn't do off-the-shelf design. Whether working on an island villa in Colombia, an English country manor house, or a concrete building in Moscow, the award-winning designer doesn't care if a project is big or small. Instead, he lavishes the same amount of detail onto every scheme he's involved with to ensure his clients' every whim is met.
More than 25 years of experience spans some truly impressive projects, including The Dorchester Collection's Coworth Park hotel in the UK, the Lebanon outpost of Whisky Mist bar and club, and Nobu bar and restaurant in Monaco. He opened his own practice, Martin Hulbert Design (MHD), in 2010 with his business partner Jay Grierson, and takes on a mix of residential and commercial work. Once signed up to a project, he loves to get involved in all aspects, from landscaping and architecture to sculpture and even art commissioning.
Mixing old and new, man-made and natural
Clients soon understand that this is a man who enjoys a challenge when it comes to design. He will often mix seemingly juxtaposing elements – an antique dining chair with a Perspex table, bold colors and lighting with natural shades, man-made materials such as concrete and resin with woods, marble, and copper – to create something coherent and stylish.
Unsurprisingly, his studio, where we meet to chat, is an interior design fan's dream. Located in a former factory building in Bermondsey, London, it is a beamless whitewashed space, where samples of luxuriant velour fabric and copper piping are organized into a multitude of color-coded boxes.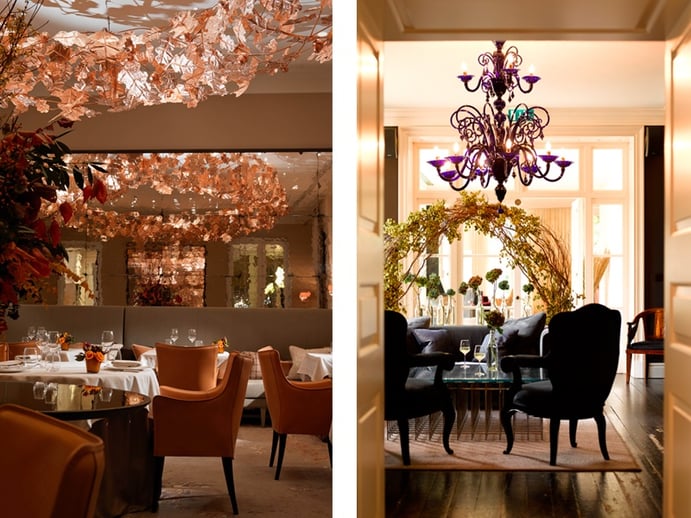 There are also small slabs of veined marble in a wash of colors, and prototypes from past projects, including a collection of pressed copper leaves that Hulbert used to canvas the roof of the dining lounge at Coworth Park. "The color coding is the work of Krishna, one of my interior designers," explains Hulbert. "She's obsessive about it but it does help to compartmentalize our design ideas," he explains.
Talking in an airy breakout area of the studio – complete with antique sofa and other stylish furniture – Hulbert makes a startling admission. "I was sacked from my first job in design," he reveals with a chuckle. Relaxed and drinking coffee from an earthenware mug by Japanese ceramicist Yoko, he adds, "I was working on the Broadgate development in the City of London and I got some measurements wrong so they sacked me. It didn't deter me, though – I knew I never wanted to do anything but design."
Life by the sea
As a young man, he had studied spacial design at university in Bournemouth, on the south coast of England. "I absolutely loved that. The light and the sea have been big influences on my work," he says. And he credits his move back to the coast 10 years ago as sparking a transitional period for his style, during which he learned how to make modern and vintage interiors work together.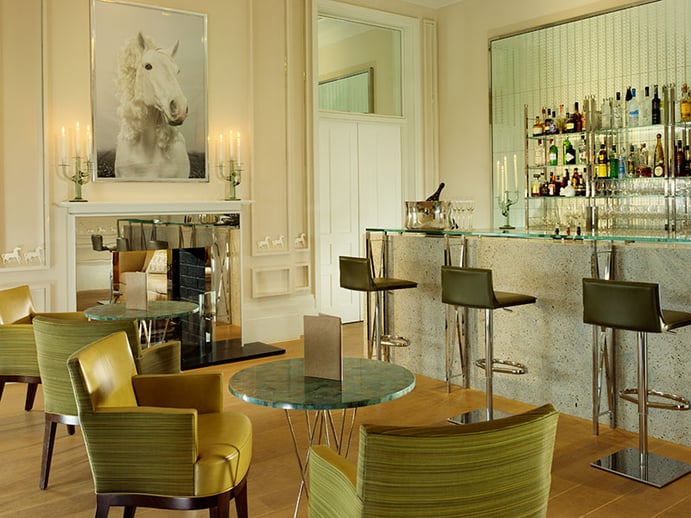 "I was working on Coworth Park hotel when I moved," Hulbert says. "Coworth had this real rural feel to it, with lots of antiques, and I remember thinking that I wanted to challenge this by adding some slicker, London-centric elements." Hulbert's work has followed this concept of reinvention ever since, using local craftsmen and materials as often as possible, creating bespoke items, and spending a great deal of time on the consultation process.
Calling on local craftsmanship
In Italy, MHD worked on Villa Emma, a private house in Lucca. It is absolutely full of objects and furniture that were made by local craftsmen. One example is the 30-seat table in the garden, which was made by a joiner from a huge tree that fell nearby. But there are also ceramic tiles and paint pigments that have been produced by artisans living in this part of Tuscany. Plants in the garden were sourced from local nurseries and stone for the swimming pool was quarried nearby.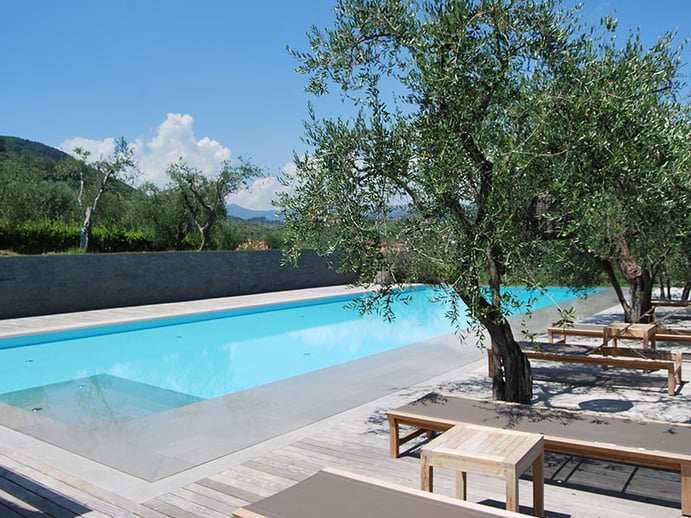 "I love challenging my practice to reconsider things that one would normally take as standard, and in that same way I like to be more involved with other aspects of the design too. With a new client, I will quite often block out an entire day to really get to know them and to find out what they want from a project," Hulbert says.
Right now, he splits his time between seven projects. One is a hotel in Cartagena, Colombia, which encompasses conversions of two historical buildings within a UNESCO World Heritage Site. Contrastingly, another is a brutalist concrete building in Moscow. "It's essentially a gallery, with incredibly tall ceilings and it's very Bond-like," says Hulbert. "Inside it's going to be minimal, in keeping with the façade, but there will also be antiques and objets-d'art."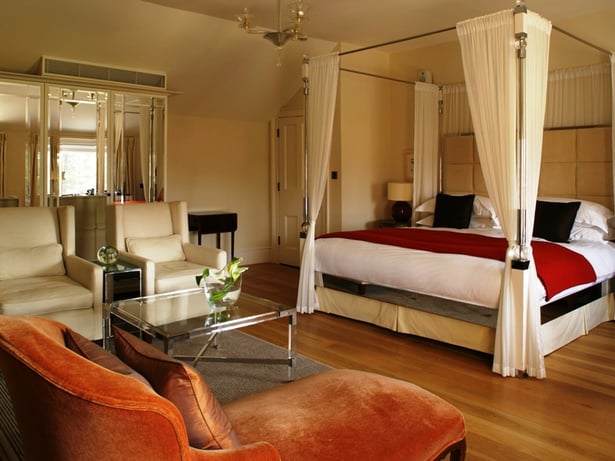 To further explain how he mixes old and new, always reinventing the traditional, he plucks a vintage brass sugar shaker from the cabinet behind him, "I'm going to put LED lights inside hundreds of mismatching shakers and use them to create a Berber-themed room inside a listed building in a project in the UK."
Hulbert personally sources many of the curios that he uses in his projects, and spends his Saturdays browsing antiques fairs, thrift stores, and even garage sales. "I don't ever have a plan, I just buy it because I know that it will work in some way or another at some point."
His studio is filled with such finds: a period sofa, a Georgian dining chair, and an empty and unpainted giant plywood dollhouse that's destined to be a drinks cabinet. "Everything in here is probably destined for somewhere else," he explains. "If I see something I like I'll buy it. I don't care if something is expensive or cheap – if it works it works."