When architecture enthusiasts head to Fishtail, Montana, for the Architecture & Design Film Festival on September 22-24, 2017, they may be forgiven for asking one question: why Fishtail? Well, for the new Tippet Rise Art Center, of course. For its sculpture park. For its retrofitted barn. For its acoustics, courtesy of expert engineering firm Arup.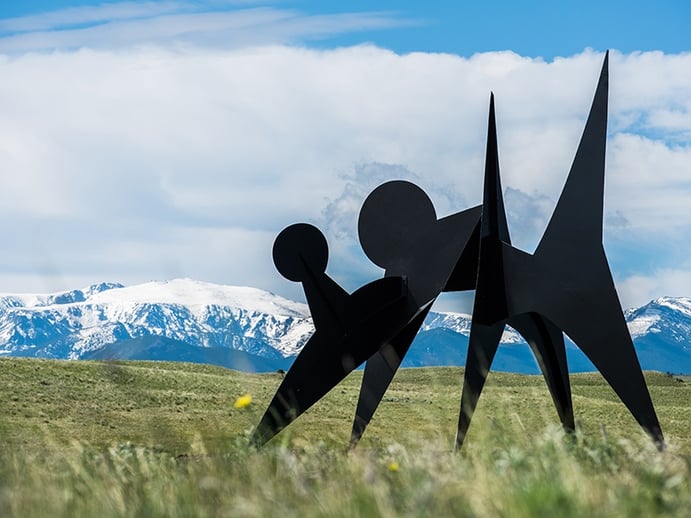 Sitting on more than 10,000 acres around two hours from Bozeman, Tippet Rise is a working ranch and a world-class arts facility. Cattle and sheep share rolling pastures with sculptures by artists such as Alexander Calder and Patrick Dougherty. The open-air performance area is crowned with an origami-like acoustic shell called the Tiara.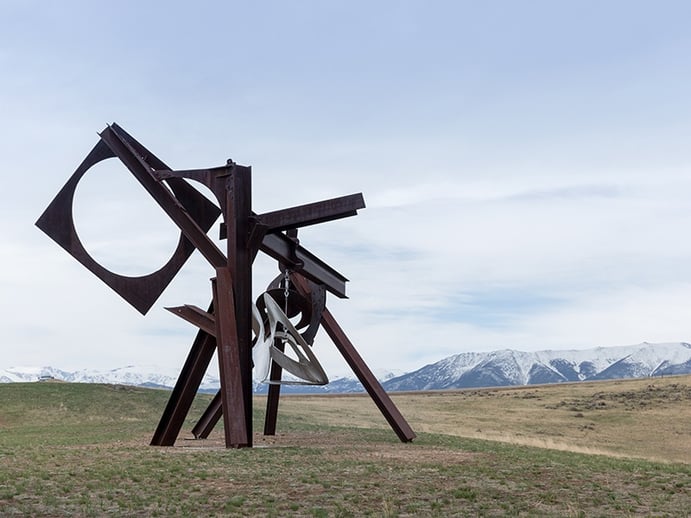 "It's such a unique place in the countryside," says architect Kyle Bergman, the film festival's founding director. "It's a natural fit for our audience, who appreciate the built environment and the design elements."
Parkitectural heritage
In that case, his audience will know that Montana boasts myriad architectural styles—from the preserved ghost towns along an old stage coach route to the Victorian-era mansions built in Butte with mining money.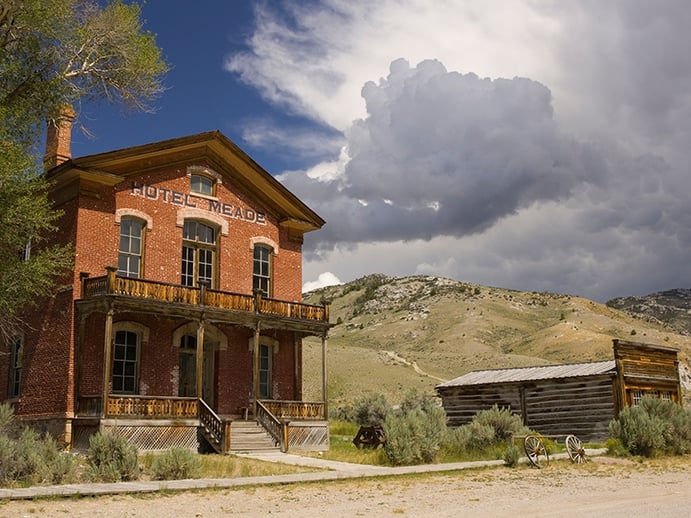 It all started with the simple log cabin, an iconic structure that looms large in the imagination of America. Montana's most rustic roots are evident in Helena's Pioneer Cabin and Reeder's Alley, part of the city's protected historic district.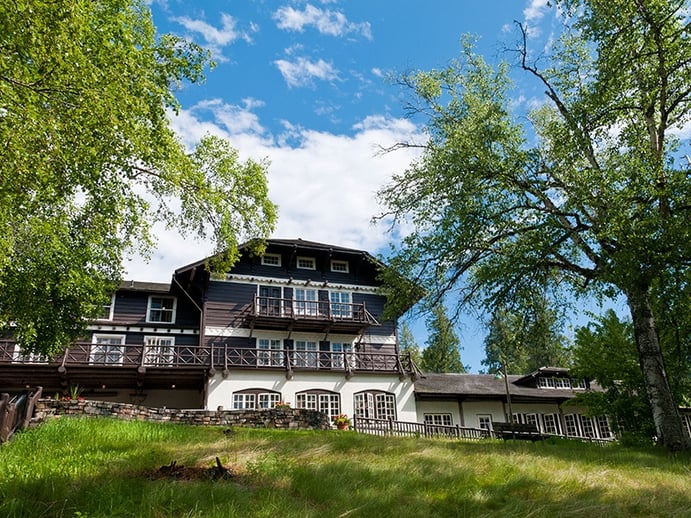 The state's great lodges—Lake McDonald Lodge and the Many Glacier Hotel—take the log cabin a step further in size and scale. This style is often referred to as "parkitecture," given that many of these buildings are National Park Service structures.
Mountain Modern
Always evolving, today's architecture in Montana takes aspects of cabin parkitecture and gives it an upgrade.
"We call it Mountain Modern," says Sean Averill, co-owner of PureWest Real Estate, the exclusive affiliate of Christie's International Real Estate in Montana. Averill points to the reclaimed wooden beams and massive limestone fireplaces at a property on Huckleberry Lane in Whitefish as an example. The low-slung ranch has the exposed beam construction of yore, but the inside contains all the latest creature comforts, including a glass-fronted wine cellar in the living room.
Call it what you will—Mountain Modern, Rustic Modern—it's a popular choice among buyers who want the authentic Montana look with an edge.
"Notice how the windows in every room are huge, often floor to ceiling, for sensational views," says Susi Dokken of PureWest about 300 Red Twig Lane, a Mountain Modern home by award-winning local architect Jerry Locati.
"We're just four miles from Bozeman, even though it feels like you're in the countryside. That's the magic of this place—it's built to fit into the natural environment. There's a stocked trout pond on one side of the house and a fly-fishing river on the other."
Down in Big Sky, a "ski in, ski out" chateau at 217 Goshawk incorporates soaring ceilings and a two-story stone fireplace into the log construction for a cathedral effect.
"What makes this home great is the scale and the height, coupled with the fun of being on the side of a ski hill," says Jackie Miller of PureWest.
Striking it rich
The state's architectural heritage doesn't end with Mountain Modern. There are restored icons like Anaconda's Washoe Theater, an extravagant Art Deco movie palace built in 1936 by B. Marcus Priteca, and the Finlen Hotel in Butte. Modelled after the Hotel Astor in New York City, the Finlen hosted political A-listers like Theodore Roosevelt, then-Senator John F. Kennedy, and then-Vice President Richard Nixon.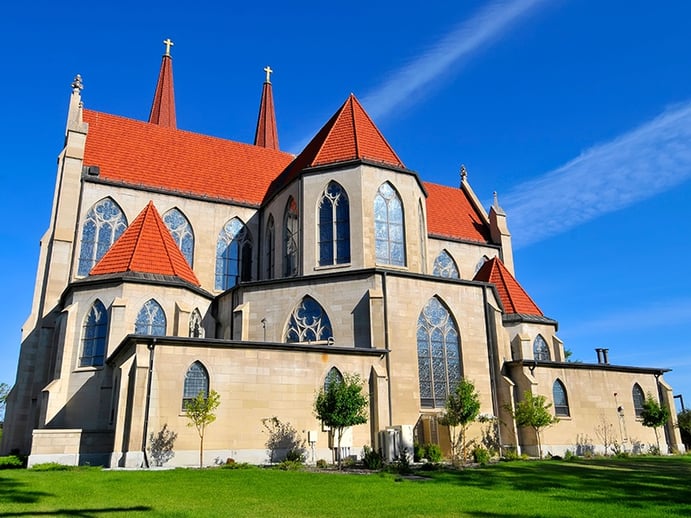 With Helena flush with gold-rush money in the early 1900s, the Cathedral of St. Helena was built as a Gothic homage to the Votivkirche in Vienna, Austria. And in Great Falls, one of its oldest schools became a landmark in the Romanesque Revival style, now the Paris Gibson Square Museum of Art, as did Billing's Western Heritage Center.
Known for its enormous copper-clad dome, the State Capital building was built at the turn of the century in Helena after two rival industrialists fought bitterly over which city would become the state capital. Marcus Daly, one of the formidable "copper kings," wanted it in Anaconda, near his mining operations. Undaunted when the capital went to Helena, he threw himself into his passion—horse racing—and built a luxury stable for his thoroughbreds.
"Tammany Hill is Marcus Daly's stable, converted into a luxury residence. It's so unique," says Bobbi Lockhart of PureWest. "The cork floors were renewed and the doors refurbished, as were the dramatic copulas in each upstairs bedroom. There are striking views of the Bitterroot Valley and Sapphire Mountains."
A modern option
Due north, in Rollins, sits another gem for architecture enthusiasts—especially those looking for something modern. Wildwood Ridge is perched above Flathead Lake, the largest natural freshwater lake this side of the Mississippi. It's unabashedly contemporary, with panoramic views, stack-cube design, and sleek surfaces. Not a timber beam in sight.
"Ten years ago, there wasn't a market for a modern house like this," notes David Fetveit, co-owner of PureWest Real Estate. "But there has been a shift in the last two to three years. People aren't always looking for rustic—particularly if it's for their primary residence, which is happening more and more. This property has all the advantages of being in the country with the refreshing appeal of a contemporary style."