Founded by Master of Wine Isabelle Legeron in 2012, RAW WINE has piqued the interest of wine enthusiasts the world over, and has since broken ground with fairs in New York and Berlin. Typically, the London edition (March 12–13) welcomes 150 growers from around the world who pour more than 600 natural, biodynamic, and organic wines.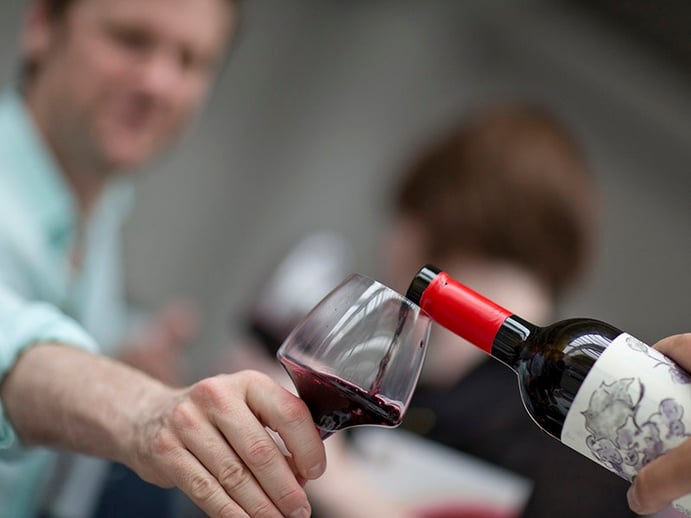 A welcoming group of growers
"I wanted to create a community platform," says Legeron of the fair, "…a space to put all these amazing growers in front of the people who buy and drink the wine. Today people are much more interested in food and drink provenance, which is why the market for these wines has really taken off. But low intervention is nothing new—when wines were first being made 8,000 years ago, they were all natural.
"In the 1980s, low-intervention and natural winemaking was highly concentrated in the Loire Valley and Beaujolais," says Legeron. "There was a very strong hub of growers that included the late viticulturist Marcel Lapierre, the late scientist and writer Jules Chauvet, and the consultant Jacques Néauport, who all embraced natural winemaking and were very influential throughout the world, and particularly in the US," says Legeron.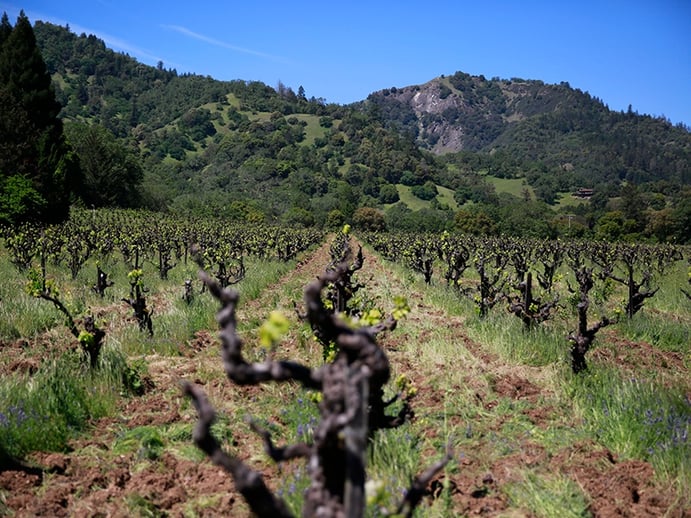 "Defining natural wine is simple," Legeron continues. "It is simply nothing added and nothing removed—a wine made organically in the vineyard and also in the cellar. At RAW WINE, we showcase a mix of natural, organic, and biodynamic wines, the latter two of which are basically the same, but come with certifications from bodies such as Demeter and might have a low number of sulphites added in the cellar for stabilization. "At RAW WINE, we require the biodynamic and organic producers to be transparent with their additions. As a broad term, I like 'low-intervention,'" she says.
Natural wine is simply nothing added and nothing removed
Unique Italian grape varietals
"It's easy to make a natural wine if the weather is on your side," says Marco Marrocco, a former engineer turned vintner, who will pour four Palazzo Tronconi wines from Italy at the event. "Luckily in Arce, the town where I live and make my wine, we have great weather all year round. In five months, we have only had two days of rain," he enthuses. "When the climate is poor, winemakers add sulphites and chemicals to the vines, which is not always good for the health of the land or the drinker."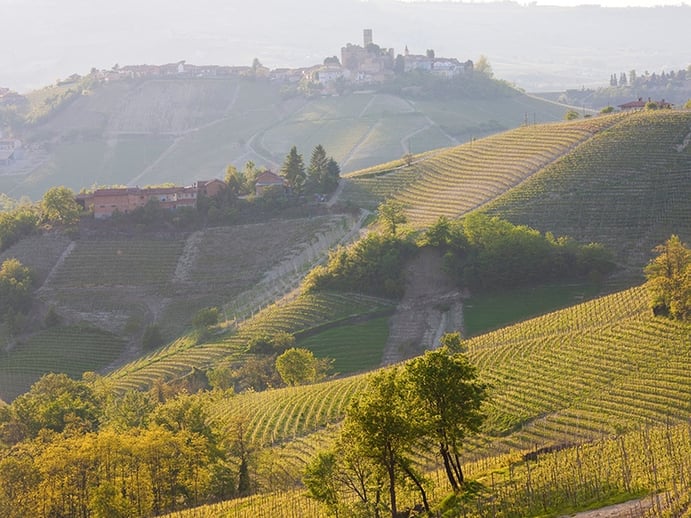 Palazzo Tronconi is located in Lazio, Italy's fifth-largest region. Known for its lush green hills, slow pace of life, and well-preserved medieval architecture, this bucolic region has a long history of winemaking. Around 80% of the wines produced here are white, and just under half have achieved recognized DOC (Denominazione di Origine Controllata) status. What's more, Rome is its beating heart.
Our natural pace of life is reflected in the wines that we make
"We are very close to the capital," says Marrocco, "yet we live a life that is more like [that in] southern Italy. Everything is simple, from the food—lots of cheese, good pasta made from local flour, olive oil, eggplant, and zucchini growing in everyone's gardens—to the way we go about our daily lives. The people here are friendly—we enjoy sitting outside in the town center and having aperitivo. It's a natural pace of life, and that is reflected in the wines that we make."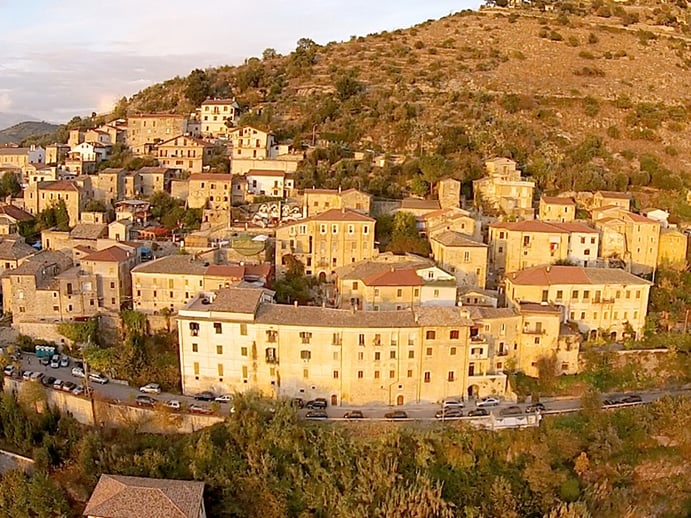 Marrocco will pour two reds and two whites at RAW London, made from grapes native exclusively to Arce. Of his wines, he is particularly fond of two: his 2015 Zitore, a light pinot noir–like biodynamic red made from Lecinaro grapes and aged for 13 months in old oak; and a 2015 Fatìa, a full-bodied white with an intensely fruity and floral nose made with Malvasia del Lazio and Trebbiano grapes, and aged in steel tanks for 10 months.
Importing the Old World to the New
Jason Charles of Vinca Minor will pour four of his organic Californian wines at RAW WINE London. Working with five growers across Santa Cruz, Sonoma Valley, and Mendocino, he describes why this New World terroir is ideal for the cultivation of Old World varietals:
"The elevation and proximity to the ocean creates super conditions for classic Bordeaux varietals in California. We use Cabernet Sauvignon, Merlot, and Cabernet Franc, which when grown here are bright with high levels of acidity—that was the attraction of that appellation for us."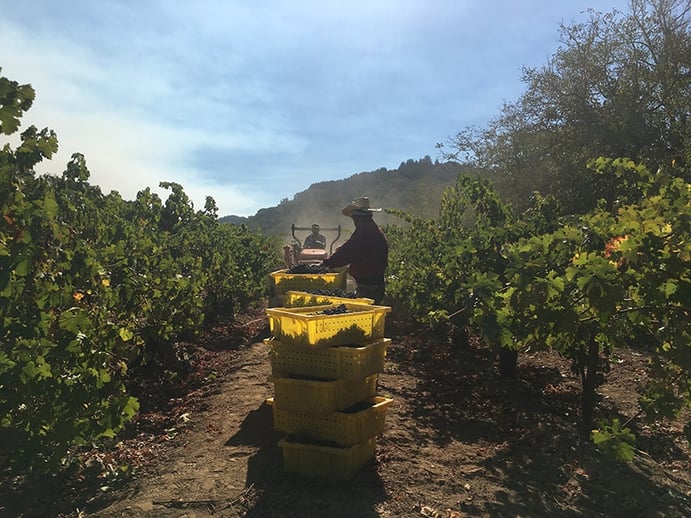 Furthermore, Charles thinks that Californian wineries not currently working organically could potentially be losing business: "People are asking more questions. They want to know where their fruit and vegetables come from—they want to know if they are organic. In the same way, they are asking more questions about wine. A lot of the farmers here have been organic for years, they just haven't really shouted about it until now."
People want to know where their fruit and vegetables come from and are asking more questions about wine
Just two hours north of San Francisco is Mendocino, where two Vinca Minor vineyards are located. A long history of agriculture that includes third, fourth, and even fifth-generation farming families as residents, the region is characterized by coastal winds that cool the sloped vineyards. Seventy-year-old Carignan and Syrah vines are dry-harvested organically here. Known for its bright red fruit and high acidity, Carignan grapes are typically used in the southern Rhône to enhance blends. In California, they create a wine with a powerful and intricate nose, with aromas of rose petal, violets, cassis, and tobacco leaf.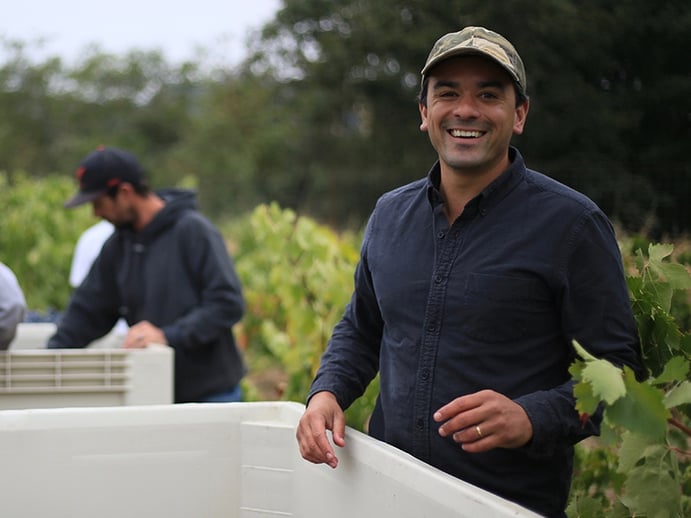 High-altitude California dreaming
Having welcomed many French winemakers in the 1930s and 40s, Santa Cruz is an equally storied region. Overlooking the majestic Santa Cruz Mountains, protected from harsh coastal winds and close to the Lexington Reservoir, near Los Gatos, California, estates here often benefit from their own microclimate, and produce approachable fine wines.
We've been lucky to find this under-the-radar region
Currently, vine cultivation in the Santa Cruz mountains is lower than in Mendocino, but its proximity to moneyed Silicon Valley and cosmopolitan San Francisco, combined with a truly stunning setting, means that the smattering of properties in or near the area is highly prized.
"For us, working naturally and minimally was right up our alley," says Charles. "We've been lucky to find this under-the-radar region that felt like a place we could go into and make the wines that we really wanted to. It can be hard to buy property in the area now as it's so in demand, but if you are able to it's an absolutely beautiful place to live."