The eyes of the yachting world are trained on Port Hercules, Monaco, when, starting on September 24th, the annual Monaco Yacht Show presents Europe's largest display of super and megayachts. The inventive new designs, feats of engineering, and spectacular interiors on display are a reminder that yachts are truly seafaring homes in their own right, and even floating abodes need a permanent place to drop anchor in style. Estates situated on bodies of water have historically had a certain nautical flair: a traditional color palette of blue and white, paintings and antiques that capture the spirit and aesthetics of the ocean, fishing ephemera, and of course the water views, which are likely to be every bit as breathtaking as any work of art. Some highlights from upcoming Christie's auctions will lend a touch of nautical glamour to these waterfront estates, each one a luxurious port of call for a yacht just returned from an adventure on the ocean.
A Classic Hamptons Summer House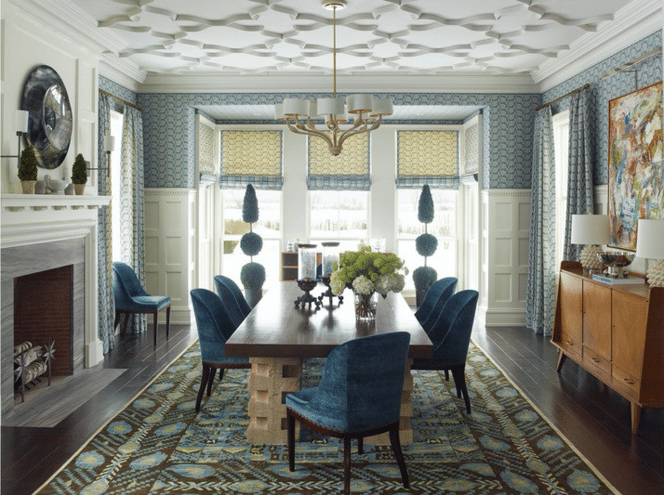 A light-filled Water Mill home on Halsey Lane, designed by architect Peter Block and interior designer James Michael Howard, has all the qualities of a classic summer house, updated for a contemporary family. Howard is a 2014 winner of the Hamptons Cottages and Gardens Innovation in Design Award winner for his thoughtful implementation of materials and fresh perspective on traditional Hamptons style. Situated on 3 acres and just 200 yards from Mecox Bay, this 12,000 square foot home is ideal for swimmers and sailors alike. Lush landscaped grounds with native plants and a nearby apple orchard give this property the feeling of a real oasis. Howard's design for this home draws from the classic look and feel of seaside estates dating back to Long Island's whaling days: luminous shades of blue, ranging from deep and saturated to light and airy, make the living room, dining room, and bedrooms perfect settings for the bold hues of early American paintings.
Some highlights from Christie's upcoming sale of "Important American Furniture, Outsider and Folk Art" on September 24th include a charming pair of 19th Century watercolor portrait miniatures of a sea captain and his wife. Measuring just under 5 x 4 inches, these portraits show a young couple dressed in Jane Austen-era clothing, the captain identified by the sight of a tall ship through the window behind him. Thomas P. Moses (1808-1881) depicts the Schooner Charles Carroll in the glow of a pink-orange sunset in a painting dated 1875; tiny structures visible on the shoreline are a late 19th century view of Portsmouth, New Hampshire. And from 1924, a pair of elegant prints by Archibald Bertram Webb (1887-1944) called "The White Sale" show the clear influence of Japanese block prints on American illustration and design. The smaller of the two represents the movement of the water by swirling the reflection of the trees from above into subtle curves.
Majestic Views and Open Space on Lake Tahoe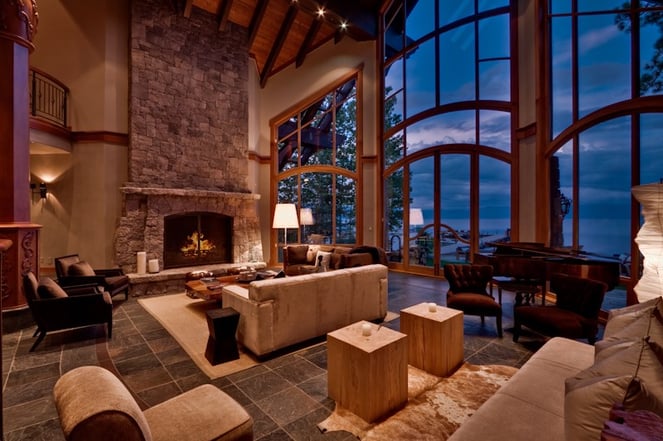 And back in North America on the western shore of Lake Tahoe sites the 12,000 square feet Nineteen Seventy estate: a perfect setting from which to explore this vast, crystal clear body of water. Like the Lake itself, everything about this waterfront home is on a grand scale: with seven bedrooms and a soaring ceiling in the living room, the views of the High-Sierras are dazzling and there's plenty of room for adventure on land or water. In keeping with the aesthetics of the Mountain West, Nineteen Seventy is framed in wood and native stone, with a double-height, floor-to-ceiling window frames the unspoiled setting beautifully. On the lake, a private 145-foot pier features a boat lift. And when the weather calls for a cozy evening indoors, there's a billiard room, wine cellar, home theater, and several large fireplaces throughout. It's a modern interior that calls for bold color, like Rob Pruitt's (b. 1964) "Pjätteryd Oil Painting: World Map," part of Christie's "First Open" sale in New York on September 30th. This whimsical take on traditional elementary school classroom maps illustrates the globe in a textured, hand-wrought style that almost resembles a nubby textile.

Similar in color palette is Famille Rose Carp Tureen and Cover from China's Qianlong Period (1736-1795), in Christie's upcoming "Mandarin and Menagerie" sale. Like its catfish counterpart from Bidar, this lively carp is rendered with personality: two dark eyes, tail at attention, and a shimmering coat of bright yellow, green, and pink scales. And for a modern nod to the waterfront setting, Roy Lichtenstein's "Landcape with Boats," included in Christie's upcoming "Prints and Multiples" sale, almost resembles a Chinese painting with its stylized hills, clouds, and branches. Yet it is rendered in Lichtenstein's signature "comic book" style with brightly colored dots that are varied in size to make the image appear as though it were printed. Two very small boats appear in the foreground, giving the water and mountains beyond a sense of magnificent scale, just like the High-Sierras beyond Lake Tahoe.