The Palm Beach story began in the late 19th century, in the mind of Henry Morrison Flagler, a co-founder with John D. Rockefeller of Standard Oil, who'd retired from the company. A honeymooner in historic St. Augustine, he got his first intimation of Florida as a tourist destination and built his first hotel there. The 540-room Ponce de Leon, an immediate hit when it opened in 1888. He looked farther south.
Where others saw only "this wilderness of waterless sand and underbrush," Flagler saw an American Riviera: a 12-mile-long, nondescript barrier island, it was to become known as Palm Beach, America's first luxury lifestyle brand.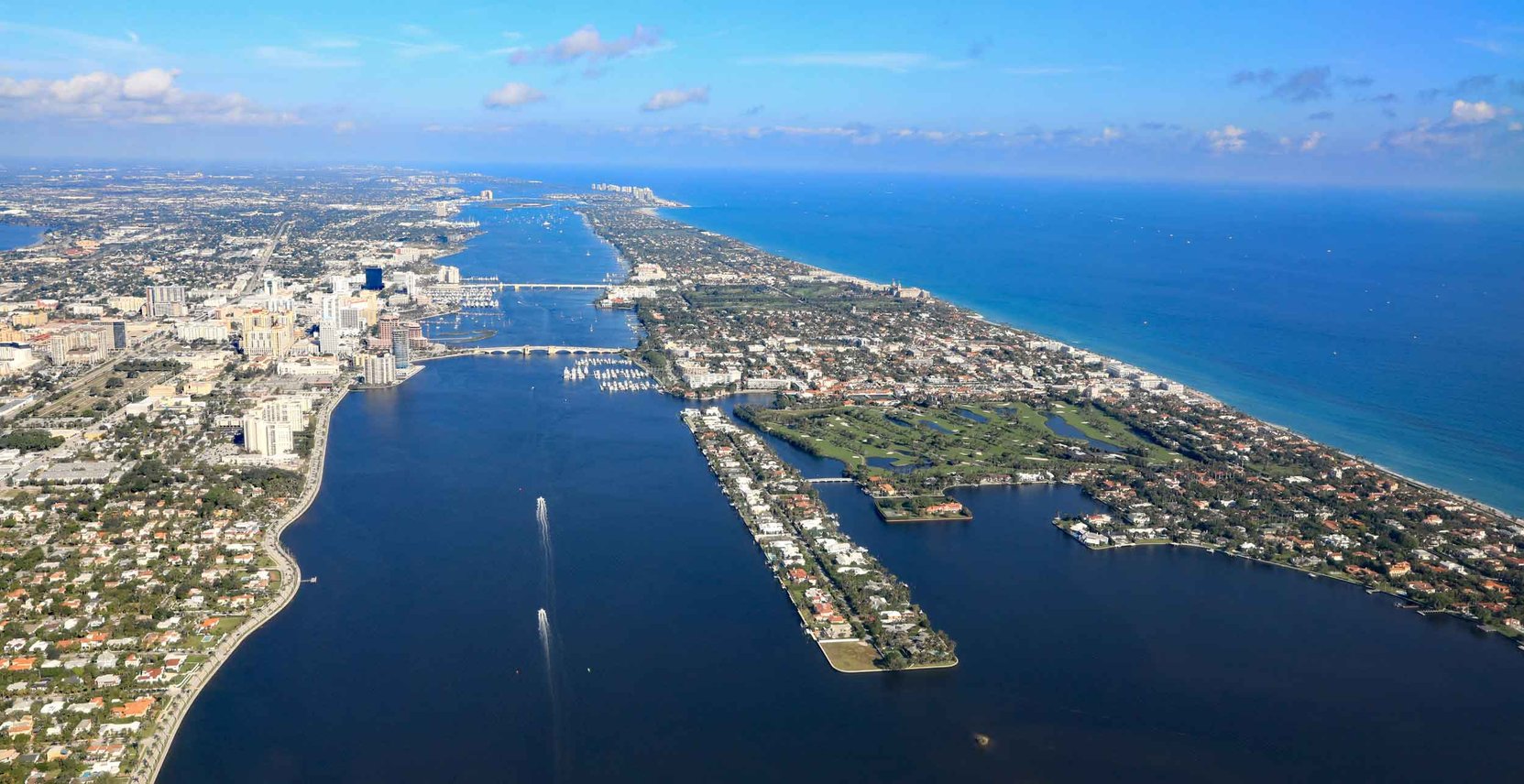 Building the brand… on rails
Flagler, who mastered railroad logistics in getting Standard Oil to market, began buying and standardizing Florida's short-line railroads into what became the Florida East Coast Railway. It was critical infrastructure for opening southern Florida to development, moving construction materials, commercial freight, passengers—and customers—to his hotels.
By 1894, his railroad had reached West Palm Beach and his newly completed, 1,100-room Royal Poinciana, a great Gilded Age hotel in the Georgian style that became the largest wood-frame structure in the world. The railroad built more luxury into the brand: A spur line reached all the way to the hotel, so that the wealthier guests could pull up in their private railcars and walk to their rooms with minimal inconvenience.
Within two years, the Royal Poinciana would be eclipsed by his greatest architectural achievement, The Breakers.
The Breakers: expansion and evolution of the brand
Built as the Palm Beach Inn in 1896, Flagler's iconic hotel was renamed "The Breakers" in 1901, for its enviable oceanfront setting, and guests kept asking for seaside rooms across the Lake Worth Lagoon, "over by the breakers." Those guests were a who's who of American high society: Rockefellers, Vanderbilts, Astors, Andrew Carnegie, J.P. Morgan, and Henry James. Old money and new bought into the Palm Beach dream. They built.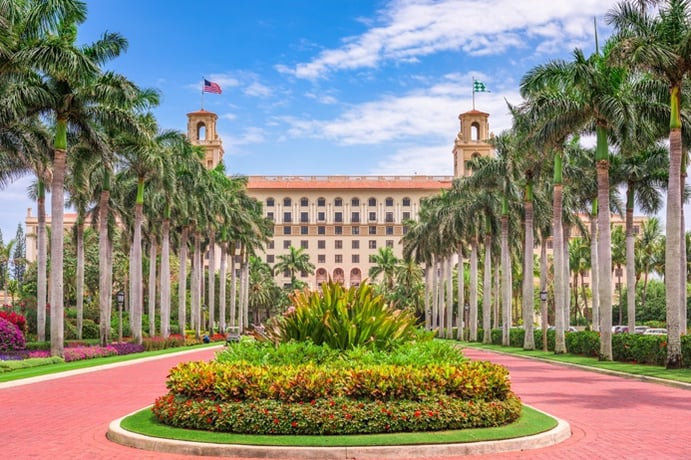 Destroyed by fire in 1903, The Breakers was immediately rebuilt. Flagler died in 1913, before seeing the Mediterranean-style masterpiece that stands today. Rebuilt by his heirs after a second fire in 1925, just in time for the 1926 winter season, the building was hailed by Fortune magazine as "undoubtedly the finest resort hotel in the world." Its grand Italian Renaissance façade, modeled after Rome's Villa Medici, encloses a gilded interior adorned with marble floors, frescoes, and hand-painted ceilings with Venetian chandeliers. Surrounding the hotel are 140 acres of immaculately landscaped grounds. A number of multibillion-dollar refurbishments have added a spa, beach club, tennis center and golf clubhouse, and a redesign of its famous Ocean Course—Florida's oldest 18-hole golf course.

Brand boom and bust: what made the '20s roar
Sometimes a brand is imperiled by its own success: Demand can exceed supply; imitators and counterfeits can emerge. The Florida real estate boom was at least in part inspired by the Palm Beach brand. Spurred by the booming postwar economic expansion, easy credit and a soaring stock market, other real estate operators, developers, and speculators cashed in and cashed out all over Florida. Like the roaring stock market, that other great bubble, there was no upper limit—until there was.

By mid-1925, Flagler's railroad was overwhelmed by speculative demand for building materials and commodities; it embargoed imperishable cargo to prevent food shortages. News of Florida land frauds dominated the northern press. A 1926 Miami hurricane killed

390 people and further stifled land sales; three Palm Beach County banks failed in 1927; then, in September 1928, a Category 4 hurricane destroyed 8,000 Palm Beach County buildings, while flooding from Lake Okeechobee killed 3,000 people. By the time the Great Depression arrived with the October 1929 stock market crash, Florida was already there.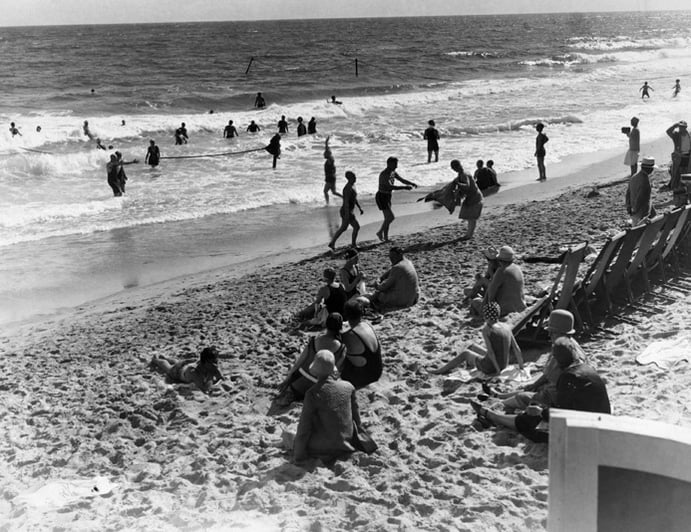 But the Palm Beach brand was there to stay.
Brand maturity: Mar-a-Lago
That boom-time exuberance, that Jazz Age optimism took shape in the sometimes fantastical, sometimes over-the-top architecture of Mar-a-Lago, decades before it became a private club and "Winter White House" for the 45th president of the United States. Mar-a-Lago was built for cereal heiress Marjorie Merriweather Post, who named it after the Spanish for "sea to lake"—its spectacular site on 17 acres between the Atlantic Ocean and Lake Worth.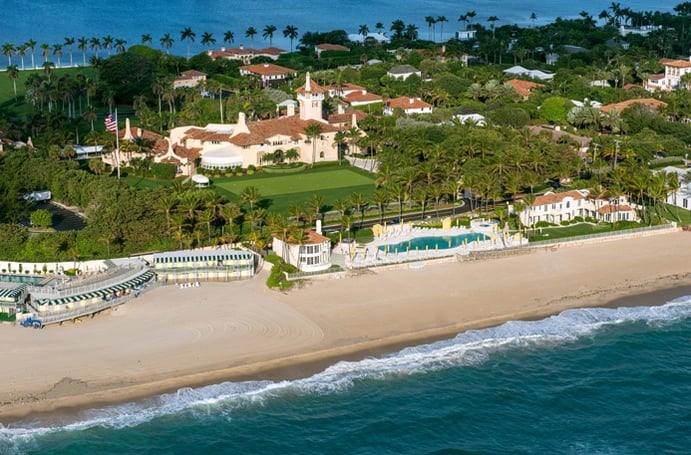 In 1924, Post commissioned architect Marion Sims Wyeth and Joseph Urban to design her oceanfront retreat (with 58 bedrooms and 33 bathrooms) at a cost of $7 million. The 62,500-square-foot crescent-shaped main house and 75-foot tower were inspired by the Hispano-Moresque style. Post bequeathed the property to the National Park Service, but its enormous operating cost forced Congress to give it back in 1981. Real estate developer Donald Trump purchased Mar-a-Lago in 1985 and, a decade later, transformed the estate into a members-only club with guest rooms, a grand ballroom, and resort-style amenities, including a spa, salon, fitness center, tennis courts, croquet lawn, pool, beach club, and the Trump family's private residence. It is the last estate of its era to remain almost entirely intact.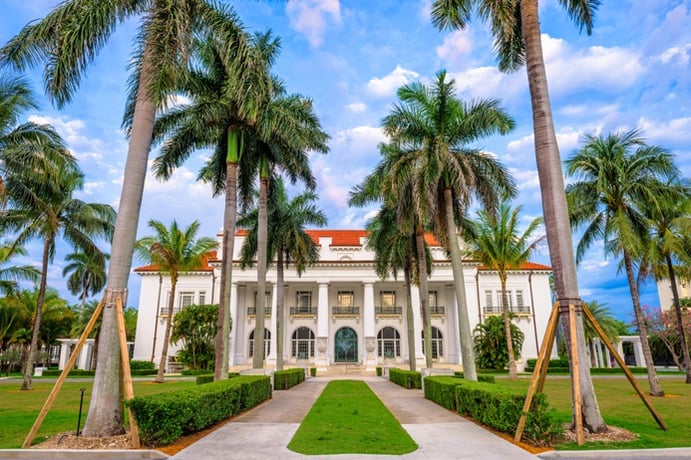 The Winter season: sustaining the brand
The original Palm Beach social season ran between mid-December to February 23, the day after Flagler's annual George Washington Ball, held at his Whitehall mansion (now the Flagler Museum). Today, the "season" runs from December to April. The busy social calendar ranges from glittering galas, charity benefits and auctions to internationally renowned art fairs, including January's Palm Beach Contemporary + Modern.
Twelve miles of shoreline offer pristine beaches, and access to boating, fishing, and water sports. Exclusive members-only clubs, Mar-a-Lago; Palm Beach Bath and Tennis Club; and the Everglades Club, offer five-star recreation. There are world-class sporting events at the Winter Equestrian Festival, at Palm Beach Equestrian Center, the International Polo Season, at Palm Beach Polo, Golf and Country Club, in Wellington, as well as the Honda Classic golf tournament in nearby Palm Beach Gardens.
A shopping mecca, Palm Beach's luxury fashion and jewelry emporiums line Worth Avenue, which rivals Fifth Avenue in New York and Rodeo Drive in Beverly Hills. Fine dining can be found at Buccan, Café Boulud, Café L'Europe, and Chez Jean-Pierre Bistro. The town is also known for its cultural institutions: the Norton Museum of Art, Henry Flagler Museum, The Society of the Four Arts, and the Palm Beach Preservation Foundation.

Extending the brand
En route to Key West, Flagler's railroad reached Biscayne Bay, where the residents wanted to incorporate a city named in his honor. The millionaire demurred. Perhaps he thought no one wanted to live in a city called Flagler. He instead recommended an old Native American name: Miami.
But that's another story, and another brand.
Serving Palm Beach's luxury real estate needs is another prominent South Florida brand: Premier Estate Properties, the exclusive Affiliate of Christie's International Real Estate in the region.