With the upcoming Christie's sale of items from the personal collection of the late David Rockefeller and his wife, Peggy, there's fresh interest in one of America's most extraordinary families and the landmark New York City architecture they created.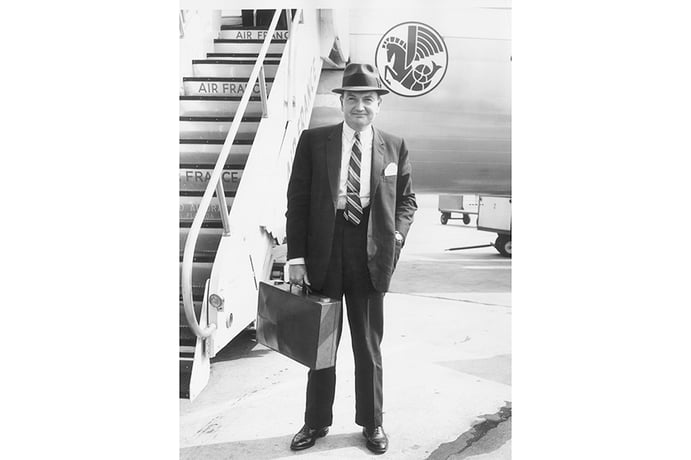 The family tree
As is often the case with contemporary stories of entrepreneurial success, the Rockefeller fortune was constructed almost singlehandedly by one determined individual. John D Rockefeller founded the Standard Oil Company in 1870 and went on to transform the US oil industry during the late 19th and early 20th centuries. His descendants would go on to be influential in their own ways.
Rockefeller Center has become a city within a city—a place where people work, play, meet, and greet
David Rockefeller, one of John D's grandchildren, became CEO of Chase Manhattan Bank in the 1970s. Other grandchildren include Nelson, who served as Vice President to Gerald Ford from 1974 to 1977, and Laurance, a conservationist and pioneering venture capitalist who provided early funding to technology companies Apple and Intel.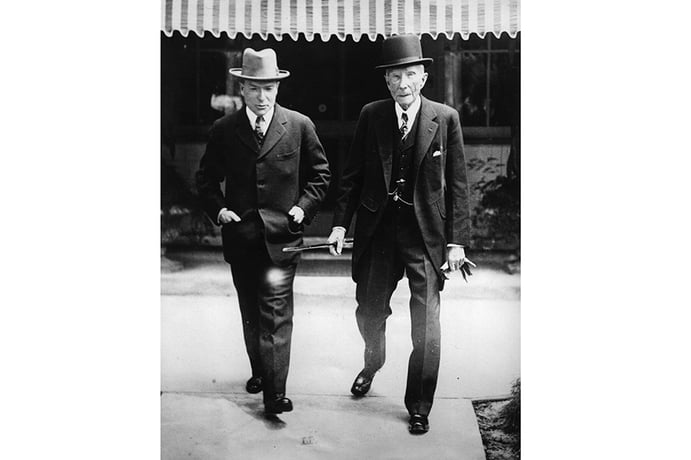 But the Rockefeller clan is known for so much more than their achievements in politics and business. Their illustrious forebear John D began a family tradition by setting his ambitions beyond oil: he was committed to the "art of giving," and his family's philanthropy has helped shape the body and soul of modern-day New York and beyond. Rockefeller gifts—in the hundreds of millions of dollars—have funded educational, medical, and public health causes and institutions.
An architectural beacon of hope
Today, Rockefeller Center is a symbol of economic success, yet it was conceived during much darker times. John D Rockefeller financed its development during the Great Depression, providing thousands of jobs between 1931, when construction began, and its completion in 1940. The project's crowning glory was the 70-story RCA Building at 30 Rockefeller Plaza, an Art Deco masterpiece now affectionately known as 30 Rock.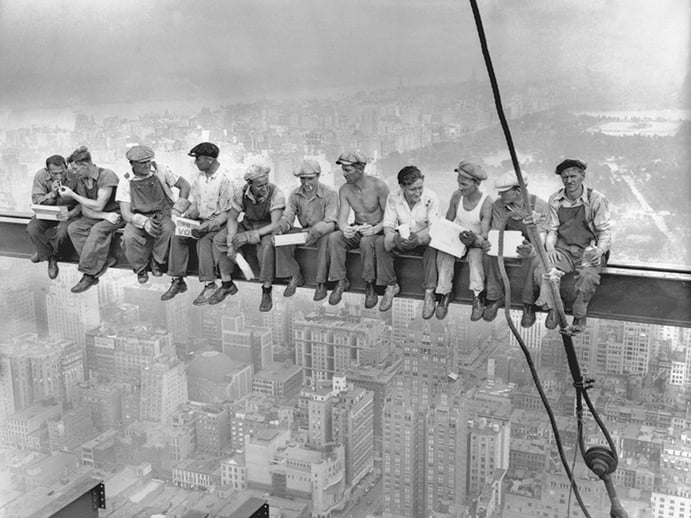 The jewel in the crown
In the 1970s, the Association of American Architects named Rockefeller Center the country's second most significant piece of architecture, topped only by the University of Virginia. And the New York City Landmarks Preservation Commission designated Rockefeller Center's exterior a New York City landmark in 1985. Christie's became one of its most prestigious residents when it moved to 20 Rockefeller Plaza in 1998, and bringing the sale of items from David and Peggy Rockefeller's much-loved art collection to its flagship auction rooms in spring 2018 is apt.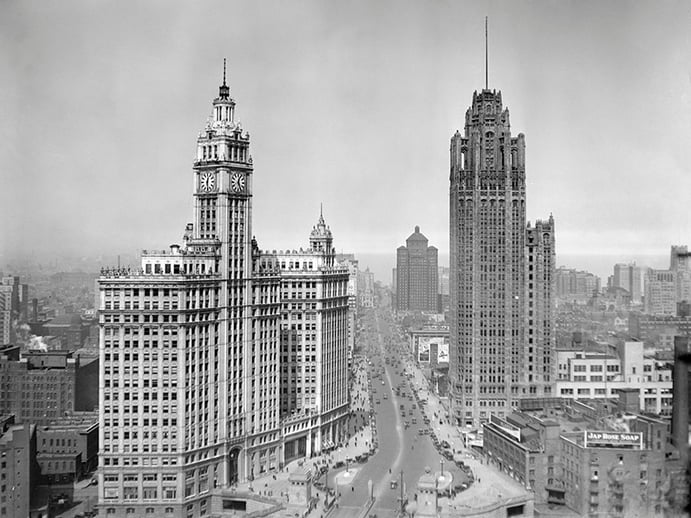 An architect's vision
Many hearts and minds shaped the Rockefeller Center but none more so than lead architect Raymond Hood. After designing Chicago's Tribune Tower, he created popular New York landmarks including the distinctive American Radiator Building (now home to the Bryant Park Hotel), the McGraw-Hill building, and 30 Rock. In bringing modernism to the Big Apple, Hood, who died in 1934—just a year after his Rockefeller skyscraper was completed—changed the Manhattan skyline forever.
This year will see architect Jean Nouvel's "MoMA tower" on West 53rd Street, officially known as 53W53, near completion—on track to open in 2019. This startling 82-story, 1,050-foot-high tapered structure cozies up to The Museum of Modern Art (MoMA) and will house new gallery space.
Somewhere over the rainbow
Perched on the 65th floor at 30 Rock is the Rainbow Room, originally conceived as a dazzling Art Deco dining room and luncheon club. Its creative team in 1934 included interior designer Elena B Schmidt, wife of renowned American architect Mott Schmidt, and set designer Vincente Minnelli, who later became a noted Hollywood director.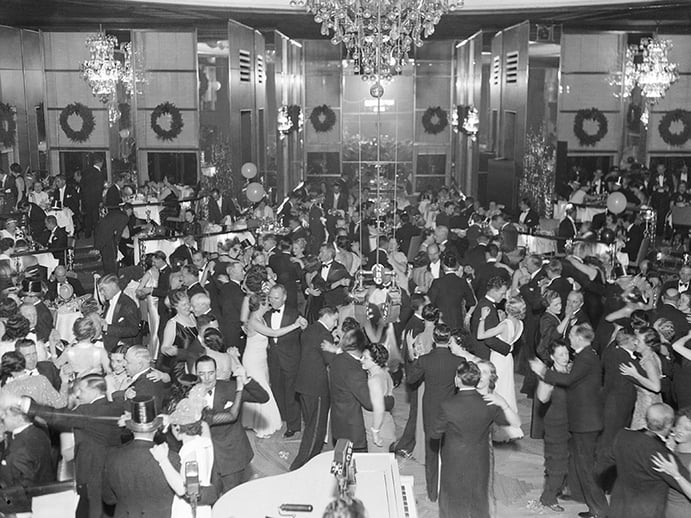 The room's hallmarks included 24-foot-high plate-glass windows, crystal chandeliers, central air conditioning, a color-changing musical organ, and an elegant oak and maple parquet floor. Opening just 10 months after the repeal of Prohibition in December 1933, the Rainbow Room's timing raised eyebrows, and the Rockefellers took criticism for funding a trade in liquor—an interesting fact to consider over a cocktail at Bar SixtyFive, one of the venue's current offerings,
Better and faster
As befits the Rockefeller name, even the RCA Building's original elevators were the best money could buy. The Rockefellers successfully petitioned for the maximum elevator speed in New York to be increased from 700 feet per minute, allowing their guests to arrive at the 65th floor (840 feet up) in just over 37 seconds—almost half the previous "going-up" time.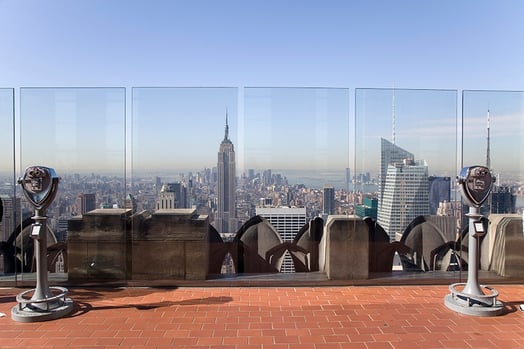 Stars of the small screen
In recent years, Rockefeller Center has become the heart of modern broadcasting in the US. Resident NBC Studios has spawned thousands of popular TV programs and the magnificent 6,000-seat Radio City Music Hall is still the world's largest indoor theater. More than 300 million people have stepped through its doors, 700 blockbuster movies have opened here since 1933, and David Bowie, Rod Stewart, and Tina Turner have all graced its stage. The Grammy Awards have been held here five times since 1981, and the very first MTV Video Music Awards caused uproar in 1984, thanks to Madonna's live performance of Like a Virgin.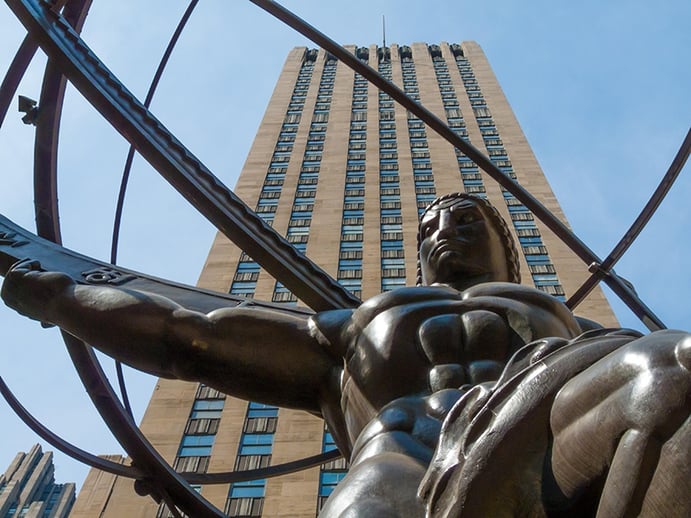 TV and radio devotees visiting Rockefeller Center can sign up for the popular Tour at NBC Studios, then head to The Paley Center for Media, just a short hop away on West 52nd Street.
Art with heart
Art has never been far from the Rockefeller family name. David Rockefeller's mother, Abby Aldrich Rockefeller, co-founded MoMA in New York, and the Rockefeller Center is draped with Art Deco motifs and sculptures, including the now-iconic Atlas, Prometheus, and Progress.
It is also the site of an annual contemporary art unveiling, in partnership with the Public Art Fund. Notable pieces in recent years include Seated Ballerina, a giant nylon inflatable by Jeff Koons (2017); Masks (Pentagon) by Thomas Houseago (2015); Sky Mirror by Anish Kapoor (2006); Reversed Double Helix by Takashi Murakami (2003); and the elegantly eerie Spiders by Louise Bourgeois (2001).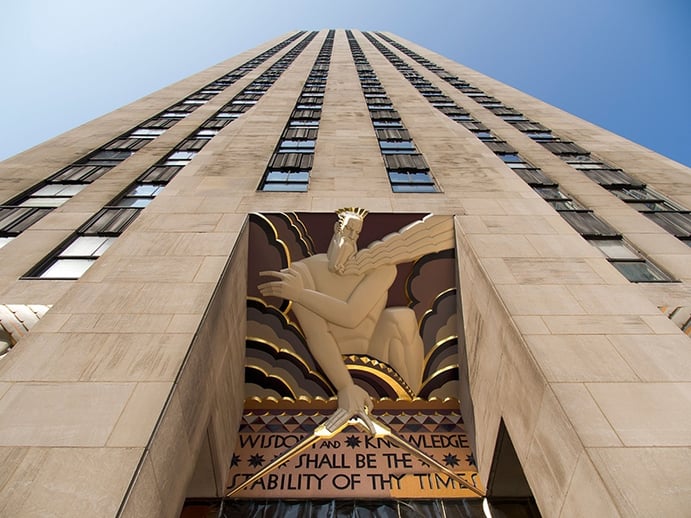 A place to meet
Just as John D Rockefeller once dreamed, Rockefeller Center has become a "city within a city"—a place where people work, play, meet, and greet. The sunken Channel Gardens are transformed from season to season, the festive holiday is marked by the magnificent Rockefeller Christmas tree and ice rink, and the views from Top of the Rock—the three-tiered observation deck on the 67th, 69th, and 70th stories of 30 Rock—are quite simply breathtaking.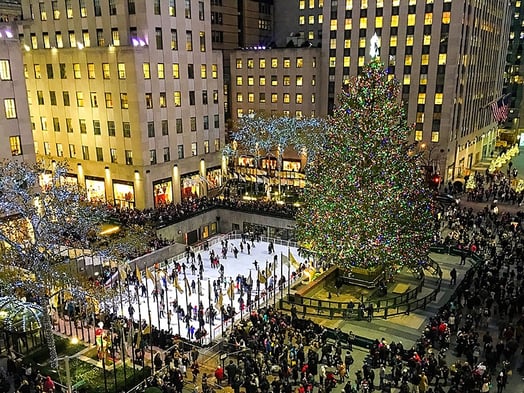 This 360-degree view takes in quintessential New York City landmarks, including the Empire State Building, Times Square, the Hudson River, and the Statue of Liberty. The Rockefeller family name may be synonymous with old America, but its philanthropic legacy is just as relevant today.