Between May 17 and 28, thousands of film fans will flock to the glamorous French city of Cannes and its sun-drenched coastline for the annual Festival de Cannes©. Celebrity spotting is almost guaranteed, as are evenings spent with a glass of rosé in hand—not surprising given that Provence, France's biggest rosé wine-producing region, is located just next door to the upmarket Côte d'Azur.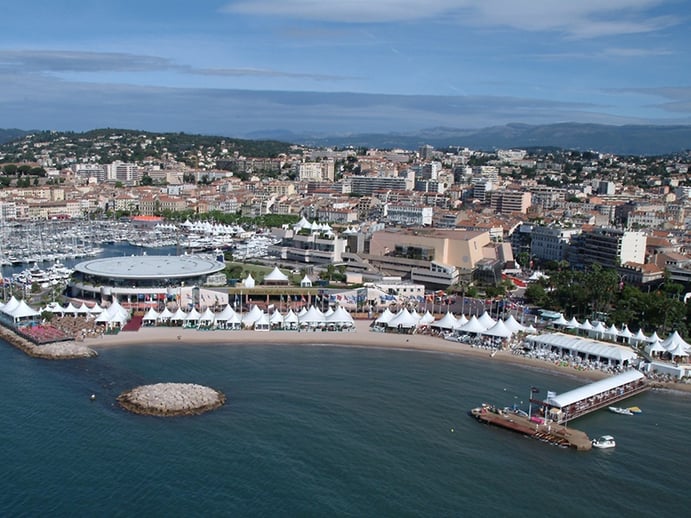 From the slopes of Vaucluse to the salt-sprayed coastal vineyards of Var, Luxury Defined tours Provence-Alpes-Côte d'Azur to discover the region's established and hidden-away estates, and where to stay if you're there for the festival.
Hotel Crillon le Brave, Vaucluse
"Look at those vines. Nature is wearing her prettiest clothes." Peter Mayle's book A Year in Provence certainly helped put Provence on the map when it was first published in 1989. But it's the lifestyle Mayle documented that continually attracts visitors to the region, year after year. The author's observation of Provençal life as appealingly unhurried is perhaps best experienced from the hilltop location of Hotel Crillon le Brave, a boutique hotel in the village of Crillon-le-Brave.
In the shadow of Mont Ventoux—among the highest points on the Tour de France route—the hotel is within reach of some of the region's finest vineyards. The small, family-run Domaine Terrasses d'Eole and Domaine du Tix vineyards come highly recommended; each crafts a rosé characteristic of the region's style.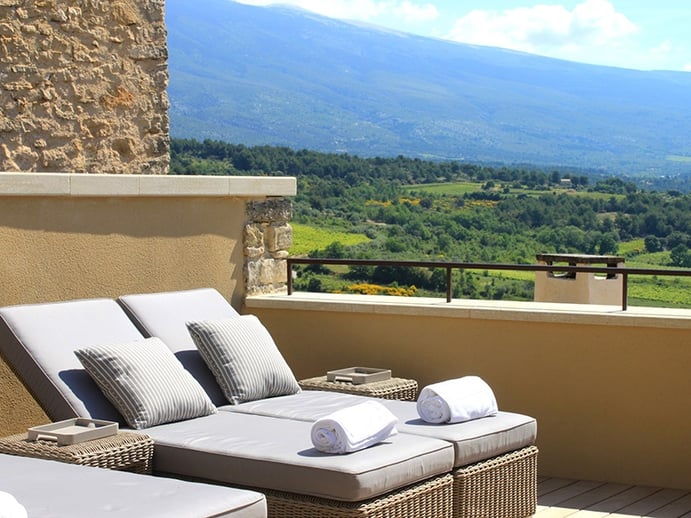 Hotel Crillon le Brave's eight stone properties offer superb views across the lush valleys beyond. A pool, and a spa inside a former stable make it an indulgent base from which to explore the area. With two restaurants championing local produce, there's little reason to leave this romantic enclave—except to take a vineyard tour, of course.

Puyvert vineyard, Vaucluse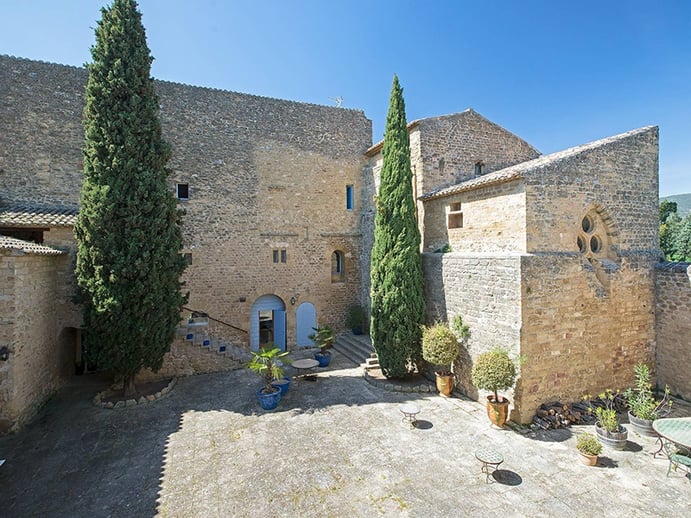 Fallen in love with the South of France? Puyvert, within the Luberon Natural Regional Park, is home to this spacious 10-bedroom vineyard property being marketed by Michaël Zingraf Real Estate, the exclusive affiliate of Christie's International Real Estate in Cannes.
This 12th-century former cloister has been restored to create a home where life among the vines can be realized. At the center is a quaint interior courtyard that's crying out to be used for long summer lunches. Its best asset, however, is a 24-acre vineyard, complete with a 1,200-hectoliter working winery.

"This estate has capacity to make 12,000 bottles of rosé per year," says Christophe Chapelon, Property Broker at Michaël Zingraf. "As well as Syrah and Grenache grapes, Viognier, Cinsault, Carignan, and Vermentino are also planted at the estate."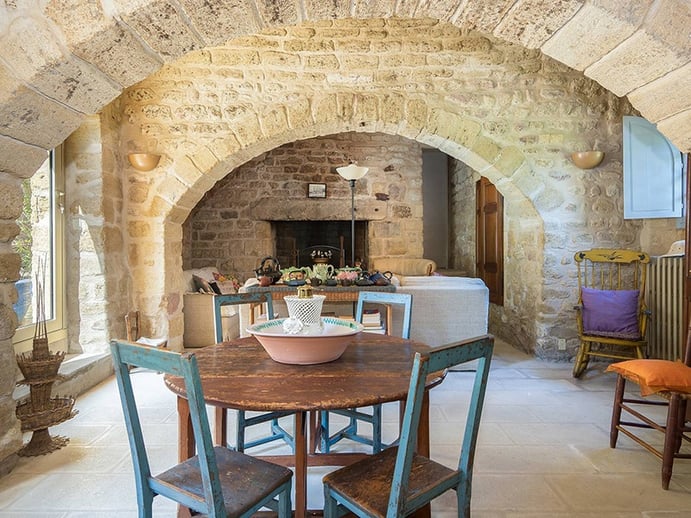 Tucked in the southeast corner of the Rhône Valley, the Luberon entered the spotlight after being featured in the first of Mayle's series of books about Provence. The region enjoys significant variations in temperature from day to night, meaning conditions are perfect for creating fresh, delicate, and aromatic rosés. Many of the producers here are small, and the banner of local cooperative Marrenon sits above the labels of the most popular bottles.

"Provence is a pleasant and varied landscape, with fields of wheat and sunflowers, and abundant cherry trees too," says Chapelon. "The quality of the wine in Provence has increased greatly in recent years, thanks to large investments by personalities from the business world. Most notable of these families are Descours (Château La Verrerie), Monod (Château Fontvert), and Dubrule (Domaine de la Cavale)."
Château La Coste, Bouches-du-Rhône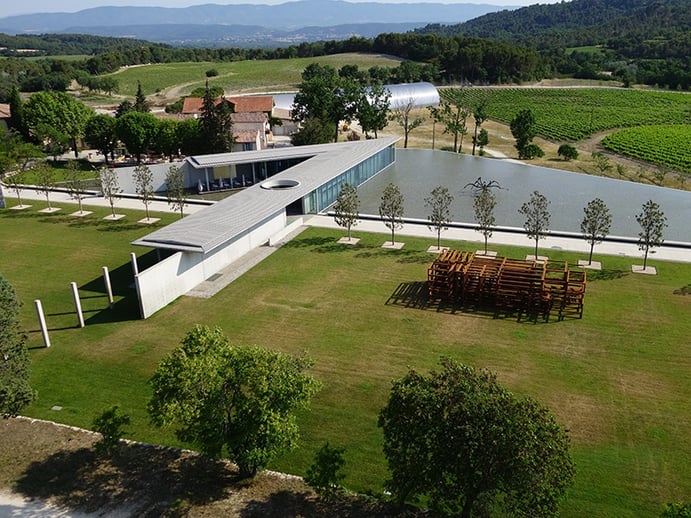 Combining art and architecture with winemaking, this vast estate spanning nearly 500 acres in Le Puy-Saint-Réparade showcases works from artists and architects to rival the best contemporary art museums in the world. An art tour at Château La Coste is a must do: allow the two full hours to explore the impressive grounds, which include works by Tracey Emin, Louise Bourgeois, Alexander Calder, Paul Matisse, Richard Serra, and more. Each was invited to visit the château before being asked to create a site-specific work that responds to the natural beauty of the estate.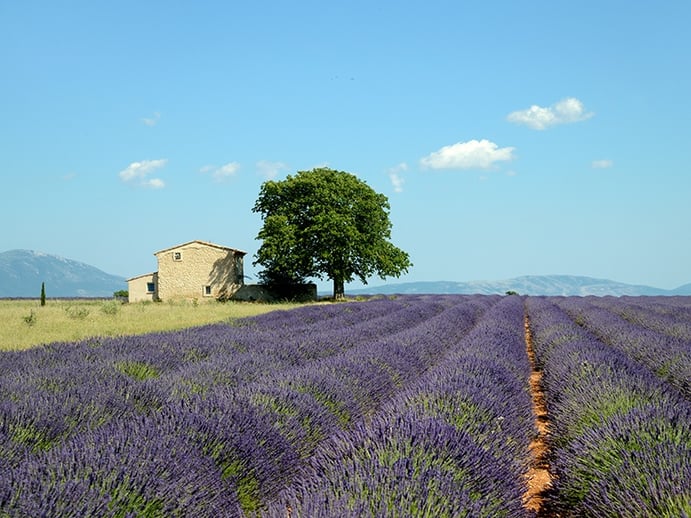 The Jean Nouvel-designed winery produces four biodynamic rosés—sample them in the on-site cave, or enjoy in the Tadao Ando-designed restaurant on the grounds. If you're extending your Provence visit beyond Cannes, concerts will be held at the château's Frank Gehry-designed pavilion in June. Sister property Villa La Coste, located less than 10 miles down the road between Aix-en-Provence and Luberon National Park, is ideal for longer stays.

Clos Mireille, Var
This vineyard near the coast in La Londe-les-Maures is one of three operated by Domaines Ott, a highly respected vintner in the Côtes de Provence AOC and Bandol AOC appellations that is part-owned by Champagne Louis Roederer. Rosé Cœur de Grain is Clos Mireille's flagship wine, a blend of Grenache, Cinsault, and Syrah, three grape varietals that thrive in the appellation.
With the maison's vineyards cooled by the ocean spray and warmed by abundant sunshine, the rosé is a very pale, peach-tinted pink—fresh and aromatic with a significant mineral backbone.
Created in 1930 by René Ott, Domaines Ott's well-recognized amphora-inspired bottle was designed to pay tribute to the Provence region and its connection to Ancient Rome—there are many sites where you can visit ruins nearby—whose residents would have used bottles of this shape to transport and keep their liquids cool.