Award-winning superyacht interiors company Design Unlimited has created cabins themed around artistic movements, incorporated saunas, and placed chandeliers and grand pianos. Here founder Mark Tucker talks about how a love of sailing and background in product design have allowed him to work on some of the most luxurious boats in the world.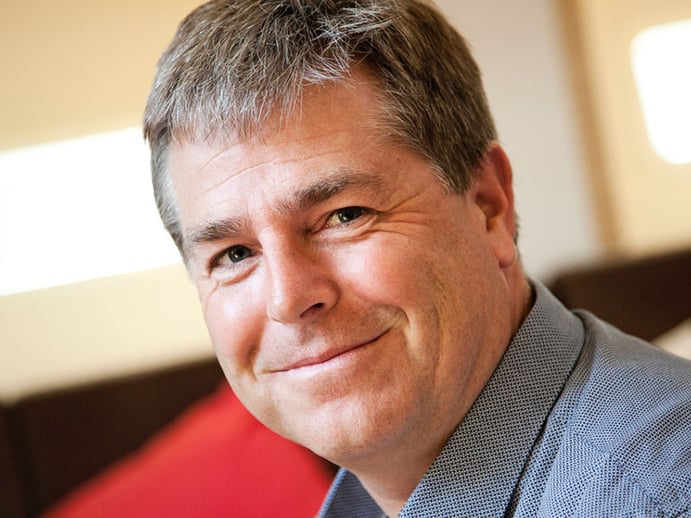 How did you become interested in sailing?
As a youngster growing up in Mumbles in South Wales I was fascinated by the water and loved to surf, swim, and sail. After crewing with one of my dad's friends, I saved up to buy my first Mirror dinghy, which I loved. I sailed extensively through my teens and then started cruiser racing. I moved to Hampshire in England in 1986, where I met my wife-to-be Julie at a sailing club.
When did you begin designing?
I studied art at school—my mother was an art teacher and artist—and gained a degree in product design. After leaving college I applied for a job at Camper & Nicholsons [the oldest leisure marine company in the world]. I was lucky enough to draw up yacht designs from the likes of Andrew Winch, so learned a lot.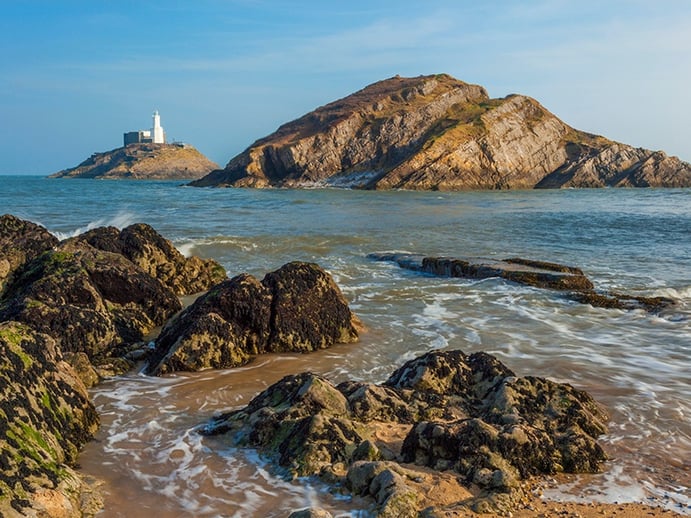 Why did you form Design Unlimited?
Having worked at Camper & Nicholsons and been a partner in another yacht design studio I felt the time was right to branch out on my own. It was a big decision, as we had a young family at the time, but I've never regretted it.
What services does the company offer?
We offer interior design, exterior styling, and interior decoration. This normally involves generating the general arrangement for the yacht, visualizing the spaces for the client, and then adopting their ideas to create a cohesive and innovative look.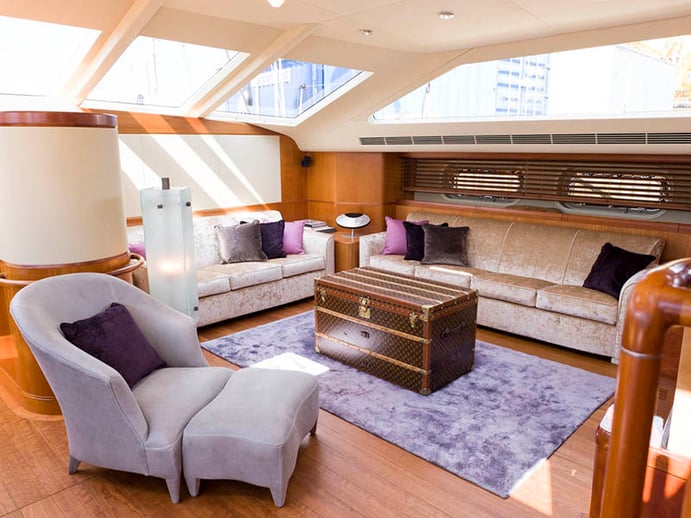 How does a commission work—what are the stages?
Our work begins with the client meeting. It is important to know exactly how they want to use their yacht. We put together mood boards and hand sketches and agree the direction of the project. This allows us to do the technical joinery drawings, finalize layouts, and work closely with the client to decide on finishes for all areas of the yacht. Once this process is complete we manage the build process, oversee what is going on at the build yard, and ensure a beautiful yacht is delivered.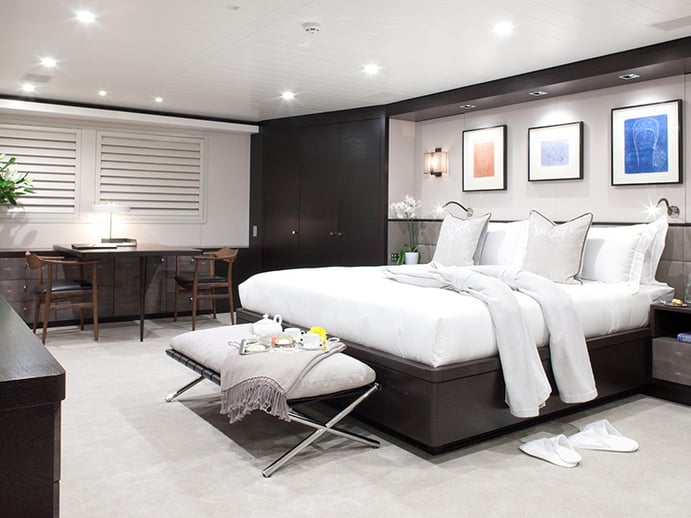 Tell us about some of your more unusual projects.
We were asked to hang a chandelier above the dining table in the saloon of a 152-foot yacht, so we arranged for this to gimbal (move with the motion of the boat). Clients have also wanted us to incorporate yoga facilities, saunas, bespoke galley storage for every item, amazing artwork—even a studio grand piano. For Mirage, we themed each of the guest cabins around an artistic movement. Themes ranged from expressionism and surrealism to cubism.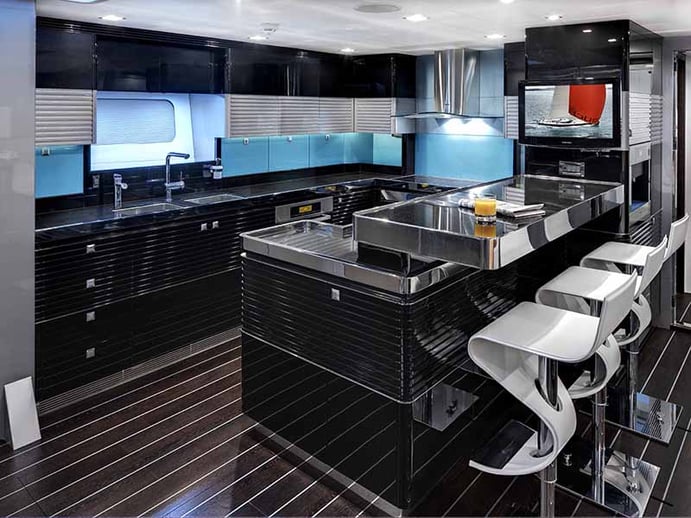 What is the secret to great interior design for boats?
Great interior design is always subjective, as with any design discipline. We have carried out a lot of work on smaller production yachts, and the secret for these is to make sure the design is practical and works at sea. But custom superyachts must be exactly what the client always dreamed of—and need to work for them down to the final detail.
Do Design Unlimited's creations have a particular look?
We pride ourselves as not having a house style. We can turn our hand to anything and have produced many designs from timelessly classic to modern, minimal, and extrovert. Hopefully the Design Unlimited look is individual and fresh in each case.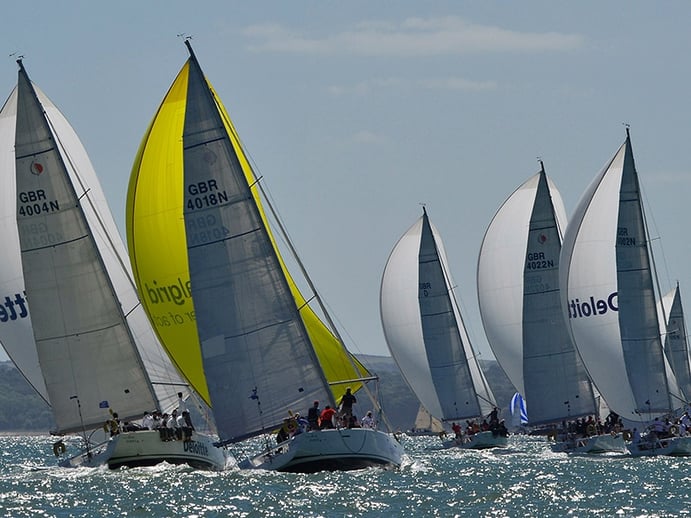 What sailing craft do you own?
Julie and I have an RS400 sailing dinghy that we race whenever time allows. We also have a Bavaria Vision 42 cruiser—one of our own designs. The boat has a fantastic cockpit arrangement where the table can be lowered to create a huge sunbathing pad. Our children and dog love this area when we are underway.
Where do you live?
We live in Lee-on-the-Solent in Hampshire. Lee is across the Solent (the strait that separates the Isle of Wight from the mainland) from Cowes.
What are your favorite sailing destinations?
Our favorite places locally are East Head in Chichester Harbour and Yarmouth on the Isle of Wight, but we try to get away for a family holiday on the boat each year and adore the West Country. We love Salcombe in Devon, but my choices would probably be Helford River and the Fal Estuary in Cornwall.
Describe your home.
It's modern and functional. Ultimately we prefer to spend our leisure time afloat rather than in a house.