The ideal whiskey bar is different for everyone. Perhaps it's a classically styled space, with dark wooden panels and a cigar room next door. Or maybe it's something with some buzz around it, on a rooftop or with a unique concept. It's generally agreed, however, that it takes more than a library-like list of bottles to make an impact.
Ahead of World Whisky Day on May 19, we've sought out some of the finest bars around the world that focus on whiskey—or whisky, depending where you are in the world—whether you're looking for the rarest bottle on the shelf, or need some help finding your favorite style.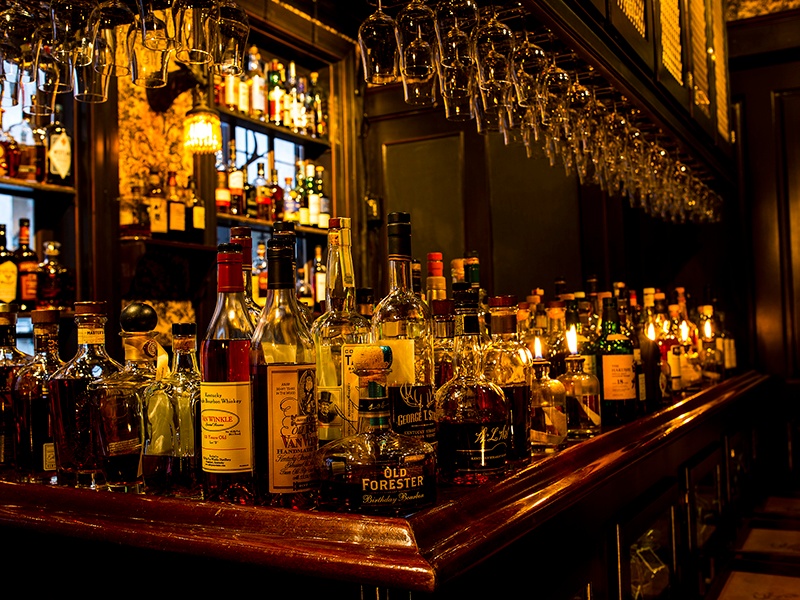 Seven Grand, Los Angeles
Dark wood, hunting lodge wallpaper, and a well-used ladder that accesses the upper levels of a vast and overstocked whiskey wall. Everything seems to come together perfectly at Seven Grand in Los Angeles, where there are more than 750 varieties of whiskey on offer, and bartenders eager to help guests find their favorite, discover something new, or mix a classic cocktail. Head to the back of the space to find Bar Jackalope, a unique 18-seat "sipping library" inspired by the intimate whiskey bars in Tokyo. With its own collection of 200 Scotch whiskies, bourbons, and ryes, Bar Jackalope encourages exploration. It's also home to the Seven Grand Whiskey Society, which holds weekly tastings led by brand ambassadors and master distillers from around the world, and offers storage should guests want to purchase their own bottles to keep them on site.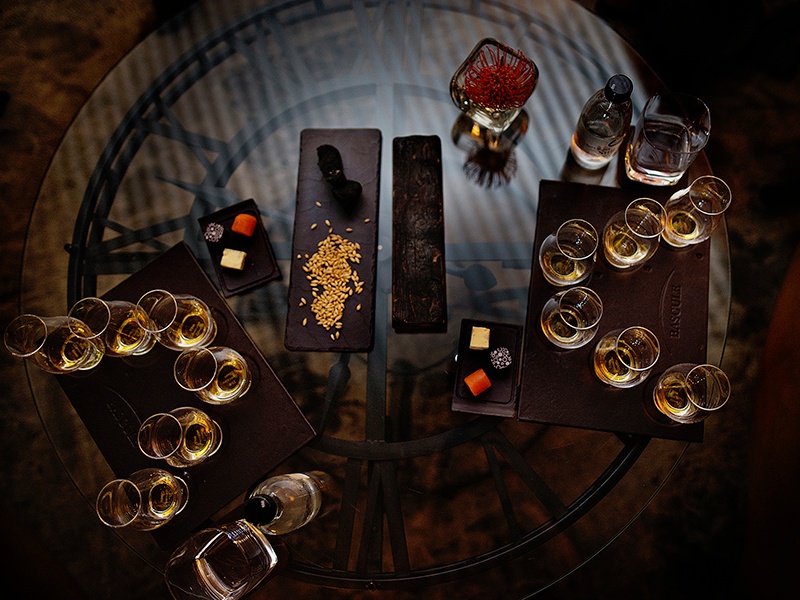 Bascule Bar, Cape Town
Bascule Bar, nestled below the grand Cape Grace hotel on Cape Town's vibrant V&A Waterfront, offers an enticing 400 whiskies from around the world—including a selection from South Africa. Enjoy the warm and welcoming bar inside—it has a subtly elegant nautical feel to match the location—or seek out an outdoor table for a view of the comings and goings of the yachts moored in the marina. The bar offers two tasting masterclasses, one for novices, one for experts and also suggests a variety of "self-tutored tastings." These flights are served with helpful guidance on the best way to sample a dram, alongside detailed tasting notes for each whiskey. Members of Bascule's Whisky Club have access to a personalized cabinet for private whiskey storage, a customized crystal tumbler, and exclusive tasting evenings and special events.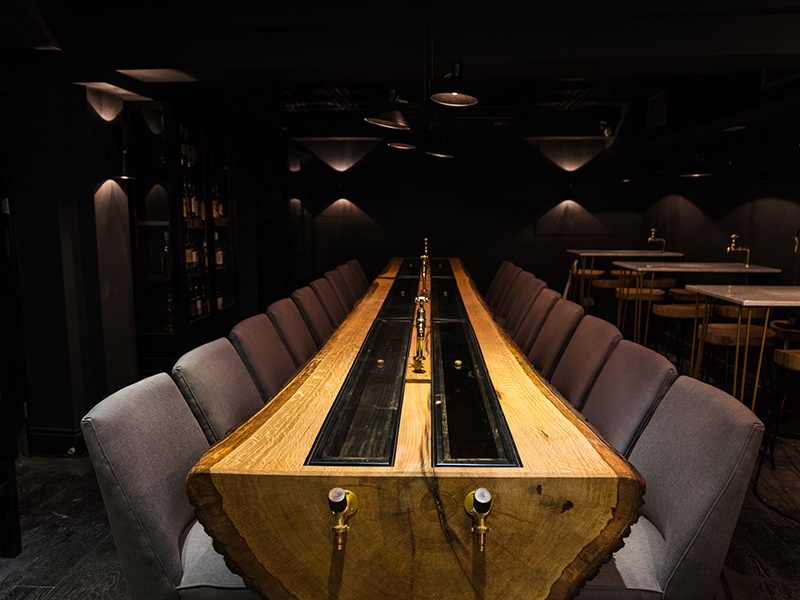 Black Rock, London
Black Rock sets itself apart by abandoning all pretense when it comes to whiskey, dedicated to making the spirit more accessible. That's not to say connoisseurs won't feel at home here. The bar categorizes its collection—around 300 bottles worth—according to flavor profile as opposed to country of origin, region, or terroir. This means guests are more likely to find a whiskey that is right for their individual palate, without being overloaded with information. It's also an opportunity to discover something new and interesting alongside the classics. Thom Solberg, bar manager at Black Rock, says bartenders are encouraged to spend time with guests. "Someone who is starting out drinking whiskey can be a little worried that they won't like it, so we sometimes have to go into great detail when talking about it. We're more than happy spending a little extra time to make sure we've found the right whiskey for you."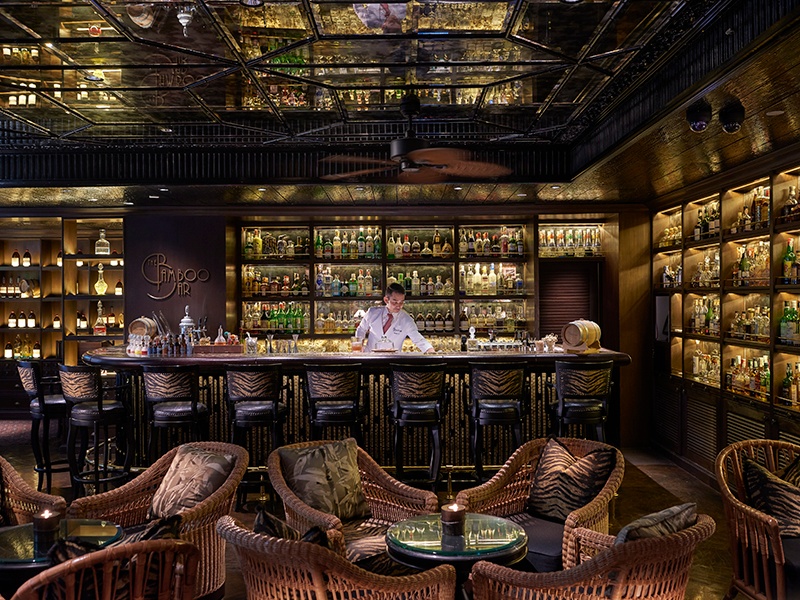 The Bamboo Bar, Bangkok
For whiskey lovers who want to be transported to another era, The Bamboo Bar in the Mandarin Oriental, Bangkok, is a classic cocktail bar that juxtaposes an early 20th-century feel—think leather Chesterfield sofas and colonial-style rattan armchairs—with modern touches. Complementing live jazz in the evenings is a music-themed cocktail menu that changes seasonally, and nearly 100 different whiskies from Scotland, the United States, and Japan. Johnnie Walker, an old favorite in Thailand, is among those on the list, as is an impressive selection of Japanese whiskies, which are gaining in popularity in the country. The bar regularly teams up with brands, who love the ambiance, to hold tastings and masterclasses, and the cigar room next door adds to the atmosphere. You can almost imagine Ernest Hemingway joining you at the bar for a Scotch and soda.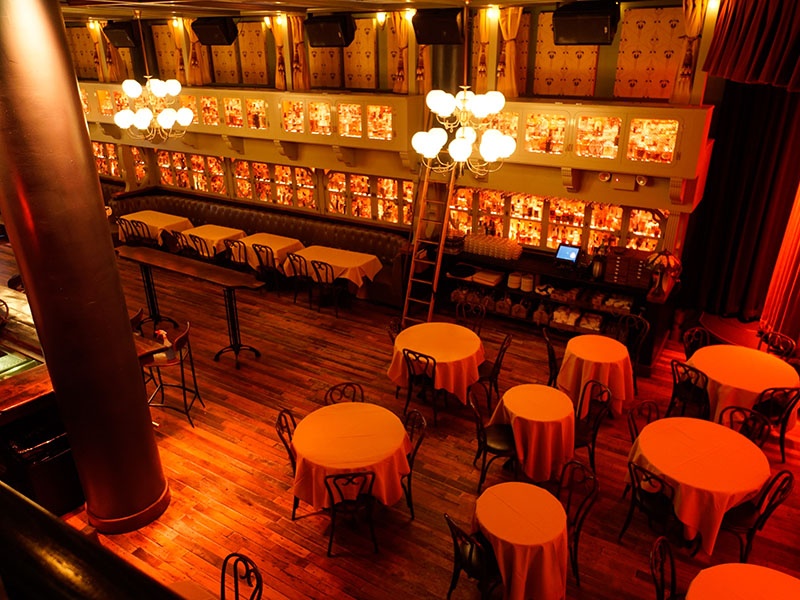 The Flatiron Room, New York
It's hard to top the whiskey list at New York City's The Flatiron Room; it's among the most extensive in the world with more than 1,200 variants available. Rare bottles found during the travels of owner and operator Tommy Tardie and now on the shelf include Glenmorangie Pride 1981, Balvenie 40 year, Knappogue 1951, and Glen Grant 1958, among others—with plenty of fan favorites as well. Not sure how to choose? Try a themed tasting flight such as the World Tour to sample spirits from Taiwan, Ireland, France, America, Japan, and India. Or stick to the single malts and take a tour of Scotland. In addition to holding regular whiskey masterclasses for novices and experts alike, the bar also has a "Bottle Keep" program: if guests discover a whiskey they love and would like to purchase a bottle to enjoy during future visits to Flatiron Room, the bar will store it safely until their return.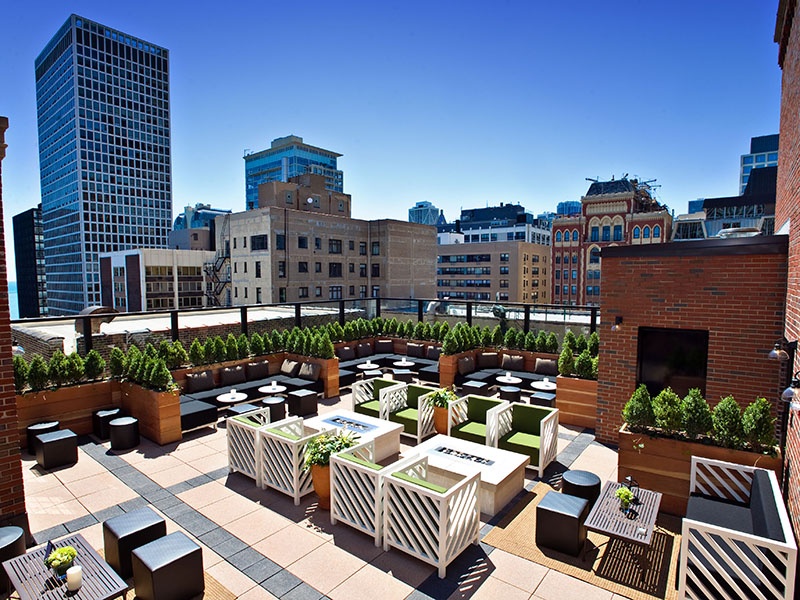 Drumbar, Chicago
There's something about a rooftop bar. The sense of being on top of the world and—particularly appreciated in Chicago—the chance to enjoy those warm summer nights. Located on the 18th floor of the Raffaello Hotel in the Gold Coast neighborhood of Chicago, the elegant Drumbar pairs more intimate interior spaces with an outdoor terrace boasting excellent views of Lake Michigan and the city's iconic Hancock building. Beverage director Gary Matthews curates the 186-bottle whiskey selection, which features everything from Buffalo Trace bourbon, which Matthews says is especially popular with bartenders and customers, to the rare Macallan M. The bar also has a specialty cocktail menu and a partnership with the Scotch Malt Whisky Society, meaning enthusiasts can sample drams of carefully chosen, small-batch single malts.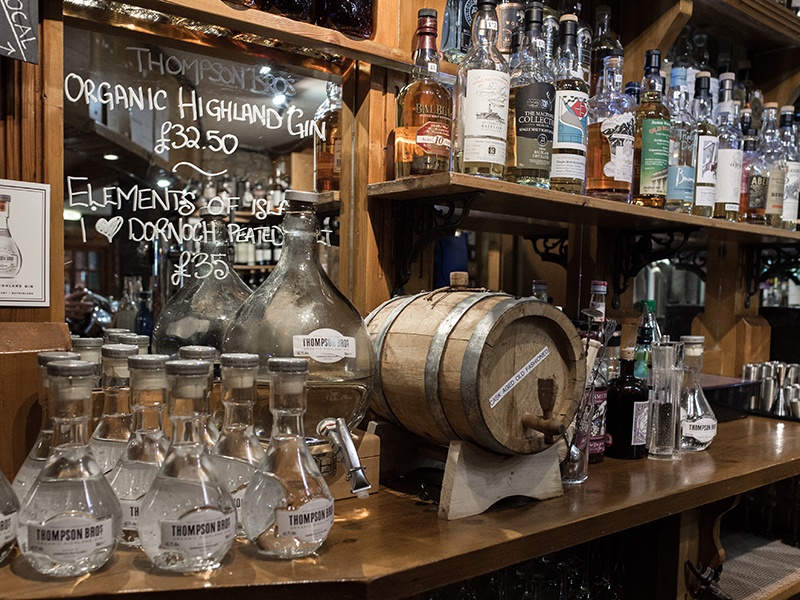 Dornoch Castle Hotel Whisky Bar, Dornoch, Scotland
Any list about this spirit wouldn't be complete without a visit to Scotland, the home of whisky. Travel into the Highlands to sample Scotch at its source. In the beautiful, historic town of Dornoch, within easy reach of the Clynelish, Balblair, Glenmorangie, Dalmore, Glen Ord, and Old Pulteney distilleries, the family-owned Dornoch Castle Hotel houses a bar that won Scottish Whisky Bar of the Year in 2014 and 2016. Not limited to Highland whiskies, it has an extensive collection of old and rare bottles, curated by brothers Simon and Phil Thompson, sons of the owners. Talk through the history of their unique single malts, or arrange a more formal guided tasting. The Thompson brothers have also created the Dornoch Distillery Company on site, producing organic gin while patiently waiting for their whisky to mature.