The duo behind English shoemaker Gaziano & Girling have come a long way since their early days of crafting footwear in a humble garage. You could call it itchy feet. Tony Gaziano and Dean Girling describe it as a "shared ennui, a yearning to create," and a belief that they could reinvent a timeless classic—a combination of circumstances that led the pair to leave independent careers in the shoe industry and join forces as Gaziano & Girling. "We felt the industry had become a bit stale. We wanted to make something of real quality with a refined aesthetic using our bespoke skills, but giving it a contemporary twist," Gaziano says.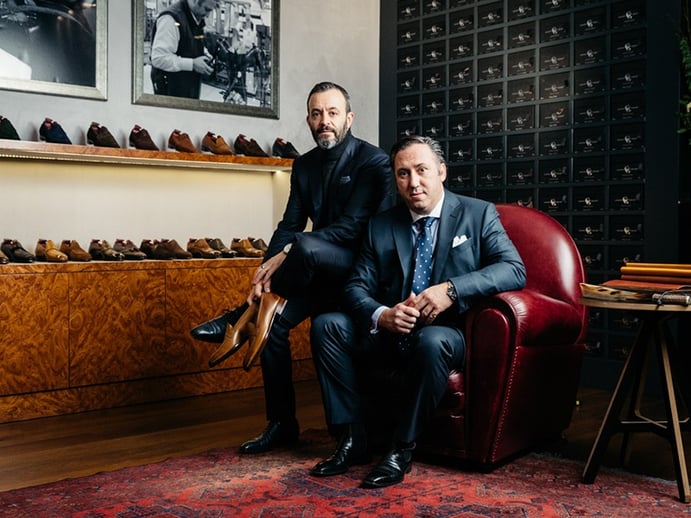 So in 2006, they set to work. Gaziano, who had previously abandoned architecture in favor of shoe design and pattern cutting, worked out of his garage. Girling, who had studied shoemaking at the renowned Cordwainers college [part of the London College of Fashion] in East London and served an apprenticeship with shoe brand John Lobb, "out of my shed."
We wanted to make something of real quality with a refined aesthetic
Within two and a half years, the pair had a contract with Ralph Lauren and opened a factory in Kettering, Northamptonshire—the first in 100 years—at the heart of Britain's shoemaking industry, with three employees. Through their contacts, they established a base on London's Savile Row where they could meet clients and schedule fittings, before, in 2012, moving into their own premises across the road at No.39—the first bespoke shoemaker resident on Savile Row. Sophisticated and inviting, with deep-red leather armchairs and their beautiful shoes displayed in walnut cabinets, No.39 has the look and feel of an elegant drawing room as much as a showroom. "We always wanted to be here. It's a sartorial center with worldwide recognition," says Girling.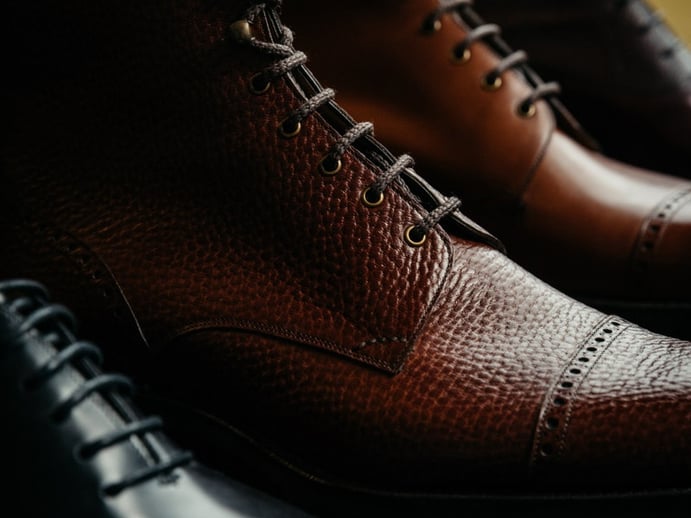 The brand only makes some 100 bespoke pairs of shoes each year. The service, which allows them to "push the boundaries of craftsmanship," takes 12 months from initial fitting to completion, with every step, from the cutting and lasting of the leather to the stitching of the welt and sole, executed by hand. "Customers can personalize to the extreme," says Gaziano. "Most shoes we make tend to be crafted from luxury skins, and they are shoes with character."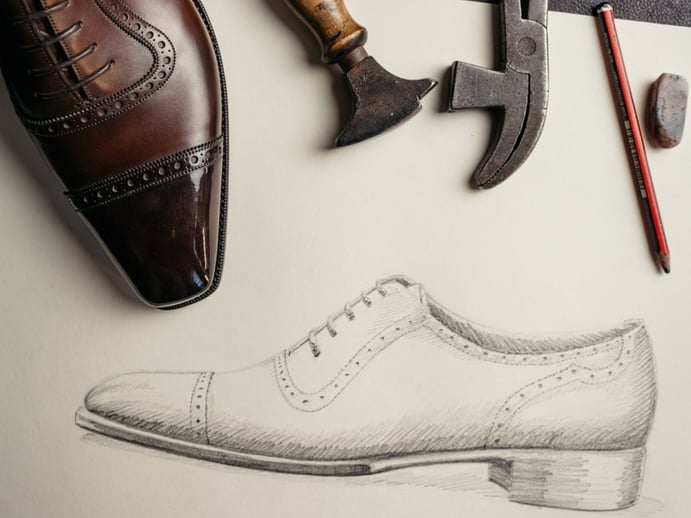 Along with a walk-in collection, Gaziano & Girling offers a made-to-order service, which allows clients to "customize to a degree by changing toe shape, color, shades, or pattern. The finished pair has the feeling of a bespoke shoe, but is benchmade," says Girling.
Gaziano & Girling recently opened a second showroom, in New York, and—in response to customer demand—now produces a women's collection.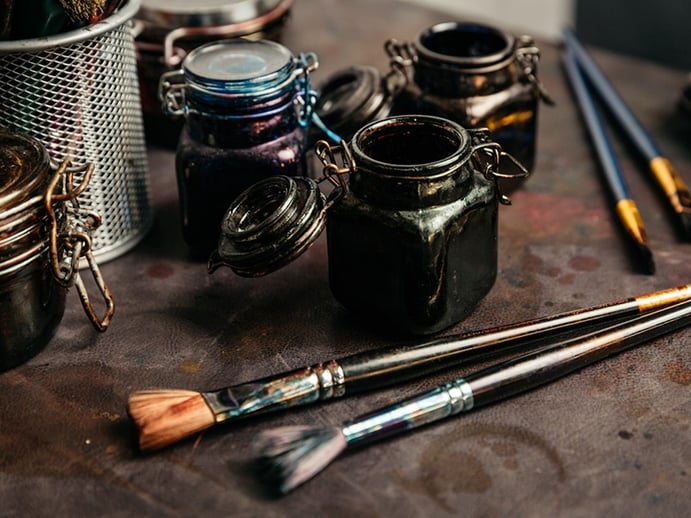 When they're not traveling to visit clients or host trunk shows, the pair each spend, on average, a day a week in the Savile Row store, and the remainder in Kettering at their factory, immersed in the production of their shoes. Artisans both, quality and craft remain the priority.