Following the headline sale earlier this year of Tillypronie in Aberdeenshire, one of Scotland's most famous sporting estates, Christie's is auctioning the finest collection of sporting and ornithological art to come to the market in over 20 years. The sale will be held on December 15, along with an online-only sale that will be open for bids from December 4–18. Here we highlight some of the pieces, as well as two Scottish estates for those looking to own more than the auction can offer.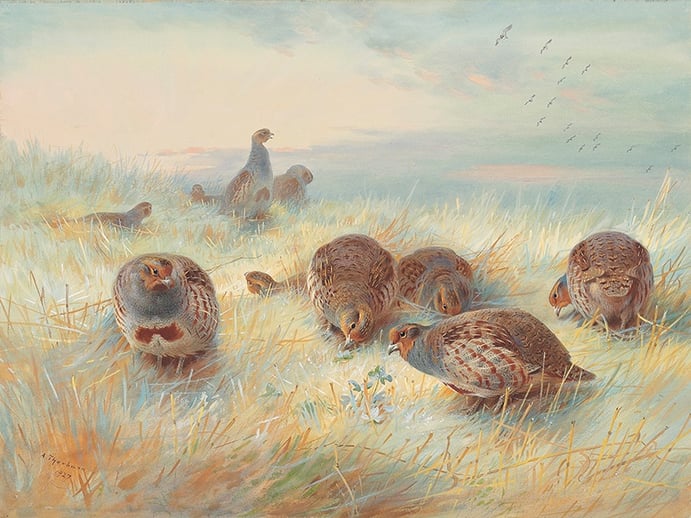 Collected since the 1950s by two generations of the Astors, the famed aristocratic family, it includes a pitch-perfect selection of works by Archibald Thorburn (1860–1935). Dominated by paintings of red grouse, blackgame, ptarmigan, and partridge, these were executed at the height of the artist's skills. Philip Astor, who inherited the estate in 1984, expanded and diversified his father's collection with works by contemporary artists such as Jonathan Sainsbury, Darren Woodhead, Steven Porwol, and Claire Harkess, many of whom were hosted at the historic Tillypronie estate.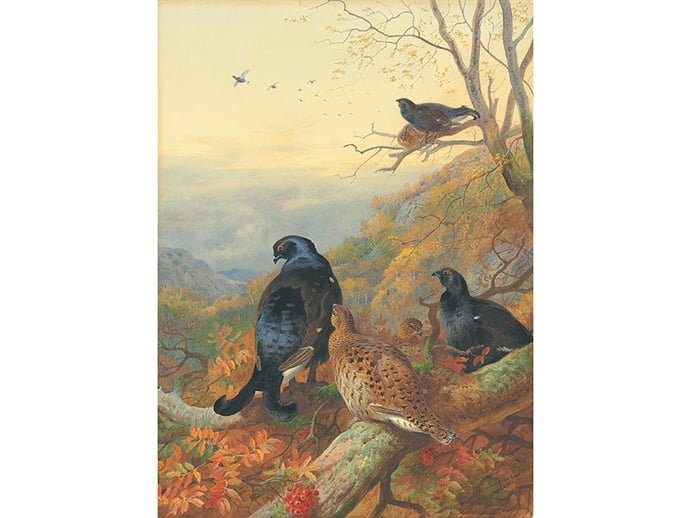 In his foreword to the auction catalogue, Ian Coghill, chairman of the Game & Wildlife Conservation Trust, writes, "An invitation to Tillypronie, whether to shoot, fish or simply recreate was a most precious gift. There are places where the bags were larger, the salmon more willing and the mountains higher, but there was nowhere to match it for fun and congeniality … I am lucky enough to have sat often, but not often enough, in that wonderful house, clutching a comforting drink, and contemplating a great day's sport in the presence of some of the greatest wildlife paintings I will ever see."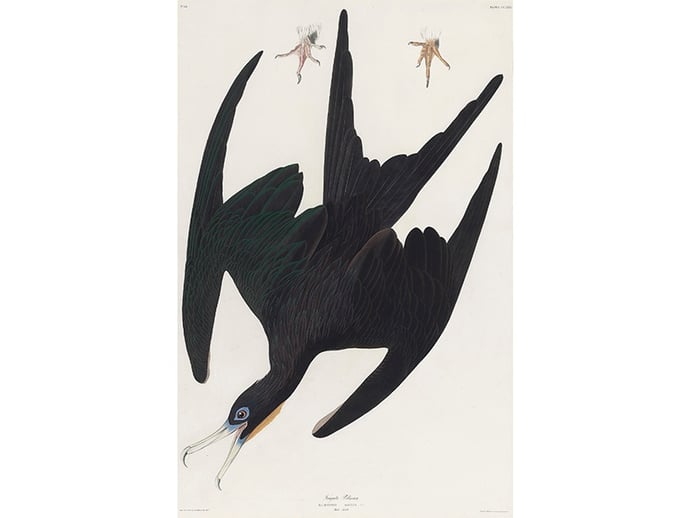 With estimates starting from £200 ($267) for Studies of a Lark by Archibald Thorburn and rising to £70,000 ($93,454) for his Blackgame in the Glen, Christie's Head of Sale Annabel Kishor hopes that, "in addition to seasoned collectors, the sale will appeal to a new generation of people who are interested in the countryside and wildlife conservation; they include an aspiring group of collectors who, not content with the odd day's shoot, are looking to acquire an amply acred Scottish estate."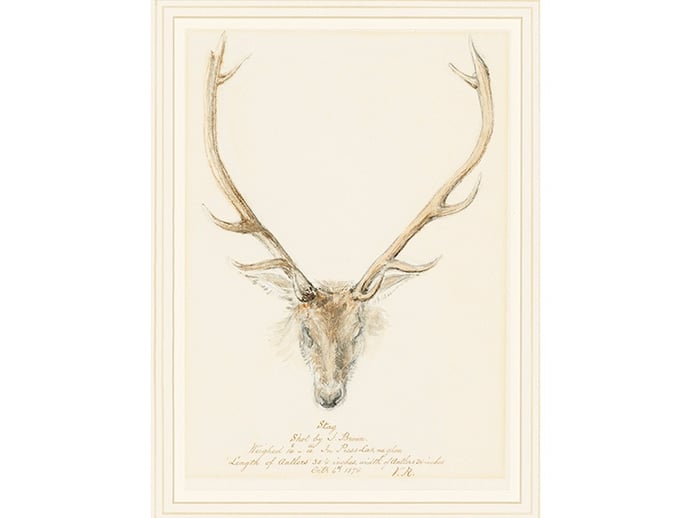 Tillypronie was purchased by Gavin Astor, 2nd Baron Astor of Hever in 1951, 84 years after it was built for Sir John Clark, who was the diplomat son of Queen Victoria's physician. In the catalogue's fascinating "History of the House and Collection," Philip Astor relays how Queen Victoria, who laid the lintel stone of the principal entrance, was a regular visitor to Tillypronie, often accompanied by her servant and confidant John Brown. A small watercolor painted by Queen Victoria: A Stag Shot by John Brown, has an estimate of £6,000–£10,000 ($8,000–$13,349).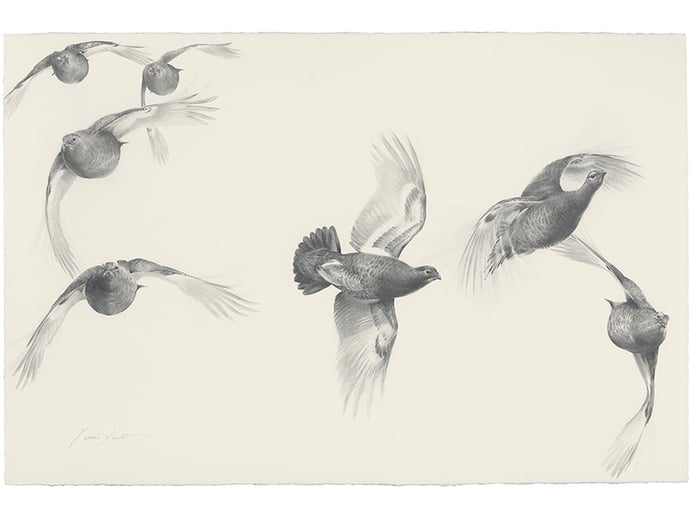 The Astors extracted 66 years of well-documented fun from this wonderful house and, in 2016, Philip decided to relinquish his "curatorial role." In August of that year, Strutt & Parker, Christie's International Real Estate's exclusive affiliate in Scotland, offered Tillypronie for sale in six lots or as a whole at offers over £10.5 million ($14m). "Happily the entire 12,000-acre estate was acquired by an English buyer," says Robert McCulloch, national partner at Strutt & Parker's Estate & Farms Agency. "The purchaser's profile was quite typical of the modern brand of Scottish estate buyer; many are in their forties, successful in the world of finance, and based in London with an English country seat that they wish to team with a Highlands estate."
The Tillypronie purchaser's profile was quite typical of the modern brand of Scottish estate buyer
To date, Tillypronie is one of 10 estate sales that has completed or is under offer in Scotland this year. Of those, Strutt & Parker was the selling agent for five and acted on behalf of buyers for another two, totaling over £30 million of transactions.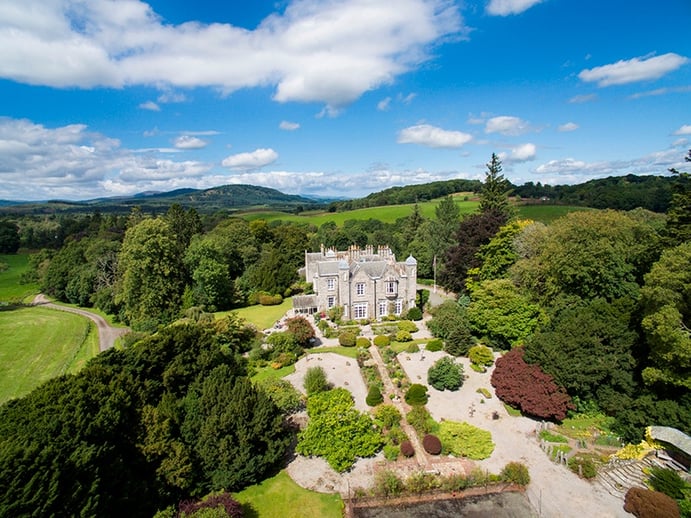 Aspiring lairds who seek a secluded and wonderfully private all-round, low-ground riverside estate should make tracks to the favored south-western county of Kirkcudbrightshire, where the 1,068-acre Hensol Estate is on the market for £4.25 million ($5.67m). Five cottages and a farmhouse offer the opportunity to generate further income, while excellent sporting amenities include an established driven pheasant shoot, duck flighting, and roe deer stalking.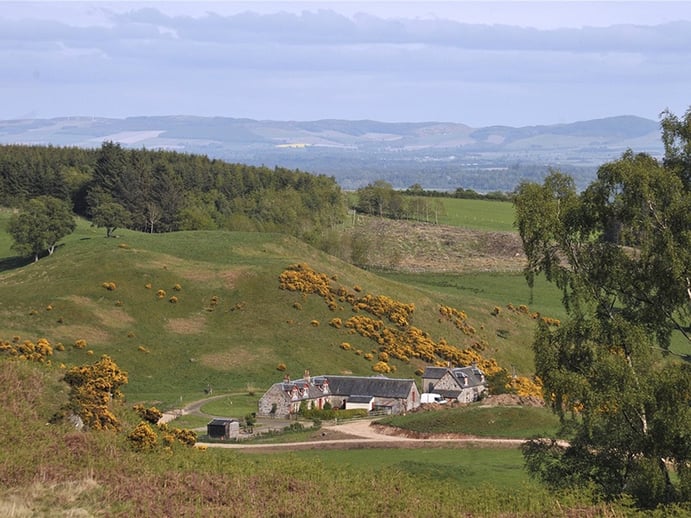 By way of contrast, West Cult near Dunkeld sits in the sweet spot of Perthshire, an hour from Edinburgh airport and close to excellent schools. This sporting farm boasts a first-class high-bird pheasant and partridge shoot and unusually productive stalking by virtue of the locality's population of fallow and roe deer. Currently there is no principal house, but an existing three-bedroom farmhouse and cottage could be renovated, enlarged, or replaced to provide a new country seat. Affording views to the distant Ochil and Lomond Hills, an offer in excess of £1.7 million ($2.27m) could result in ownership of an estate in Scotland's most sought after countryside.