The stark, minimalist nature of exposed concrete has divided opinion for the better part of a century. Used in architecture as far back as Roman times, its heyday came with the dawn of Brutalism and would-be utopian architecture of the 1950s, '60s, and '70s. But as the go-to choice for Communist-bloc housing and controversial civic experiments, it's no wonder concrete didn't immediately join the likes of marble, rare timber, gold, and leather on the list of luxurious materials worthy of the most beautiful homes on the planet.
Not immediately, anyway. Swiss architect Le Corbusier did provide inspiration for the emerging concrete movement in the early 20th century, and Marcel Breuer, Ludwig Mies van der Rohe, and Frank Lloyd Wright all dabbled with the material. Some considered it a blight on the face of cities, while others revered its functional, unyielding quality as a symbol of the future.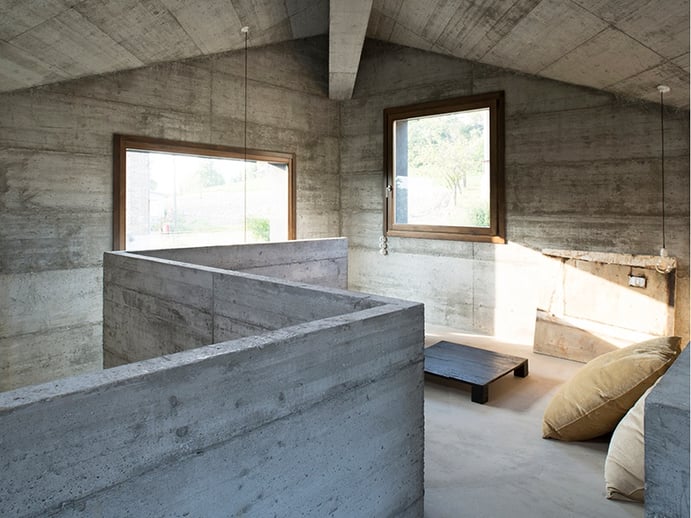 A generation of architects influenced by Le Corbusier and his contemporaries began to use concrete in elegant, single-family homes in the second half of the 20th century. Now, in 2018, it is a truly desirable material, giving us some of the most breathtaking houses built in recent times.
Anyone who loves contemporary architecture appreciates the concrete aesthetic
"Anyone who loves contemporary architecture appreciates the concrete aesthetic," observes Zackary Wright, executive director of Christie's International Real Estate in Asia and North America. "For the right buyer, it's a major selling point. It's versatile, tough, long-lasting, and easily maintained. While some view it as cold, others see it as cool and edgy."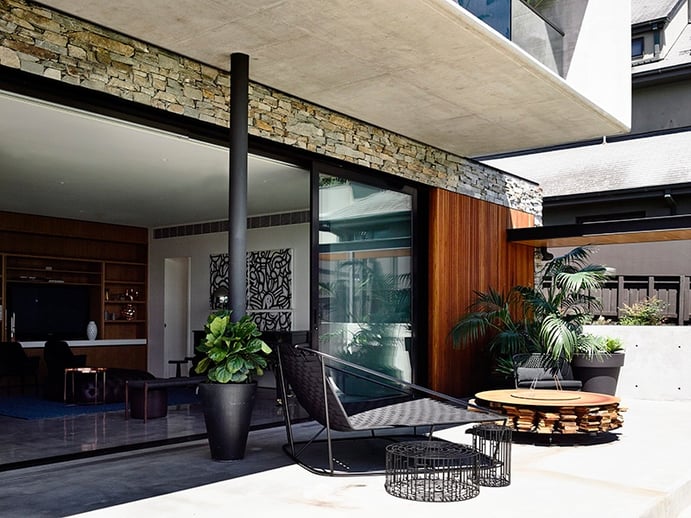 Contemporary concrete
Arizona-based architect Rick Joy has designed homes for clients in the Southwest of the United States, Mexico, and the Caribbean, using concrete to impressive effect. Perched on a hillside in a sprawling piece of desert outside Tuscon, Ventana Canyon House is a contemporary masterpiece that uses concrete as a sensual, textured backdrop to Zen-like interiors and spectacularly framed views. But Joy is keen to point out that perceptions of the material have changed.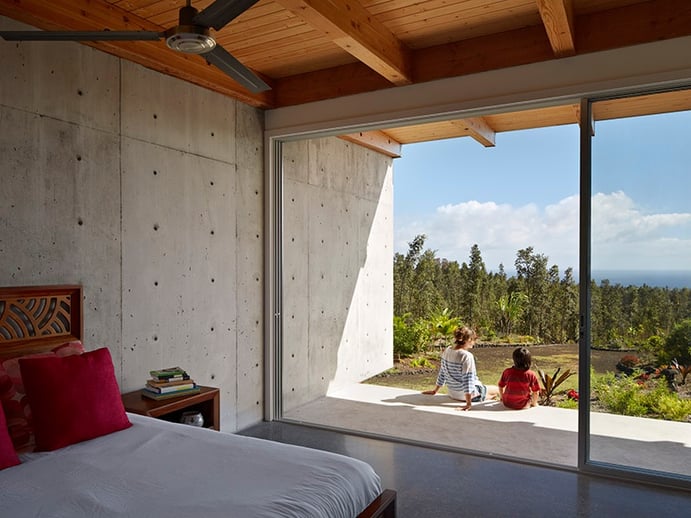 "When I first started in the early 1990s, many of my clients said concrete was too cold and sterile. Since then we've shown the opposite is true with our work on a [Napa] home for Francis Coppola, Amangiri Resort [Utah], and Ventana Canyon House, for example. Each feels warm and cozy, and the ever-changing light qualities are sensational," says Joy. "Natural materials like concrete absorb and radiate light, while stucco and paint don't—and the sturdiness is appealing. The house we built in the Turks and Caicos Islands just went through a category-five hurricane without a scratch, and Coppola's house has been through numerous earthquakes."
Natural materials like concrete absorb and radiate light—and the sturdiness is appealing
An expressive material
San Francisco architect Craig Steely agrees that people are now more open to concrete than ever before. "Our clients are much more literate in terms of architectural history, and the heroic and optimistic nature that concrete structures of the past represent," he says.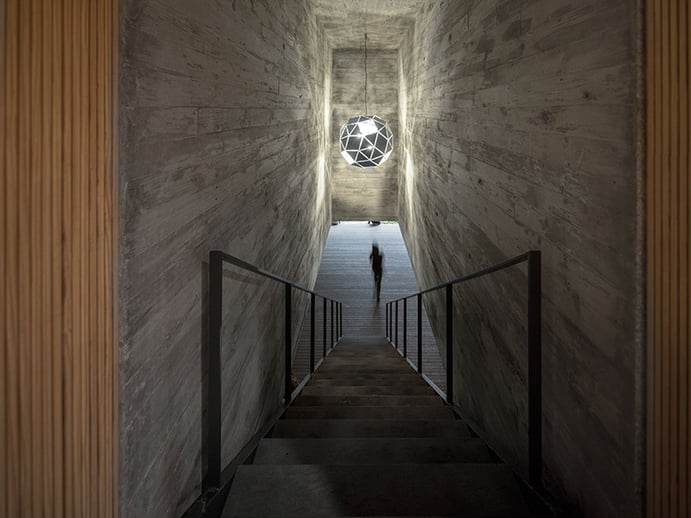 Steely's Lavaflow 7 house in Hawaii uses precast concrete slabs to create a seamless connection between inside and outside living—a concept reminiscent of Brazilian modernism. "I think South American architects use concrete the most expressively—in particular, Paulo Mendes da Rocha. To me, the expressiveness of concrete fits the kind of buildings that we are imagining," Steely says. Furthermore, in a location like Hawaii, where termites and weather can eat away at a typical wood-framed house, concrete is a rather efficient solution.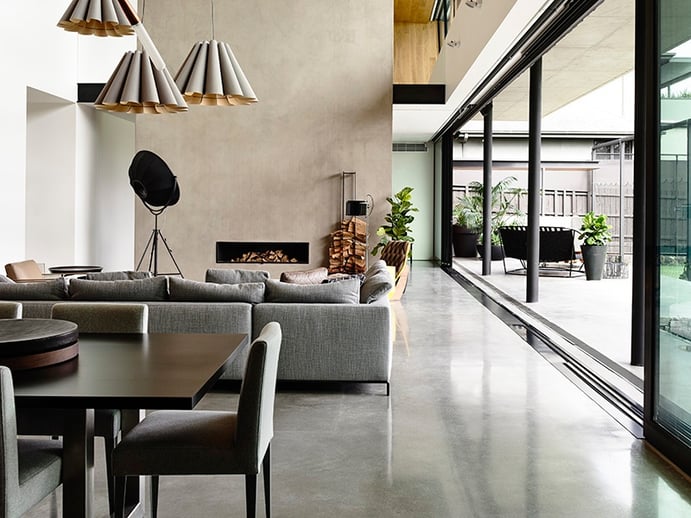 In that vein, Brazilian practice Studio MK27 also uses concrete as both a structural and aesthetic element in its residential architecture. It makes certain things possible, such as tricky cantilevers, and also gives a tactile dimension to ceilings, floors, and walls, according to studio head Marcio Kogan. Plus, it ages well. Jungle House, a home the practice designed in the lush surroundings of Guarujá, is a case in point, and one that takes its cues directly from Brazilian modernism. "Our use of concrete is a contemporary rereading of the way it was used during the 1950s in Brazil—raw but with a refined finish," Kogan explains.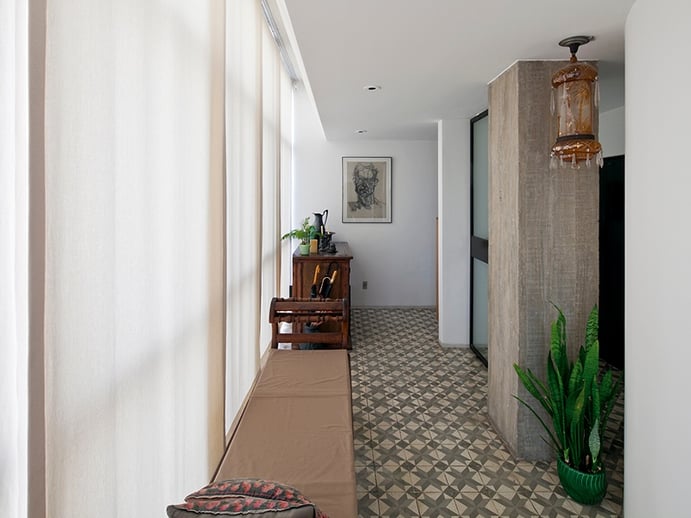 Not just for walls
For those wanting to dip their toe into the trend, there are ways to subtly incorporate it. Chris Eaton, head of residential architecture at UK practice Stiff + Trevillion, chose concrete for a kitchen island in a London home and precast concrete tiles for the floor of an old vicarage. "Concrete is not just for walls," he says.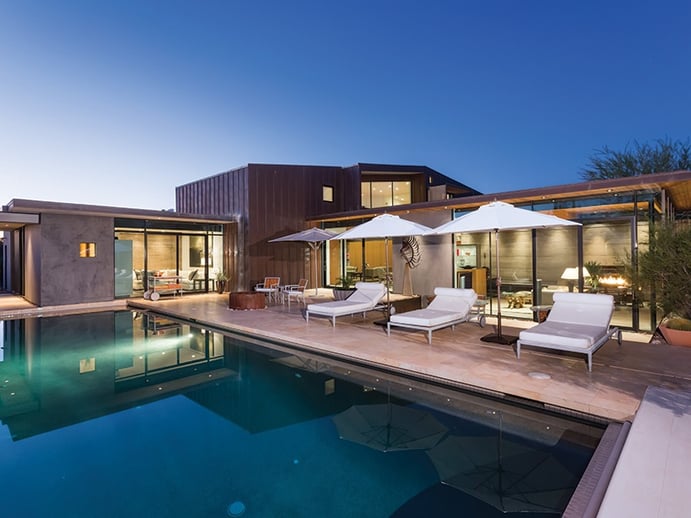 Likewise, UK architecture firm Moreno Masey played on the industrial heritage of a building it was adapting into a luxury residence, with poured concrete floors and a framed segment of concrete ceiling discovered during renovations.
"Concrete has been used by architects as a finish for years, but the move into the luxury market has been somewhat slower," says Rodrigo Moreno Masey. "What has changed is acceptance of the material, with its swirling imperfections and blemishes, as beautiful in itself. When done right, both warm in color and soft to touch, it is perfect for open spaces, and brave clients should embrace it."