A collection of old stones marked with faded red sits in the Museum of Anatolian Civilizations in Ankara, Turkey. In 2014, a paper was published suggesting (as strongly as possible, considering that the daubings were undated and applied to the wall 9,000 years previously) that the mural could, in fact, be one of the earliest known depictions of landscape – in this case, a volcano that erupted around that time about 80 miles away.
We have been representing our surroundings in art since before we could write, which may go some way towards explaining the enduring popularity of the genre. Edmond Francey, Christie's London Head of Post-War & Contemporary Art, says that, though portraiture is still the most popular genre in art, "the next step is how humans and the human body interact with the environment."
As Francey observes, "landscape" is a vague term – "it can mean an internal landscape, an external landscape, the landscape of the internet." But in terms of pictures of places, there are essentially two kinds: pure landscape means a view with no human figures in it, while a topographical landscape is usually intended to accurately depict an actual, existing vista.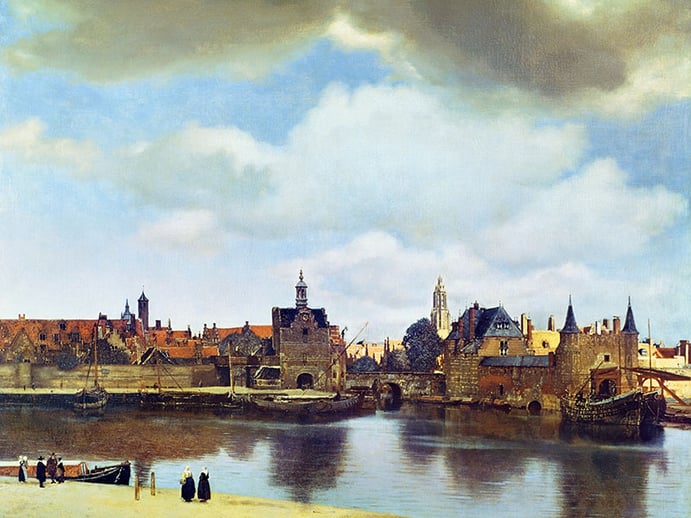 In the East Asian tradition, landscape painting was long considered the highest form of art. Although earlier examples exist, it flourished during the Tang dynasty (618-907), particularly in the form of shan shui ("mountain water"), which aimed not to capture a precise view but to express a particular atmosphere or emotion – an idea Western painting didn't pick up for around another 900 years.
In the West, its appeal was a slower burn. Landscape painting began to develop in the 14th century as an often idealized backdrop for human activity – religious subjects such as the flight into Egypt, for example – and was later championed by the early 16th-century painter Albrecht Altdorfer (his Landscape with a Footbridge is thought to be one of the first pure landscapes painted in oils). Many of the Dutch Golden Age artists, such as Johannes Vermeer, embraced the form and began to push boundaries in the depiction of weather and light.
In the 18th century, in England in particular, the landscape watercolor blossomed with the topographical works of Paul and Thomas Sandby, as well as the imaginative works by Alexander Cozens, while the Grand Tour increased the popularity of Italianate landscapes – a number of which were churned out by English painters who had never set a foot on the hills of Rome.
Landscape can mean an internal landscape, an external landscape, the landscape of the internet...
It was in the 19th century, however, with the arrival of the Romantics, that pure landscape painting really caught on. Turner, Constable, and Samuel Palmer were pioneers in England, while Jean-Baptiste-Camille Corot and the Barbizon school introduced it to France, in turn influencing the Impressionists, who were the first to routinely take it outside. As the 20th century approached, the Symbolists embraced landscape as a way of expressing the angst that was taking hold in a changing Europe; for the same reasons, the German Expressionists found solace in nature – an antidote to the stresses of modern life.
Though somewhat obscured in the mid-20th century by the pushy muscularity of abstraction, landscape retains its popularity, with some of the world's greatest contemporary artists working in the genre. Anselm Kiefer's monumental work is rooted in the landscape of his native Germany – in 2014, his Laßt tausend Blumen blühen! (Let a Thousand Flowers Bloom) sold at Christie's London for just over £1.2 million ($1.7 million), while David Hockney has always taken inspiration from his environment, whether it be the beaches of California or the hills and dales of his native Yorkshire. In February this year, his The Sea at Malibu sold at Christie's London for more than £1.7 million ($2.4 million). Evidently, landscape painting can still hold its own.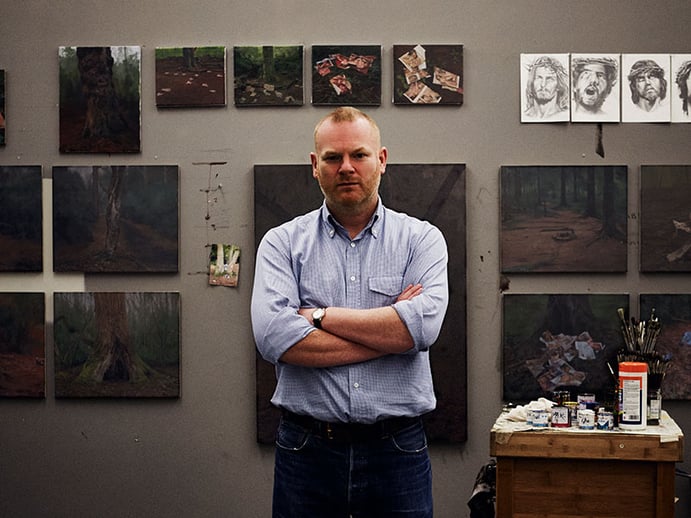 George Shaw, UK
After studying art at Sheffield Polytechnic in the late 1980s, George Shaw, 49, completed an MA at the Royal College of Art in 1998. He has spent the intervening decades painting the landscape in which he grew up, earning himself a Turner Prize nomination in 2011. His materials – Humbrol enamels, more often used to decorate model airplanes – have echoes of his childhood, too. Born in 1966, he lived his formative years on the Tile Hill council estate in Coventry: two square miles that have continued to fascinate him. Yet gritty and suburban though these landscapes are – really cityscapes, and empty of people while remaining pregnant with feeling – they contain a rare depth and poetry.
Shaw, whose work has increased in value over the years to reach a high of £40,000 ($57,200) at Christie's in London in October 2014, doesn't consider himself a landscape painter. "But I can think of a load of people in a pub who would think that was perverse," he says. He works from photographs, saying that he "can't stomach the idea of taking a canvas and sitting there in front of a tree. It fills me with dread." He hopes that his work "encourages people to not relax too much, and that you might be provoked to think about the place that's being depicted. And also about the reason why that place has been depicted – it's not ostensibly a picturesque view, the kind we're used to seeing in The National Gallery in London."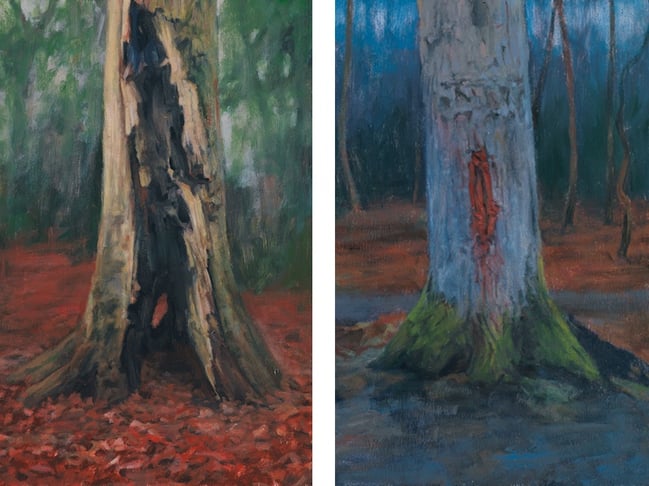 It's an apt comparison – Shaw is currently the National's Associate Artist, making and showing new work inspired by the gallery's collection of "naked women and pictures of Jesus." He began by thinking that he wouldn't paint any "outside views," taking the opportunity to radically alter his work. But after becoming aware of what he describes as a "genre of naked women hanging around in the woods," he returned to his habitual considerations. "It became clear that this woodland setting became a fantasy place for male artists to indulge in the notion of the nude. The closest thing I got to it, overmapping my own biographical fascinations, was finding – almost on a daily basis – discarded pornography in the woods near where I grew up," he explains.
The new work, which is on display until October 30, depicts these woodlands, unpopulated but with signs of activity abandoned: "discarded cans, bits of clothing and pornographic magazines, burnt cigarette ends, and old cider bottles." Although he said last year that he was done with Tile Hill, he admits, "It does seem as if this is the first of my farewell tours, like I'm Rod Stewart."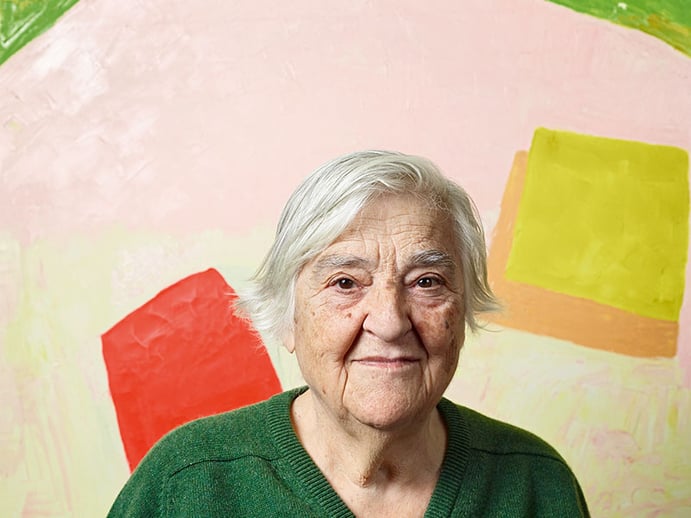 Etel Adnan, USA
Born in Beirut in 1925, the San Francisco-based artist Etel Adnan is a painter – and more. She studied philosophy at the Sorbonne in Paris, and at UC Berkeley and Harvard, going on to teach the subject in California between 1958 and 1972. It was during this period that she began to paint, and to write poetry, at least in part in response to the political landscape at the time, before returning to Beirut for a short period as a journalist. She says now that she "started being interested in poetry before discovering painting... They create the same response in me, something difficult to pin down. I will say they belong together to what carries us beyond the routine of living. A particular sense that they open up a parallel world with its own ecstasy, and its own meanings."
Adnan also makes text- and paper-based works. One example, a delicate leporello manuscript painted with poems by the 20th-century Tunisian poet Abu al-Qasim al-Shabbi and entitled Iradat al-hayat (The Will of Life), sold at a Christie's sale in Dubai for just under $9,500 in 2008. But Adnan is best known as an artist for her semi-abstract landscapes in vibrant, vivid colors. Several of these went on display at a solo show at the Whitney in New York in 2014.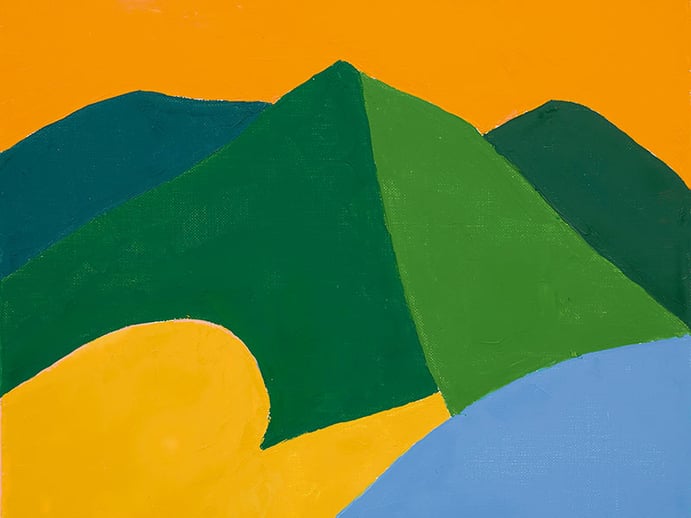 "I have never used a photograph as a model or an inspiration in my works," she says, "though in photography it's the landscapes that I like most – above all, the works of Ansel Adams, Edward Weston, and other great photographers of the American West. I started doing small canvases with no particular image in mind."
The landscape of San Francisco's Bay Area, where she has lived for some 55 years, however, and particularly Mount Tamalpais, has filtered in. The mountain "dominates its surroundings, and is a stunning beauty," she says. "So the mountain insinuated itself, so to speak, and its particular shape found its way onto my canvases." Adnan now paints this part of the world, "not necessarily its views, but its spirit. Landscapes are not images but spiritual experiences that one has through some particular places."
When it comes to subject matter, she says, her literary work "is at the opposite point of my paintings. Probably because words, more than colors, are obviously social. Coming from the Arab East, my long life has witnessed tremendous tragedies, and they were unavoidable in my writings. My visual work has been related to the world as a panoramic location, as something 'outside' that art makes to be 'within.' "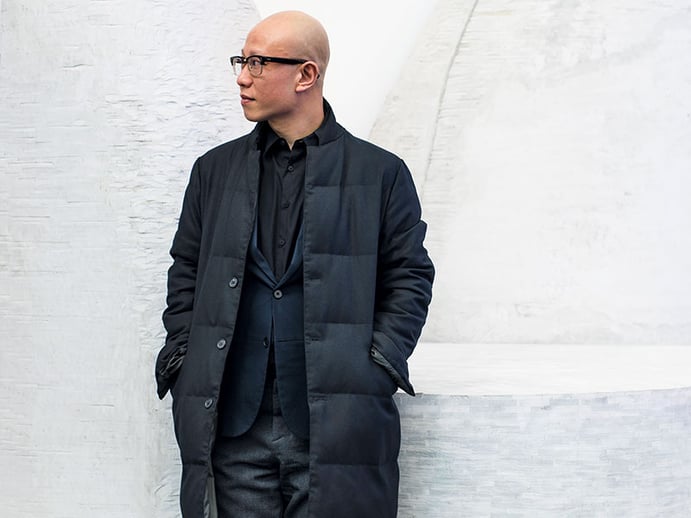 Liu Wei, China
Although you might not exactly describe him as a "landscape artist," landscape has featured in the work of Chinese artist Liu Wei, 43, for many years. In one way, it made his career: when his ambitious installation proposal for the 2004 Shanghai Biennale was accepted on the condition that changes were made, he was so furious that instead he submitted a huge black and white photograph that looked like a traditional Chinese painting of a mountain range. It was, in fact, a collection of naked buttocks. "I was really angry, so I decided to show them an ass," he said in an interview with ARTnews in 2014. The photograph changed his life, he said, enabling him to work as an artist.
Born in Beijing in 1972, Liu spent his childhood drawing for fun. At 15, he went to the National Academy of Fine Arts, Hangzhou, China, where he resisted the formal teaching of technique
and concentrated largely on having a good time. His grades were poor, but teachers recognized his talent and encouraged him.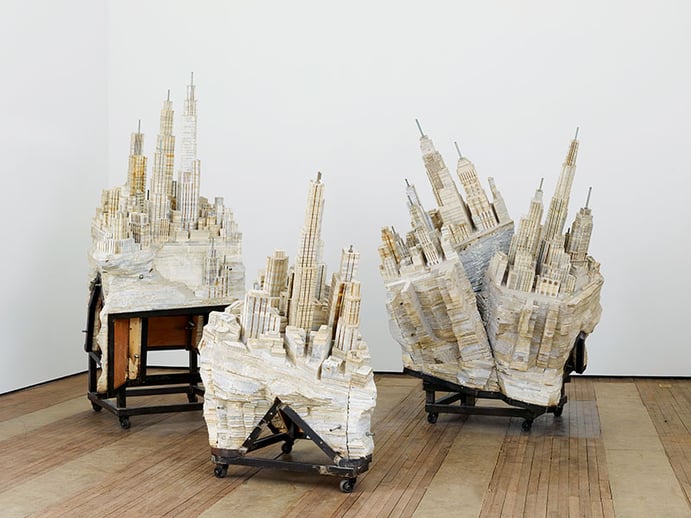 Liu works in a variety of media including painting, sculpture, and large-scale installation. "Often people want to see what they expect in the work," he told ARTnews. "They have ideas about China, and are hoping that the work accords with their dreams. But I don't want people to have such a simple way of looking at my works."
The Chinese landscape – its transformation, and the growth of its cities – has long been part of his investigations. The difficulty of reconciling human nature with civilization and urbanization is a theme he returns to repeatedly, and he often uses urban architecture to explore his themes. For Love It, Bite It (2006-7) Liu created installations of cities out of dog chews, associating the human pursuit of power with the animal's instincts.
In Tiananmen, a work made in 2010 after he had returned to painting and which sold at Christie's Hong Kong last year for HK$6,640,000 (US$863,200), his colorful yet veiled depiction of the famous square – often shown in Chinese contemporary art for the many complex layers of historical and cultural significance that sit over it – is curiously distant.