As successful restaurateurs and new parents, husband-and-wife team Karen Leibowitz and Anthony Myint decided they wanted to do their part to protect the environment, promoting "progressive agriculture" at their latest restaurant in San Francisco. At The Perennial, they aim not only to serve up delicious meals, but also to showcase food that will encourage farmers to switch to more climate-friendly methods of production. Luxury Defined spoke to the couple.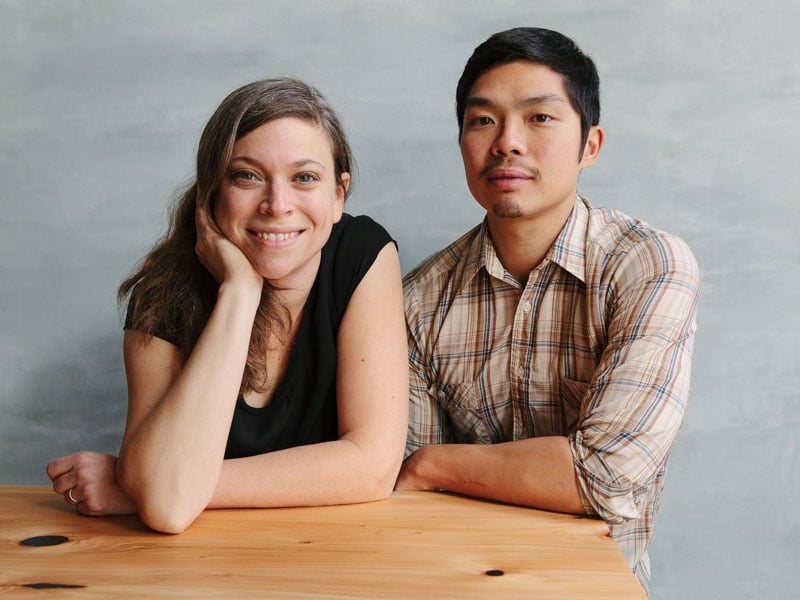 How and when did you meet?
Karen Leibowitz (KL): We met through friends. I shared a house in Berkeley [California, USA] with a few of Anthony's oldest friends, so when he moved to California, he stayed with us before getting his own place in San Francisco. That was in 2004, and we've been together ever since.
Anthony Myint (AM): I had been in a pretty boring office job in northern Virginia, where I grew up, but I wanted to get into the food world, and I wanted to start fresh in a new place.
The Perennial isn't your first restaurant – so how did you get to this point?
AM: Back in 2008, we started a weekly food truck, just for fun. It evolved into a biweekly pop-up restaurant, which in turn evolved into a full-time restaurant [in San Francisco] called Mission Chinese Food.
KL: When we first started, Anthony was the chef and I was the manager, but when Mission Chinese opened in 2010, Danny Bowien took over as chef, while Anthony and I focused on the business side. That same year, we cofounded a fine-dining restaurant called Commonwealth with chef Jason Fox. Both restaurants are on the same block in the Mission [District]. A couple of years later, Danny moved east to open a New York location of Mission Chinese and then Mission Cantina. We're partners in those two restaurants, as well, though we spend almost all our time here in San Francisco.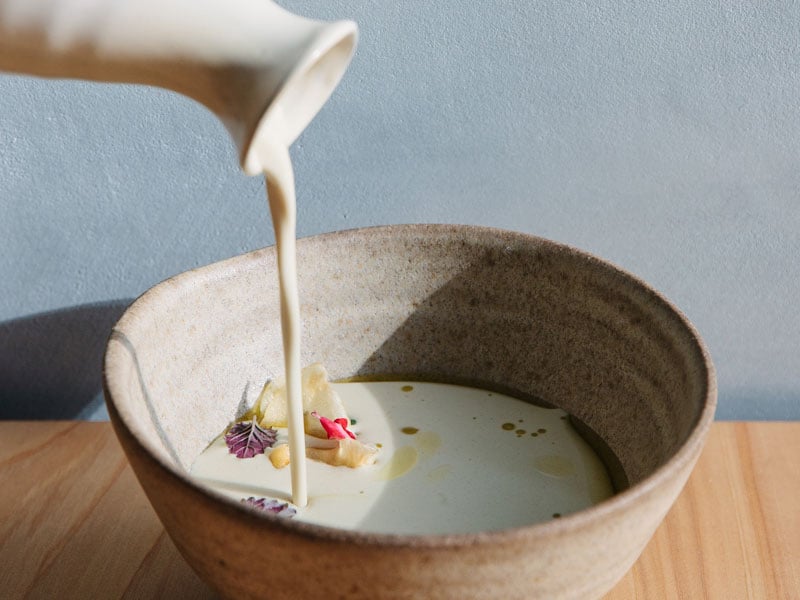 What are your earliest foodie memories?
AM: I never really ate out at foodie places when I was growing up. It was Chinese restaurants with my grandmother, Popeyes fried chicken, and on special occasions we would make a Burmese soup called ohno kaukswe.
KL: I was lucky in that my parents took me to some nice restaurants when I was a kid, particularly Italian food. I remember being blown away the first time I tasted tiramisu, probably around the age of 10. I guess these days, with all the food media that surrounds us, tiramisu might seem kind of basic even to a kid, but in the 80s, I thought it was the fanciest dessert in the world.
Sustainability is at the heart of The Perennial – why is this important to you?
AM: As new parents and as restaurateurs with a following, we wanted to do our part, both with existing restaurants and by opening The Perennial. Specifically, we wanted to place the environment on equal footing with culinary considerations. We initially thought of this in terms of conservation, efficiency, and how restaurants handle their waste. After a lot of research we learned that there are many kinds of production – which we have labeled "progressive agriculture" – that actually work against climate change by storing carbon in the ground.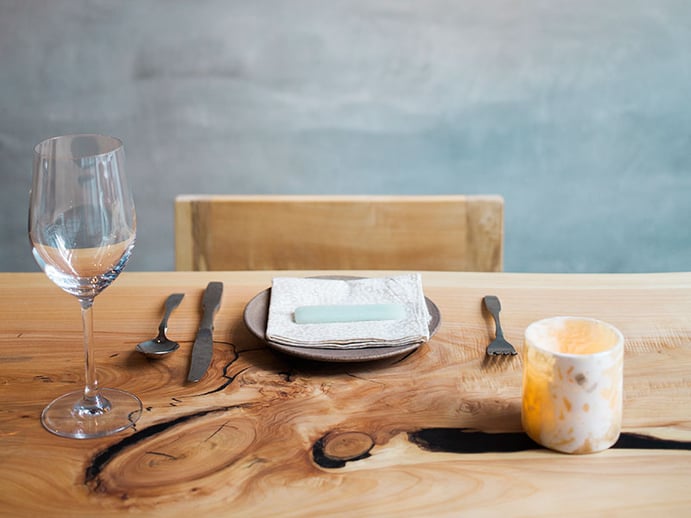 Tell us about some of the sustainable practices you've adopted, such as your aquaponic greenhouse.
AM: The aquaponic greenhouse is a way to use our food scraps to produce more food, and to engage with urban farming. And planters on the roof and biodegradable menus are examples of details we've incorporated into the operations, but they are a drop in the bucket. The really important thing the restaurant is doing is creating demand and helping establish markets for "climate-beneficial" beef and perennial grains. These are practices that are fairly new to agriculture, and actually reverse climate change by storing carbon in and around the roots of perennial grasses and grains. If we can showcase these kinds of ingredients and demonstrate that customers want them and may pay a premium for them, then more farmers will switch to those modes of production.
KL: For me, perhaps the most important thing we're doing is starting a conversation about the role that food plays in climate change.
How are customers reacting?
KL: The response has been overwhelmingly positive, not only in terms of the message, but also the food! We understand that no matter how sustainable we are, the restaurant is only as successful as the food. And fortunately, we've been working with an amazing chef, Chris Kiyuna, and incredible bar manager, Jennifer Colliau, who are both brilliant at what they do.
AM: Overall, I think people respond to the fact that the whole experience of The Perennial is so optimistic. It's a new way of thinking about environmentalism, which is geared toward pleasure rather than restraint.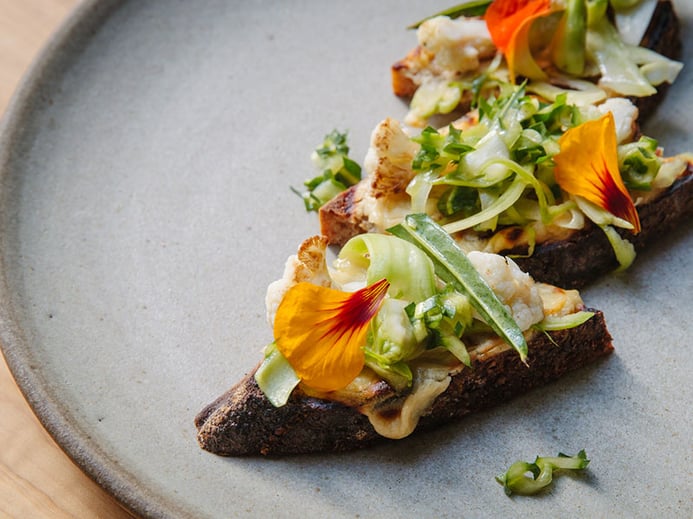 How about the food – what can diners expect?
AM: When we first started planning this project, before we even named it, we reached out to Chris [Kiyuna] to be our chef. We'd worked with Chris before, so we knew just how talented he is, and we knew that we liked him personally. And as we expected, he's really taken on the environmental mission with his signature energy and integrity.
KL: One of our most important early decisions was that The Perennial would not be purely vegetarian, because we wanted to cast a wide net in terms of our audience, but at the same time, we wanted to de-emphasize meat. Chris has done an amazing job of creating dishes that decentralize meat, and he also excels at creating satisfying plant-based dishes, like his pumpkin-seed bisque, which is so rich and luxurious that you'd never guess it's vegan.
And what about the drinks?
AM: We have a full bar, and we've built a huge walk-in refrigerator, which cools everything centrally, instead of using many inefficient small refrigerators. That allows us to pre-batch cocktails and serve them on tap, which reduces ice waste, and to serve wines on tap, which not only eliminates a lot of packaging, but also lowers the impact of transportation.
KL: Our cocktail list also utilizes food scraps in innovative ways. For example, lemon and lime peels are used for a water distillation to create a citrus hydrosol that is carbonated as part of our vodka tonic.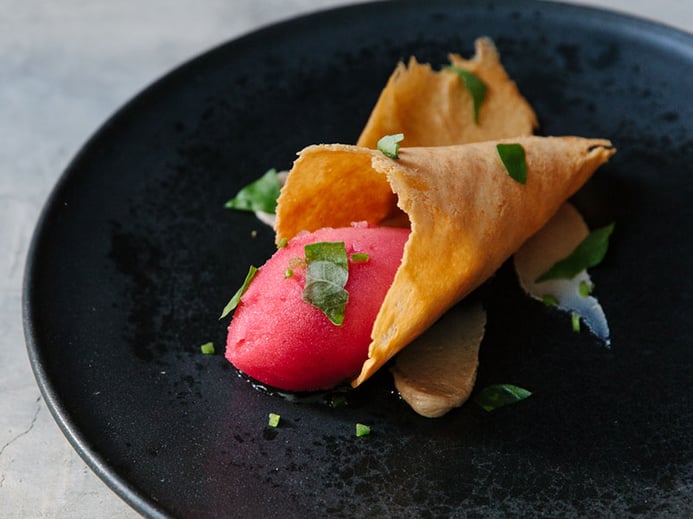 You also write books?
AM: Yup, we wrote a book together in 2012 called Mission Street Food, which combined recipes with memoirs and essays, and even a comic strip, which expressed our unusual approach to food.
KL: And last year, I published a cookbook with two-Michelin-starred chef Dominique Crenn, called Atelier Crenn: Metamorphosis of Taste, while Anthony contributed to The Mission Chinese Food Cookbook that came out on Anthony Bourdain's imprint.
When you're not eating "at home" where do you like to eat?
KL: My favorite thing to eat is Anthony's cooking, and we have a preschooler, so we do eat at home quite a lot, but we also love to try new places. We can hardly keep up with all the exciting restaurant openings in San Francisco, but recently, I've enjoyed Liholiho Yacht Club, Monsieur Benjamin, Petit Crenn, Hawker Fare, and the list goes on. Our longstanding neighborhood favorite, though, is Bar Tartine in the Mission.
AM: I got my first cooking job at Bar Tartine, and it's evolved a lot since then, but we still love it. Chefs Cortney Burns and Nicholas Balla are doing amazing things.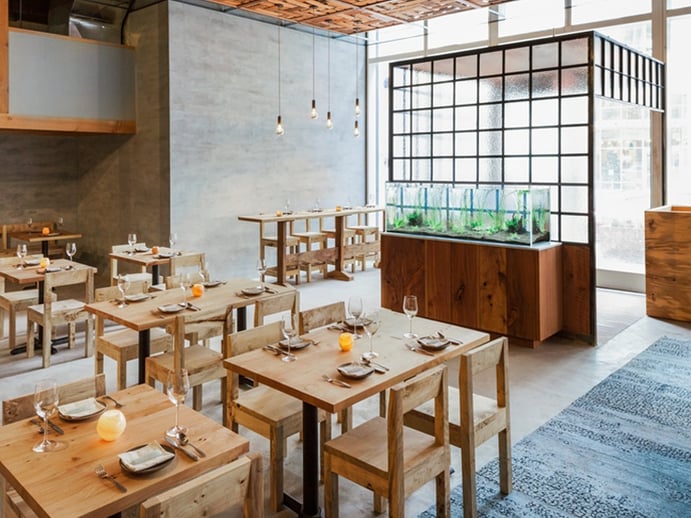 What's the one thing you wish other restaurants would do to help the planet?
AM: Source ingredients with an eye on the environmental impact, which means not only local farms but also farms that are thinking about the global impact of their practices.
KL: Reduce food waste. If food waste were a country, it would be the third-biggest source of greenhouse gas emissions, after the US and China.
What are your future plans?
KL: I'm taking notes for a book on food and the environment.
AM: I'm working on a new non-profit project called ZeroFoodprint, which helps restaurants assess, lower, and offset their carbon footprint. And we both need to just catch up on everything that's fallen by the wayside while we worked on The Perennial, so I have some home improvement projects that have been piling up.
The Perennial is just one of a new generation of restaurants with a progressive approach to sustainability. Read on for Luxury Defined's selection of three more gastronomic destinations with eco credentials.

Local 121, Rhode Island, USA
This award-winning restaurant is famed for sourcing the best in local and seasonal ingredients – cutting down food miles and championing local producers. Brendan Chipley Roane, restaurant and communications director for Local 121, says, "It's our focus, what we believe in, and who we are. Our locals appreciate knowing that what's on their plate was sourced only miles from the restaurant. This shows our commitment to, and awareness of, the local environment. A large majority of our guests visit from out of state, and for those who aren't used to such an abundance of local produce, we are able to showcase the best in locally grown and harvested food during their visit to the Ocean State."
Typical dishes include Creamed Sunchoke Soup, and Langwater Farm Vegetable Noodles with fried chickpeas, lentils, marcona almonds, and lemon peel curry. "We live in a small state. The smallest state! It's incredible to see the number of growers and farmers here in Rhode Island, all working together in helping each of our businesses grow, therefore continuing to help the Rhode Island food economy grow and prosper," says Chipley Roane.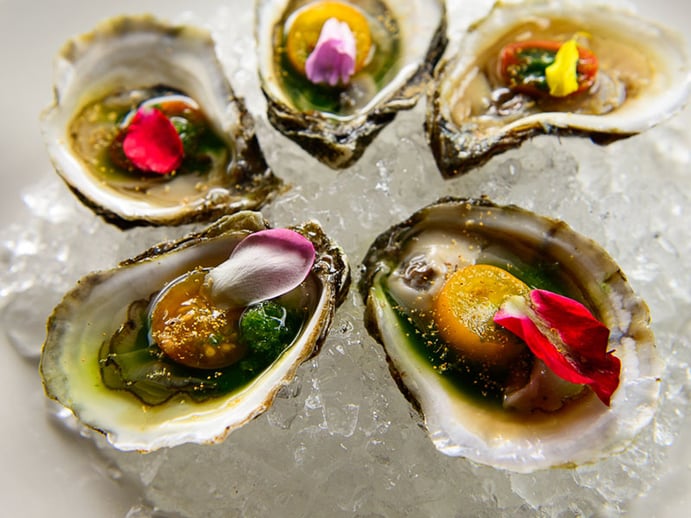 Grassroots Pantry, Hong Kong
Billing itself as a "homespun restaurant", the Grassroots Pantry packs its menu full of dishes using the freshest, most nutrient-dense of sustainable, plant-based ingredients. The restaurant was founded in May 2012 by chef/owner Peggy Chan, an advocate of unprocessed, sustainable, organic, and locally produced ingredients. It's Chan's aim to educate diners in healthy living standards, and increase interest in the farm-to-table, plant-based, and Slow Food movement. A sign of her success, the Pantry relocated to larger premises in 2015.
It's not just the food that is ecologically sound at Grassroots Pantry. Chan bought her team's uniforms from Grana, which specializes in responsibly sourced fabrics, while local company Latitude 22N has supplied the "kitchen tools" mural, in recycled wood, on the restaurant's wall.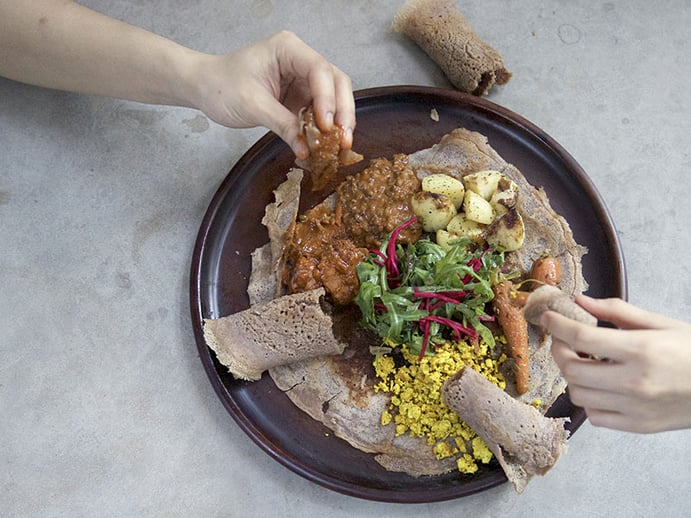 Hawksmoor, UK
Britain's Hawksmoor mini-chain of upscale steak houses is well known for sourcing its meat directly from The Ginger Pig's free-range farms in Yorkshire, and for buying its eggs, milk, and cheese from sustainable British farms. Equally, the fish it serves at its flagship restaurant, in London's West End, is all sustainable and arrives daily.
Lesser known is Hawskmoor's policy for converting spent oil into biofuel, and for recycling water. The water it serves to cusomers is also ecologically sound – the One brand of bottled water is produced by a carbon-neutral company that donates 100 per cent of its profits to fund water projects in Africa.