From the intricately faceted façade of the recently completed Beijing Greenland Center skyscraper and the groundbreaking 50-foot panels at the Apple store in Hangzhou, to the black crystalline exterior of a new Manhattan tower block, glass is constantly being pushed to new levels. "There's a sense of wonder with what you can do with glass, and there's always something new," says London-based Graham Coult, technical director at Eckersley O'Callaghan, the engineering practice behind many of the Apple stores. "By working with great architects who challenge what we've done before, we can move the knowledge forward in steps. With the processes we use today, the properties of glass can be modified to create a robust construction material. I don't think we will stop learning about glass in what is still a very young field."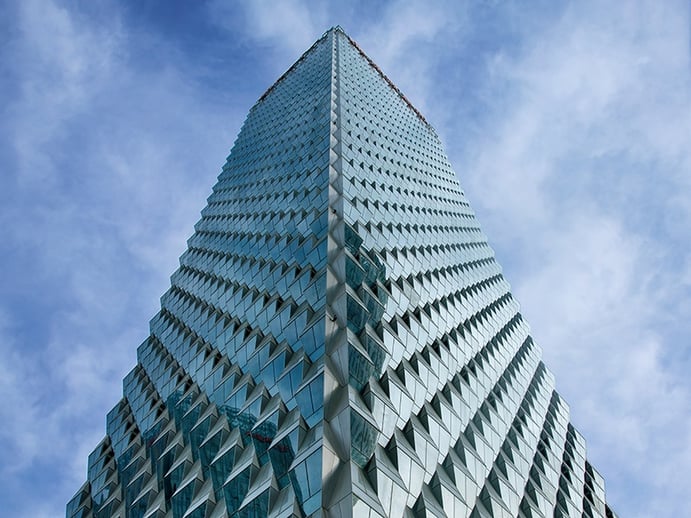 It may be young in architectural terms, but glass was first used as a building material by the Romans, who showed off their wealth via window panes in their luxury villas. Over the centuries different methods of glass production emerged, including the manufacture of plate glass—used to stunning effect in Joseph Paxton's Crystal Palace at London's Great Exhibition of 1851.
Despite an enduring fascination with the transparent wonder, glass remained expensive, requiring significant skill and resources to produce—until the mid-19th century, when technological improvements made it possible to construct the first skyscrapers (predominantly in New York and Chicago) that would change our skylines forever. These early examples, dating from 1884 to 1939, used mainly metals or heavy masonry materials for the cladding, punctuated with glass windows.
Architects such as Ludwig Mies van der Rohe, however, an early pioneer of using glass extensively in buildings, proposed bold new designs to match its extraordinary potential. His unbuilt, visionary concept for the 1921 Berlin Friedrichstrasse Skyscraper competition showed a faceted, all-glass building with no structural or decorative frame.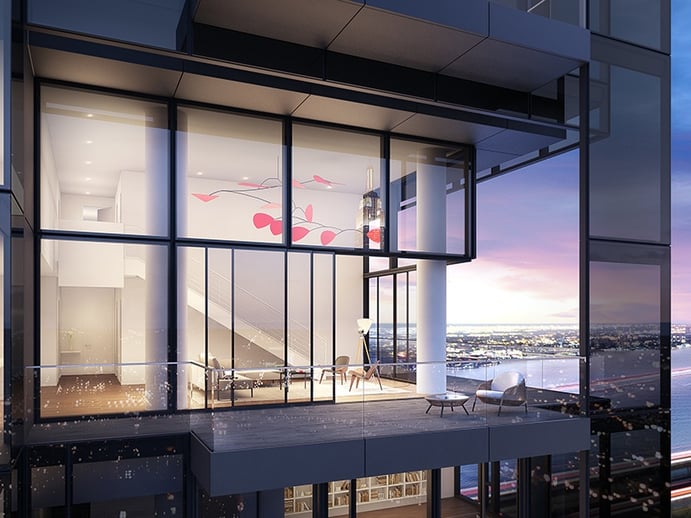 Then in the 1950s, a revolutionary float-glass process was introduced. The Pilkington technique—named after the British glass manufacturer that pioneered it—allowed flat glass sheets of uniform thickness to be produced, enabling the material to become more affordable, and leading to its mass production. A combination of this breakthrough, daring designs, and improved construction techniques contributed to a sea change in the amount of glass used in buildings. Mies van der Rohe's Seagram Building (1958) in Manhattan, a stone's throw from the 1952 all-glass Lever House by American architects Skidmore, Owings & Merrill, illustrated this new approach perfectly.
There's a sense of wonder with what you can do with glass, and there's always something new
"There have been these big historic movements with glass, beginning with float glass in the 1950s, the introduction of double-glazed units in the 1970s, and now triple glazing, which emerged in the 1990s," says Stefan Behling, senior executive partner at British architects Foster + Partners. "Glazing development just gets better and better."
Touching the future
Behling is a glass specialist and has applied his expertise to the Apple stores as well as the Apple Campus 2 headquarters. He's currently working on developments that could lead to large glass panels acting like the touchscreen of a smartphone. "As well as printing layers onto glass that we can't see, we can also print conduits onto glass," he says. "For example, I could swipe my hand over an area of an opaque window and it clears, or I could talk to the glass, ask for the 10 o'clock news, and a TV screen appears that is embedded invisibly within it."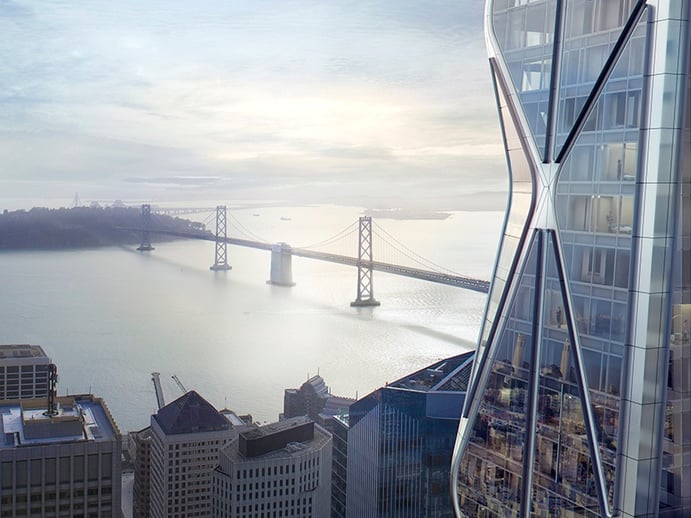 Alongside this futuristic technology, Behling has worked on the design of the Oceanwide Center, two mixed-use towers that have recently broken ground in the Transbay area of San Francisco. The towers will use high-performance, clear glass to provide stunning, uninterrupted views.
Foster + Partners has designed two other residential developments utilizing high-performance glass. In Miami, The Towers project comprises a pair of skyscrapers that, at 1,049 feet, will be among the city's tallest when complete. In New York, One Hundred East Fifty Third Street, a slender 61-story tower, will dwarf its neighboring 20th-century modernist icons—the 21-story Lever House and 38-story Seagram Building.
It is a very high-tech product these days, with unbelievably sophisticated coatings
Behling says the trend is for further technological advances in high-performance glass: "It is a very high-tech product these days, with unbelievably sophisticated coatings [which filter energy and will continue to be developed]. At the same time as having triple-glazed units with very good U-values [a measure of how effective a building material is as an insulator] that allow 75 percent of daylight in and restrict solar gain, glass panel sizes are now huge. We are working with panels that are three meters by 12 meters [9 ft by 39 ft] and these will just get bigger."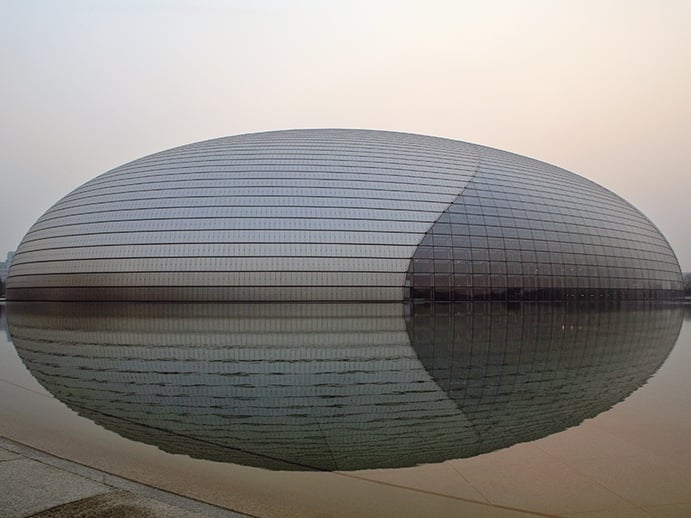 Strong performance
Stefan Scheiber-Loeis, senior associate at Richard Meier & Partners Architects in Los Angeles, adds that in the past 15 years the glass industry has also significantly advanced the material's structural performance. "High-rise glass buildings today have to withstand tremendous wind loads. This wouldn't have been possible if the industry hadn't created glass that can sustain them," he says.
The practice has conceived a residential tower in New York that, thanks to its design, will have to contend with its own unique wind loads. 685 First Avenue is a milestone project for the firm: its first all-black glass and metal building, a departure from its trademark white edifices. In a bold move, the structural columns have been set more than 3 feet inside the building to create a glass façade uninterrupted by shadow boxes or slabs.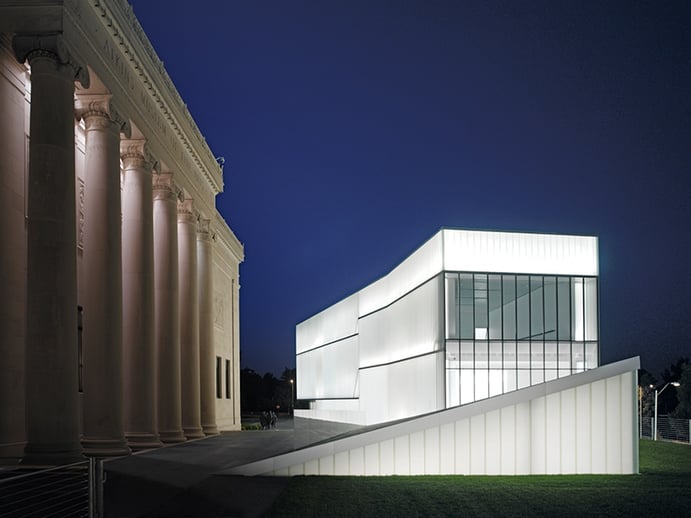 "For this project, glass was an intelligent, appropriate material and we went through quite a process to find the right type," says Scheiber-Loeis of the low-maintenance, energy-saving glass chosen. He believes that the truly pioneering glass buildings around today are the ones where the material enhances the energy performance of the envelope itself—the physical separation between interior and exterior. The Beijing Greenland Center, by Skidmore, Owings & Merrill (SOM), is an excellent example. The 55-story mixed-use tower is clad in a complex, trapezoidal glass façade that generates self-shading to improve its environmental performance.
The fact that we can create huge curved-glass panels is a major factor in how we design buildings, and it affects skylines
Neil Katz, associate and architect at SOM, argues that improved energy performance in glass has been a key breakthrough. But when considering how glass has impacted on a city's skyline, he highlights architects' ability to design unique forms: "Traditionally, glass was flat, but it's not necessarily the case anymore, as glass can be bent to conform to the shape of the building. The fact that we can create huge curved-glass panels is a major factor in how we design buildings and has definitely affected city skylines."
Innovative glass projects are not restricted to skyscrapers, however. French architect Paul Andreu's National Centre for the Performing Arts in Beijing, which sits within a man-made lake and employs a vast titanium and glass dome roof, encapsulates both drama and imagination.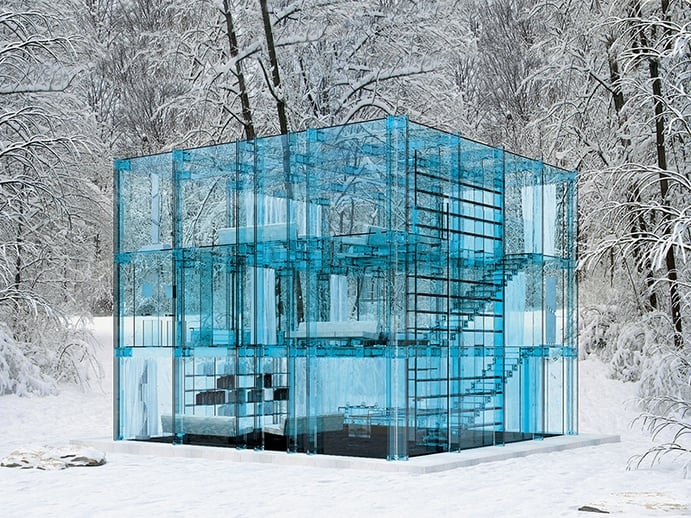 Meanwhile, at the more modest—or at least bijou—end of the spectrum, Italian designer Santambrogiomilano's Glass House concept has been built to demonstrate that an entire building, including columns and beams, can be made from glass and constructed almost anywhere.
One of the more striking projects to explore glass technology is US architect Steven Holl's Bloch Building. This addition to the Nelson-Atkins Museum of Art in Kansas City, Missouri, consists of five structures or "lenses" that are made of multiple layers of translucent glass embedded with a semi-transparent insulation called Okalux.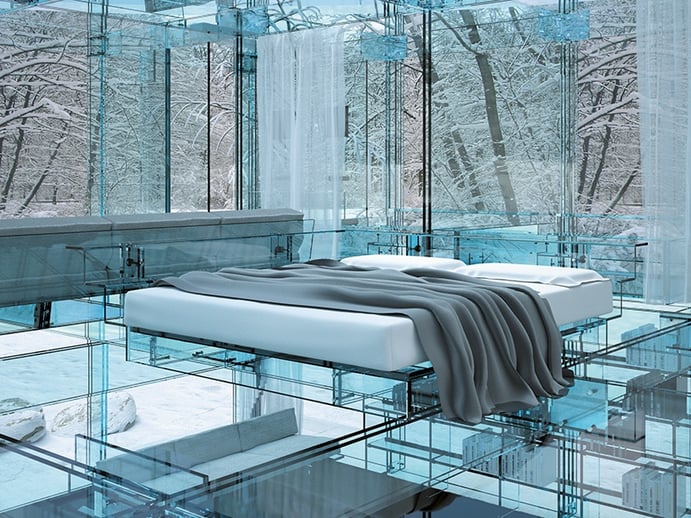 When the project began, "it was the first time this type of glass had been used entirely as the envelope of a building," says Chris McVoy, senior partner at Steven Holl Architects. "The material is extruded out of a machine rather than floated like typical glass, which means it has a structural shape and can be used without any vertical steel or aluminum framing." The practice has advanced the technique further in its Maggie's Centre at London's St Bartholomew's Hospital, where sheets of colored film are embedded within the Okalux insulation, to "blur like a Mark Rothko painting."
So, why do architects like working with glass? "Glass is important because of the way it creates certain conditions and effects. We enjoy working with light through glass and transforming it in a variety of ways. Whether by color, its chemical makeup, or by bending and curving it, new kinds of light phenomena can be achieved," says McVoy.
Given that great strides have been made in developing the potential of glass, is there anything more to learn? "Yes," says Behling. "Glass technology hasn't really started—we still have so many things to discover and be challenged by…"