By the time the modernists declared successful design to be form following function, tiles had been quietly getting on with the job of making walls and floors both practical and resplendent for millennia. From Mesopotamia to Delft, artisans had recognized tiles as a hard-working surface that could also be sold as a conduit for artistic and religious messaging, and a powerful symbol of financial status. Today, despite all the choices the 21st century offers, new techniques and approaches ensure tiles still hold appeal.
In fact, tile brands around the world are delving into history for inspiration, reviving their finds in a contemporary way. One company that certainly understands its connection with the past is Bisazza, the Italian mosaic specialist celebrating its 60th anniversary in 2016. Bisazza offers collections by designers including Alessandro Mendini, Marcel Wanders, and Studio Job. "Mosaics carry a heavy bag of heritage," says CEO Piero Bisazza. "When you talk about the technique, many people think of Pompeii or Constantinople. One of our challenges is to balance the responsibility of working in a noble material with making it relevant."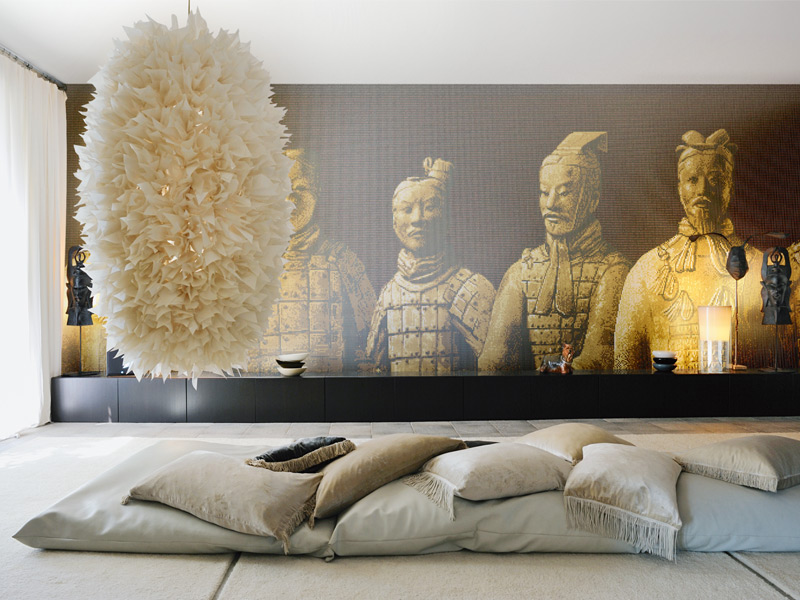 Mosaic, says Piero, is the perfect medium to create a unique project. "The product lends itself to customization because it starts with a single pixel; that allows for incredible freedom." The company's most recent collections include giant, opulent florals by Tricia Guild of Designers Guild and Asian-influenced patterns by architect Carlo Dal Bianco. As with all Bisazza collections, these mosaics are intended for use throughout the home – not just where practicality dictates. Taking a leaf out of the ancients' decorating book, mosaics do make epic feature walls.
From utility to luxury
"We've certainly seen perceptions change about the possibilities offered by tiles," agrees DeeDee Gundberg, director of product development at high-end tile brand Ann Sacks. "They've gone from being utilitarian to the design focal point of a room." The company's new collection, Lux Decorative, is a series of glamorous marble tiles inspired by the elaborate bronze doors of ancient mosques. It's ideally suited to a fireplace surround or living-room walls, says Gundberg.
Tiles have gone from being utilitarian to the design focal point of a room
As well as alluring mosaics, Bisazza has recently moved into new territory with collections of cement tiles from designers Paola Navone, India Mahdavi, and Tom Dixon. "There are turn-of-the-century apartments in Milan where each room has a different, richly patterned encaustic tile floor. It is a bold approach but, because of the materials, it also feels subtle," says Piero. Indeed, a simple palette and the company's range of patterns lend metropolitan flair to this traditional technique – and they're excellent for mixing, Milanese style.
Another company passionate about the craftsmanship and provenance of its products is Popham Design, founded in 2007 by husband and wife Samuel and Caitlin Dowe-Sandes. "We moved to Marrakech from Los Angeles in 2006, ostensibly for a one-year sabbatical," says Caitlin. "Before we knew it, we had bought a crumbling dar [house] in the walled medina. During the renovation, we were struck by the workmanship at our fingertips – metalworkers, carvers, and, of course, tile-makers."
Home-grown passion
It was in creating tiles for their new home that the seeds for their business were sown. "We adore the intense patterns and colors in traditional Moroccan cement tiles, but wanted simpler, more modern designs. This became the basis of our initial collection." With saturated colors and striking patterns in their tiles, the mood of the couple's surroundings is easy to see. "The architecture and design of Morocco is a big influence, as are natural elements – leaves on a palm tree, the shadow cast by a stork flying overhead, waves lapping the beach in Essaouira," says Caitlin. "We always have our camera and a sketchbook at the ready."
The brand's entire collection is bespoke, with nearly 100 patterns and 100 colors; every tile is individually made. The company can also create designs from scratch for clients, subject to a design fee and minimum order. "We recommend that clients think about scale and repeat when working on a bespoke design, as you would a textile," says Caitlin. "Bespoke designs require patience."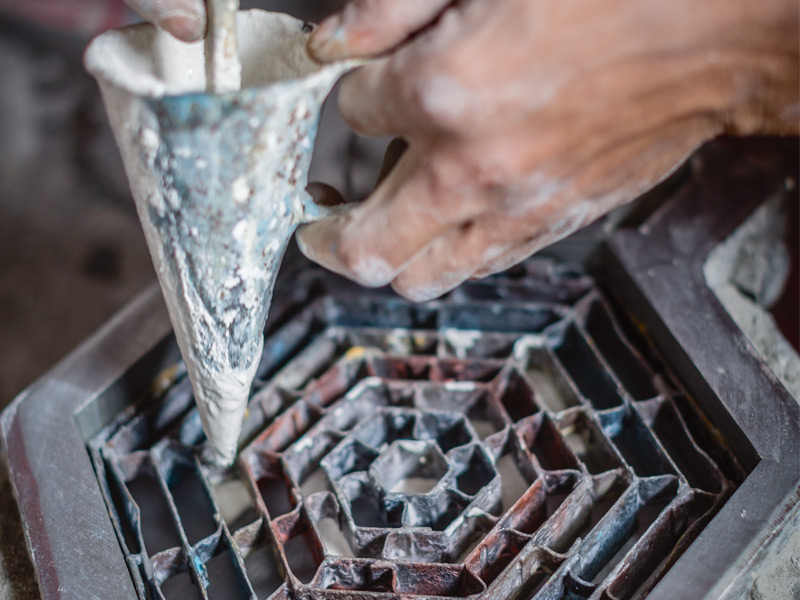 Marrakech Design is another specialist in cement tiles – also known as encaustic – although the Swedish company's designs borrow more from Nordic skies than Moroccan sunshine. "We love the aesthetic of cement tiles – the watercolor-like appearance, the satin feel of the surface, and the small imperfections that add personality," says founder Per-Anders Ovin. "In working with architects and designers, including Claesson Koivisto Rune and Mats Theselius, we've been able to give the tiles a distinctly Scandinavian character. The palette is mostly grays, whites, blues, and greens; generally the tones are quite subtle."
We love the aesthetic of cement tiles… the satin feel of the surface and the small imperfections that add personality
While it's design flair that's updating mosaic and encaustic tiles, technology is driving a revolution in the stone world, says Jason Cherrington, director of stone specialist Lapicida. "The industry had been largely the same for two or three thousand years, until around 30 years ago when computer numerical control machines became available – robots that can cut any shape. Technology is vital to help the client visualize the finish, but, before we get to that stage, a huge part of our service is quality control."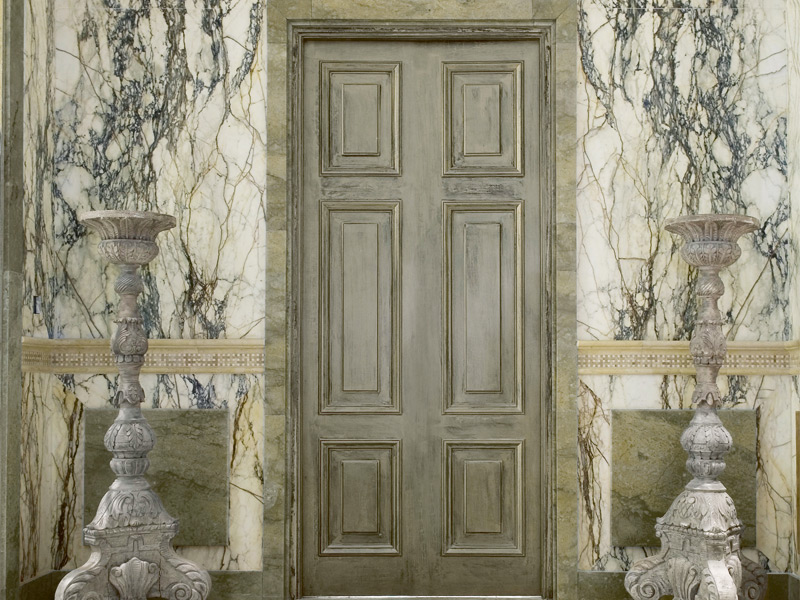 Wherever Lapicida's stone begins – whether it's marble quarried in Italy or Portland stone reclaimed from a 1960s building in London – it goes to its huge purpose-built factory in Yorkshire, England. "You have to get to know how natural products behave," says Cherrington. "We check the stone meticulously, with 25 years' experience in finding and solving problems. Then we can create CGI renderings of the finished room to send to clients."
Re-imagining the past
Bespoke projects make up around half of Lapicida's business, and clients have been becoming more adventurous, says Cherrington. "There are traditional geometric patterns we've been offering for years but are now creating in bright colors or semi-precious stones." But stone has an enduring appeal and transcends trends, he says. "From day one, stone will improve with age, whereas anything man-made will deteriorate. When you see old stone floors that have a patina and character, it's just wonderful."
Experimentation is impacting the collections at California-based artisanal tile company Clé, too. "Our current obsession is our hand-painted Chinoiserie porcelain panels that can be created as large as four by eight feet for a single panel," says founder and creative director Deborah Osburn. "We also created a tile from unglazed porcelain bisque that we dipped in indigo to allow for a natural shibori look. We still have designers scratching their heads about how we did it and how it manages to be a long-lasting surface."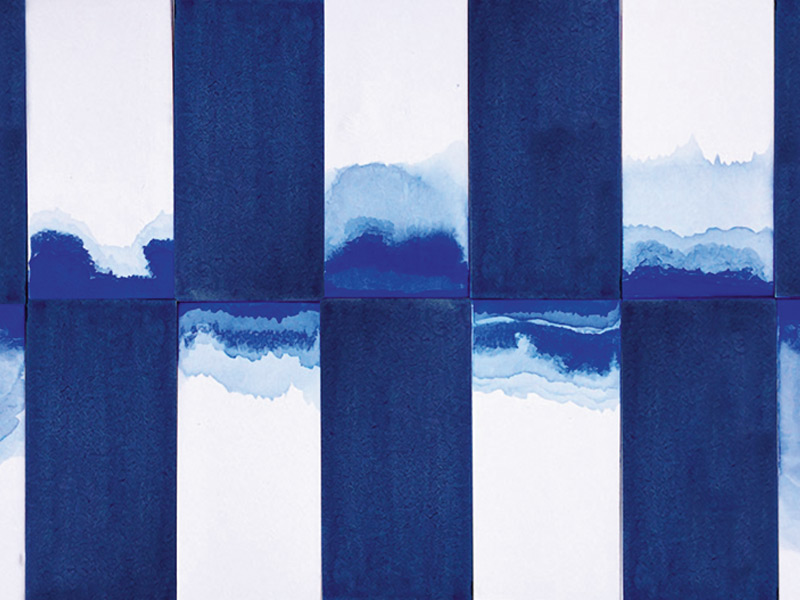 The true surface adventurer should visit Fameed Khalique's showroom in London, just like the world's leading architects and designers do. One vast wall is lined with deep drawers, which pull out to reveal collections of incredible and unexpected samples.
On display, there's a rainbow of semi-precious stones, beaten metals, 3D ceramic tiles, leathers, inlaid wood, and resin that resembles Japanese charred wood. "We're excited about this product particularly, as a big part of what we do is finding solutions for our clients. Real Japanese charred wood is incredible, but it's also very delicate. With this resin version, it's tough and it can be any color," says Khalique, producing an exquisite gold example.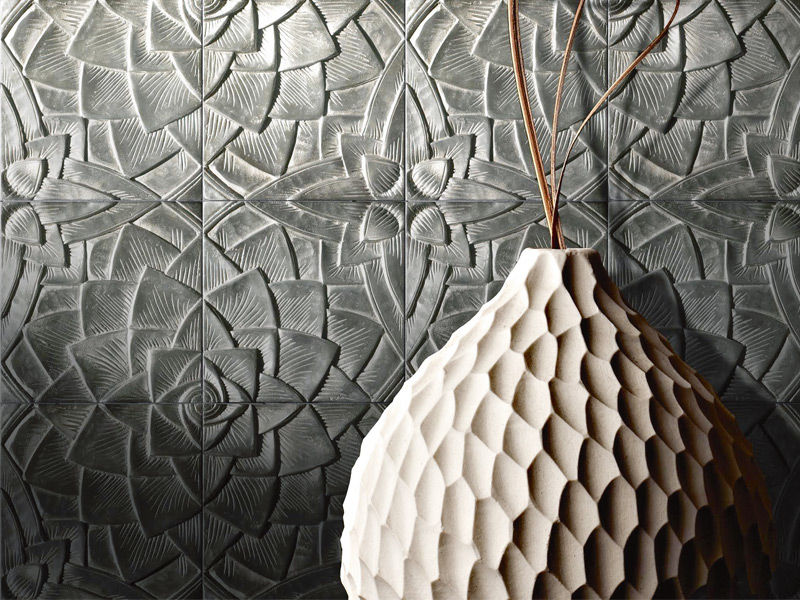 After thousands of years, tiling manages somehow to feel timeless. "Any luxury material must work hard, but it also must be beautiful and imbued with intangible values," says Piero Bisazza. "It's not just a waterproof cladding for your bathroom or your swimming pool; it carries artistry, it's there to stay."