One of the most memorable Hollywood movie scenes of all time is arguably Marilyn Monroe as Sugar Kane in Some Like It Hot (1959), wiggling along a train platform in the tightest skirt, the highest stilettos, suitcase in one hand, ukulele in the other. Now imagine that scene with a modern-day Sugar, dressed in sneakers, a hoodie, and sweat pants, pulling a plain-black, bulging suitcase while speaking loudly on a cell phone…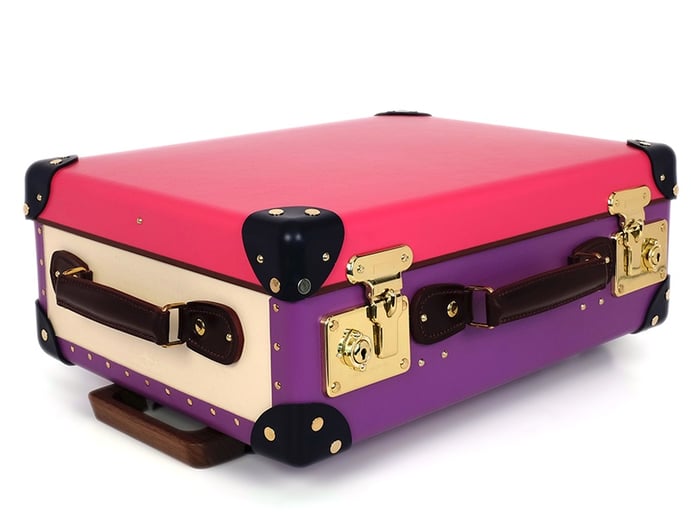 In the 1950s, when Some Like It Hot was filmed, people dressed up, not down, to board ships, trains, and—much less frequently—planes. But once travel became a universal pastime, beautiful but cumbersome luggage became light and universally bland, a triumph of function over form.
Today's sophisticated travelers, however, know that the joy of going on an elegant journey starts with the packing, which is why they're investing in the ultimate expression of personal style: custom-made luggage, from handbags and suitcases, to trunks and beyond.
Bespoke pieces are a realization and response to a clients' 'wildest desires'
Bottega Veneta introduced customization options for handbags and luggage in 2012 as part of the "BV Initials" campaign, a spin on the brand's longstanding "when your own initials are enough" motto. Customers could adorn their favorite Bottega pieces with a monogram—with a rainbow of mix-and-match colors available.
And in 2016, under creative director Alessandro Michele, Gucci introduced a "Gucci DIY" service for its iconic Dionysus bag, allowing shoppers to go wild with whimsical embroidered patches. For larger-scale options, Globe-Trotter, Moynat, and Louis Vuitton are among the brands that can craft just about anything you desire.
Luggage fit for The Queen
British company Globe-Trotter has been producing handcrafted pieces for more than a century and counts members of the Royal family as customers. HRH The Queen apparently still uses the Globe-Trotter suitcases she took on her honeymoon in 1947.
Every item is made in its factory north of London, using many of the same production methods and machinery as when the brand was founded in 1897.
"We've always tailored pieces for certain clients," says Globe-Trotter's Ben Thorne, who is in charge of bespoke orders. "Since we opened our flagship store in London's Mayfair in 2014, and in response to requests for bespoke pieces—anything from suitcases and traveling trunks to watch cases and picnic hampers—the service has become an integral part of our business.
"Our customers already appreciate the pleasure that comes from owning luggage that combines luxury, lightweight materials with expert craftsmanship, but many are discovering the added 'je ne sais quoi' that comes with having something tailor-made."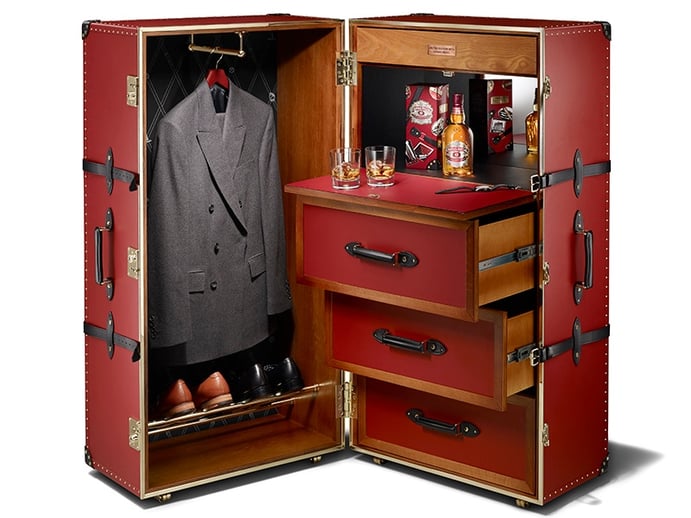 Globe-Trotter has three tiers of customization. Made-to-Order offers adaptations to the off-the-shelf range—think linings, metal fittings, and colors for the body, leather corners, and straps. Bespoke is a step up, allowing customers also to select different stitch colors in addition to the Made-to-Order modifications, while the Design & Build service creates an end product that is a one-off—a work of art that travelers will never tire of using.
Our customers are discovering the added 'je ne sais quoi' that comes with having something tailor-made
Some clients have very specific ideas, while others seek inspiration from Globe-Trotter's archives and from its collaboration wall in the Mayfair store. There they'll find some of the items the company has made with, among others, Hermès, Erdem, Alexander McQueen—complete with his signature skull motif—Wallpaper* magazine, and for films, including Murder on the Orient Express (2017), and Skyfall (2012), where the handle for James Bond's case was made from a rifle viewfinder.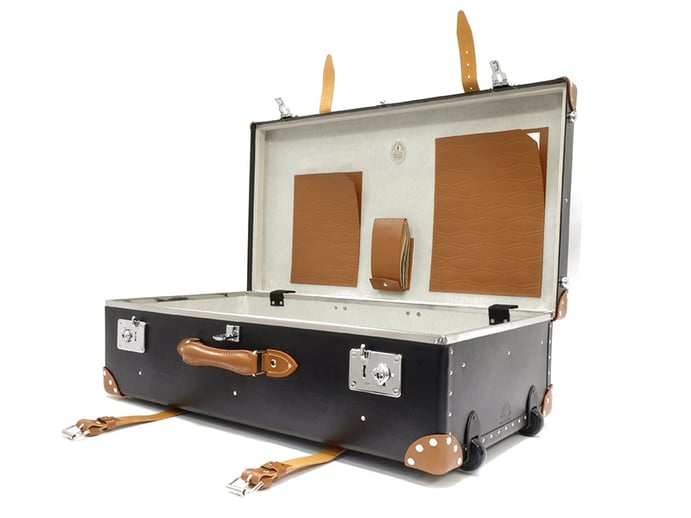 "All our bespoke pieces start as a figment of someone's imagination. Our job is to grasp what they are after and to make it for them," says Charlotte Seddon, the brand's designer.
Each case is unique
Bespoke is also at the very heart of Moynat's heritage. The luxury Parisian brand has been creating custom-made pieces since it was founded in 1849 by Pauline Moynat, the only female trunk-maker in history.
"The turn of the 20th century saw the arrival of a new object of desire—the automobile," says Ramesh Nair, Moynat's artistic director, who designs every bespoke piece. "Moynat started making trunks that fitted the contours of the vehicles, often matching the color of the luggage to the bodywork, and that was really the birth of the maison's worldwide reputation for customization."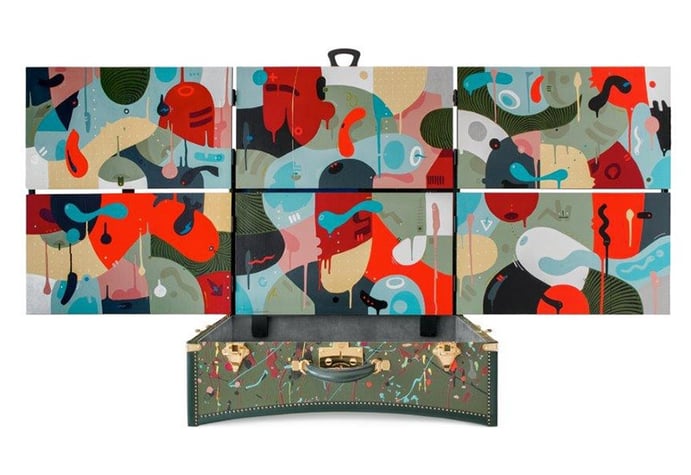 Each bespoke order is tailor-made from start to finish. "It is absolutely not a question of assembling previously prepared components," Nair says. "We do not have a catalog of styles, colors, or linings that clients choose from, and we do not use stenciling. All the initials and motifs are individually designed and hand-painted by our artists."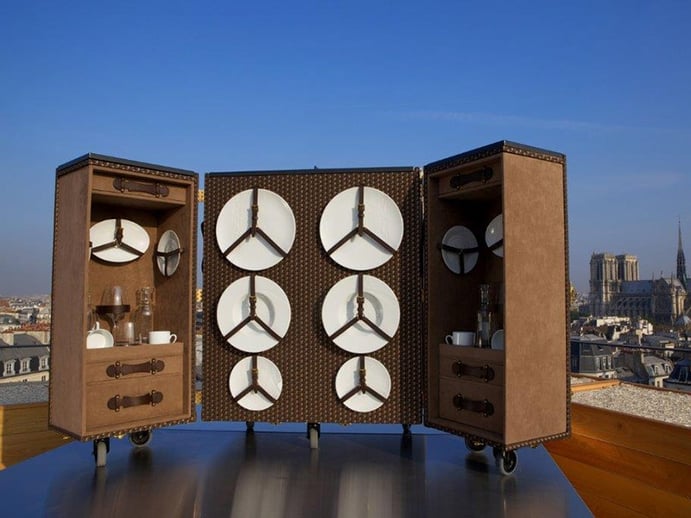 Some of the brand's more unusual pieces include a bicycle picnic basket, a macaron case for the pastry chef Pierre Hermé, a breakfast trunk for chef Yannick Alléno, and the extraordinary trunk made for Los Angeles-based French painter Mambo. Cut from the artist's paint-splattered studio flooring, it comes complete with a built-in, foldout art gallery—an easel that can display up to six works.
From a true icon
About the same time as Pauline Moynat was setting up her business, a 16-year-old whose name would eventually become synonymous with quality and discernment was learning his craft at a Parisian atelier.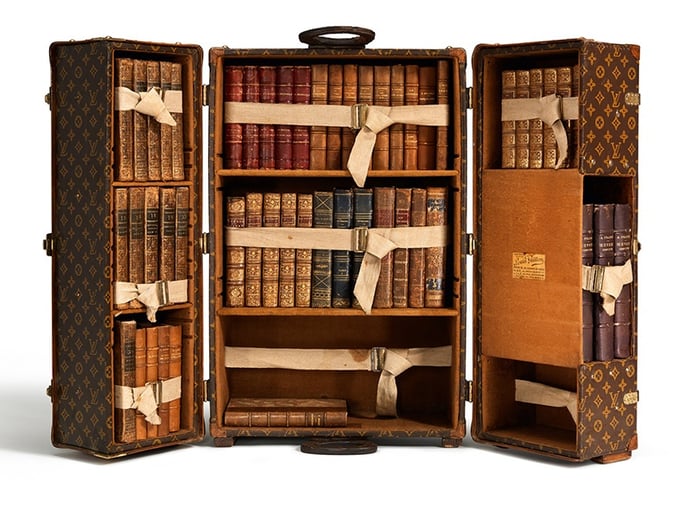 Seventeen years later, in 1854, that young man left to start up his own company. Its name—and his—was Louis Vuitton, and since then the maison has stood for a mark of quality, craftsmanship and breathtaking ingenuity. Among the most audacious custom-made pieces are a trunk with a foldout bed, made for the explorer Pierre Savorgnan de Brazza in 1905; Ernest Hemingway's 1920s traveling library case, with its secret drawers and shelves; and a solar-powered shower trunk created for the brand's 150th anniversary.
Each Louis Vuitton commission begins with watercolor drawing—a work of art in itself
Today, Patrick Louis Vuitton, head of special orders, works at the atelier Louis Vuitton built in Asnières-sur-Seine, France, in 1859. This is where all the company's trunks are still made.
"A bespoke order is a special moment," he says. "It is a relationship in the making, starting from when we meet the client."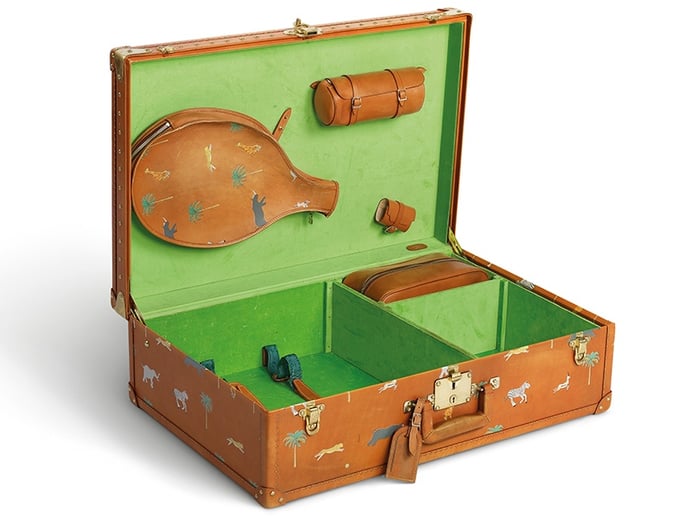 Each commission begins with watercolor drawing—a work of art in itself. Customers can choose from a range of materials, including various leathers, wood, microfiber, and canvas, as well as the form and interiors. Traditional skills and methods have been retained through the decades—for instance, no nails are used in the hinges of Louis Vuitton trunks and boxes; they are still made from sewn cotton panels, using a technique that Vuitton himself developed.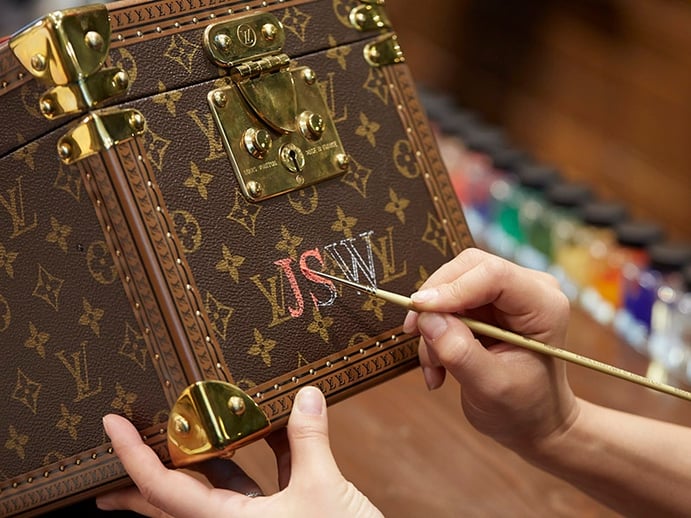 The pieces are a realization and response to a clients' "wildest desires." That, at the end of the day, is what bespoke luggage represents—it is the manifestation of a person's dream to embark on a journey, an adventure. Have suitcase, will travel…