For centuries, water has been used in estates and gardens for function and for fun, but the earliest water features had distinctly prosaic beginnings. The first fountains and canals were engineered by the Minoans and the Romans to provide fresh water to palaces and cities, for drinking, bathing, and irrigation. Later, moving water would become a symbol of wealth and power.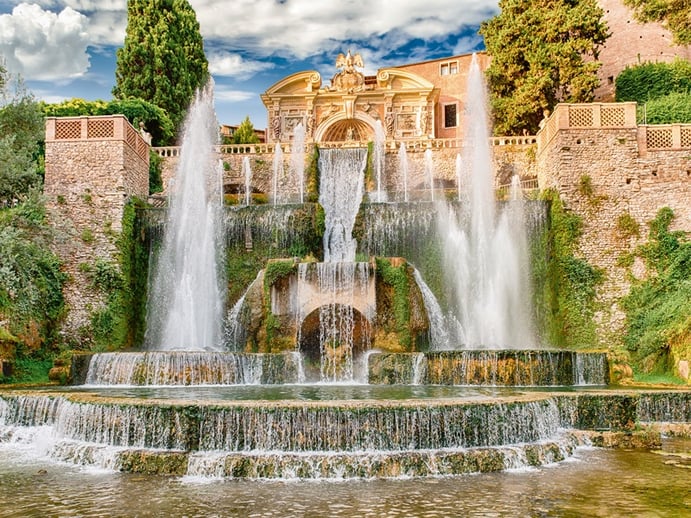 From the 16th century onwards, the grand estates of Europe resonated with the sound of water rushing or meandering through the manipulated landscape: Villa d'Este in Italy, Versailles in France, and Chatsworth in England all contained flamboyant fountains and cascades, engineered to showcase their owners' wealth. Religion has played an intrinsic role, too, with fountains past and present providing a place for worshippers to purify themselves, and to prepare for prayer.
Today, water is used by landscape architects in ever more ingenious ways—to bring an air of calm to a frenetic urban space, to anchor a garden within the wider environment, or to add the dynamics of sound and movement to a landscape that lacks character or focus.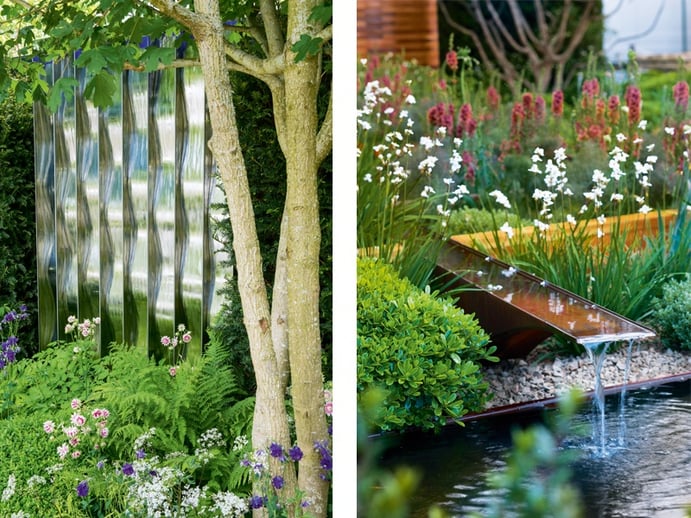 While powerful frothing fountains are commonly encountered in public spaces, in the private or residential space, our relationship with water is likely to be more subdued and intimate. A slender rill snaking over a bed of river-polished pebbles, for example, or an inky-black reflective pool. A series of simple wall-mounted spouts, a freestanding water sculpture, or a shimmering vertical water wall. All can be scaled up or down in size to suit the estate or garden in question, engineered in materials sympathetic to your property's architecture, and lit from within.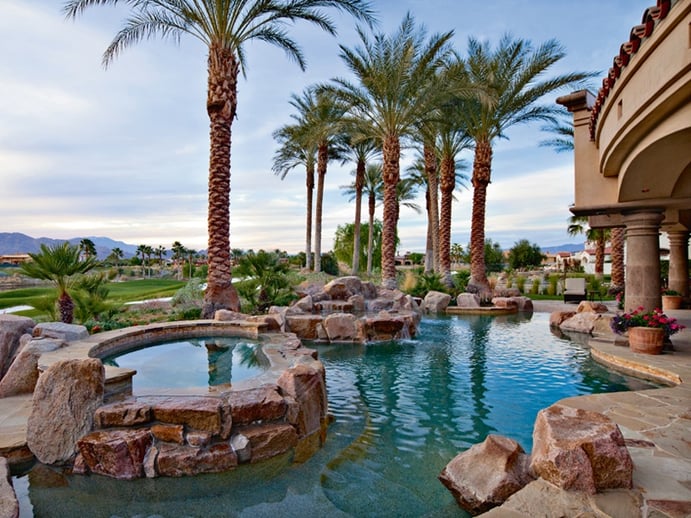 Water worlds
Award-winning landscape architect Andy Sturgeon practices internationally, from the UK to Hong Kong, Russia, and the Middle East, and uses water in his designs with great flair. "I like to use water to animate a space through sound and light," he explains. "This may simply be the way water cascades and catches the light, but it can also be through the reflections of the landscape and the sky.
"I've used water to anchor a garden in its site, so it relates to its surroundings. For example, I've designed gardens adjoining rivers, which, conceptually, introduce a 'tributary' that flows down to an existing body of water. An expanse of water can also introduce space to a design in the same way that a lawn does. This 'void,' in contrast to the mass of planting and built structures, is vital to introduce rhythm."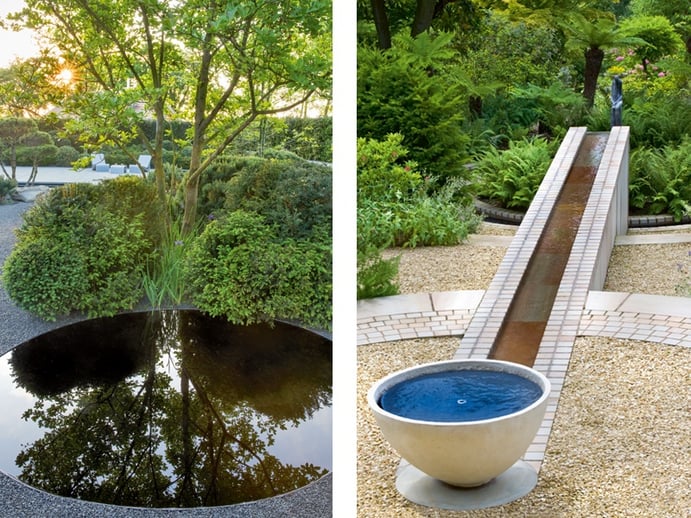 In California, Jeffrey Gordon Smith's landscaping practice integrates ornamental water features within many of its clients' designs, while remaining mindful of the frequently arid local landscape.

"Our water features are diverse and speak specifically to each project," says Gordon Smith. "We encourage our clients to celebrate the environment in which they live, and in addition to providing an element of beauty, water features often provide a useful function too. For example, our Spanish Spa Retreat's water feature is also a relaxing spa, and we have designed low water features to double as dog drinking fountains."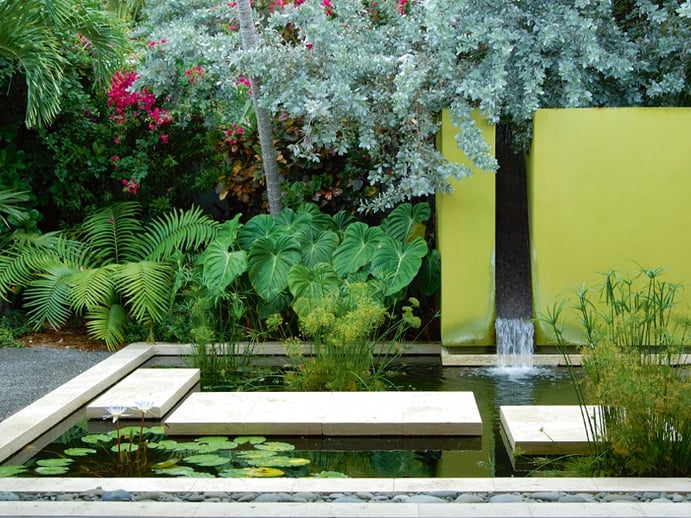 And when water is in generous supply within the surrounding landscape, there are designers ready to harness its life force. Raymond Jungles is a world-leading landscape architect based in Miami, Florida, and many of his awe-inspiring designs combine lush, indigenous foliage with cascading rills or contemporary lily ponds, creating an effect of bounty and fertility.
But placing your water feature takes skill and judgment. With his Modern Beach Vision design, Gordon Smith uses a sleek, monochromatic water sculpture as a welcoming gesture near the entrance of a private home in Morro Bay. For Sturgeon, formal rills and canals work particularly well when placed close to the house, to enhance the geometry of a space. "But always respect the setting," he advises. "Larger gardens lend themselves to a large reflective pool away from the house, and moving water, in the form of fountains and waterfalls, can be a very useful device to mask traffic or airplane noise."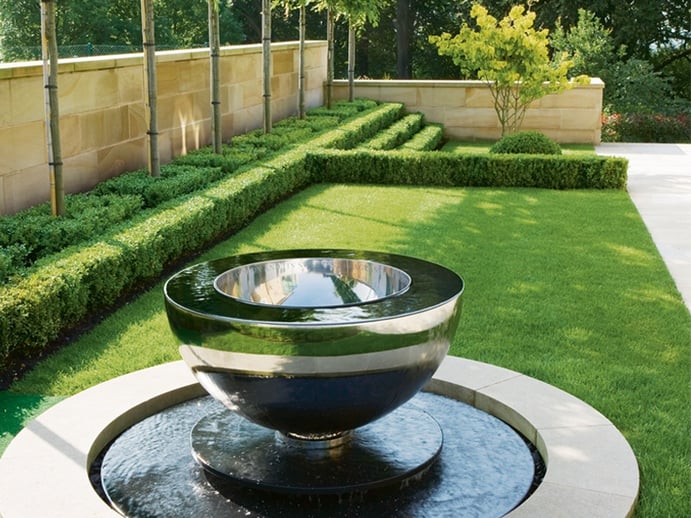 Creating the right setting is especially important when choosing a freestanding water sculpture. The UK's David Harber always designs with a specific location in mind, and the understated appearance of his elegant sculptures belies their complex engineering. "The Chalice is one of my favorite designs because of its simplicity," he says. "It's a calm, beguiling piece of work because it's simply water doing something hypnotic. The effect is quite magical."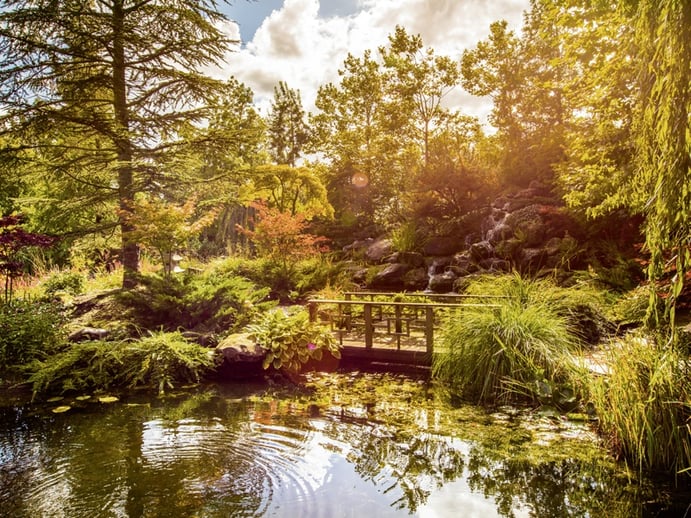 Mirror, mirror
Harber always considers what his sculpture is going to reflect, and will often make the interior of his vessels black to enhance those reflections: "The water then becomes a mirror that reflects the beauty of the sky, the clouds, the trees, and the stars." The designer plays with the movement of water over different surfaces and materials—including marine-grade stainless steel, bronze, granite, and glass—and tries to create specific sounds via the water. "Even the sound of absolute silence," he laughs. "But it's fun to hear water, so I often build sound trumpets into my designs to make it even louder."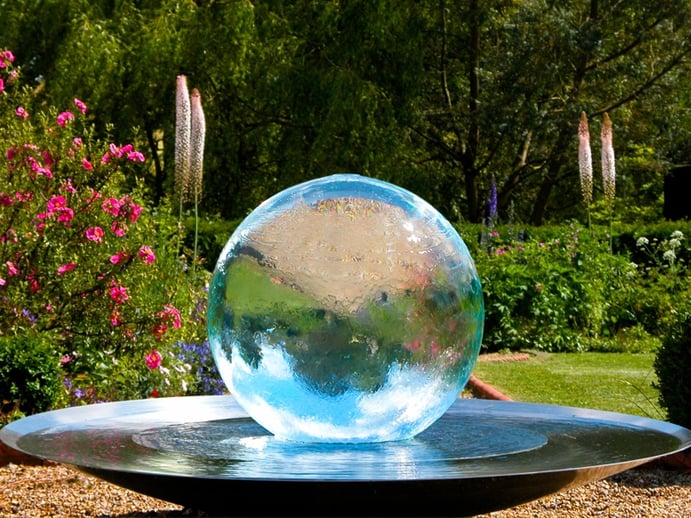 Allison Armour's work is also enjoyed around the world, in locations as diverse as a Sir Norman Foster-designed hotel in Russia's Crimea, a Buddhist temple in Switzerland, and the English country garden of former Beatle Ringo Starr. Her spherical Aqualens water sculpture is her favorite piece.

"The sphere is such an elemental, planetary shape," says Armour. "It's the ultimate geometric symbol, and one that has been significant to many different cultures." Armour loves using transparent materials and stainless steel because they create sparkling prisms of light: "The effect changes all the time and brings an element of magic. Sometimes you can't even see where the object is because it tricks the eye."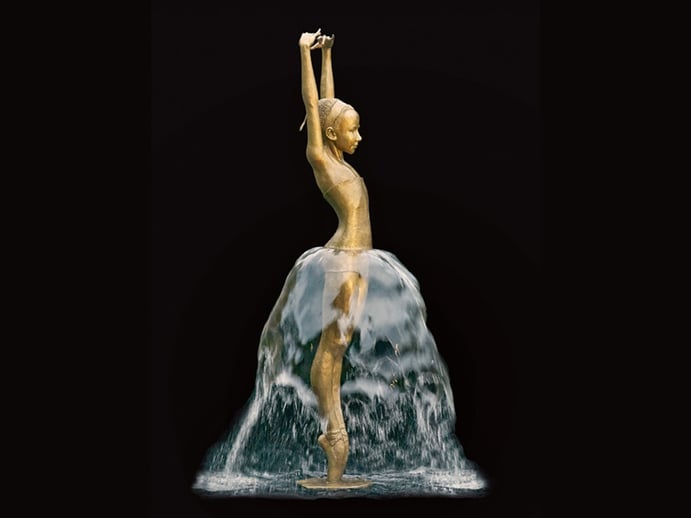 The decidedly ungeometric human form has also been popular in water sculpture throughout history. Polish sculptor Małgorzata Chodakowska creates a contemporary interpretation: ethereal bronzes enhanced by beautifully complex sprays of water—forming the aqueous "tutu" on a ballerina, for example, or the wings of a beatific angel. "I love to show harmony in my sculptures," says Chodakowska, "but they don't follow any up-to-date style. They are timeless and should last for generations."