Chile's wine regions are truly magnificent, enchanting visitors with their verdant, sun-drenched valleys, beautiful colonial estates, and wonderfully laid-back rural lifestyle. Not to mention the wine itself. The country's unique geography and diverse terrain is ideal for nurturing several grape varietals that are expertly transformed into wines, each with its own distinctive aromas and flavors.
A region defined by its location
Flanked on one side by the Andes mountains and the Pacific Ocean on the other, Chile's long, narrow shape and geographical location have an important influence on its wines. Baltazar Sánchez, chairman of the board at the Santa Rita wine estate, explains: "The Andes mountain range acts as a barrier to prevent contaminations, while the sea plays a big part in temperatures." As a result, vines are able to thrive naturally, largely protected from pests, and benefit from a diversity of climatic conditions and terroir (soil type).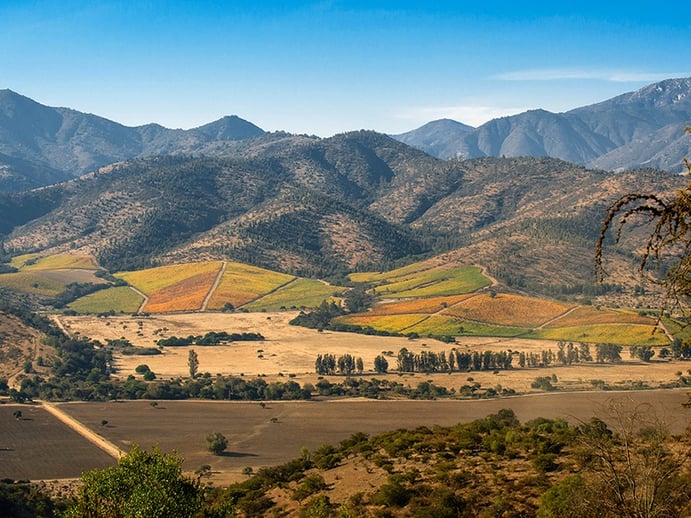 In the valleys of Elqui and Limarí in the northern part of the country, light Syrahs flourish, while Aconcagua and the coastal Casablanca valleys yield fresh and fruity Sauvignon Blancs thanks to cool ocean breezes. Further south, in the Itata and Bío Bío Valleys, Pinot Noir grapes are left to ripen at a deliberately leisurely pace.
Beautiful homes amid boutique vineyards
The stunning boutique vineyard Macaire, set in the Casablanca Valley one hour west of the capital Santiago, produces deliciously fresh Sauvignon Blancs and light-bodied Merlots and Pinot Noirs. At its center lies a U-shaped, 14,000 sq ft (1,300 sq m) property built in 2009 by architecture firm Elton Leniz. With seven bedrooms, five-and-a-half bathrooms, a swimming pool, and a tennis court, it has all the trappings for luxury country-style living. It is an idyllic second home.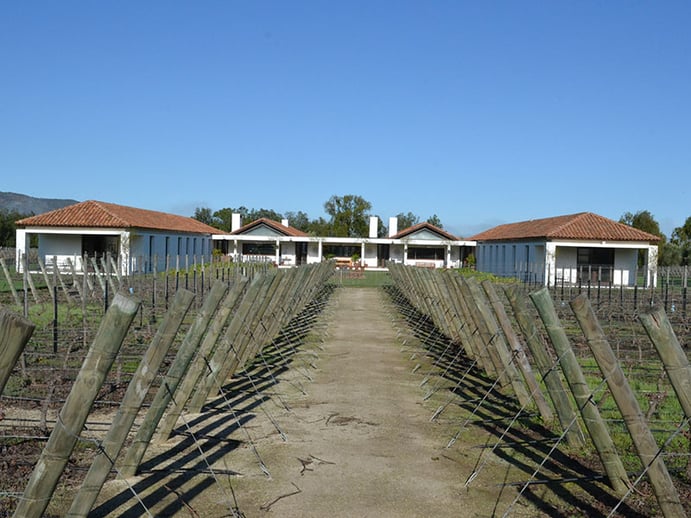 "It's a house that reinterprets all the ideals of a typical Chilean colonial house, but with modern architecture and contemporary lines," says Baltazar Sánchez, development manager of Bórquez & Asociados, an affiliate of Christie's International Real Estate. Design features include textured bamboo ceilings reinforced by hardwood beams, and row upon row of large rectangular windows that welcome in natural light. Also on offer are unobstructed views of the private surrounding vineyards, and landscaping designed by Teresa Moller. It's all set against the spectacular backdrop of the Andes mountains.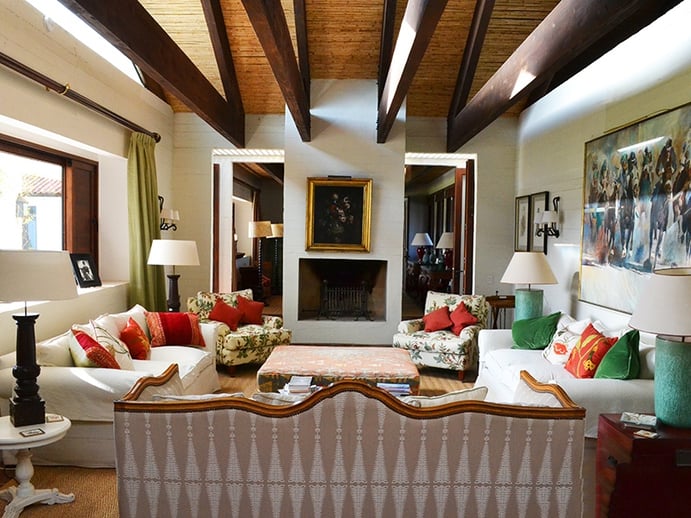 Celebrating the harvest
A highlight of Chile's wine calendar is the annual vendimia (harvest festival), which starts in the north at the end of February and continues until May, when the last harvests are completed in the south. Every festival varies depending on the region and its wineries, but will usually involve grape stomping, live music, and merriment, as well as an abundance of wine to savor. "The most important wine harvest festival is in the town of Santa Cruz in the Colchagua valley," says Sánchez of Bórquez & Asociados. "It's always a lively event and celebration, which everyone enjoys with a glass of wine in hand."
Every festival will usually involve grape stomping, live music, and an abundance of wine to savor
Local grape varieties and innovative techniques
Chile has long been touted for its Cabernet Sauvignon, and top-shelf wines such as Almaviva, Viñedo Chadwick, and Clos de Apalta are testament to this. However, as Sánchez of Santa Rita observes, "The old Carménère and varietals of Chardonnay and Sauvignon Blanc have also achieved very distinctive wines different from those produced in other countries." Carménère in particular has an intriguing history. Once Chile's flagship grape, it almost disappeared due to lack of demand but is now enjoying a major revival in the country, with winemakers crafting more refined versions of the medium-bodied red.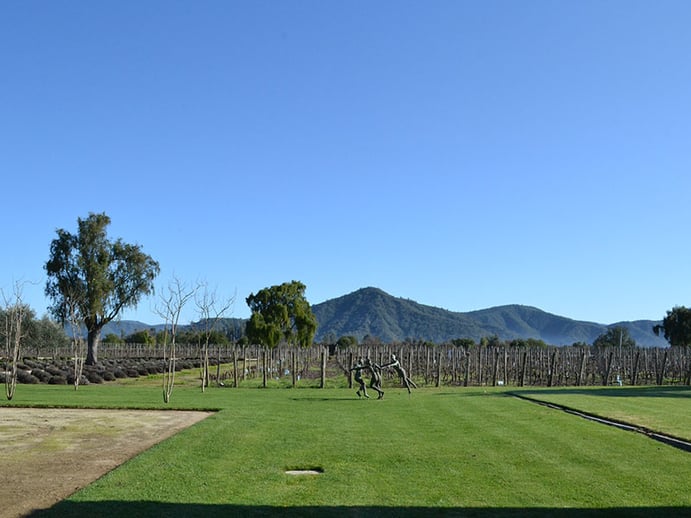 As well as experimenting with old and new vines, Chilean winemakers are also turning to new, innovative techniques at every level of production to ensure they create only the best-quality wine, from pruning processes to new fermentation barrels and cold temperature systems. Says Sánchez of Santa Rita, "Previously, winemakers were harvesting all the varieties mixed together and using high temperatures during fermentation, which was preventing each component of the wine from reaching its full potential."
A strong commitment to organic and biodynamic practices
Many Chilean winemakers have also turned to biodynamic viticulture that incorporates ecological principles. Take, for example, Matetic Vineyards, a family of winemakers in the coastal San Antonio Valley that is a pioneer in the production of cool-climate Syrahs.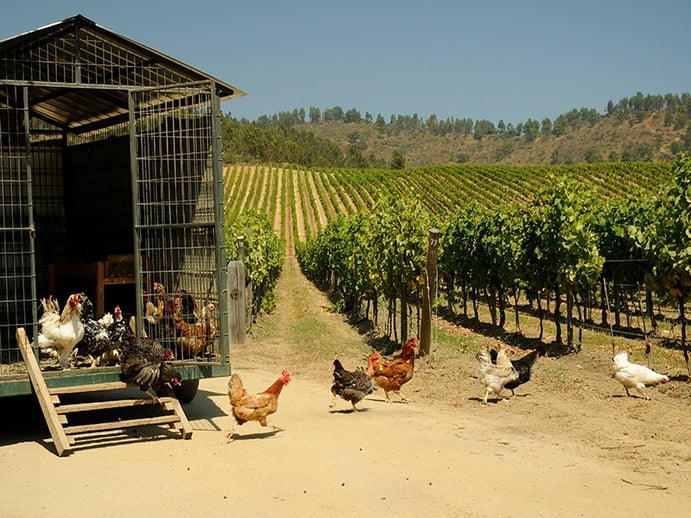 "We take special care of the natural fertility of our soils by using only property-made compost, and we seed a mixture of clover, cereals, and other grasses to act as green manure," explains Antonio Bunster, export manager at Matetic. "We also work a lot with different animals in the vineyards to keep the weeds in check." The result is a vibrant, well-balanced wine that can be sampled from the comfort of the hacienda's historic 100-year-old colonial property, now a stylish eight-person boutique hotel.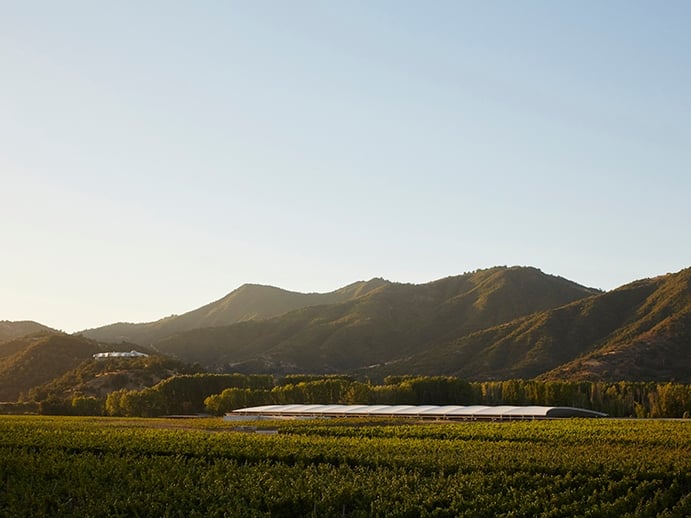 Viña Vik, founded by Norwegian-Uruguayan billionaire Alexander Vik, takes the wine experience to new heights at an exclusive winery and luxury boutique hotel. The winery produces a single wine: a finely honed blend of Cabernet Sauvignon, Carménère, Cabernet Franc, Merlot, and Syrah, crafted by winemaker Patrick Valette. Valette takes a holistic approach to winemaking, considering the environment, water, and movement of the terrain— an attitude that's carried through the harmonious design of the underground winery, designed by Chilean architect Smiljan Radic.
Viña Vik takes the wine experience to new heights at an exclusive winery and luxury boutique hotel
Pair with dishes inspired by the land
Some of Chile's greatest wines are best appreciated with food, particularly seasonal, locally grown produce. Ranked number 36 in The World's 50 Best Restaurants, Boragó in Santiago, led by chef Rodolfo Guzmán, is inspired by renowned chef Ferran Adrià of Spain's legendary elBulli. "The restaurant was actually on the point of closing down until one food critic wrote a great review, and then it was catapulted to worldwide fame," says Sánchez. "The tasting menu is a journey through all the local produce of our country, presented in the most curious and imaginative of ways, and they pair the food with the best wines in the region."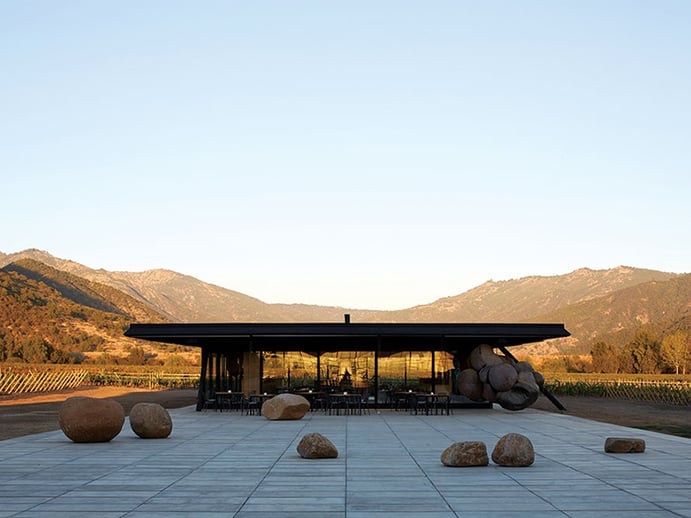 Executive chef Rodrigo Acuña Bravo of Viña Vik's Milla Milla restaurant also looks to the local terroir for inspiration in his dishes, sourcing his produce from neighbours' vegetable gardens and ensuring every dish brings out the complex layers and flavours of the winery's prized Millahue blend.