While the idea of entertaining at home typically conjures up images of welcoming living and dining rooms, and tables set with fine china and glittering glassware, today it's equally likely that a host will steer their guests beyond these formal rooms toward a stylish outside space, ideally with a breathtaking view as a backdrop.
1. Connect with nature
This trend for entertaining—and living—outdoors has grown as our desire to be connected with nature has deepened.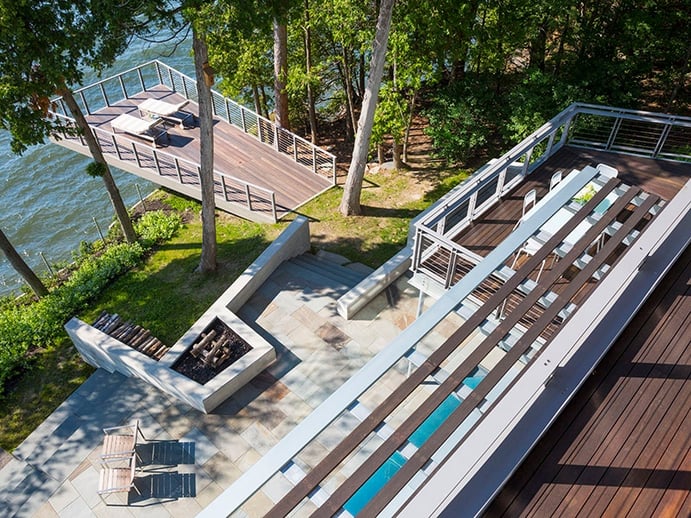 "Being outside in the fresh air and surrounded by nature is the opposite to our digital, air-conditioned lives, and a huge antidote to the pace at which we live," says Regan McClellan, principal at the award-winning, Seattle-based McClellan Architects. "Today, the outside of the home has become a prime entertaining space, and we are designing and landscaping the exterior with this in mind, bringing together all the elements to create a great space. It's like setting a beautiful table inside, but on a much larger scale."
When it comes to design and materials, people expect the outdoor space to be as high quality as the inside
With a view that takes in the sweeping plains of South Africa's Limpopo province, and comes complete with grazing giraffes, it wasn't surprising that the brief for a new-build lodge atop a crest of a hill revolved around the vista taking center stage.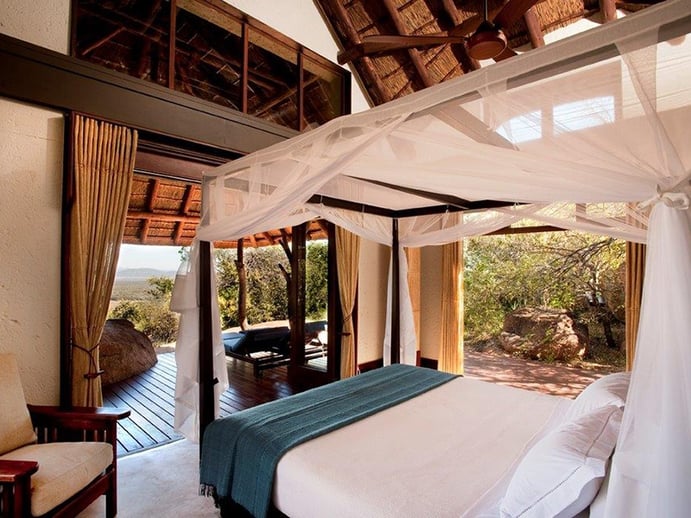 "The idea was to be outside as much as possible, but the reality was there were snakes and baboons that needed to be kept at a distance. So, instead, we created as many outdoor entertaining spaces as we could, with large sliding glass doors so that even when you're inside, you feel as though you're outside and 'in' the view, which is fabulous," says Andrzej Zarzycki, principal at Collett-Zarzycki, the London-based multidisciplinary practice that designed the lodge.
2. Consider the season
For a new-build villa in Portugal's Algarve, Collett-Zarzycki recently created an outdoor living room with plush sofas and billowing curtains. "All the fabrics are waterproof and the sofa covers loose, so in the winter they can be removed and packed away, ready to re-dress the sofa for summer," says Anthony Collett, also a principal at Collett-Zarzycki. "And stripped back, the sofa's frame resembles a timber bench rather than an ugly skeleton."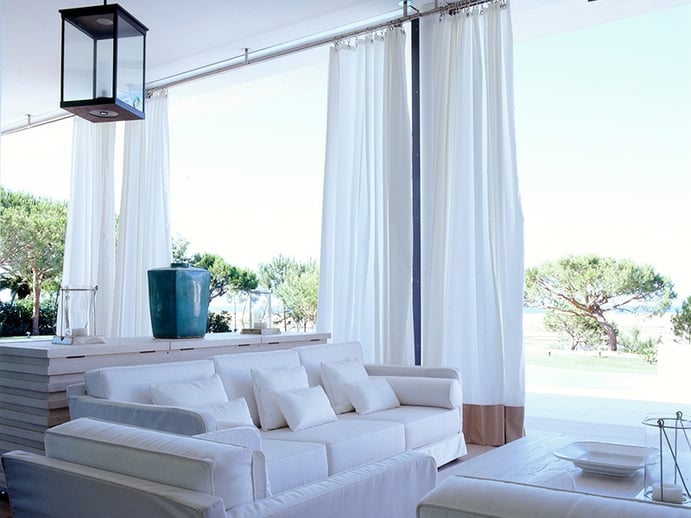 Indeed, entertaining outdoors is no longer just for the warm summer months as we strive to stay in the backyard for longer. "We find that even here [northwest USA], with our climate, people want to be able to entertain outside for as many as nine months of the year," says McClellan.
Today, designing and landscaping the exterior is like setting a beautiful table inside, but on a much larger scale
An extended al fresco season, however, requires protection from the elements, with shelter from cool winds and rain as well as shade from the hot sun. At Collett-Zarzycki, a loggia—a room with one or more open sides—is an oft-used architectural solution. "It offers shade and protection from the rain, but you still have the feeling of being outside," Collett says. "In Portugal, we created a loggia that was fairly James Bond-ish—at the touch of a button, glass screens, set flush to the floor between columns, rose up."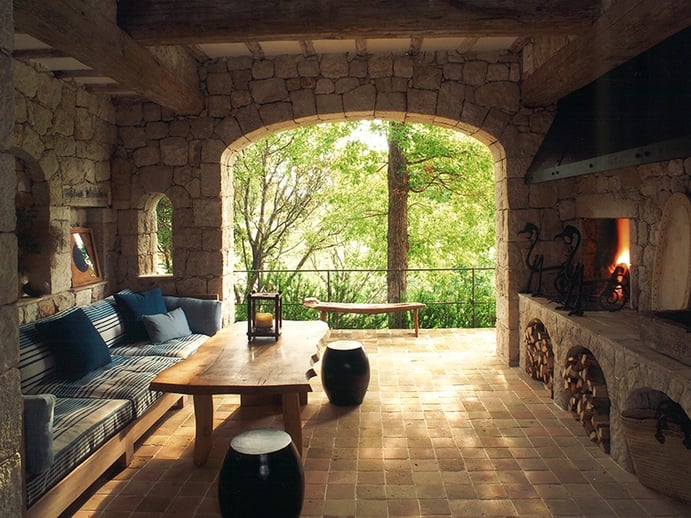 In the tropics, it's the verandah that is most often used for outdoor entertaining. "In a big city like Bangkok, when the heat is intense, verandahs are an area between the inside and outside," says Wannaporn Phornprapha, managing director of P Landscape, based in the Thai capital. "We do a lot of planting, which incorporates greenery into the space and creates a sensory experience."
3. Keep warm during winter
Away from the tropics, warmth is key to enjoying an outdoor entertaining space when the sun goes down or the weather is cool. An open fire around which furniture is ranged is warming but also creates a cozy atmosphere. A crackling fire can be set into a wall, while firepits can be positioned in line with a view.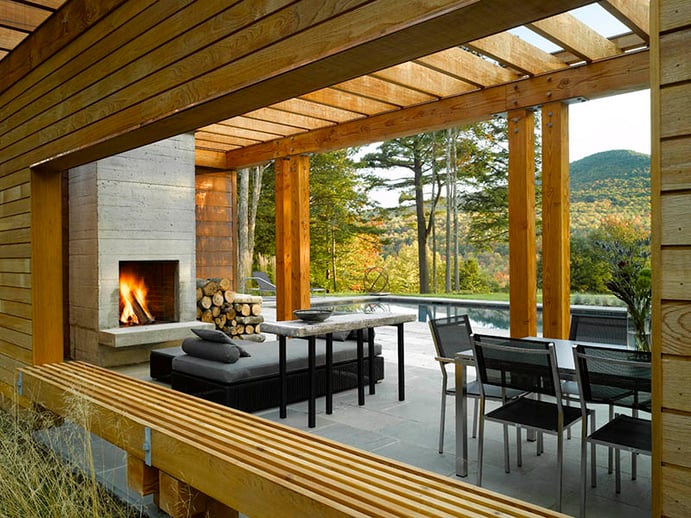 At a home in Shelburne, Vermont, where the property sits spectacularly on a cliff overlooking Lake Champlain, landscape architecture firm Wagner Hodgson—with offices in Vermont and New York—set a firepit at the edge of the terrace, in a retaining wall, so when viewed from seating the flames seemingly dance above the water.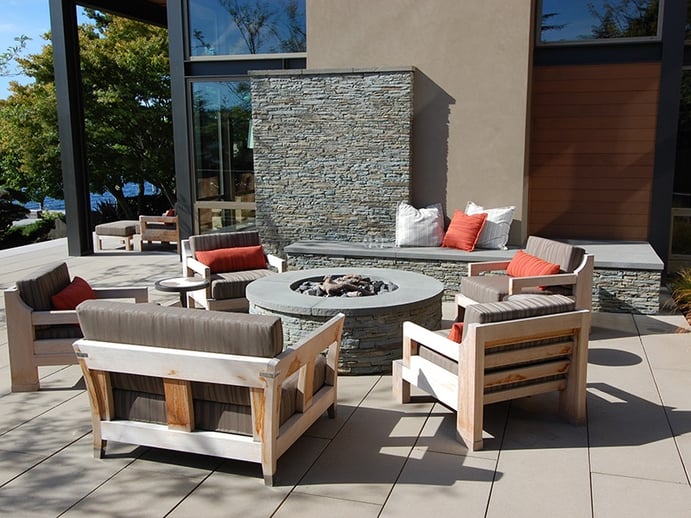 "It de-emphasizes the firepit when not in use and it orients all participants towards the commanding view of the lake as well as resulting in a more modern, asymmetrical design," says principal Jeffrey Hodgson. Placing the dining table beneath a canopy roof offers shelter but also the opportunity to discreetly add heat, and therefore lengthen the outdoor dining season.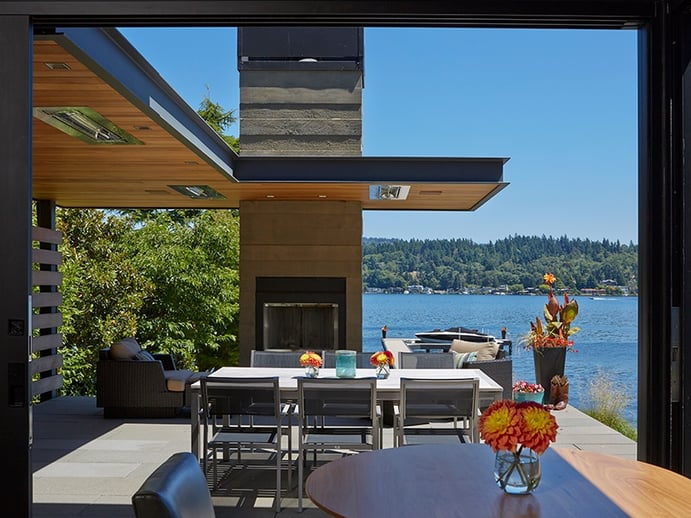 "We no longer use portable heaters," says McClellan. "Instead, radiant heaters are designed into the roof; they are unobtrusive and with an open fire offer enough heat to make the space comfortable."
4. Add essential elements
While cooking outdoors has long been popular, it is now as sophisticated as its indoor counterpart. "An outdoor kitchen needs to be well equipped so you don't need to go back to the house," says McClellan. "We tend to install a 10-12-foot counter built of cedar with a stone top, so there's plenty of room to cook as well as to serve. Very important is a beverage cooler, and then there's the outdoor grill, which is the big centerpiece."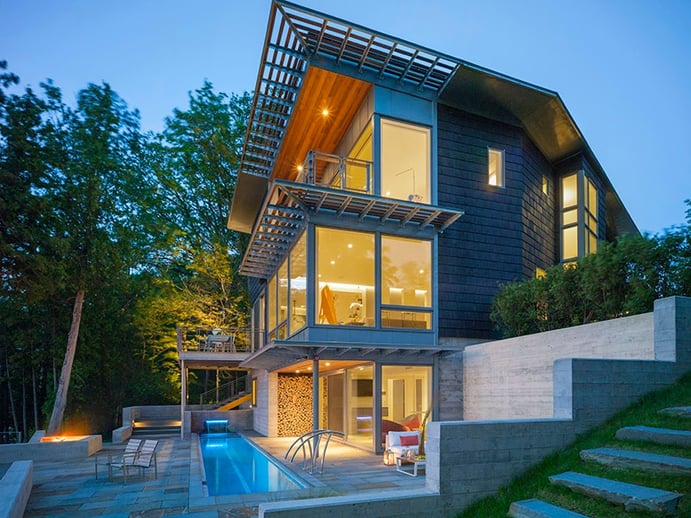 At Wagner Hodgson, they have recessed grills into walls, which, says Hodgson, "reduces clutter, keeps a courtyard clean and elegant, and doesn't detract from the view."
Chris Weiss of Melbourne-based landscape firm Formation Landscapes says an outdoor music system is a must. "And then there are the extravagant extras such as a golf green, retractable glass roofing, Italian glass tiles for the pool…"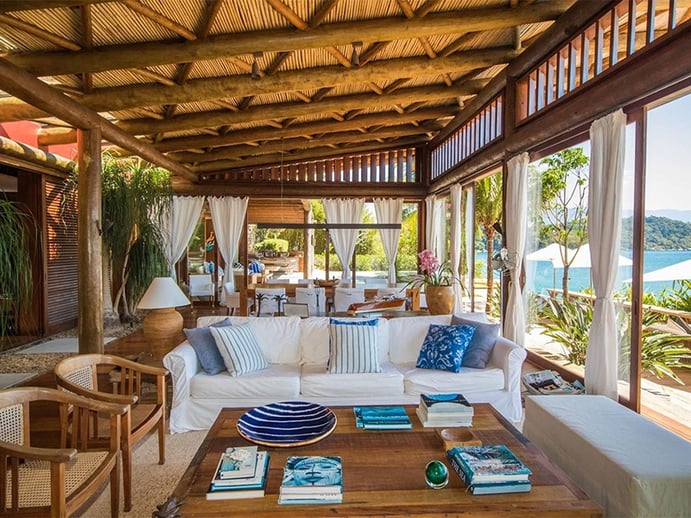 For an entertaining space that revolves around a pool that is some distance from the house, a pavilion is the solution. "It will usually contain a fridge and a barbecue, and we often install a bar with an area for making cocktails," says Phornprapha.
The pool, however, is no longer just a place for splashing about during the warmer months. "An increasing number of clients want the pool to be more than an empty space when they're not using it to swim," says Hodgson. "So we are now transforming pools using lighting and fountains, creating a contemporary interpretation of a classical Italianate fountain."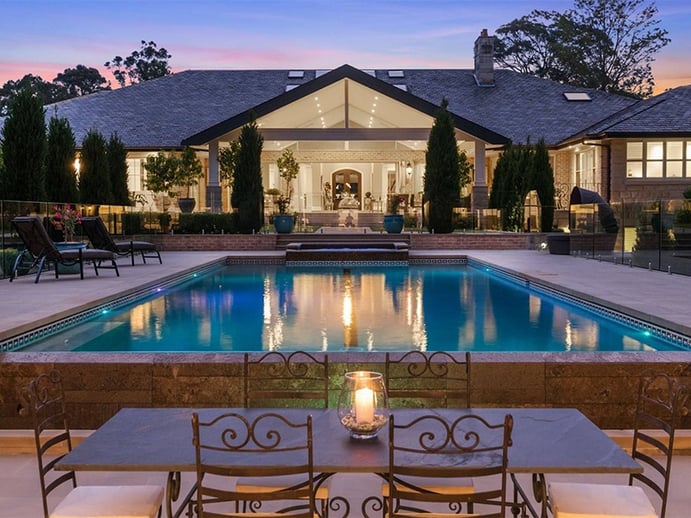 The outdoor entertaining area is now such an important lifestyle component that it has become a non-negotiable on many a property checklist. "While in some large cities, a terrace or garden is rare, for luxury property almost anywhere else, an outdoor entertaining space is an essential," says Rick Moeser, an Executive Director at Christie's International Real Estate. "And when it comes to design and materials, people expect the outdoor space to be as high quality as the inside."