With more people in the world moving to and living in cities, urbanism will continue to flourish in this decade and beyond as innovative firms cluster around expensive urban areas, attracted by the productivity and creativity that so-called agglomeration cities induce. According to Susan M. Wachter, Richard B. Worley Professor of Financial Management at The Wharton School of the University of Pennsylvania, "As the world's population for the first time in history becomes majority urban, growing prosperity will drive a robust market for luxury housing, increasingly at the center of cities." Long-established urban wealth centers are a strong draw for global investors: London is the most attractive crossborder real estate proposition, ahead of Paris and New York.
Top global cities are attractive home bases for affluent global citizens, offering business and leisure opportunities, political and economic stability, and a population of like-minded wealthy peers. For many affluent international home buyers, the more secure the capital investment, the more important the location. The urbanism trend is particularly reflected in the newly wealthy millennial buyer. According to PwC's and The Urban Land Institute's Emerging Trends in Real Estate 2014 report, 61 percent of millennials live in urban locations and "show a preference for living in a walkable, urban area."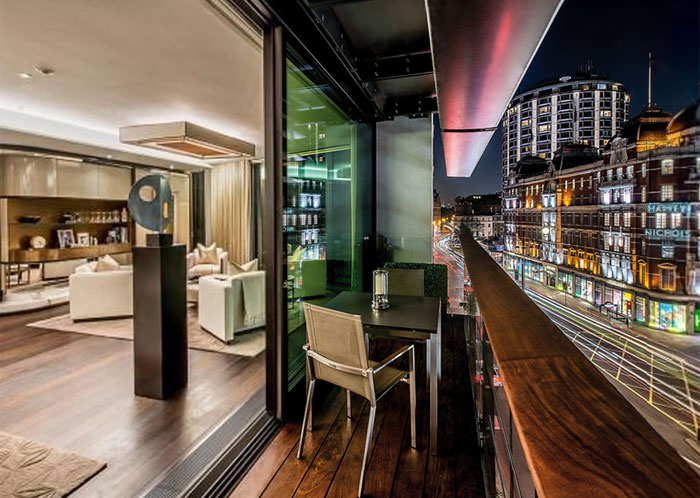 "We continue to see a flight to great cities," said Andy Martin of Strutt & Parker-Christie's International Real Estate in London. "A transparent, secure, and liquid market is attracting homebuyers from all over the world to London, a truly cosmopolitan city offering one of the world's great lifestyles." New York's luxury property market is a similarly attractive proposition for high-net-worth individuals, notes Edward Glickman, Executive Director of the Center for Real Estate Finance Research and Clinical Professor of Finance at New York University Stern School of Business: "The luxury market is all about enduring value, which comes from scarcity, stability, and respect for property rights. It's not surprising that New York is a simple choice. Well defined property law, deep and liquid capital markets, limited interference in crossborder capital flows, stable tax laws, and solid infrastructure set the stage. World class cultural amenities solidify the value proposition."
A transparent, secure, and liquid market is attracting homebuyers from all over the world to London
WHERE CITIES LEAD, WILL RESORTS FOLLOW?
To examine the effect of urbanism on the recovery of the luxury markets, five important global cities –London, Los Angeles, New York, Paris, and San Francisco – were compared to five top resort markets – Aspen, Marbella, Maui, Pebble Beach, and the Turks and Caicos Islands in terms of luxury sales growth rates. [See chart below.]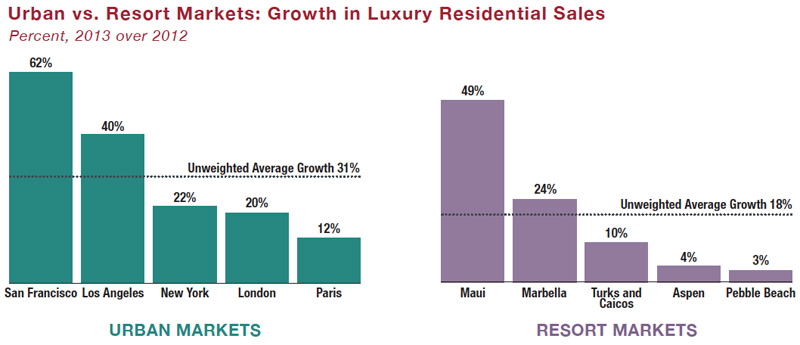 Wealthy global investors' predilection for prime urban property was demonstrated by a combined annual unweighted average growth rate in luxury home sales of 31 percent across the five cities.
The selected luxury residential resort markets also gained traction in 2013, albeit at a slower rate than their urban counterparts. These five studied markets experienced an 18 percent average year-on-year growth, led by Maui, where investors flocked in 2013 with a robust 49 percent increase in luxury property sales. "Second home sales are primarily coming from the [US and Canadian] West Coast," notes Mary Anne Fitch of Maui Estates International-Christie's International Real Estate. "Maui is also seeing an increase in families relocating from the mainland and purchasing primary residences, not second homes. Lifestyle and all-season climate are primary draws."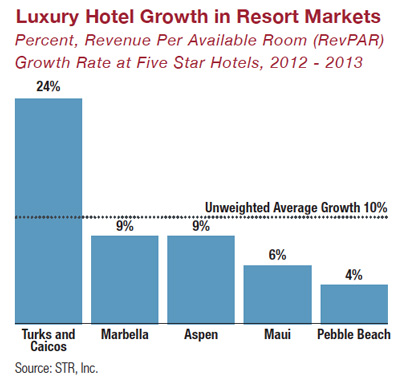 It is likely that the sale of prime property in resort destinations tends to follow the recovery in the luxury tourism sector. A study of the RevPAR (revenue per available room) growth rate in luxury five-star hotels across these five resort markets shows healthy growth, with an overall annual average growth rate of 10 percent [See chart at left]. As hotel revenues drive upward, luxury housing will likely follow in resort markets.
The uptick in the number of wealthy visitors is beginning to commit to second home purchases in several prized resort destinations. In the Turks and Caicos Islands, affluent tourism growth bodes well – although this flow-on effect is still evolving. "The Turks and Caicos are certainly making headway in terms of real estate," said Katherine Baryluk of Regency-Christie's International Real Estate in the islands.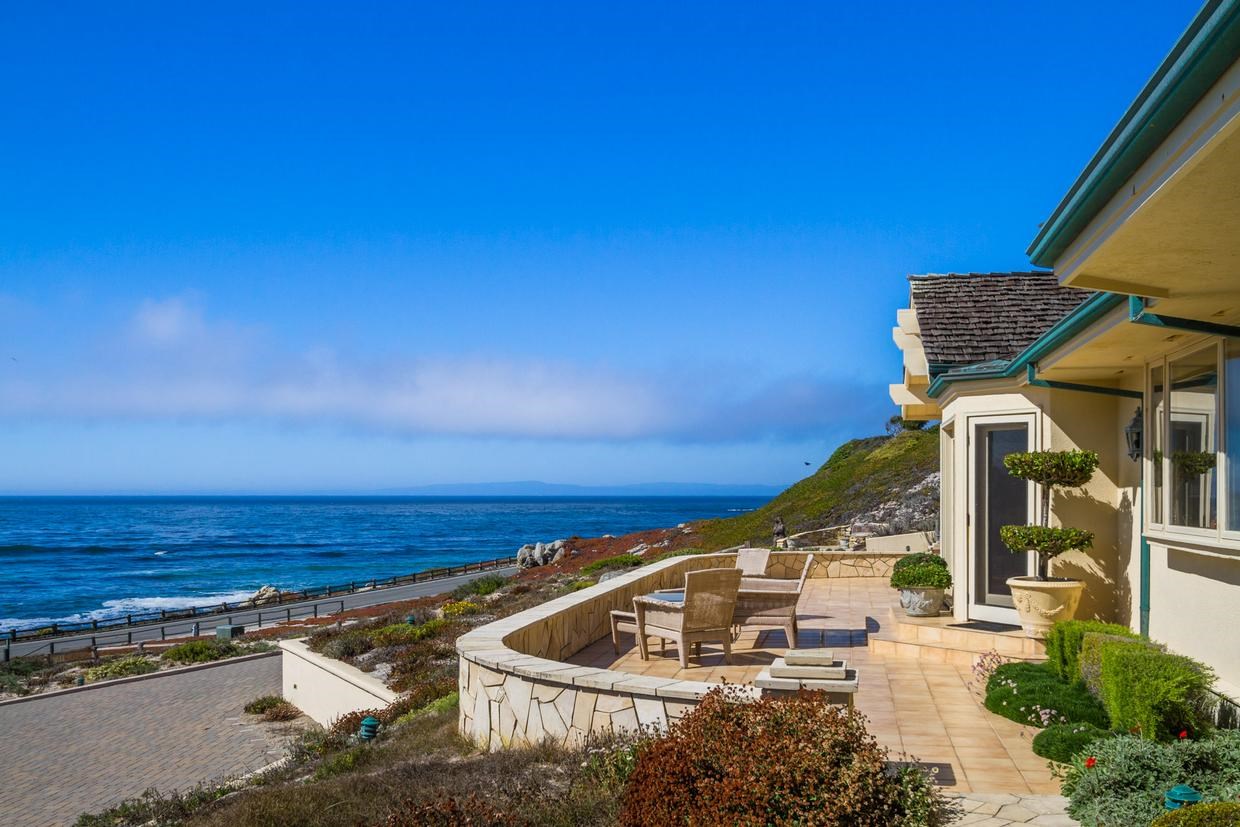 In the United States, California's Monterey Peninsula experienced a buoyant renaissance in luxury tourism in recent years, which is translating into prime property sales. The area saw three percent annual growth led by several record-priced sales. "We recently set records for the highest sales in Carmel-by-the-Sea and Pebble Beach," said Bill Mitchell of Carmel Realty Company-Christie's International Real Estate. "Values are approaching the pre-2007 levels and in some cases exceeded those levels."
Resort markets are likely to shadow their luxury urban counterparts in the coming years, sustaining growth as tourism activity escalates, discretionary income increases, and property prices stabilize.