As the number of wealthy individuals in the world grew to its highest level in 2013, so too did the global pool of potential buyers of luxury residences. Many of these individuals were interested in the attractive lifestyle offered by the world's most prized cities: desirable places to live, work, invest their money, raise their families, and enjoy cultural activities and sports.
Upon a review of the experiences of Christie's International Real Estate affiliates in 10 prime property markets, three buyer segments emerged as key contributors to the recent surge in luxury home sales: local buyers at the entry level of the luxury marketplace, millennial buyers, and overseas buyers, especially at higher price points.
THE RISE OF THE "MOVE-UP" LOCAL BUYER
Despite an extraordinary amount of news coverage about the world's major cities being "overtaken" by foreign buyers, the number of local and domestic buyers who contributed to the $1 million-plus home market was significant in 2013, representing an unweighted average of 58 percent of the luxury home market in 10 top markets (see below).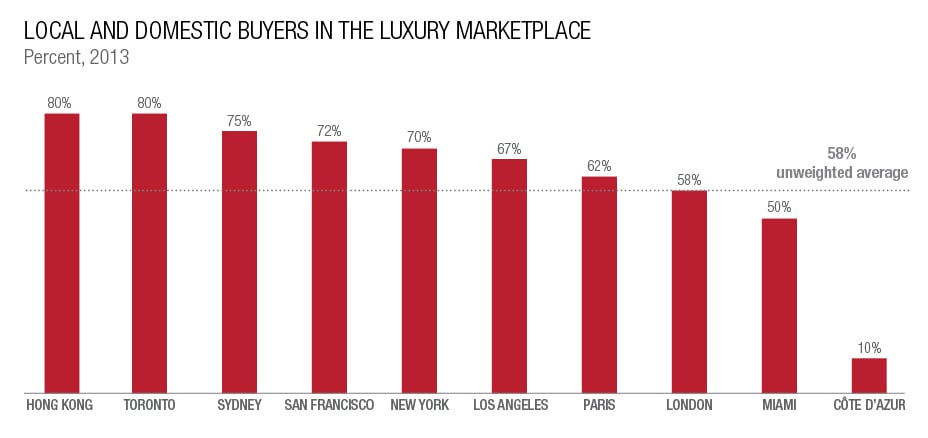 With an improving economy and low interest rates generally available, markets witnessed a larger volume of local buyers. "We are seeing the return of the 'move-up' buyer, which means competition is fierce in the entry-level $1 million-plus range," says Mark McLaughlin of Pacific Union International-Christie's International Real Estate in San Francisco.
In addition, supplementing the power of the local buyer was a jump in domestic buyers from outside the local area. "One of the big stories for 2013 has been the return of the American buyer, especially those from New York and the Northeast US," said Ron Shuffield of EWM Realty International-Christie's International Real Estate. "We now say that Miami is the 'sixth borough' of New York!"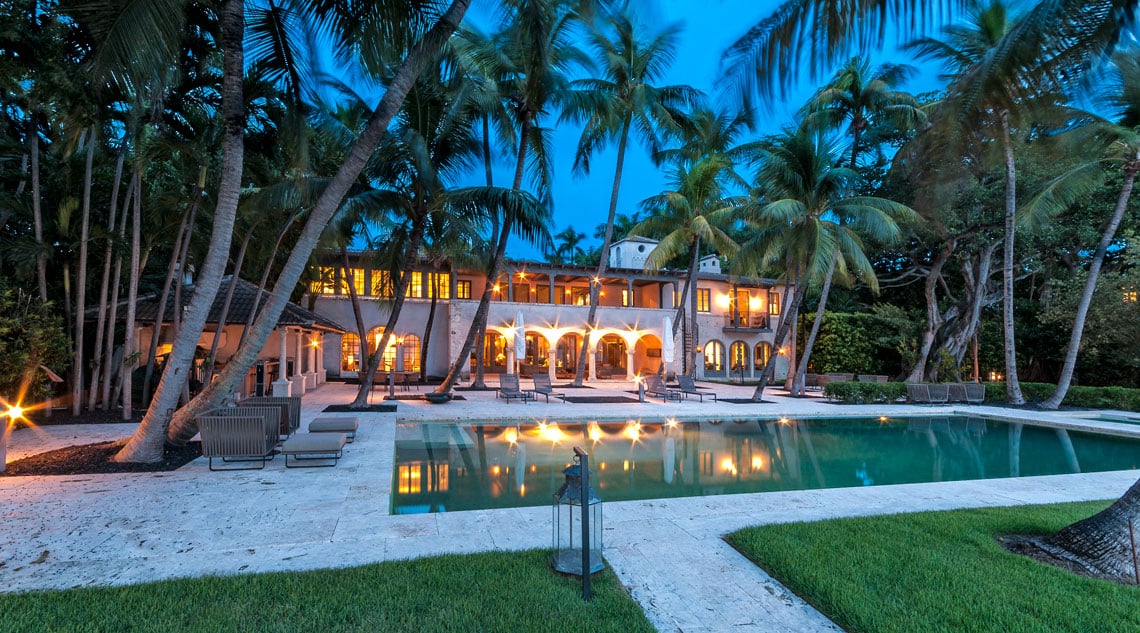 THE MILLENNIAL EXPERIENCE
Several luxury market experts have reported that the clientele for luxury homes is beginning to skew younger. Compelled by average prices still below the market peak, low interest rates, and backed by the purchasing power of their Baby Boomer parents, millennials – broadly defined as those born after 1980 – comprised a growing segment of $1 million-plus home buyers in 2013.
According to the UBS Investor Watch report, Think you know the Next Gen investor? Think again, affluent millennials appreciate the ability to enjoy their wealth in real terms: "While in the past, success was typically measured in financial and career terms, millennials have expanded this definition to include financial, emotional and experiential factors." There are few purchases for millennials as experiential as their first home. This focus on the experience of luxury motivated millennials to put their money in real estate, not just because it is a more secure investment and a hedge against inflation, but because it is a real asset that can be enjoyed and appreciated.
A survey by the Luxury Institute for Christie's International Real Estate of affluent individuals in the United States showed that 57 percent of wealthy young consumers are considering the purchase of residential property in the next 12 months, compared to 21 percent of those aged 45 and older. These younger buyers spend a significantly larger percentage of their wealth on homes and want amenities such as open floor plans and high-tech, fully automated home environments.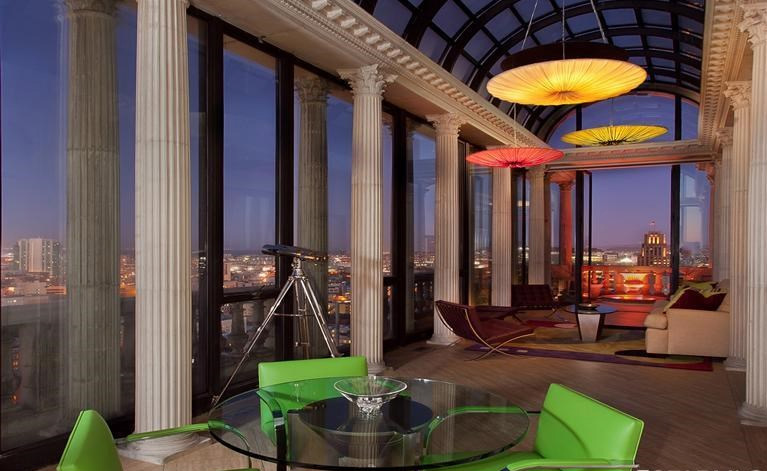 In San Francisco, the prime property market increasingly includes young tech-industry buyers with new money at their disposal. Similarly in New York, Manhattan's west side is experiencing significant rises in prices and low inventory as a result of new young buyers searching for luxury homes near their tech-industry offices.
Although the millennial buyer is primarily active in the entry-level luxury market, familial purchasing power is pushing young buyers into higher price points. More than a third of millennials with over $1 million in investable assets inherited their wealth [13] and many are allocating funds into acquiring trophy real estate. "There is so much more wealth today among the super-rich," said Rick Hilton of Hilton & Hyland-Christie's International Real Estate in Los Angeles, who in 2011 brokered the sale of an $85 million Holmby Hills mansion to a millennial heiress. "More than ever, these families need a way to safely and quickly distribute money to their children and to different countries. Real estate is a natural way to do that."
PASSPORT TO THE SECOND HOME MARKET
Based on Christie's International Real Estate affiliate data, the most popular second home markets are Côte d'Azur, London, and Miami, with second home buyers accounting for 90 percent, 48 percent, and 45 percent of these respective luxury markets. The desire to move equity out of turbulent markets to stable and currency-favorable locations prompted many high-net-worth individuals to invest in trophy homes outside their resident countries in 2013.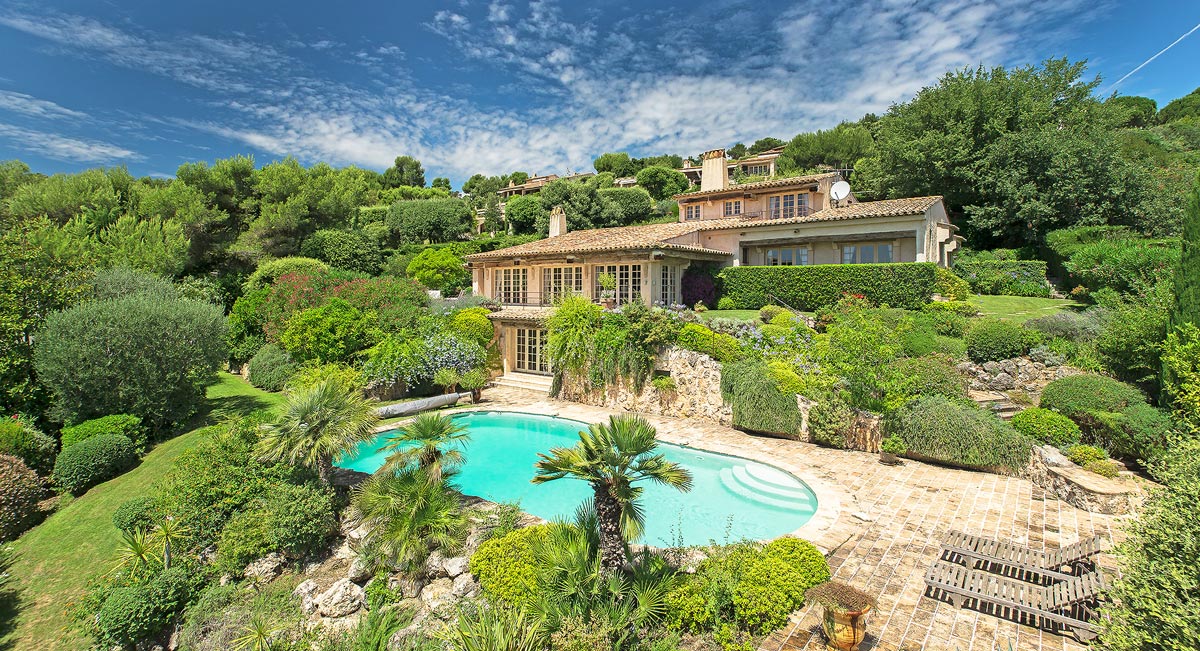 In many important international markets, overseas buyers appear to comprise a higher proportion of buyers at the top end of the luxury market, witnessed by record sales in several markets in 2013. The top residential sale in Paris was to a buyer from Qatar. Similarly, in the Côte d'Azur, foreign buyers led movement at the upper echelons of the market. "We are seeing an uptick from Russian buyers who are often looking for an impressive estate with a beautiful view, located as close to the water as possible," said Niki van Eijk of Michaël Zingraf-Christie's International Real Estate in Cannes. Russian and Middle Eastern buyers were also drawn to luxury homes in Los Angeles in 2013. "These buyers are looking for significant properties that average $5 million and above," said Jeff Hyland of Hilton & Hyland-Christie's International Real Estate.
According to a Bain & Company/China Merchants Bank study, three out of five wealthy mainland Chinese are looking to emigrate, with "quality of life" and "children's education" as primary motivators. With a preference for urban locales, affluent Asian buyers continue to turn to cities such as Los Angeles, New York, San Francisco, and Sydney for property investments. Even in Sydney, where the second home buyer represents only 25 percent of the luxury market, there were several significant sales to Chinese buyers, including the city's top sale in 2013 – a $51.8 million waterfront estate.
"This is indeed the Asian Century. Sydney's close proximity, safe economy, world-class lifestyle offerings, and relaxed cultural atmosphere are an incredible draw for overseas buyers looking for an accessible link to Asia," said Ken Jacobs of Ken Jacobs-Christie's International Real Estate in Sydney.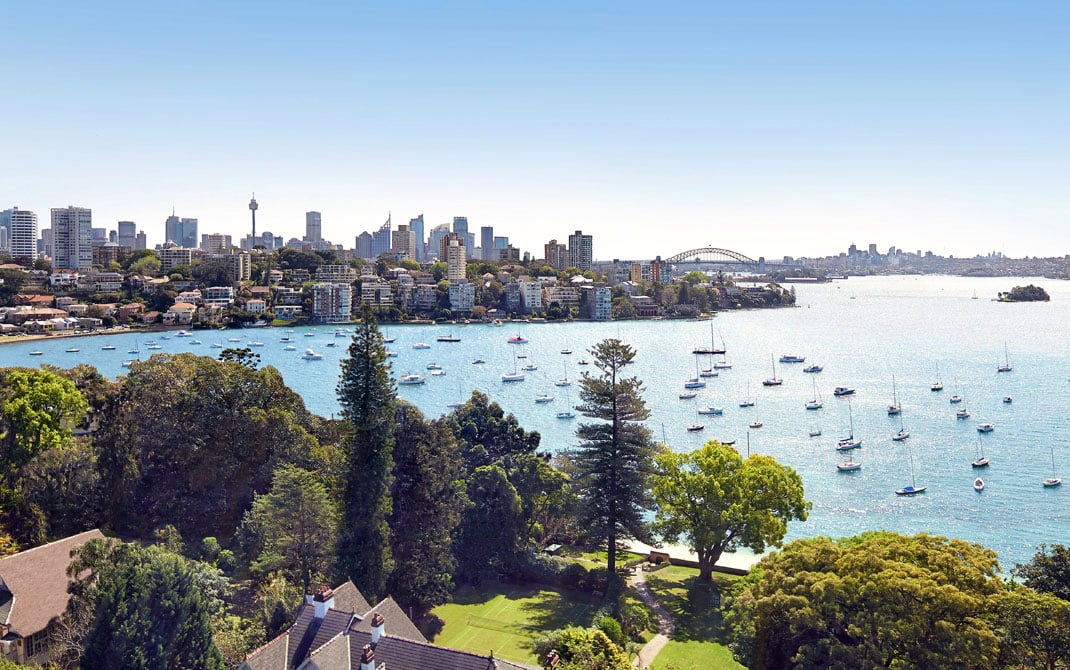 In addition to the wealth protection and currency attractiveness already noted, many international buyers are driven to purchase homes abroad by educational opportunities for their children. In the United States, overseas students contributed around $24 billion to the economy in 2013, with 20 percent of students hailing from China. Parents of these students sometimes buy luxury homes in which the children may live while they study abroad.
"A remarkable 80 percent of Chinese high net worths are looking to send their children to study abroad, with the UK and US as countries of choice," said Rupert Hoogewerf, Hurun Report Chairman and Chief Researcher. "While the buying power of the Chinese high net worths has been felt in places like California, Sydney, and Vancouver, I predict that in the next five years, real estate purchases from China will dwarf the rates of today," he added.
For global buyers, investment in luxury residential real estate will continue to be viewed as a safe and attractive investment for their financial assets in the coming years.