Trophy real estate has become the ultimate collectible treasure. Starchitects—the portmanteau given architects whose critical and celebrity acclaim have rendered them stars of the architecture world—have changed the skylines of many major cities in recent years with both residential and commercial new development projects.
Increasingly, discerning buyers see acquisitions of starchitect-designed homes as an opportunity to live in a piece of art and are being drawn to acquire third, fourth, and fifth residences to acquire an architectural collectible. For many ultra high net worth (UHNW) international investors, owning a Zaha Hadid duplex apartment is akin to owning a Damien Hirst artwork or a one-of-a-kind Bugatti.
A prime example of this can be seen in NYC's west side around the redeveloped High Line park, which opened in 2009. A once-gritty industrial area, Manhattan's West Chelsea neighborhood has experienced a renaissance over the past decade, as top architects from across the globe have flocked to the area to leave their lasting impression.
Spanning a mere 0.77 square miles, this enclave has become one of the densest areas of luxury residential development in the world. Over the past decade, many of the new residential developments in the neighborhood have focused on stunning design, modern layouts, and ultra-luxury amenities.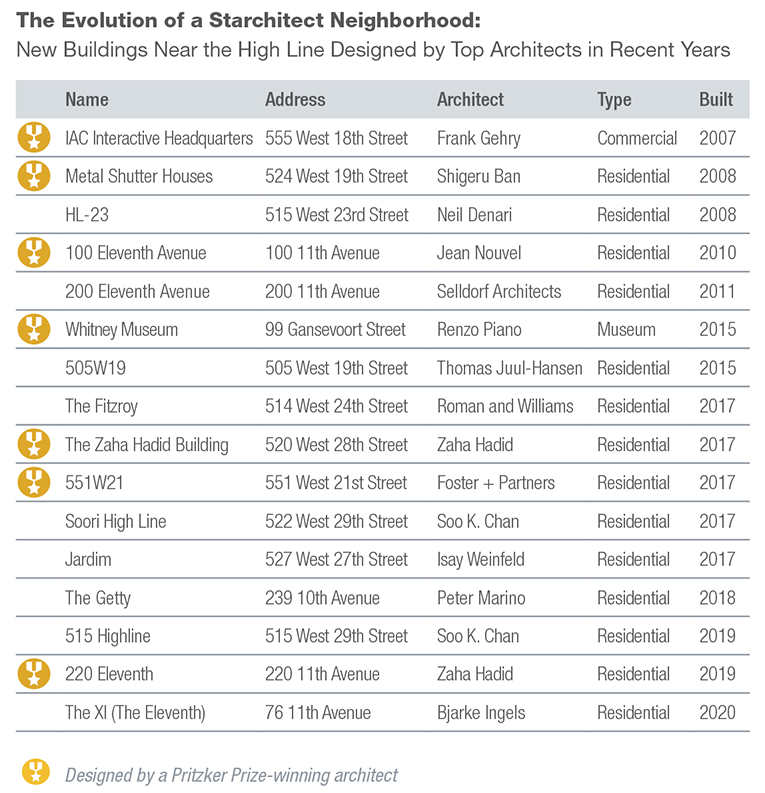 In recent years, this renascent neighborhood has bucked Manhattan's trend of falling prices and slowing sales. It remains a beacon of premium prices, in part due to its continually evolving skyline. At US$2.4 million, West Chelsea's median sales price for 2016-17 was 70% higher than the overall downtown median sales price (US$1.4 million) during the same period.
"There's no questioning the strength and maturation of the larger West Side—from Hudson Yards, through West Chelsea and West Village, down to Tribeca," — Erin Boisson Aries, Christie's International Real Estate NY
Within this area, one particular line of developments—known locally as "Starchitects Row" and featuring towering glass masterpieces designed by internationally acclaimed architects, including several winners of the Pritzker Prize, which is often called the "Nobel Prize" of architecture—is attracting a new wave of well-heeled luxury buyers.
An analysis conducted for our annual Luxury Defined report on the global prime property market confirmed the appeal of these high-profile buildings to discerning buyers. From January 2017 - April 2018, starchitect-designed residences along "Starchitects Row" sold for a median price of US$6.12 million, a staggering 115% premium over the median price of million-dollar-plus residences in new developments across New York City.
In the next three years, more than 2,400 units are expected to come to market in West Chelsea, continuing to raise the profile of this star-studded neighborhood where art and architecture are increasingly inextricably linked. Explore some of these upcoming new developments, as well as some of the most iconic starchitect-designed buildings in the area, in our interactive map below.
"There's no questioning the strength and maturation of the larger West Side—from Hudson Yards, through West Chelsea and West Village, down to Tribeca—many notable projects have been attracting attention: 551 W 21st, 70 Vestry, 160 Leroy, 443 Greenwich, and all the new developments coming to West Chelsea's "Architects Row," says top NYC broker Erin Boisson Aries of Christie's International Real Estate NY.
"With over 300 art galleries (including those of top gallerists Paula Cooper, Barbara Gladstone, Gagosian, David Zwirner), the elevated High Line Park, and the host of amenities, restaurants, businesses, and community resources being offered through the Hudson Yards project, this neighborhood—in particular—has become a primary destination for individuals in the arts, fashion, tech, and finance industries."
[ Excerpt from Christie's International Real Estate's 2018 Luxury Defined white paper on the international prime property market. Read more insights from the latest report here ]