As we observed in last year's Luxury Defined report, the world's top cities experienced an explosion in luxury home sales during 2013, fueled by pent-up demand, increasing consumer confidence, and robust stock market returns. In 2014 however, prime property sales in these markets settled into a stable growth pattern that seems tepid compared to the year prior. (See Exhibit 1).
San Francisco, which startled the world with an astronomical 62 percent increase in $1 million-plus home sales in 2013 compared to 2012, had strong, though less explosive, annual growth of 19 percent in 2014. "The Bay Area is still experiencing a perfect storm of hot market conditions, exceptional job growth, excellent income levels, and limited supply," notes Mark McLaughlin of Pacific Union International. "Coming after an exceptional year of strong sales and price appreciation that ranked among the highest in the US, the growth slowdown was predictable, but the positive economic fundamentals of the San Francisco market remain unmatched."
In Miami, the sales pace slowed from 27 percent growth in 2013 to nine percent in 2014. "The single-digit increases of 2014, in contrast to the double-digit increases of 2012 and 2013, reflect a return to more normal market conditions," says Ron Shuffield of EWM Realty International, whose firm sells a $1 million-plus home in Miami every 17 hours. Across the Christie's International Real Estate Affiliate network, brokerages reported real estate sales of more than $300 million per day in 2014 ($13 million every hour).
A return to normalcy for most of the world's top property markets
Growth in the number of luxury property sales (by percent), 2013 - 2014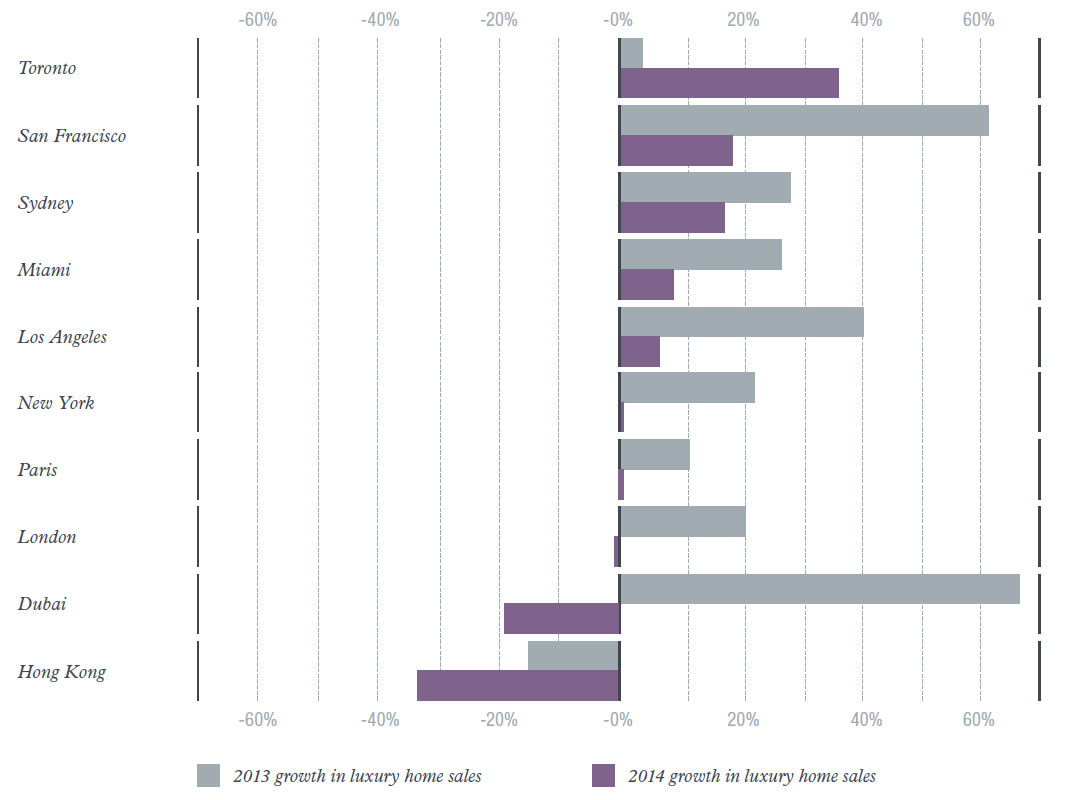 Toronto, the only location among the top 10 markets to see a faster pace of sales in 2014 than in 2013, saw luxury sales rise by 37 percent in 2014 compared to just four percent the previous year. "2014 was the Toronto market's second-best year on record," reports Justine Deluce of Chestnut Park Real Estate. "If there had been more inventory, the record would easily have been shattered." Extremely low supply of homes in Toronto has pushed prices to $1–$2 million for relatively average homes in the city and up to $2–$4 million for larger homes or those in the most desirable neighborhoods. The shortage of homes pushed luxury condo prices above $1 million as well in 2014.
While prime property sales continued to make headlines in hotspots Los Angeles, New York, and London, unit sales growth in all three cities slowed to near zero compared to growth spurts of 40 percent, 22 percent, and 20 percent respectively in 2013. Inventory remains an issue across many of these markets. "We have had low inventory for some time, and it's just now inching up," says Hall Willkie of Brown Harris Stevens in New York, where the city's housing market is beginning to edge toward normalcy after years of price increases and bidding wars. "The frenzy has cooled. It's more of a sustainable market, and that's a good thing." London has felt a short-term paralysis due to political messaging on potential tax law changes and non-dom status. Los Angeles and Sydney saw slower year-on-year sales growth, likely as a result of overall price increases in both luxury markets.
The outlier in our top 10 cities is Hong Kong, where government cooling measures designed to slow the spike of real estate values and reduce the impact of overseas real estate investors continued to dampen the market. Luxury home sales slowed by 15 percent in 2013 and then tumbled another 33 percent in 2014. Toward the year's end however, this momentum began to ease. "Wealthy mainland Chinese buyers are beginning to accept these taxes and are starting to trickle back into the market," remarks KS Koh of Landscope-Christie's International Real Estate in Hong Kong, who is optimistic that sales will begin to stabilize in 2015.
Dubai also saw a contraction in sales growth in 2014, despite the value of sales increasing by more than 10 percent. "These corrections in the Dubai marketplace are driven in part by the fluctuations in availability of luxury product being offered to the market," notes Joachim Wrang-Widen of Christie's International Real Estate. "We anticipate that the market will begin to stabilize in 2015 as new, particularly entry-level luxury product, becomes available."
SUPPLY AND DEMAND: CONTINUED INTEREST DRIVES TURNOVER
The average number of days on the market for high-end properties in the world's top 10 cities was significantly lower than the overall global average of 254 days. In San Francisco for example, $1 million-plus homes sold in an average of 71 days in 2014, faster than 2013's average of 79 days, thanks to limited supply and continued demand. The markets where selling an upper-bracket home took much longer include Hong Kong (average of 225 days) and Paris (average of 170 days), where local market factors played a key part.