The average starting price for a luxury property worldwide is $2,200,000. But how much does a luxury property cost in markets like Singapore, London, and Toronto? Is the typical price per square foot US$300 or US$3,000?
Local context as well as supply and demand all figure into the prices found within different real estate markets, each of which has a unique set of characteristics. In our 2016 Luxury Defined report, we considered the factors that shape property prices in each luxury market and assessed how these cities stack up against one another in terms of relative cost.

Many premier global centers—as well as prized second-home resort destinations—continue to command exceptional prices for prime property. A snapshot of 36 luxury primary and resort housing markets (see chart below) reveals that on a price-per-square-foot basis, global economic hubs Hong Kong, London, and New York are the most expensive markets for luxury real estate worldwide by a significant margin.
Million-dollar-plus homes in the majority of other luxury housing markets span from just under US$1,100 per square foot to US$200. The exception to this rule is the tiny city-state Monaco, which towers ahead of all other markets and averages more than US$4,500 per square foot for luxury homes.
The following is a snapshot of relative values of luxury homes around the world.
Average Luxury Home Prices (Per Square Foot)
$1 million-plus-home sales, 2015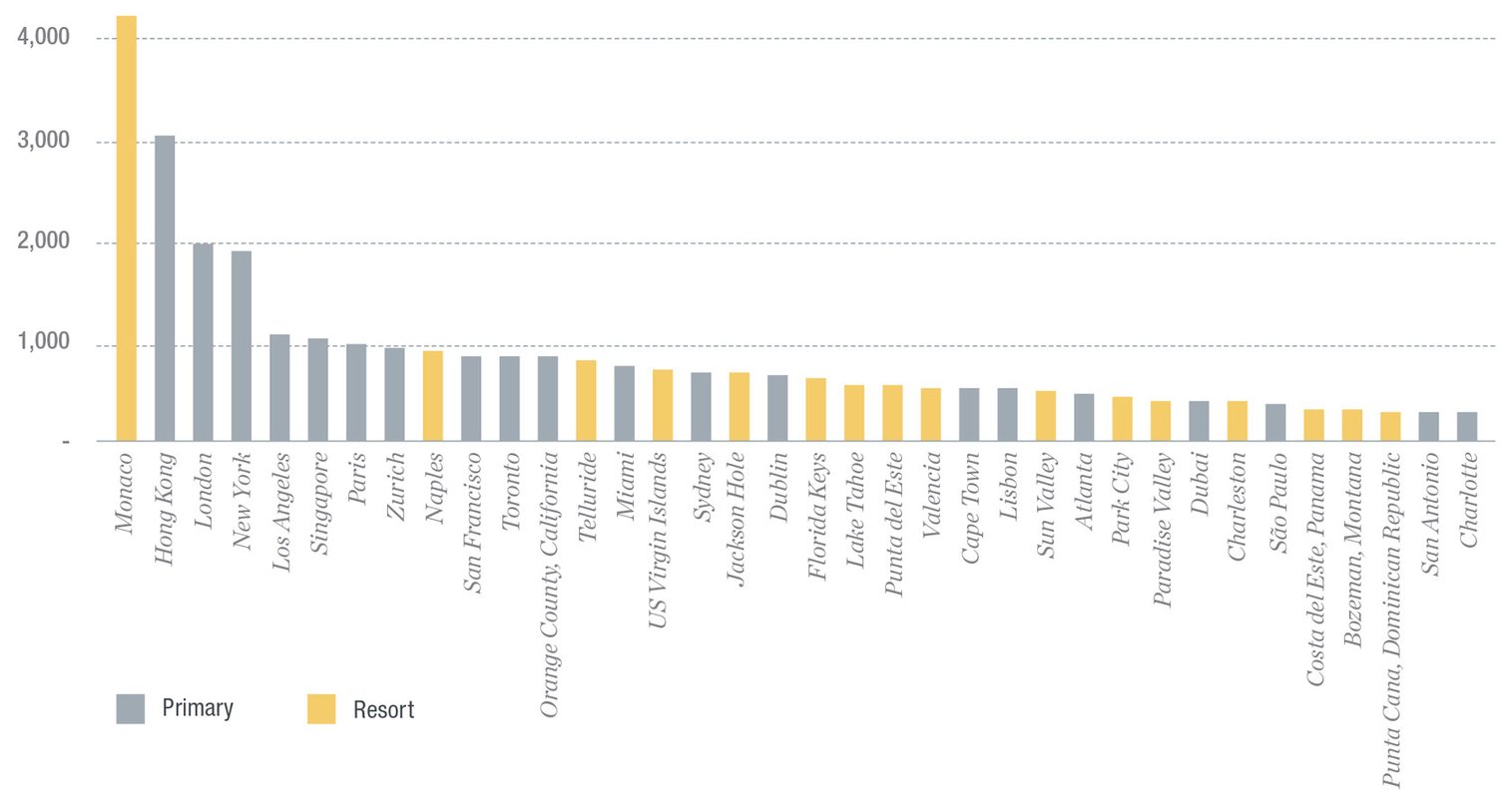 Monaco
US$4,500: Average price per square foot for luxury property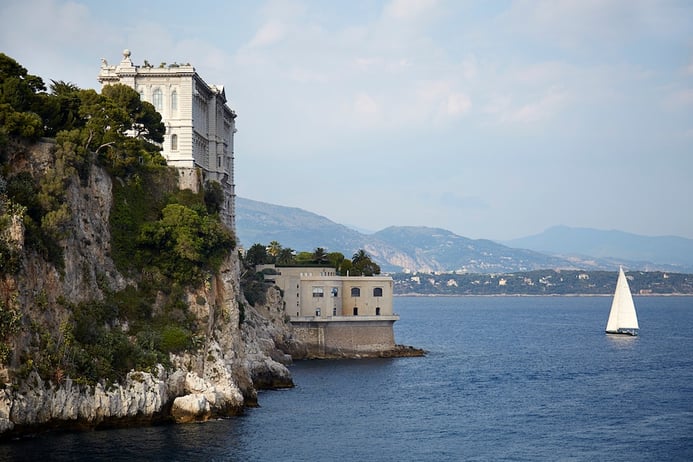 Home to the world-famous Grand-Prix motor race, a glittering yacht-lined harbor, and glamorous casinos, the world's second smallest nation is also home to the world's most prized real estate on a price per square foot basis. Luxury properties sell for US$4,500 per square foot on average—more than double the next highest city or country around the world. This elegant waterfront estate overlooking Port Hercule exemplifies the allure of Monaco's idyllic perch on the French Riviera.
London
US$1,930: Average price per square foot for luxury property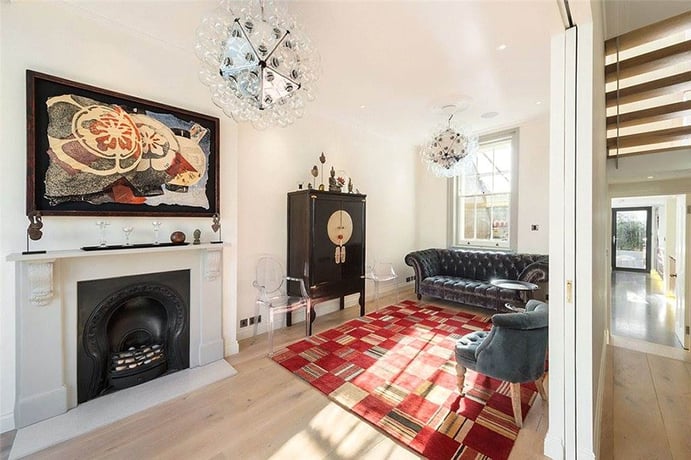 A cosmopolitan city since its days as the ancient Roman outpost of Londinium, London tops the 2016 luxury index with an average market sale price of US$2,356,000.. London is extremely desirable to international buyers, and it currently has more properties over US$1 million offered from sale than any other city. In 2015, London recorded the world's second-most expensive residential property sale in the world for US$140,000,000 or £92,000,000 Typical luxury properties in Prime Central London—such as this lovely four-bedroom row house in desirable Notting Hill—start at around US$7,000,000.
Hong Kong
US$3,000: Average price per square foot for luxury property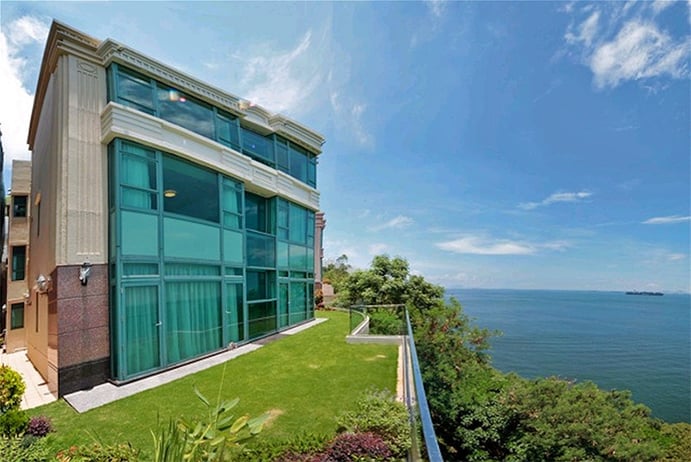 The fashionable harbor city of Hong Kong edged out London for the most expensive residential sale in the world last year with a single family home selling for US$194,000,000 or HK $1,500,000,000. Typical luxury residences here start at US$5,000,000, and sell on average for US$3,000 per square foot. Hong Kong is also the site of the highest price paid per square foot on a single residential sale (US$19,563).
New York
US$1,860: Average price per square foot for luxury property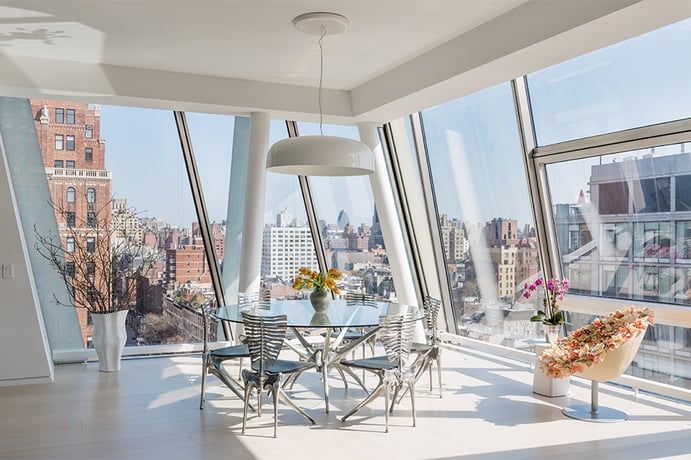 Known across the United States as the eternal home of the next "it" neighborhood and some of the costliest real estate in the country, New York ranks as the fourth most expensive city for luxury homes worldwide on a per square foot basis. Perhaps no neighborhood in Manhattan better illustrates the constant evolution of the city's luxury market than Chelsea, where the art world elite dominate the streets along 9th and 10th Avenue and the High Line brings fresh blooms and serene green space to a former industrial rail line. New luxury condos are constantly taking shape here, joining such contemporary icons as this West 23rd Street Neil Nenari-designed building with an exquisite 12th-floor residence that features floor-to-ceiling windows and spectacular views.
Paris
US$960: Average price per square foot for luxury property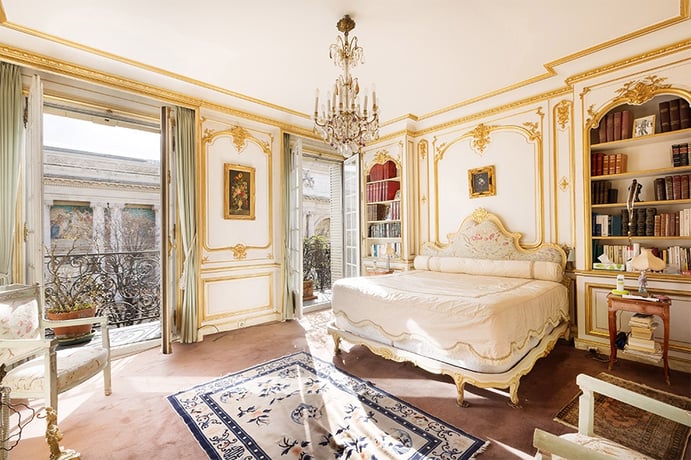 The City of Light remains an international symbol of luxury and style. With its unparalleled concentration of art, culture, architecture, food, and fashion, Paris belongs in any list of top luxury locations worldwide. High-end homes in Paris range from new-build condos to grand Beaux Arts-style apartments that line the city's leafy boulevards. Million-dollar-plus homes sell on average for just under US$1,000 per square foot. The city is now one of the least expensive European economic hubs for luxury property and prices remain 20 percent below their 2011 peak.
Miami
US$750: Average price per square foot for luxury property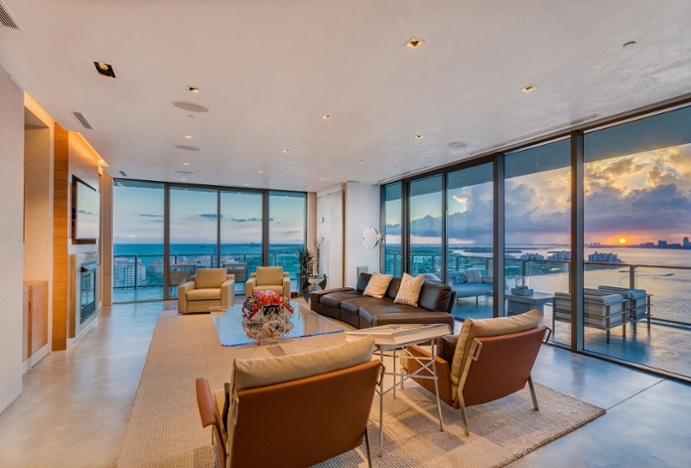 Neon-lit Miami is being stylishly transformed by the construction of sophisticated luxury condos along its iconic waterfront that are setting a new bar for interior square footage, spectacular views, and high prices. In 2015, the city broke a regional record with a US$55,000,000 sale of a new-build penthouse. Typical luxury listings in this culturally vibrant tropical mecca start at around US$1,000,000.
Sydney
US$680: Average price per square foot for luxury property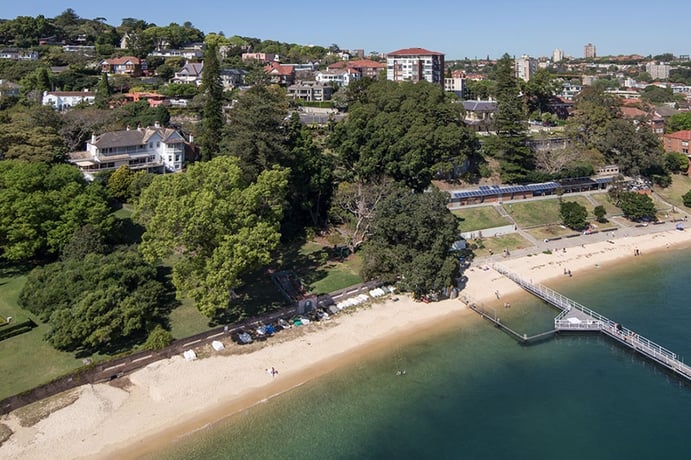 Australia's most populous city set regional records in 2015 with the US$53,500,000 (A$70,000,000) sale of a single residence. The historic deal, brokered by exclusive Affiliate Ken Jacobs, exceeded existing Australian residential records by more than 25 percent. With its cosmopolitan culture and spectacular sunny weather, Sydney is becoming an established global hotspot for prime property. Luxury homes in the harbourside city sell on average for US$680 per square foot.
Toronto
US$680: Average price per square foot for luxury property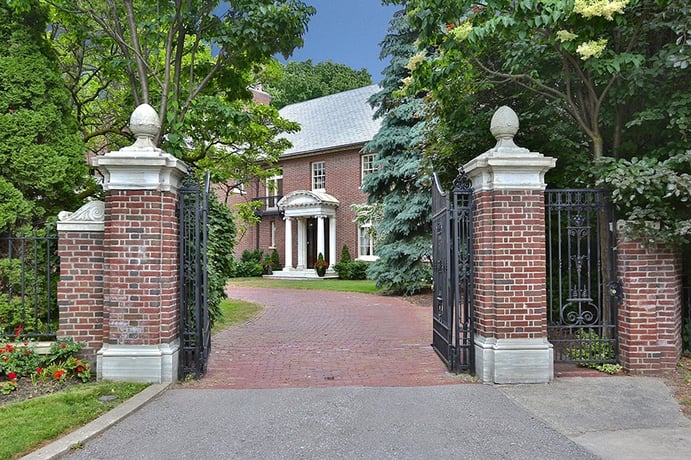 Canada's most populous city, Toronto, where luxury properties sell for an average of just under US$700 per square foot, ranked as the second "hottest" market for luxury property worldwide in this year's Luxury Defined report. Like Sydney, Toronto is known for its Victorian architecture mixed with innovative new designs as well as its spectacular waterfront position.
San Antonio
US$284: Average price per square foot for luxury property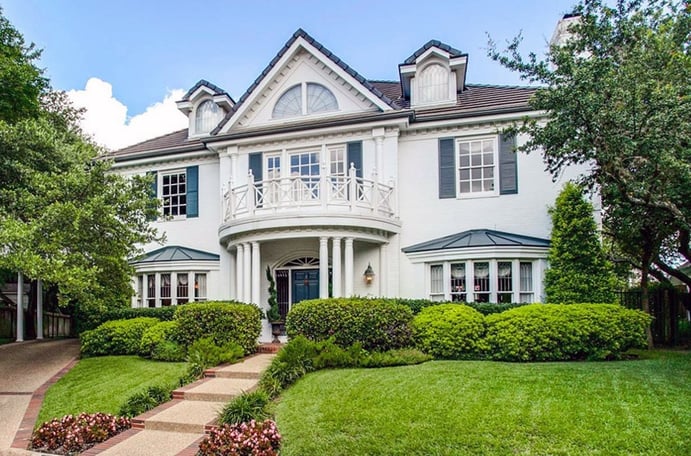 On a comparison of luxury real estate on a price per square foot basis, one of the cities that offers the best value for money is San Antonio in south-central Texas. Million-dollar-plus homes sell on average for less than US$300 per square foot in this historic city, the seventh largest in the United States. This refined five bedroom residence in the city's prestigious Lincoln Heights neighborhood spans almost 7,000 square feet and offers exceptional value at approximately US$230 per square foot.