The global prime property market experienced solid growth in the number of US$1 million-plus home sales in 2014, as many of the world's most affluent recognized the intrinsic value of owning prime property, be it for the safe storage of wealth, a lifestyle upgrade, or as a "passion" investment. Averaging across six luxury submarkets surveyed by Christie's International Real Estate for our 2015 Luxury Defined white paper, luxury home sales worldwide jumped 16 percent over 2013, with resort markets leading the upsurge in high-value sales across sectors. (See exhibit below)
After identifying record urban sales growth in many top global cities in our 2014 Luxury Defined report on the prime property market, we hypothesized that resort markets would follow the strong sales growth set in primary markets and surge to strong performance in the coming years. The exhibit below demonstrates that these predictions were accurate, with Jet Set, Weekender, and Lifestyle & Regional Resort markets recording the highest increases in year-on-year volume, at an average of 28 percent, 25 percent, and 19 percent respectively.
Notable sales growth occurred across many Jet Set Destinations in 2014, fueled by attractive investment opportunities and an emerging confidence among potential home buyers that the market has bottomed and a recovery is well under way.
Spain's sun-kissed Valencia region is seeing an uptick in prime property sales, notes José Ribes Bas of Rimontgó. "Buyers are finding high-quality properties in privileged locations at very competitive prices, which creates a growth in buyer interest, especially those from overseas who pay in cash."
Luxury resort markets heat up, while the city simmers
Growth in the number of luxury homes sales (individual units) by market type, 2013 - 2014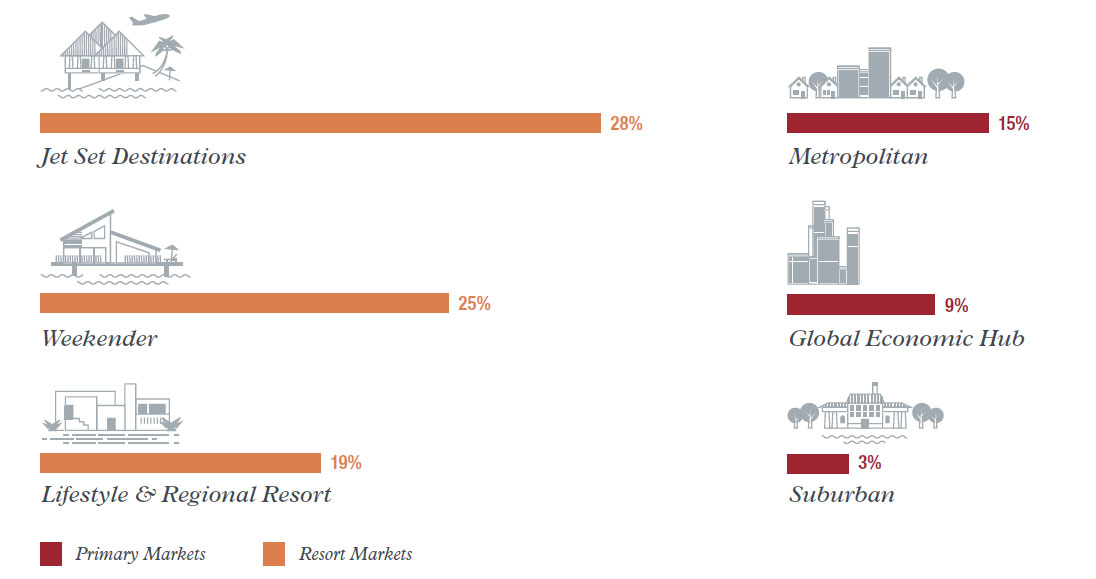 That said, some housing markets still have significant growth ahead of them to return to normal levels. "Our luxury market is just starting to recover," says Laura O'Conner of Trails West Real Estate in Whitefish, Montana, a prime ski and outdoor recreational destination. "We tend to run a year or more behind urban markets."
The return toward a healthy luxury market mirrors the resurgence of consumer confidence and interest in purchasing second homes across all price ranges. According to the National Association of Realtors (NAR), the vacation-home market in the United States jumped by 54 percent in 2014 compared to 2013. This may be attributable to an uptick in interest from younger buyers, as evidenced by research from NAR and HomeAway, which shows that the median age of second-home buyers in the United States dropped from 55 in 2004 to 43 in 2014.
The world's prime property markets saw solid growth in home sales - a strong indication of an increasingly healthy global market.
Several Global Economic Hubs and Metropolitan housing markets saw sustained firmness in their luxury market sales due to a strengthening economy and burgeoning value in house prices, especially at the higher end of the market.
"Chicago is being 'discovered' as undervalued by investors who normally look to the coasts," says Benjie Burford of CONLON Real Estate, where overall luxury home sales are increasing. "In 2014, we saw around a 15 percent jump in average prices and our firm experienced a 25 percent increase in the number of luxury homes being sold. The biggest sector of the increase was in new custom homes being built on teardown lots."
Another solid performer in this sector was Atlanta, which recorded a 16 percent increase in year-on-year luxury residential home sales. Buoyed by a strong local economy diversified across many industries, the area's temperate weather and affordable housing continues to attract companies looking to relocate. "We continue to see more major corporations relocating or expanding headquarters and, as a result, more international transactions," says Dan Parmer of Harry Norman, Realtors.
Suburban housing markets had the slowest pace of growth in US$1 million-plus sales at just three percent in 2014. This reflects high-net-worth-individuals (HNWIs) growing preference for the conveniences and amenities of urban living and may also be indicative of limited supply of quality inventory in suburban areas. "While there were fewer sales in New Canaan in 2014 vs. 2013, the median sale price was significantly higher and, as a result, the dollar volume of sales increased slightly over 2013," reports Barbara Cleary of Barbara Cleary's Realty Guild in Connecticut.
Many resort markets experienced strong year-on-year growth in luxury home sales: primary markets saw sustained luxury sales growth
Sampling of primary and resort markets; growth in the number of luxury property sales (by percent), 2014 over 2013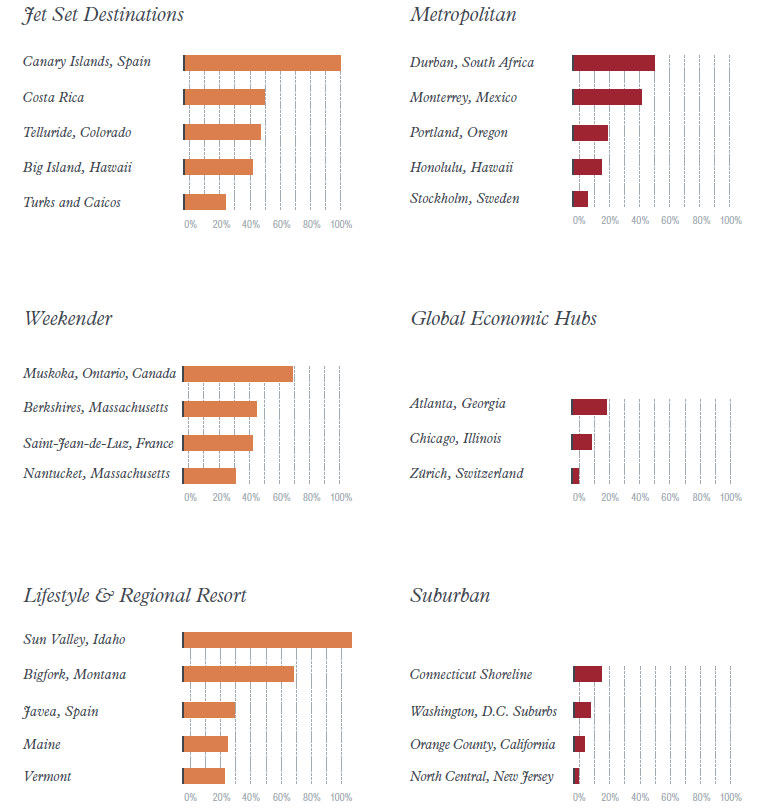 The sales journey of a luxury home
How luxury real estate varies from from the overall residential market
Unlike their lower-priced counterparts, luxury homes can often take significant time to sell due to their smaller pool of potential buyers. In 2014 it took an average of 254 days for a luxury property to sell across our 80 surveyed markets—significantly longer than it takes for a property to sell in the the overall housing market. In Miami for example, it took an average of 80 days for a home to sell, and 142 days for a luxury property to close in 2014.
This gap in average time to sell is more pronounced the higher the listing price. The year's highest sale in Los Angeles was first listed in 2007 for US$125 million for example, and sold for US$88 million in 2014 after a lengthy 84 months on the market.
Finding the right buyer for a unique property can take time, especially in markets that rely on a large influx of non-local buyers. On average, US$1 million-plus homes in resort markets take much longer to sell than in primary housing markets, likely due to a lack of urgency on behalf of buyers. In Jet Set Destinations, luxury homes routinely take more than a year to sell.
WHAT DEFINES LUXURY AROUND THE WORLD? SEE THE INFOGRAPHIC
At the top end of the market in boutique regional resort markets, second-home buyers are increasingly discerning, which may account for some of the slower market momentum. "Unlike the entry level of the luxury market—where upshifting families and relocating empty-nest buyers capitalized on lower rates, improved economic stability, and upward corporate mobility to drive a large increase—ultraluxury buyers in our market were exceptionally selective," reports Reed Jackson of Ivester Jackson Distinctive Properties in Lake Norman, North Carolina. "Many are from out of state, many have multiple homes, and it is not unusual for them to engage in an extended search of over 12 months or longer."
In some Weekender markets, luxury home buyers had been purchasing with cash, so low interest rates that may have otherwise spurred demand had limited impact. However, increased confidence in the market is starting to impact velocity for properties that are correctly priced. "Our market is beginning to turn toward a seller's market, which is creating the recent surge in showings converting more quickly to contracts," says Louise Lachicotte of The Lachicotte Company in Pawley's Island, South Carolina.
[ Excerpt from Christie's International Real Estate's 2015 Luxury Defined white paper on the international prime property market. Read insights from the latest annual report here ]