Redefining the pinnacle of residential real estate is a lofty task. Buoyed by the global economic recovery and soaring stock market prices, the ultra-high end of the real estate market established new benchmarks for price in 2014, as five properties around the world changed hands for more than US$100 million. This stratospheric figure certainly isn't the norm, even in markets with a reputation for expensive homes. But the increasing number of properties that are listed for sale and, more importantly, sell for more than that milestone amount, has set the bar higher in the game of trophy real estate.
Interestingly, it was not the world's Global Economic Hubs that achieved the highest priced sales in 2014. Rather, two markets favored by New York City's elite as prized Suburban and Weekender destinations appeared among the list of the most expensive sales in the world.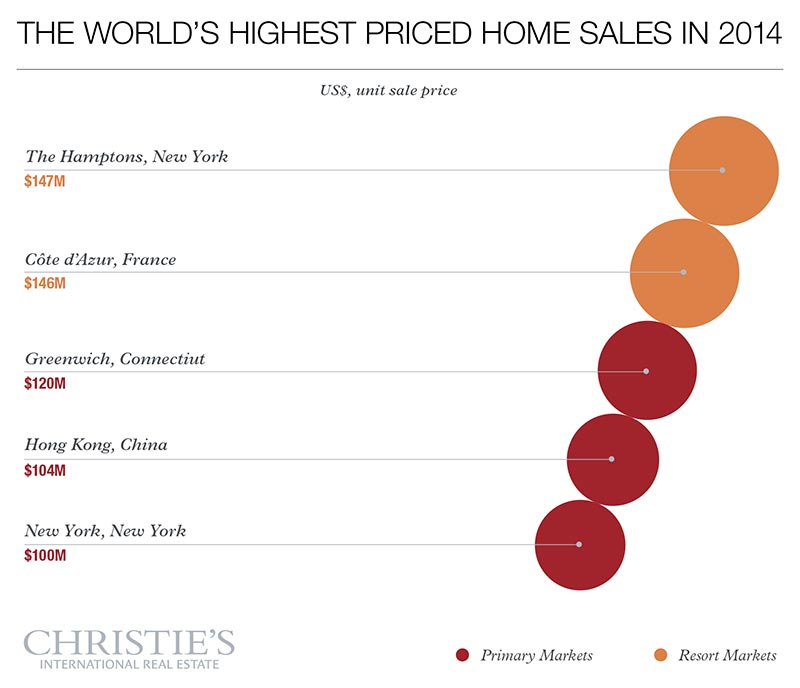 In Greenwich, Connecticut, Copper Beech Farm— which sits on 50 waterfront acres and was listed by David Ogilvy & Associates—achieved a record US residential sale price of $120 million. That price was eclipsed a short time later with the sale of a beachfront estate on Further Lane in East Hampton, which sold for $147 million. Remarkably, the areas surrounding the city were first to reach the elusive $100 million price point. New York achieved its first $100 million sale in December 2014 with a penthouse at one of the city's new luxury Midtown developments.
Other markets to have previously reached this landmark price point include many of the world's top Jet Set Destinations (Côte d'Azur and Sardinia) and Global Economic Hubs (London and Hong Kong), based on a study of publicly reported top real estate sales from the past five years.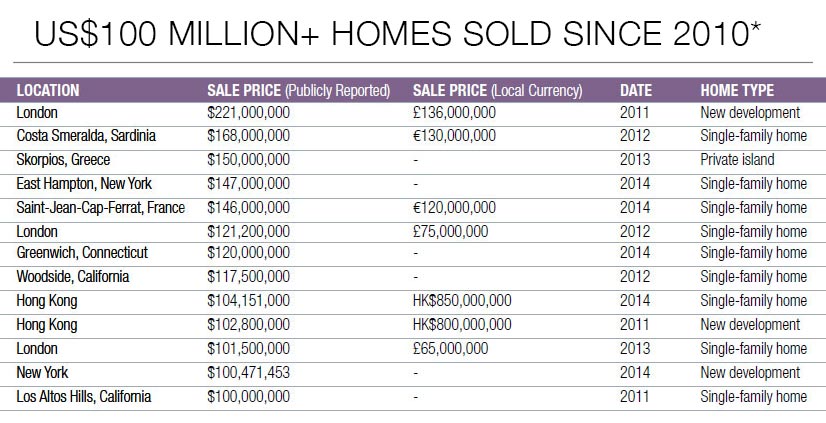 Which city will next eclipse the $100 million price point? Sale prices in Los Angeles have climbed into the $90 million range, and there are currently several properties listed in the city for more than $100 million. Clearly the question for Los Angeles is not "if" but "when." "With some of these recent mega sales, the glass ceiling has been broken and people are having more confidence that Los Angeles is in the same league as markets such as the Hamptons and London," said Jeff Hyland of Hilton & Hyland.

It is notable that in 2014 more properties than ever before were listed for sale at that price point, as more and more one-of-a-kind trophy homes are being built and curated for the world's UHNW population.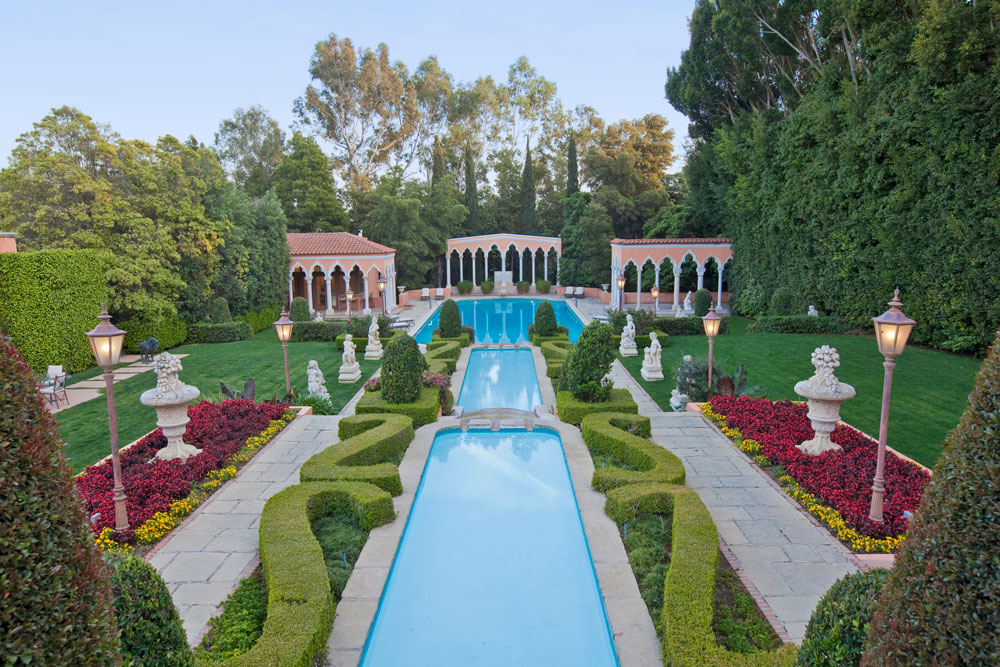 THE ART OF THE ASK
HOW TO PRICE THE UNPRICEABLE
Unique trophy properties can be challenging to value and price accurately. To determine a fair asking price for a home, real estate agents generally use a combination of appraisals and recent sales that fit a number of comparable characteristics to the property in question such as location, size, amenities, and acreage. At the top of the market, however, there are few comparable sales (or in some cases none at all). Creating an appropriate list price for trophy homes is indeed a challenging task.
Connecticut's Copper Beech Farm was first listed at $190 million, more than four times the highest price ever achieved for a property in the Greenwich market (the highest previous sale being a $45 million 80-acre equestrian farm sold in 2004). Listing broker David Ogilvy of David Ogilvy & Associates, who also held the record for previous top sale in 2004, explains that pricing a property of this proportion and uniqueness was a challenge. "It's one of these things where you cannot look at it and say, 'It's worth X,' because there's nothing like it, no comparables—the last 50-acre waterfront property in Greenwich was sold and subdivided 60 years ago," he remarks. When Copper Beech Farm hit the market in April 2013, it earned the distinction as the most expensive single-family home ever listed for sale in the United States. Many in the press speculated that it wouldn't sell for a nine-figure sum. But it did, closing for $120 million in April 2014, which at the time was the highest priced sale in the country. "When people say, 'That's expensive,' I think when we look back in 20 years, it will be one of the great buys," Ogilvy predicts.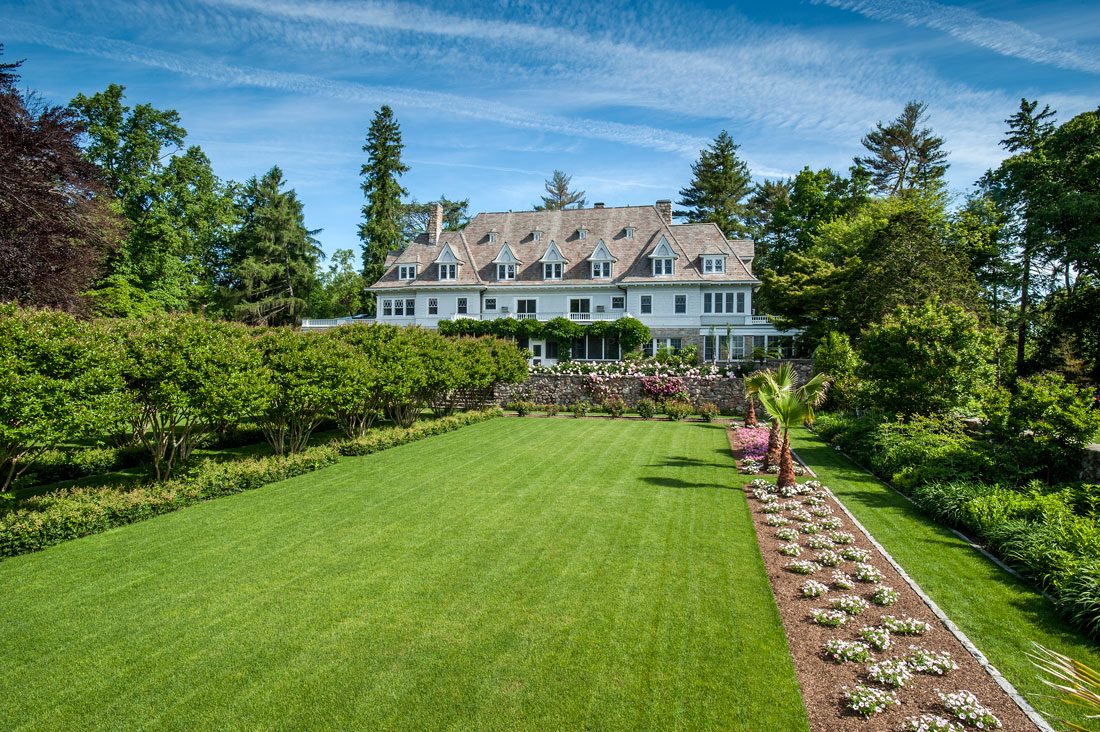 Not pricing a trophy home appropriately can greatly impact the chances of it selling quickly or suffering a significant price adjustment after lagging on the market. "To remain overpriced means a property may be 'on the market', but more importantly it is not 'in the market,'" observes Andrew E. Nelson of Willis Allen Real Estate in La Jolla, California.
Across the markets surveyed for Luxury Defined, the highest priced homes in each market traded on average at 14 percent less than their original asking prices. At the top end of the spectrum, the variance from listing to sale price differed even more significantly. Copper Beech Farm in Greenwich sold at 39 percent less than its original asking price. Fleur de Lys, the top sale in Los Angeles, which was listed for $125 million and sold for $88 million, went for 42 percent less than its list price.
When a unique legacy property comes to market, the challenge of pricing becomes even greater. The 9,000 square foot penthouse at Ten Trinity Square—an iconic Grade II* landmark building in the City of London, which is undergoing a meticulous renovation and is set to open in 2016—remains without an asking price. "Although the term 'trophy' might be applied to ultra-prime real estate, 'legacy' seems more fitting for this one-of-a-kind residence," observes Dan Conn of Christie's International Real Estate. "With Four Seasons Hotel services, a storied history, prized location, and the finest amenities on offer, there is no way to put an accurate price on this once-ina-lifetime residence. The penthouse itself includes the building's central tower with views of the Tower of London and the River Thames."
The art of accurately pricing high-value trophy assets is a challenge also faced by the fine art specialists at Christie's. Much like their real estate counterparts, art specialists often employ comparables and appraisals to determine what the market will accept.
"While many artworks can be priced using historical comparables and adjusting for macro market trends, pricing masterpieces in the field is a much more subjective, speculative art," notes Brooke Lampley, head of the Impressionist and Modern Art department at Christie's. Lampley was involved with the estimate of Picasso's Nude, Green Leaves and Bust, one of the world's highest priced pieces, which sold for $106.5 million and set the record for most expensive work of art at auction at the time of the sale. "We have assessed the most distinguished private and public collections in the world and this requires a vision of today's taste and specific knowledge of what today's buyers are looking to buy, and at what price."
TROPHY HOME SALES
A NON-INDICATIVE PRICE INDICATOR
Headline-grabbing record prices continue to capture the attention of the buying public and the public at large. These stratospheric sales are, of course, the exception rather than the rule, and are not always indicative of the health of a particular property market. They tend to be a one-time only spike in the market rather than illustrative of a wider trend.
While there's no question these ultra-luxury homes are above average, their prices also tower above the average sales prices, even for luxury homes in their markets. In New York, the city's top sale of $100 million was 54 times the price of an average home. In Hong Kong, the top sale of $104 million dwarfed the average sales price. One could purchase 202 "average" homes for the same price as the year's top home sale.
How many average priced homes can you buy for the same amount as the highest-priced home sold in 2014?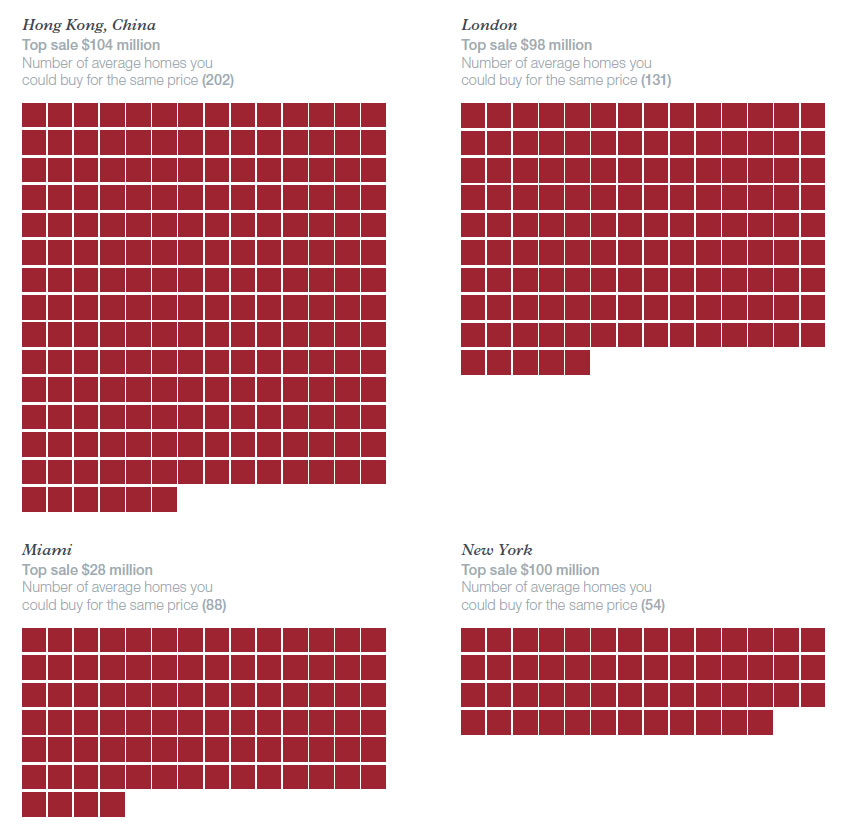 The rise in trophy acquisitions is not necessarily correlated to the residential property market, however. UHNWIs and global sovereign funds have been acquiring trophy real estate assets across the globe for some time, most notably in recent years by Chinese investors who were barred from investing overseas prior to 2012. Well-heeled, cash-bearing Chinese UHNWIs have invested heavily in the commercial real estate sector, with recent trophy purchases spanning from New York's iconic Waldorf Astoria Hotel to the Richard Rogers–designed Lloyd's of London building.