Much like beauty, luxury can be said to be in the eye of the beholder. Often elusive, sometimes overused, but always out of the ordinary, "luxury" means different things to different people. In its broadest sense, luxury connotes quality, refinement, and exclusivity. But in the rarefied world of prime real estate, its definitions also encompass changing lifestyles, shifting economic hubs, the need for greater privacy, and environmental concerns.
What qualifies as a "luxury" home differs significantly around the world, in terms of both price and attributes of individual properties. Based on a survey of our Affiliated brokerages in more than 80 prestige real estate markets worldwide for our 2016 Luxury Defined white paper, the average starting price for a luxury home across all housing markets is US$2 million, ranging from US$750,000 in markets such as Durban in South Africa, to an astounding US$8 million in Beverly Hills, California.
Point to the geographical locations on our map below, to see what what the starting price is for a luxury home around the world.
Given this disparity in prices for the basic starting point of luxury property, comparing the standard measurements of the luxury real estate market in a global economic powerhouse city to that of a smaller second-home resort destination fails to account for key market differences. To more accurately reflect and interpret the trends and market dynamics at play, we segmented surveyed real estate markets into several categories, largely identified by population size, number of high-net-worth residents, buyer types, home purchase type, housing mix, and general economic indicators.
[ Where are the world's most expensive housing markets? See our exclusive global comparison of square foot prices for million-dollar-plus homes ]
Cities and their surrounds dominate our first umbrella category, the "primary markets." The majority of luxury homes in these areas are purchased as primary residences. Markets grouped under this umbrella include Global Economic Hubs (large international cities), Metropolitan (mid- and small-size cities), and Suburban markets that surround cities.
The world's top 10 "Best of the Best" cities for prime property according to our annual Luxury Defined white paper, are all Global Economic Hubs, but several other cities are included in this category, such as Atlanta and Zürich.
Primary luxury housing markets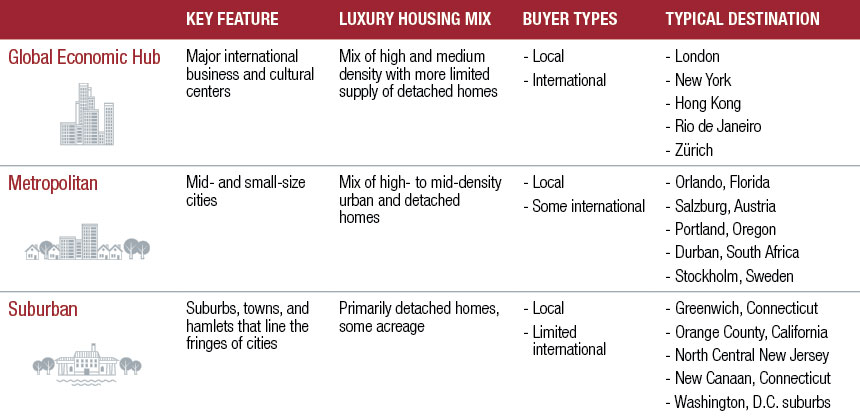 Our secondary market class is broadly defined under the "resort" market umbrella—smaller destinations that generally have a population of 500,000 or less. These include Weekender markets that are within easy traveling distance of primary markets and are frequented by local HNWIs on weekends and vacations, as well as Jet Set Destinations, which are largely the domain of the international glitterati.
Also under the resort market umbrella are Lifestyle & Regional Resorts—boutique destinations populated by a mix of primary and second home buyers who are attracted by distinctive local cultural, lifestyle, and educational amenities.
It must be noted that several markets fit into two or more categories. In these instances, we assessed the dominant factors at work in each and placed the markets accordingly.
Resort luxury housing markets
These categories were designed to offer a better understanding of how high-net-worth individuals (HNWIs) are buying prime real estate where they live, work, and play. Grouped by market type, the average starting price for a luxury home in 2015 spans from $3.6 million in Global Economic Hubs to $1.1 million in Metropolitan markets.
What's the starting price for a luxury home around the world?

For more insights on trends in primary and resort luxury housing markets, explore other articles from the latest annual Luxury Defined global real estate market report.