The home that entrepreneur Katherine McConvey has built for herself pulls off an impressive balancing act. Its size makes it ideal for large gatherings of family and friends, and, at the same time, there is a choice of living spaces that offer a feeling of intimacy and retreat. This flexibility—and the extraordinary ocean panorama—makes this a very special spot.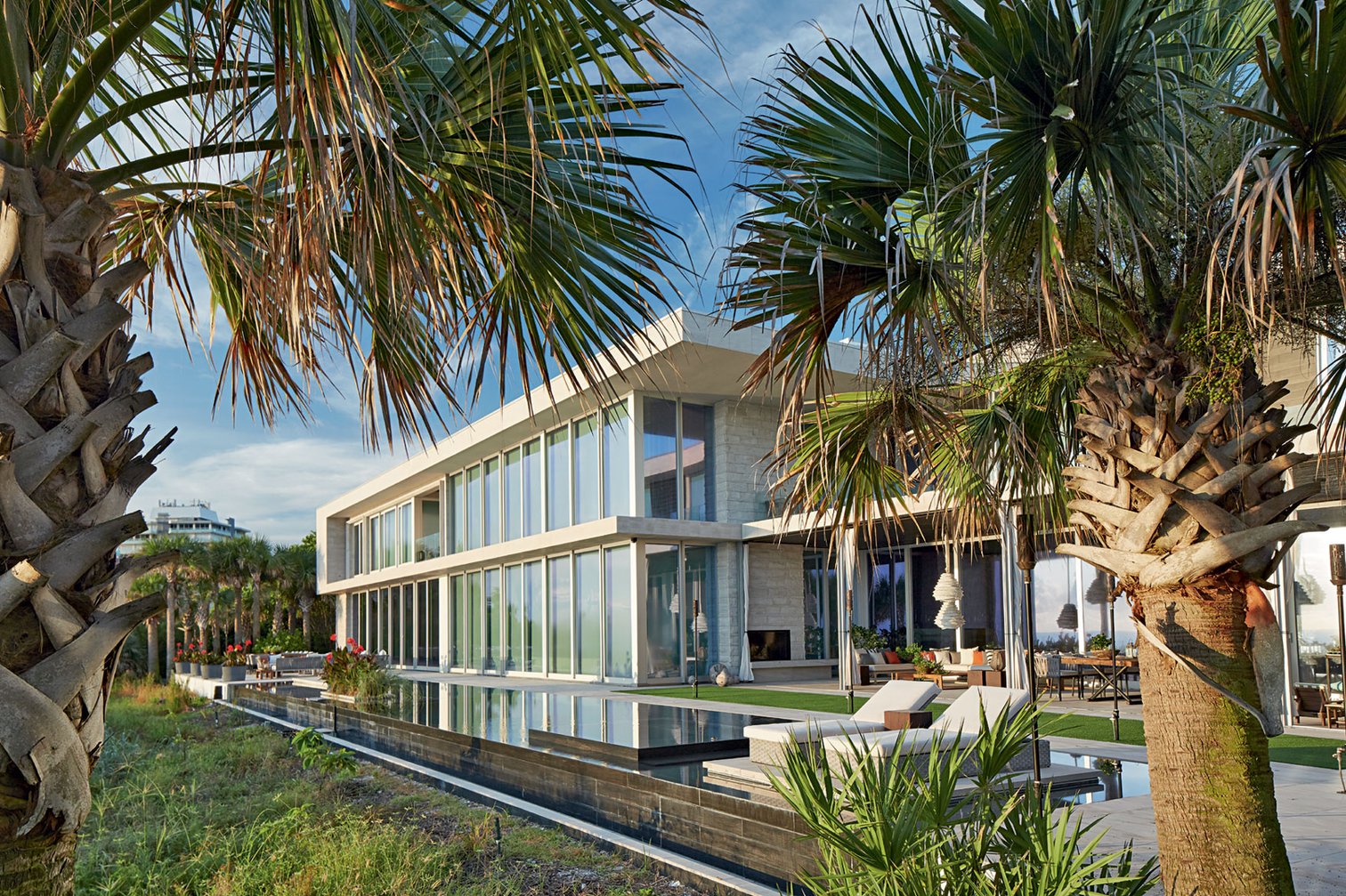 Says McConvey, "We wanted a large compound to provide space for when we entertain and have family to stay. But we knew that most of the time it would just be two of us, so we also wanted the house to be warm and comfortable."
This project was partly inspired by the qualities of the beachfront site itself, which sits within walking distance of the shores and stores of Vero Beach, Florida. The other impetus was McConvey's creative partnership with architect Jared Della Valle at developer Alloy. The pair have collaborated for a decade, working on design-driven residential projects in New York and Florida. "But when we make houses for ourselves they are opportunities to do something really special," says Della Valle. "This was designed to be Katherine's dream home."
"The view is outrageous, the light always makes you happy, and the oceanside pool is better than at any hotel I've been to."
The two-story house, on the market with Premier Estate Properties, Inc., an affiliate of Christie's International Real Estate, runs parallel to the ocean to make the most of the dramatic open vista afforded by its 200 feet of beach frontage.
Here, a wide choice of outdoor "rooms" include the pool terrace, the tiki hut by the beach, and the lanai—a generous verandah with an outdoor kitchen, a dining area, and a reside seating zone. For those days when the breeze comes in from the sea, an alternative pool and terrace nestle between the main home and the guesthouse, providing serene shelter.
"It wasn't Katherine's plan to sell it; she loves the house," says Della Valle. "But the reception the house has received since we completed it in 2014 has been wonderful. So, she has now recognized that there is a broader audience for the house." And McConvey already has plans to build a new resort home. The choice of architect is without question.
[ Excerpt from Christie's International Real Estate's 2017 Luxury Edition — A curated collection of the world's finest properties. Explore more properties here ]
Photography by Laura Moss