Frederick Fisher, who brilliantly executed the design of Bloom Ranch in Sun Valley, Idaho, has long garnered international renown by executing and revitalizing iconic architecture.
Once described as "L.A.'s Maverick Architect," Fisher is most appreciated for removing his ego from his work to create a space in rich concert with both its surroundings and its intended use. Whether on the global stage or in the family home, interaction with art and architecture are recurring themes in Fisher's designs.
Fisher's famous restoration of Sunnylands Estate and new visitor center in Rancho Mirage, California—the 200-acre winter retreat of publisher Walter and Leonore Annenberg—hosted a summit between President Barack Obama and China's President Xi Jinping in 2013. He has designed major art and cultural galleries—including the renowned MoMA PS1 in New York and contemporary private residences in the U.S., Europe and Asia. In the late 1970's, Fisher joined Frank Gehry's small staff and so was afforded a front row seat to Gehry's genius, while inspiring Fisher's own contemporary design signature. Mr. Fisher recently spoke with us about this exquisite property.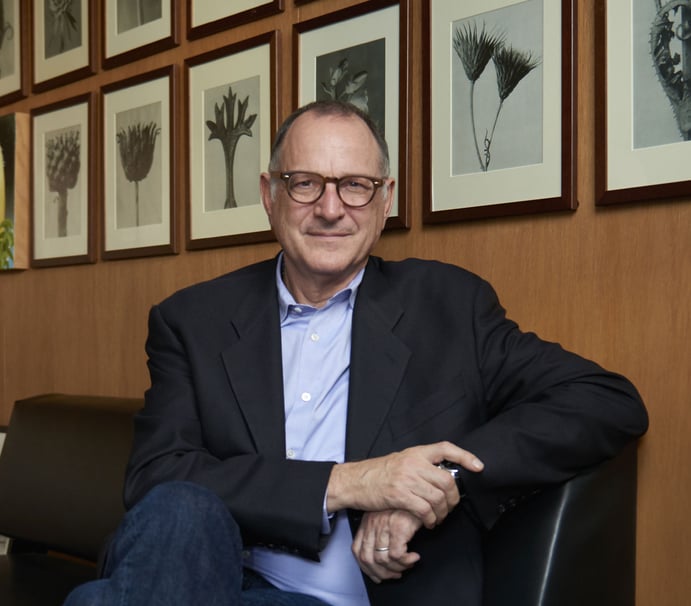 Does Frank Gehry continue to influence your designs. There definitely seem to be whispers of Gehry in Bloom Ranch.
Frank has had a major influence on me. I fully acknowledge that. That DNA, a home in elemental pieces to create a village, is part of Bloom Ranch.
When you design a home for art, which Bloom Ranch quite obviously is, what do you think about. What have you learned from artists and collectors about ways in which to best showcase art.
I first met the Blooms when designing two galleries in Santa Monica for Ruth. Our relationship is grounded in art. I know their collection well. That said, I never designed this home to accommodate any specific piece of art but rather to provide a canvas to showcase opportunities for art throughout. Living with art was an important theme for this home.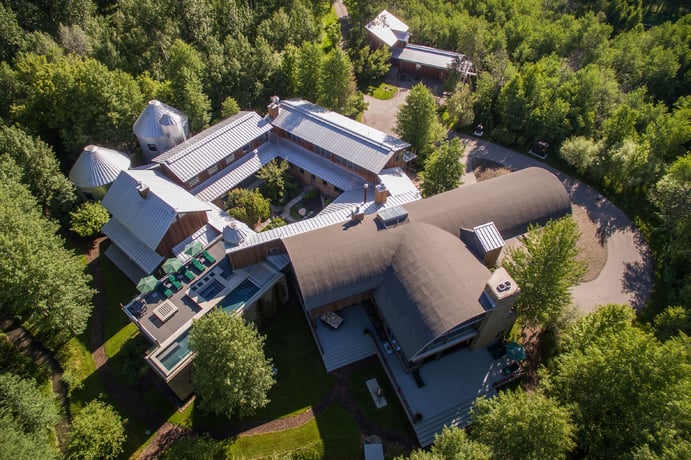 There is also a separate art gallery space in the home.
Yes. And this faces directly into the interior courtyard, a major entertaining area, through a wall of windows. At the center of the courtyard is an artist designed fountain. The art in the gallery, rather than being private, is fully integrated into the home's overall lifestyle.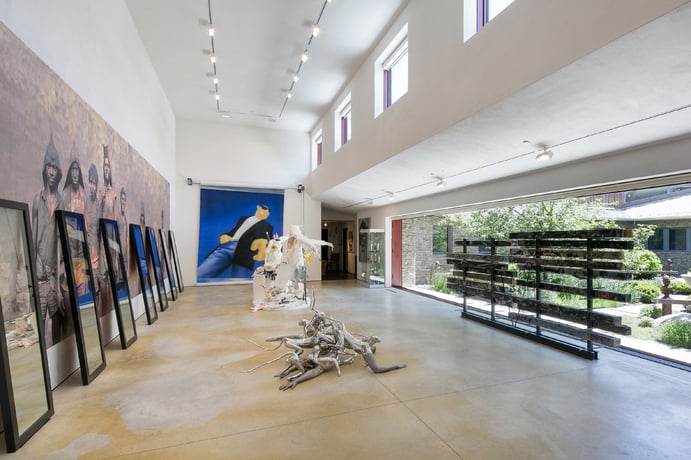 The central courtyard is beautiful. What is the importance of the courtyard to the design of this home?
Balance. The home's Idaho mountain setting is so magnificent and raw and powerful. The home's central courtyard offers nature on a more intimate scale. The notion of a central garden is deeply embedded in ancient cultures. Chinese architecture celebrated the central garden as did the Paradise Gardens of Persia. As this home evolved, we very much liked the scheme of varied spaces surrounding a garden.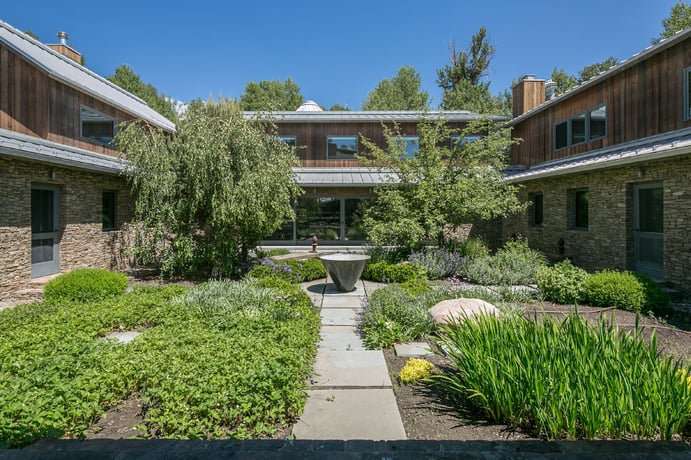 How did the Idaho setting further inform the design of the house?
The setting is so magnificent that, I have to confess, the home was somewhat daunting to design. The capture of light during different parts of the day and maximizing mountain views became major objectives.
The kitchen and the master bath are oriented to capture morning light. The living room and the master suite are tilted slightly off axis to gain the best mountain views. The pool is interesting. The owners decided that they wanted a spa as the home was taking up more and more ground area. We raised the pool off-ground and put the spa facilities beneath. This benefitted the pool deck by maximizing views and capturing light the entire day.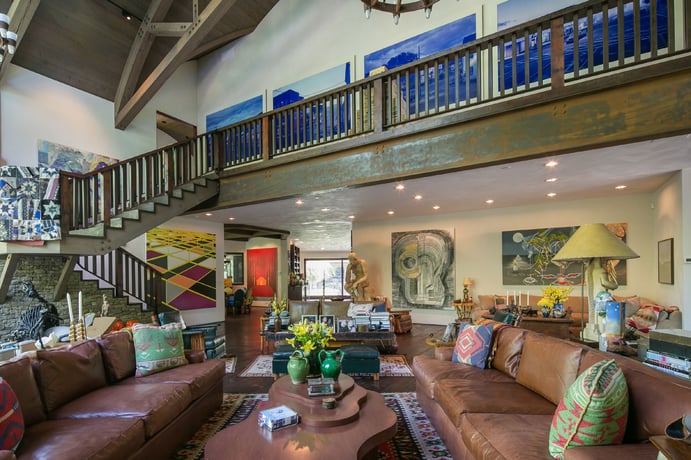 The Village is one of your signature concepts. Would you amplify on that theme in this home?
In addition to art, the owners' priorities were family and entertaining. The village plan can provide public spaces where guests can flow and shift throughout the home. This creates an environment that is intimate and comfortable for both small and large gatherings. It is an interesting contradiction: a sanctuary that easily accommodates hundreds of people.
At the same time, extended family and guests are allowed a sense of ownership while visiting. Theirs isn't a guest room down a hallway. Rather, they are provided their own structure within the complex.
I like that the home, while large, is still an intimate collage of spaces.
The "farm house" and two guest silos are magnificent.
This architectural concept, specifically the silos, was the owners' idea. I fully enjoy and encourage collaboration with my clients.
The Blooms wanted to celebrate the area's agricultural heritage and suggest a balancing composition. The result—inspiration from indigenous farm and mill buildings, industrial trusses, and incorporation of old growth wood—was a home with a sense of history and "instant age."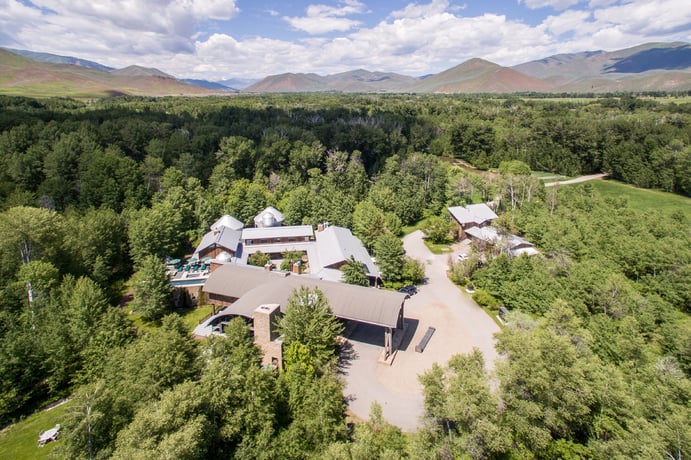 Christie's International Real Estate marketed Frank Lloyd Wright's Ennis House. His grandson, Eric, told us how a home truly comes to life when it is lived in and enjoyed. This home certainly invites a vibrant lifestyle.
I agree. Architecture can get too enamored with space and shape and abstract forms. Architecture is not complete without people. It is also not frozen in time. Kids grow up, families change. Architecture stays relevant when it accommodates growth and change and next chapters.