Ranked the 12th most liveable city in the world in Mercer's Quality of Living survey for 2017, Amsterdam has much to offer. With world-class art and cuisine, Renaissance and modern architecture sitting side by side—and water, water, everywhere—it is one of Europe's most enchanting capitals.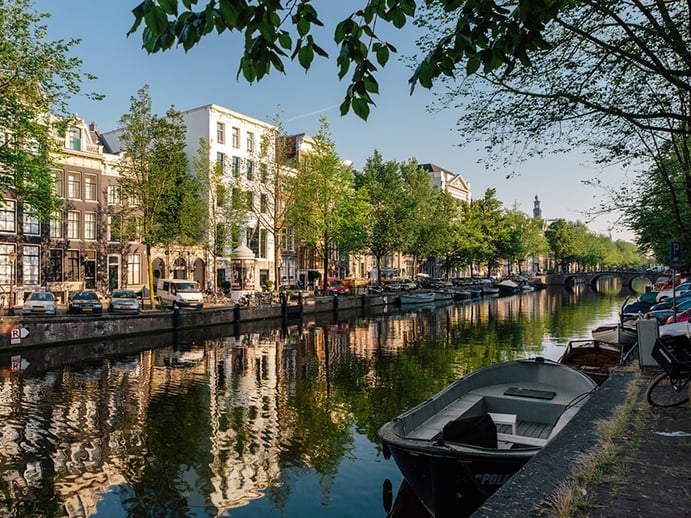 The city captures the imagination long before it captures the heart and soul. Whether you know it for its art and architecture, its canals and cobbles, or even its red-light district and marijuana cafés, the truth behind it will inevitably catch you by surprise.
Culture, art, music, and theater flow through Amsterdam as surely as its UNESCO World Heritage-listed canal system.
Despite its compact size—just 85 square miles—the Dutch capital is a powerhouse of activity, combining enough beauty and brains to satisfy even the most well traveled, enticing them back time after time to enjoy its past and present glories.
A cultural center par excellence
Though Amsterdam justifiably relishes its history—in particular the 17th-century Golden Age, when it was at the vanguard of art, architecture, and science—it has its eyes set firmly on the future. As a mistress of reinvention and innovation, the city always has something new to give.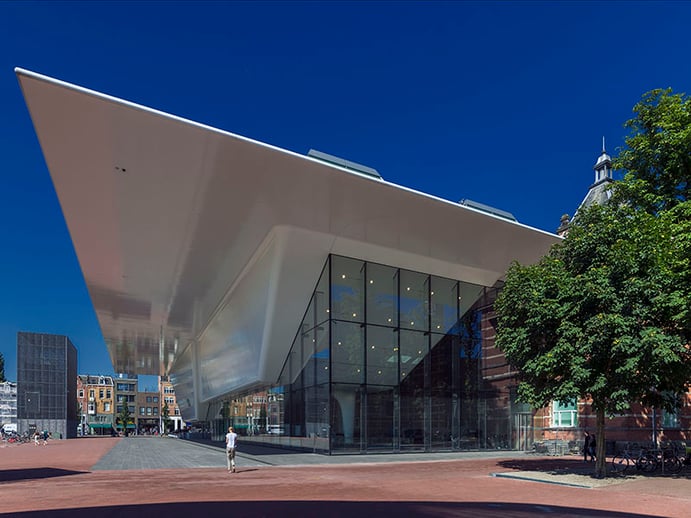 Come spring, when temperatures rise and the tulips are in bloom, the city comes alive with activity, and evenings become the perfect time to meet up with friends or take in a new exhibition, such as the Christie's Lates series, which provides members of the public a rare opportunity to drop into the auction house to enjoy a post-work drink, presentations by leading experts on topics ranging from art and literature to design and architecture, and a preview of the lots that will be auctioned there the week after. Organized by Residence 365, the exclusive Amsterdam affiliate of Christie's International Real Estate, the next two Lates events will be held on April 5 (with a "Fashionably Late" theme) and June 21, 2017.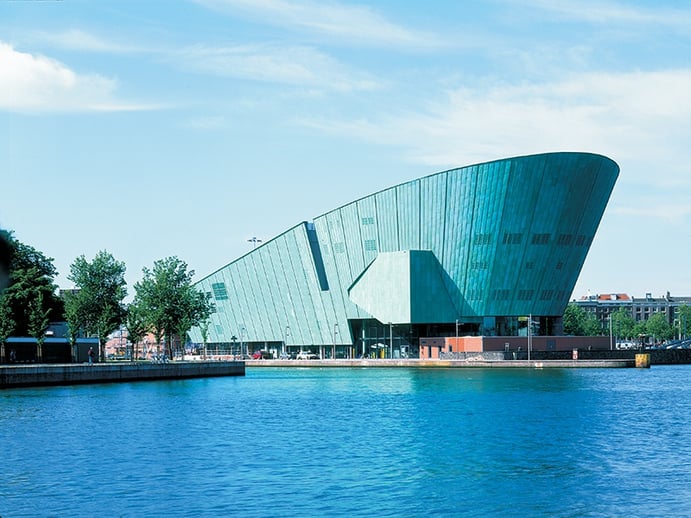 Also a cultural highlight, the 1917. Romanovs & Revolution. The End of Monarchy exhibit at the Hermitage Amsterdam commemorates the 100th anniversary of the Russian Revolution. Featuring an exquisite collection of objects belonging to Tsar Nicholas II and the Empress Alexandra, it runs until September 2017 at the museum, the largest satellite of the St. Petersburg original.
A hub of creativity
Culture, art, music, and theater flow through Amsterdam as surely as its UNESCO World Heritage-listed canal system, a masterpiece of hydraulic engineering stretching more than 60 miles. Among the treasures to discover are the Rijksmuseum, one of the finest museums in the world, whose rooms are crammed with 800 years of Dutch heritage; the Van Gogh Museum, the city's top tourist attraction, which houses the world's largest collection of paintings by the artist; the Rembrandthuis, where Rembrandt lived and worked; and the Stedelijk, a dazzling showcase of contemporary art.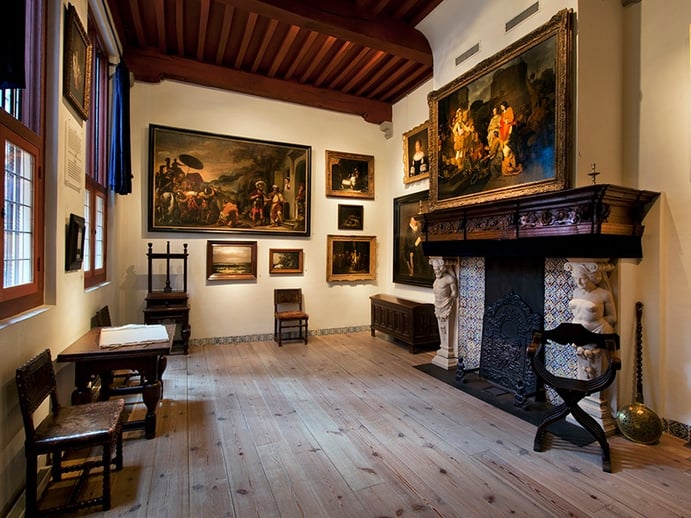 Beyond the center lie new experiences. Italian architect Renzo Piano's boatlike copper structure, which houses the NEMO Science Museum, is an instantly recognizable landmark with a large piazza at Oosterdok. And the 2012 opening of the sculpturally impressive EYE Film Institute by Delugan Meissl Associated Architects—encompassing four cinemas and an archive of 40,000 films—sent the pulse of transformation racing through the Amsterdam Noord waterfront.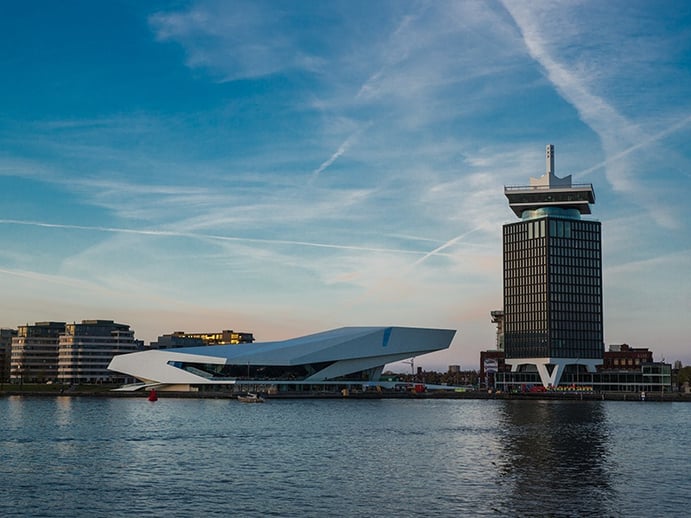 This area's position as a hub of creativity was given a further boost in 2016 when the 22-story A'DAM Toren opened, bringing a multitude of entertainment venues, including a members' club, a subterranean nightclub, a coworking space, an abundance of restaurants and bars, a boutique hotel, and a spectacular observation deck with unparalled views of the city.
A thriving dining scene
Culinary delights complement cultural ones in Amsterdam, with several Michelin-starred restaurants to choose from. Among these is Sazanka, the only teppanyaki restaurant in Europe to hold a star, the gorgeous Bolenius, specializing in creative dishes with vegetables fresh from its own garden, and Vinkeles at The Dylan hotel. For an unforgettable experience, guests of The Dylan can dine on board its vintage boat, The Muze, while cruising gently through the city's canals.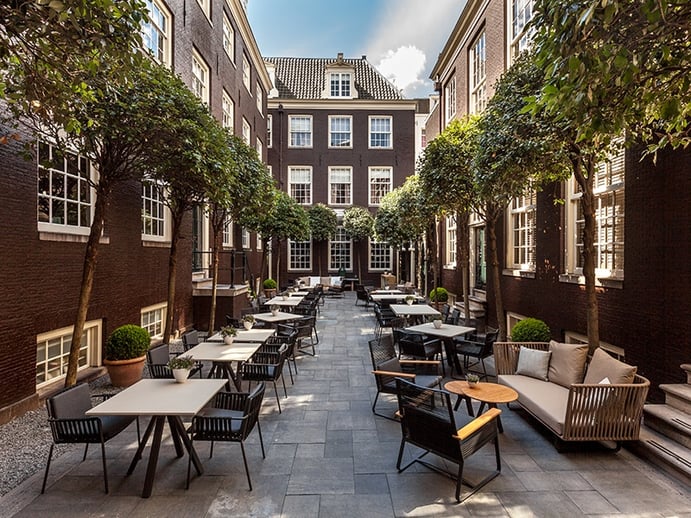 There's also the opportunity to explore the colonial history of the Netherlands at the city's myriad Indonesian restaurants. The country's presence in the Dutch East Indies stretched across three centuries, and when the Dutch returned home, they brought with them a love for the aromatic spiciness of dishes such as rijsttafel (rice table)—a veritable tasting menu of Indonesian-inspired meats, vegetables, curries, satay, and condiments such as sambal or hot-and-sour pickles. Restaurant Blauw is a buzzing spot that retains an authentic air in a chic setting.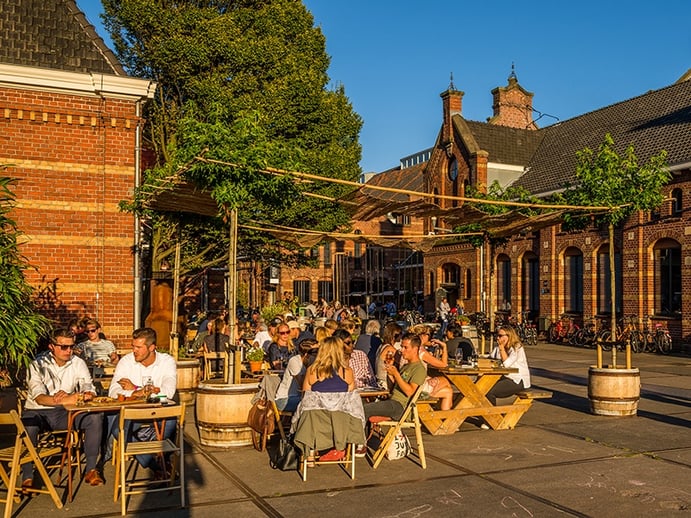 A natural beauty
While Amsterdam may be best known for its canals and the lovely, elongated gabled buildings that line the narrow, cobbled streets in the Jordaan district, its wide-open green spaces are just as attractive. The 19th-century Vondelpark is a joy, whether you choose to explore it on foot, bicycle, or rollerblades. In addition to being a paradise for birdwatchers and nature-lovers, it is packed with attractions such as an open-air theater and bandstand, cafés—the finest of which is Vondelpark3, in a lovely historic building—and numerous children's playgrounds.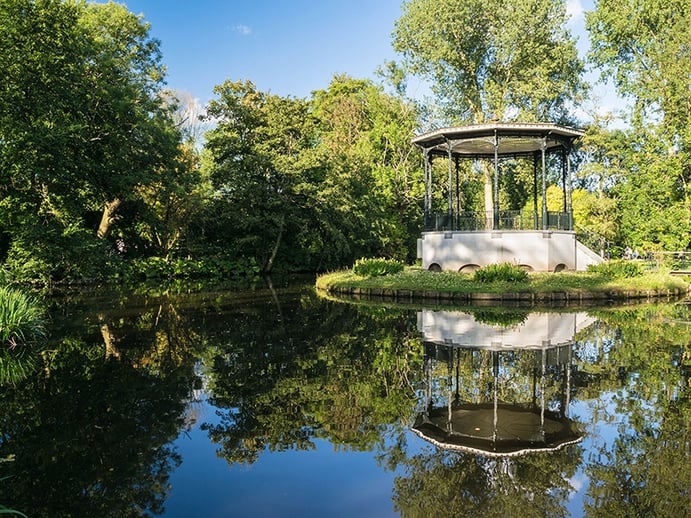 Another favorite among locals is Westerpark, where the stand-out man-made attraction is Westergasfabriek, a fabulous cultural center in a former 19th-century gas works, with an art-house cinema, shops, pop-up exhibitions, restaurants, a jazz club, and even a brewery.
Whether you seek out Amsterdam's past glories or venture into its modern, design-led museums and galleries, you will find much to love—and will no doubt return to immerse yourself once again in one of Europe's most energizing, captivating, sensational cities.