Few pastimes match the thrill and beauty of sailing. Taking to the water in locations around the globe gives us a chance to see places—new and familiar—from a different perspective. Sailing is unlike any other mode of transport. Of course, flying, biking, hiking, or driving provide some similar effects, but it is only through sailing that we connect to land by water, and nothing can replicate the feeling of gliding on the open sea. Those who have made sailing to new or unexpected shores a part of their lifestyle often seek dwellings that provide uninterrupted connections between home and the sea. These eight abodes are designed to provide such a seamless flow between sailing and settling in—and luxuries at every turn.
Potomac Paradise
Alexandria, Virginia
This elegant family home boasts a superior location in Mount Vernon near a private marina that affords a launching point for boating and sailing along the Potomac. In the rear garden, a verandah with colonnades overlooks the pool. Inside the residence, a lofty two-story entry is outfitted with one of the home's multiple crystal chandeliers and two curved staircases. Hardwood floors add to the warmth and appeal of many areas including the foyer and the spacious living room, which leads out to the verandah.
Villa Giulia
La Maddalena Archipelago, Sardinia, Italy
The seashore is just steps away from this charming four-bedroom villa in Sardinia. Facing Porto Rafael and Costa Serena, it is located near popular Isuledda Beach—a mecca for sailors and water sports enthusiasts. Magnificent views of the crystal-clear blue waters surrounding La Maddalena Archipelago can be enjoyed on the huge outdoor patio—which is furnished, like the rest of the house, in a casual chic style—and the island's white sandy coves are nearby. A delightful 21,000-square-foot garden serves as a natural amphitheater with hedges offering protection from the wind and total seclusion—without obstructing the views.
Charleston Charm
Mount Pleasant, South Carolina
This custom-built Lowcountry estate has everything a seafarer—or landlubber—could dream of in a home. Its 5,234-square-foot, open-plan interior boasts four bedrooms and a roomy kitchen that flows into the family room with its fireplace, captivating views of Charleston Harbor, and French doors leading to the front porch. Two elevated stories are served by a hydraulic elevator, and water views abound from nearly every angle, underscoring the home's proximity to the sea. The property's deepwater dock has a 754-foot walkway, 400-square-foot dock head, and 200-square-foot floating dock as well as a motorized boat lift.
Mariner's Mecca
Okiato Point, New Zealand
Fish for mahi-mahi as you sail around this waterfront property set on a private five-acre peninsula. Your own beach awaits your return, as do two separate residences offering a total of six bedrooms. A floating dock, boatshed, and licensed heliport round out the adventure-focused amenities of this residence. The natural beauty of the area—with its stunning beaches, unspoiled countryside, wineries, native forests, and marine reserves—make it a draw for international visitors and anyone who enjoys the outdoors.
Harborfront Haven
Nantucket, Massachusets
One of only three private deepwater docks on the whole island of Nantucket is located on this double-size property with more than 120 feet of waterfront. Captivating harbor and town views can be enjoyed from nearly every room of the residence, which also features a large deck spanning the entire harbor side of the house. Once the world's leading whaling port, Nantucket is one of the foremost United States sailing destinations. Each year, the island hosts Race Week, nine days of regattas, ceremonies, and parties organized by the Nantucket Yacht Club and the Great Harbor Yacht Club. Arts events such as film and comedy festivals as well as performances by the Boston Pops Orchestra are also commonly on tap.
Turquoise and Tranquility
St. George's Parish, Bermuda
This Bermuda estate with its main house, guest cottage, and apartment sits majestically at the tip of a headland overlooking a turquoise reef and Castle Harbor. Shell Point boasts a large dock, jetty, boat slip, and mooring, making it an ideal spot for the nautically inclined. As Bermuda prepares to host the 2017 America's Cup, the island is becoming even more popular with aquatic enthusiasts. While the race itself will take place on Bermuda's Great Sound, the America's Cup Village at the Royal Naval Dockyard (on Ireland Island) will be the site of land-based events.
Regatta Vistas
Darien, Connecticut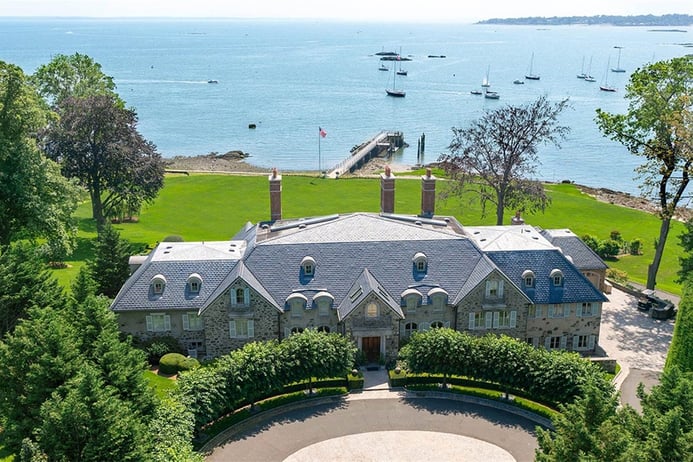 Sailing regattas and dramatic sunsets provide the backdrop for this spectacular estate facing Long Island Sound. The 3.7-acre grounds feature gardens, lawns, and 300 feet of shoreline on Noroton Bay—a peninsula that is a paradise for beach lovers and sailors. Almost every room of this 14,250-square-foot home offers open water views. An infinity pool and poolhouse overlook a stone pier, floating dock, and sailboats. The Noroton Yacht Club, also situated on the peninsula, hosts private and public sailing events as well as learn-to-sail classes for adults.
Bird Key
Sarasota, Florida
Two sailboats can be docked at this exquisite Bird Key home. More than 100 feet of protected direct water and a 16,000-pound boat lift are exclusive to the property, and no bridges are present to interfere with a sail on open water to the area's waterfront restaurants. The Bird Key Yacht Club is located within a 15-minute walk. Those who prefer to relax at home can enjoy the billiard room, home theater, pool, and outdoor dining areas. The kitchen is outfitted with top-of-the-line appliances and disappearing sliders that connect to the outdoor kitchen and pool deck, providing a seamless transition from inside to out. This property is nothing short of a water lover's haven.