Beginning in 1874 in Paris, the iconic Impressionist movement—led by seminal artists Claude Monet, Pierre-Auguste Renoir, Camille Pissarro, Paul Cèzanne, and Edgar Degas—heralded the dawn of Modern Art. Impressionism's influence spread across the cultural landscape, from art to classical music, while the architecture of the day witnessed its own dramatic revival. In this Luxury Defined collection, we tour 9 historic homes that capture the spirit of the age—la Belle Époque.
Provençal Bastide
Aix-en-Provence, France
This Provençal manor house is situated on more than 17 acres, just outside Aix-en-Provence—the birthplace of Impressionist artist Paul Cezanne. Built in 1875, the elegant main residence has been restored throughout. Among the luxurious appointments are six en suite bedrooms, reception and family rooms, a contemporary kitchen, and a wellness center with indoor pool, sauna, and hammam. The main house opens to beautiful parkland with a saltwater pool, spring-fed pond, and football pitch/putting green. The scenic farmland includes an 800-tree olive grove and vegetable garden, both with organic certification and agricultural buildings. A separate villa with three gites, or guest houses, complete the ensemble.
Canal House
Amsterdam, Netherlands
This classic canal house is on the banks of Het Singel in the historic center of Amsterdam. The five-story property was built in 1875 and underwent a sensitive restoration, which has preserved the ornate period details. The 3,752-square-foot interior is spread across five floors. A beautiful entrance vestibule leads to the main floor, which features a stylish Bulthaup kitchen, a gallery wall, media room, and a glass-enclosed courtyard, which is currently used as a library. Other highlights of the four-bedroom home include a second-floor master suite, private guest house, a penthouse suite, and a roof garden. The world-class cultural attractions, such as the Anne Frank House, the Westerkerk, and the Dam, are just around the corner, as are the charming cafes and boutiques of 9 Straatjes (Nine Little Streets) canal district.
Roughton Lodge
Holt, England
Roughton Lodge is a substantial seven-bedroom former Victorian rectory near the historic North Norfolk market town of Holt. The property has retained many of its original period details, such as wooden shutters, tiled and exposed wood floors, marble fireplaces, ornate plasterwork, and a sweeping galleried staircase with a stained-glass window. The principal rooms all lead out to a south-facing terrace. Farther along is a modern kitchen with breakfast room, utility room, study, conservatory, which opens to a courtyard. Upstairs are seven bedrooms, including two en suite rooms with scenic views of the gardens, orchard, lawns, and open fields beyond. The ancillary structures include a detached coach house, currently used as a garage, and several original outbuildings.
Gothic Revival Manor
Narragansett, Rhode Island
One of South County's most important historic properties, this unique "Narragansett Pink" cut-granite manor was built by Joseph P. Hazard in 1884. Listed on the National Register of Historic Places in 1989, the Gothic Revival mansion and its one-acre English gardens have been well maintained over the years. The 6,600-square-foot, two-story residence boasts 10 bedrooms, six-and-a-half bathrooms, grand reception halls, a library, office, and screened porch. There are nine fireplaces and an elevator. The formal gardens are planted with many species of plants and trees, and include a koi pond and folly. A walking path leads through the woods out to the magnificent rocky coastline. A secluded setting, surrounded by wooded and landscaped easements at the dead-end of Gibson Avenue, add to the privacy and beauty of the estate.
Residence on Place Saint Ferdinand
Paris, France
This grand Parisian apartment is on the third floor of a late 19th-century Haussmannian building on Place Saint Ferdinand, in the city's 17th arrondissement. Built in 1880, at the height of the Impressionist movement, the interiors are imbued with classic Parisian details: high ceilings, parquet floors, ornate moldings, and picture windows that frame views across the square and the rooftops. The 2,000-square-foot home's elegant appointments include a rotunda, drawing room, formal dining room, and contemporary kitchen with its own dining area. The private quarters comprise a master suite featuring a spa bathroom with Jacuzzi, a guest bedroom, laundry room, and powder room. The drawing room would also serve well as a third bedroom. The residence comes with a private parking space and a cellar, as well as caretaker and security services.
Saintbury House
Killiney, County Dublin, Ireland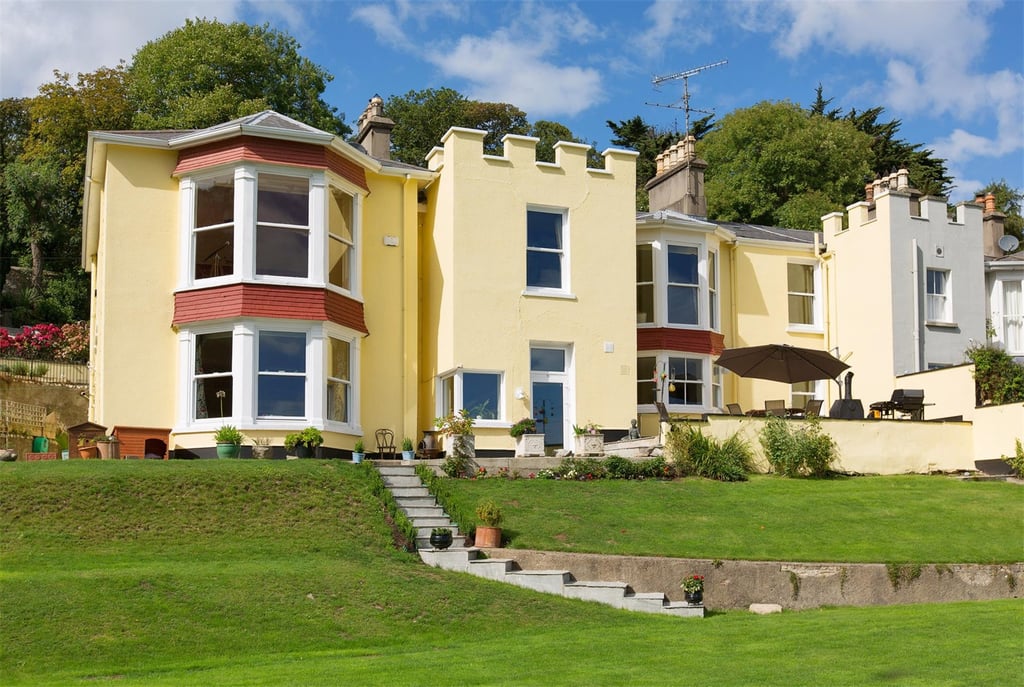 Saintbury House is a fine Victorian villa on the southerly slopes of Killiney Hill Road, overlooking Killiney Bay. Built in the 1800s, the 4,413-square-foot, split-level house on three quarters of an acre has a unique provenance. It was the childhood home of Hollywood ingenue Maureen O'Sullivan who starred as Jane in the original Tarzan series, among her many other roles. The property is arrayed with details synonymous with a house of its era, including high ceilings, bay windows, internal door pediments, and decorative fireplaces. The five-bedroom residence includes a stunning double-aspect drawing room with a bay window facing the sea, a study, family room, kitchen/breakfast area, a music room, and planning permission to connect the house to the garage, extending the property by an additional 3,261 square feet.
19th-Century Villa
Orvieto, Umbria, Italy
Built in the late 19th century, this hilltop estate overlooking the Umbrian city of Orvieto comprises a magnificent turreted villa, separate apartment, outbuilding, and classically inspired gardens. The property was completely restored in 2012 with great attention to detail. The main villa is laid out across four levels and is characterized by exposed beams and handmade terracotta-tile floors. The ground floor includes a vast entrance hall, kitchen, dining room, and two living rooms. The upper floors host a living room, office, five bedrooms, and four bathrooms. The property has been upgraded with heating, electrics, and plumbing, modern bathrooms, and several fireplaces. The surrounding parkland encompasses more than 10.5 acres graced with an Italian garden, olive grove, vineyard, and infinity pool.
Circa-1870 Farmhouse
Zelhem, Gelderland, Netherlands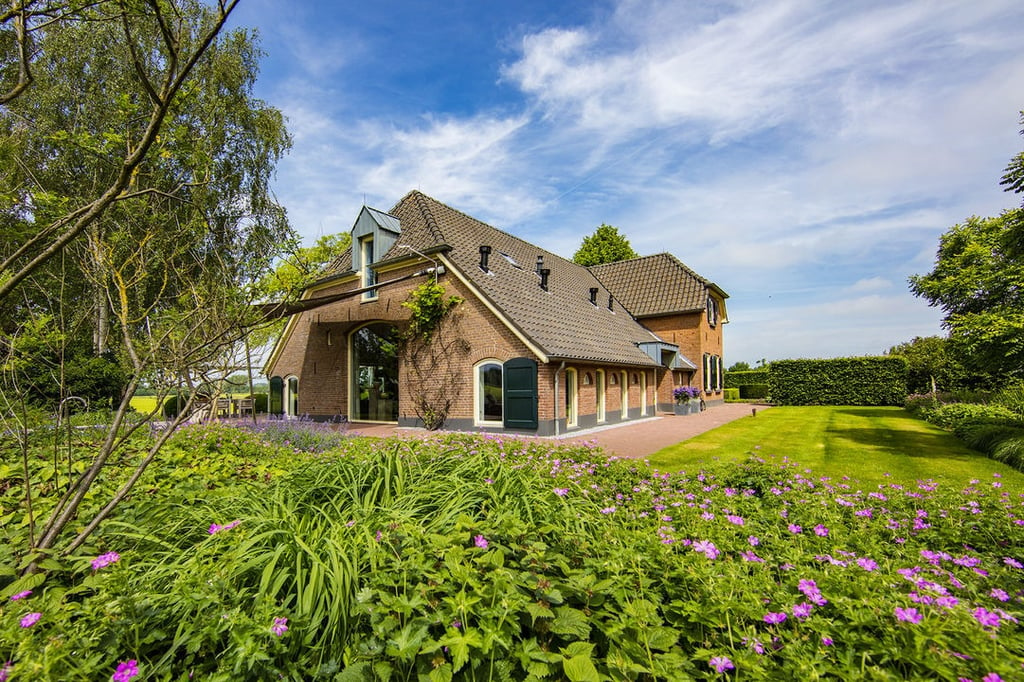 This unique Dutch farmhouse was constructed in 1870 and restored and renovated in 2001. The estate incorporates a main residence, carport, outbuildings, and a wildflower garden. The driveway passes through the bucolic landscape of the Achterhoek region. The 2,500-square-foot residence has a unique layout, combining historic details with cutting-edge design. The main floor comprises a large entrance hall, formal living room with original oak floors, a study, and modern open-plan kitchen. Designed to showcase the home's original structural elements, the mezzanine features a suspended metal walkway that traveres rustic wooden trusses and beams, connecting the main living spaces to the private quarters. Additional amenities include a porch, entertaining terraces, and a separate two-car garage.
Belle Haven Estate
Greenwich, Connecticut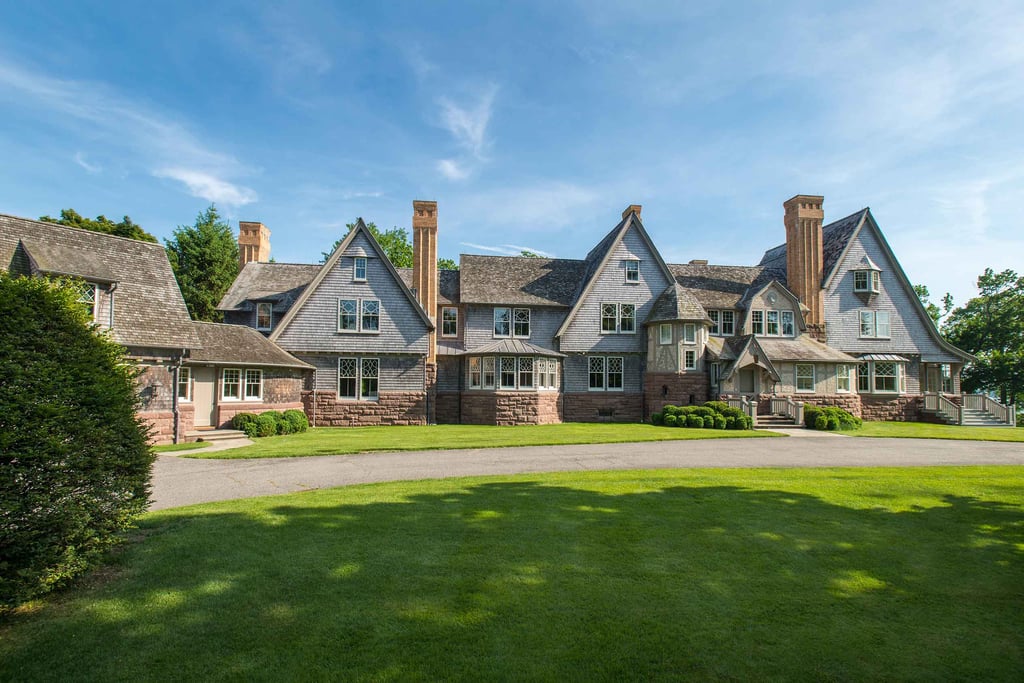 This 19th-century shingle-style mansion rests on 2.19 acres overlooking Long Island Sound in the exclusive Greenwich enclave of Belle Haven. A double driveway leads past the parklike grounds to an elegant courtyard. At the entrance, a center hall is adorned with leaded glass windows, a coffered ceiling, and fireplace. French doors open to a cardroom with a fireplace. Other interior highlights include a banquet-sized dining room, a library, a country kitchen, and a glass-walled solarium with water views that opens to the gardens. Upstairs, the master suite boasts two fireplaces and is complemented by seven additional bedrooms. Outside is a pool house, heated pool, and hot tub surrounded by terraces.