Living in a coastal environment, whether by the sea or in a snug seaport town, is a unique connection to the world at large. The light and air are ever-changing, and the pace of life itself seems to move with the weather and the tides. No wonder, then, that to reside by the coast in luxury and style seems especially precious. Here, Luxury Defined showcases a collection of spectacular homes, each with its own take on the coastal lifestyle. Consider living in a serene villa above Portofino or Dublin Bay, an enchanting Moorish riad in Tangier, or a tranquil Zen-like haven in Montauk. Whether you prefer the stark beauty of a North Atlantic beach, the majesty of a Pacific sunset, or the sanctuary of a riverine retreat, you're never far from the sound and solitude of the great waters.
Genoese Mansion on the Italian Riviera
Portofino, Italy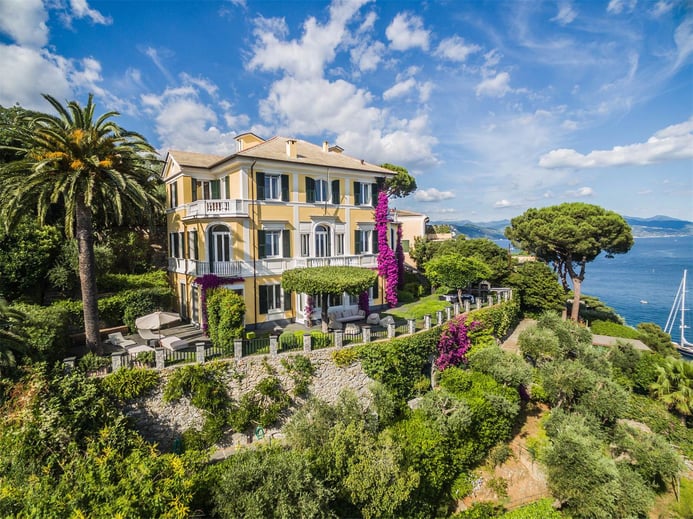 This historic Genoese mansion on the Italian Riviera has an enchanting and ultimately private setting on a hillside overlooking the picturesque fishing village of Portofino, the harbor, and the Ligurian Sea, beyond. The stately residence is set within fragrant Mediterranean gardens and offers more than 8,000 square feet of refined living areas across five levels. Beautifully renovated and fully furnished, the interior blends ornate period details with contemporary additions, such as lighting by Ingo Maurer and cutting-edge home automation and security systems. The lavish appointments include three en suite bedrooms (all with panoramic views), staff quarters, two modern kitchens, two elevators, a studio, gym, wine cellar, and a spa with a heated indoor pool.
Water's Edge
Alexandria, Virginia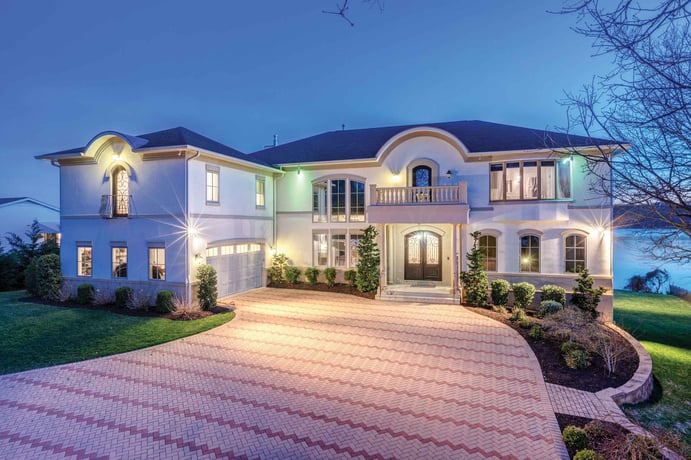 This outstanding waterfront property is a scenic oasis, worlds apart from neighboring communities, yet close to historic Alexandria, Virginia, and the political heartland of the United States, Washington, D.C. This palatial, 5,000 square foot mansion offers three luxurious levels of living space, which are connected by a dramatic spiral staircase. The main floor sets the tone with its fluid layout and Calcutta-marble floors, while floor-to-ceiling windows on the curved bay of the dining room/sitting room reveal the dramatic panorama of the great Potomac River. An expansive terrace and deck are ideal for both relaxing and entertaining, while a private dock with boat ramp and lifts serves for river adventures.
Villa Liza
Tangier, Morocco
Tangier, Morocco's legendary White City, is undergoing a renaissance spurred by international investment and urban renewal projects such as the newly redesigned corniche. A few minutes' walk from the bustling city center is Villa Liza, a haven of tranquility facing the bay of Tangier. Conceived in 2004, this medieval-inspired masterpiece has been perfected over the last 10 years and presents 11,732 sumptuous square feet with five bedrooms, a majestic central courtyard, swimming pool, hammam, and a resplendent Moorish garden. A convergence of ancient and modern, the entire villa—from the zelige-tiled floors and walls to the light fixtures, and even the linens—has been decorated with handcrafted, bespoke Moroccan furniture and finishes.
Mount Alverno
Dalkey, Co. Dublin, Ireland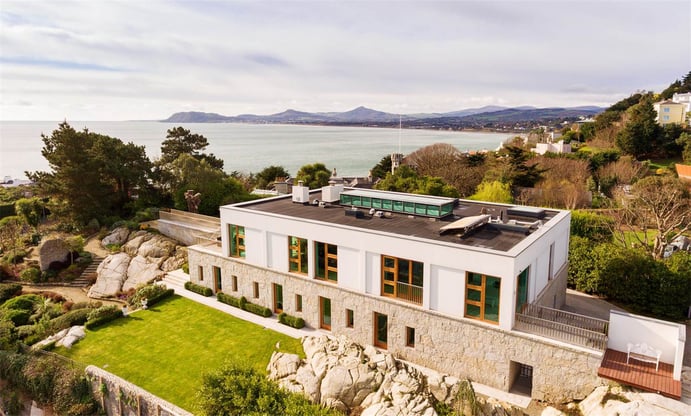 Mount Alverno is an understated and unique contemporary home occupying Dalkey's finest site, with unrivaled views of Dublin Bay, Howth, Dalkey Island, Killiney Bay, and the Wicklow Mountains. The construction of this newly built property was overseen by the current owners who worked closely with architects de Blacam and Meagher. The resulting design allows the house to seamlessly integrate with the natural topography of the Dublin coastline. The house itself has been built to take full advantage of the spectacular, elevated position. Set on two levels, there is a wonderful balance between the reception areas, the five bedroom suites, and the manicured one-acre gardens.
Waterfront Haven
Ipswich, Massachusetts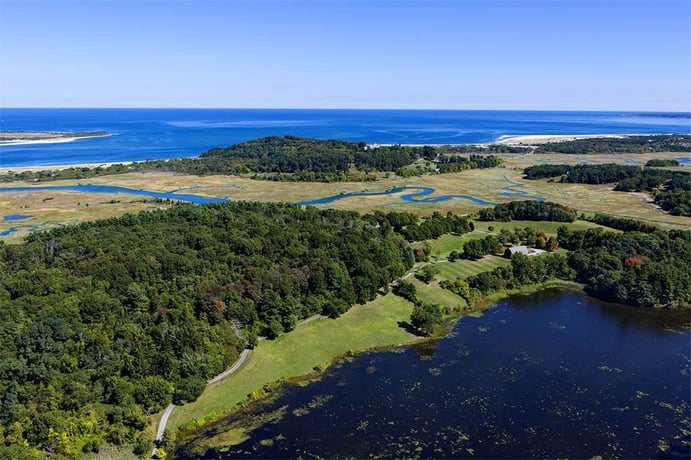 This rare 284-acre estate has a prized location in the seaside town of Ipswich, in Essex County, Massachusetts. The property is on a prominent coastal drumlin, or ridge, with 2.15 miles of tidal frontage on Fox Creek and Treadwell Island Creek and roughly 1,400 feet of freshwater frontage on Rantoul Pond. The landscape unfurls across 113 acres of open meadows, lawns, and woodland, and approximately 170 acres of marshland. The main residence is an elegant brick mansion, which sits on a hill overlooking rolling lawns and a panoramic vista of the Essex River Basin, Choate Island, Castle Hill, Crane Beach, Wingaersheek Beach, and the open Atlantic. The ancillary buildings include a circa-1860 Colonial-style caretaker's house and a 3,000-square-foot bow-roofed barn.
Dionis
Nantucket, Massachusetts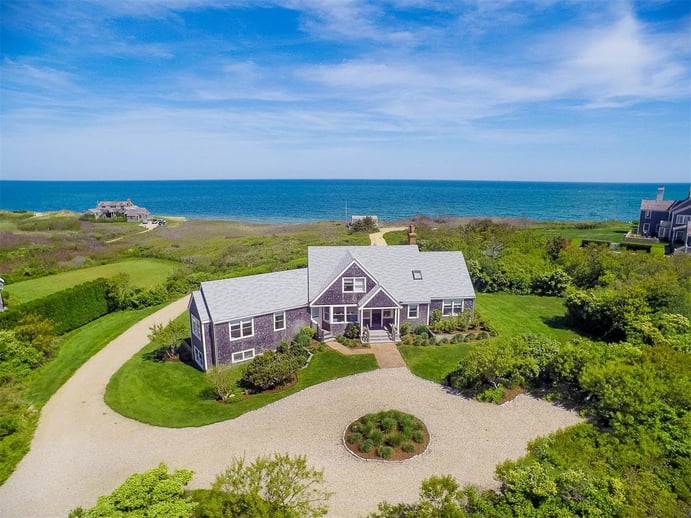 Dionis, its shingles silvered by the sea, is a four-bedroom, four-bathroom home with vast ocean views and a bath house overlooking Dionis Beach and Nantucket Sound. The welcoming foyer opens to the sitting room and dining area, with a fireplace, a comfortable deck and sweeping views of the Sound. Beyond the sitting room, a wood-paneled study offers its own fireplace and sea views. The modern kitchen opens to the dining area. Just off the foyer are two en suite bedrooms. Upstairs is a large open living space with a sleeping area as well as a study, a bedroom/playroom, and two bathrooms. Adding to the allure of this beachfront retreat is a bath house with a day room, kitchen, eight changing rooms, an outdoor shower, and a wraparound deck.
Contemporary Hideaway
Solana Beach, California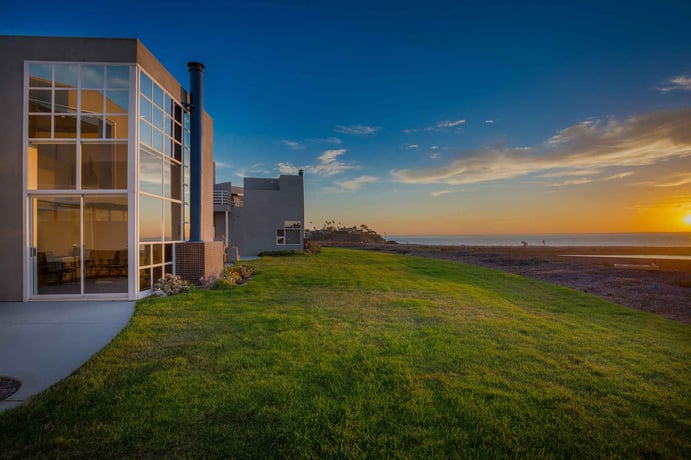 Breathtaking panoramic ocean views radiate from this private, perfectly sited 2,213-square-foot condominium at the north end of Solana Beach in San Diego County, California. Protected natural open areas to the north and west allow for uninterrupted views of the surf and sunsets. Inside, the three-bedroom, two full and one half bathroom residence has been remodeled with a contemporary aesthetic and features hard maple and travertine marble flooring; a designer kitchen with granite countertops, a five burner gas oven; and an open-plan living area with a fireplace and floor-to-ceiling windows facing the beach.
Beachfront Sanctuary
Montauk, New York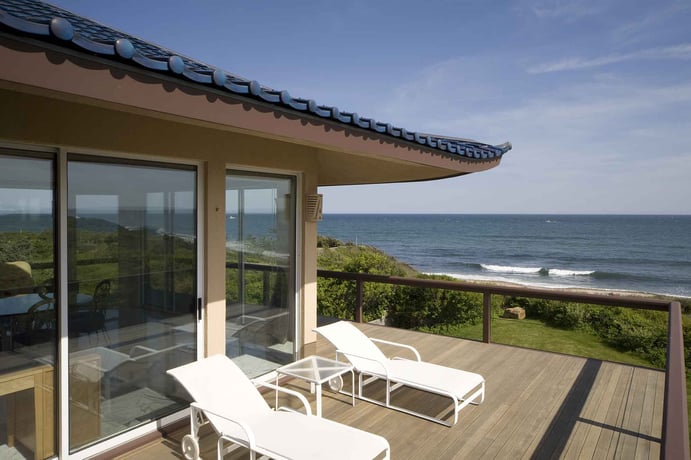 Set high on a bluff overlooking the Atlantic Ocean, this 36-acre waterfront sanctuary in Montauk commands the most private setting in the Hamptons. A gated driveway meanders through a private nature reserve to the incredible 7,000-square-foot, three-level residence. The vision of architect Frank Hollenbeck, this unique modernist retreat was inspired by a Chinese teahouse, right down to its blue-tile, pagoda-style roof. There are five bedrooms, four bathrooms, a home theater, elevator, 15-zone radiant heat, six central air zones with a dehumidification system, an automatic generator, and most significantly, steel reinforcement to withstand 150 mph winds. The property includes two naturally formed jetties and a two-acre pond, surrounded by lush gardens and scenic pastures.