A revolutionary home built to optimize space and light, Cherry Hill is a shining example of the interwar modernist movement. Recently the location for a stunning dance film starring French-American actress and model Camille Rowe, made by British choreographer and director Holly Blakey in collaboration with Christie's, the precision and passion involved in its renovation is clearly evident.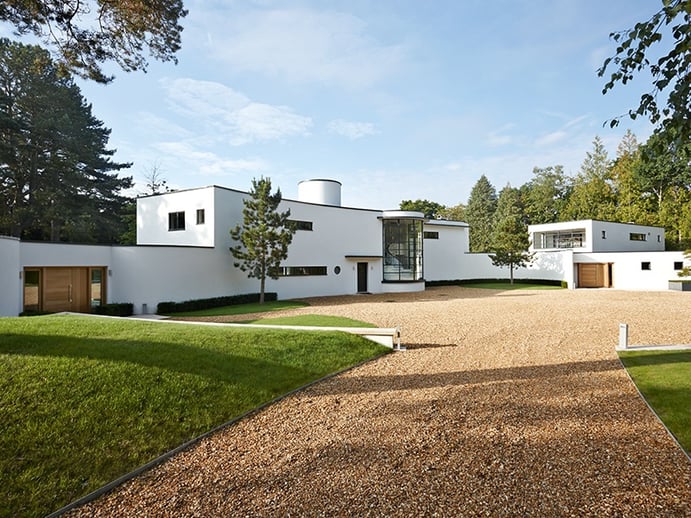 The Grade II-listed property, at the heart of the prestigious Wentworth Estate, an hour's drive southwest of central London in Virginia Water, Surrey, was enlarged in 2016, with 21st-century amenities added to help make it truly outstanding. Systems and interiors all work together, with functional elements hidden under the surface.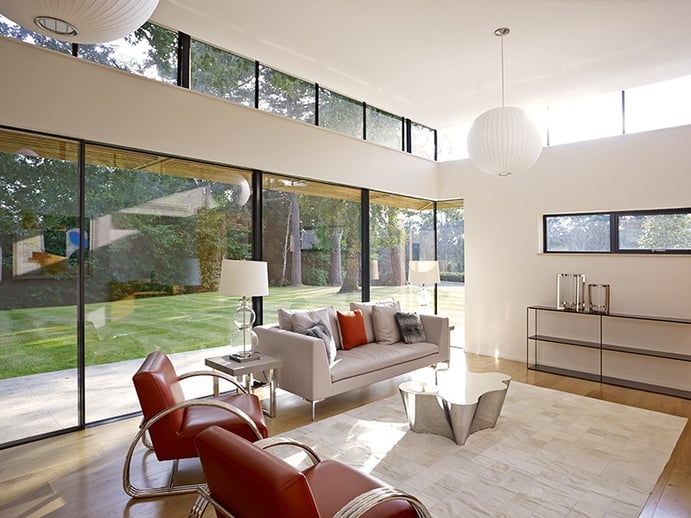 As one sweeps up the drive, an eye-catching cylindrical window the height of the building greets you, a staircase spiraling up inside. Once indoors, your gaze is drawn through the opposite windows, across four and a half acres of gardens.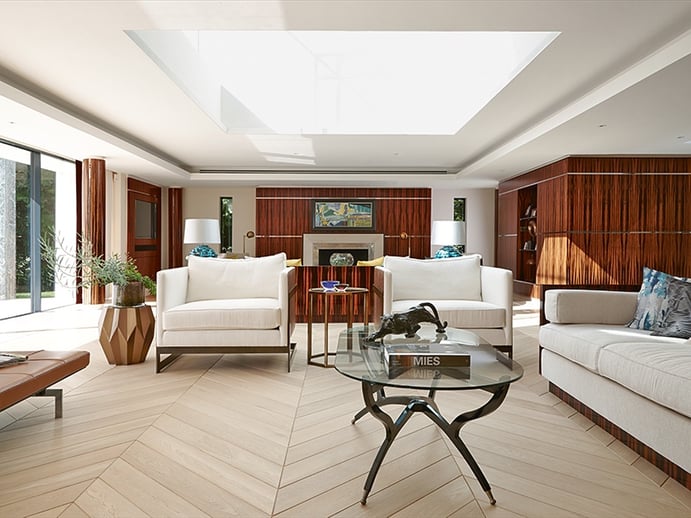 "The aspect is fabulous. Its position, next to the exclusive Wentworth Club golf course, is the best on the estate," says James Mackenzie of Strutt & Parker, the exclusive UK affiliate of Christie's International Real Estate, which is marketing Cherry Hill.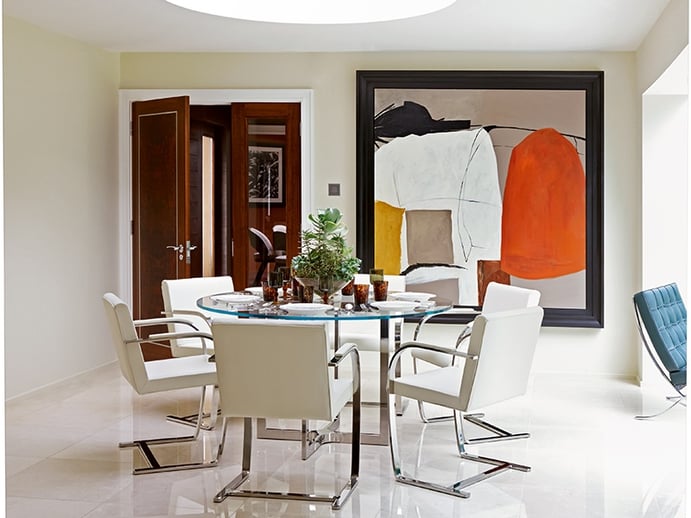 First completed in 1935, the original home was designed by Oliver Falvey Hill, the architect of the acclaimed Midland hotel in Lancashire, in the north of England—and who was inspired by Ludwig Mies van der Rohe.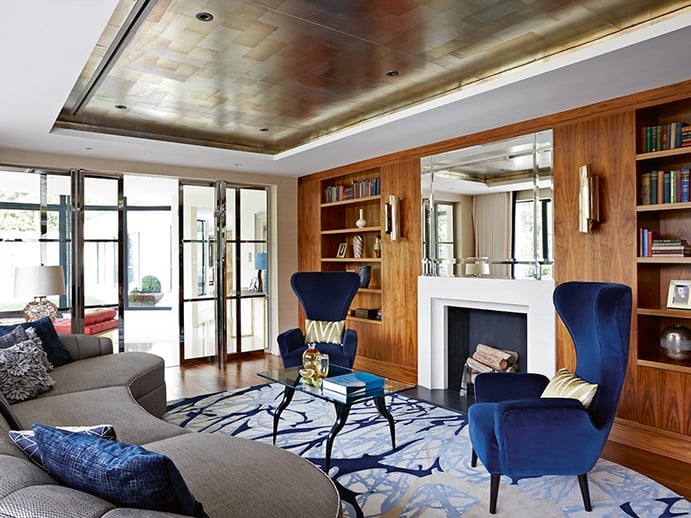 To ensure the interior details of the renovated home were perfectly in step with the geometry of the building, architects suggested looking to the Man Booker Prize-nominated novel The Glass Room by Simon Mawer. The book is based on a real house, Villa Tugendhat, a rectilinear structure of concrete, steel, and glass in the Czech Republic designed by Mies van der Rohe.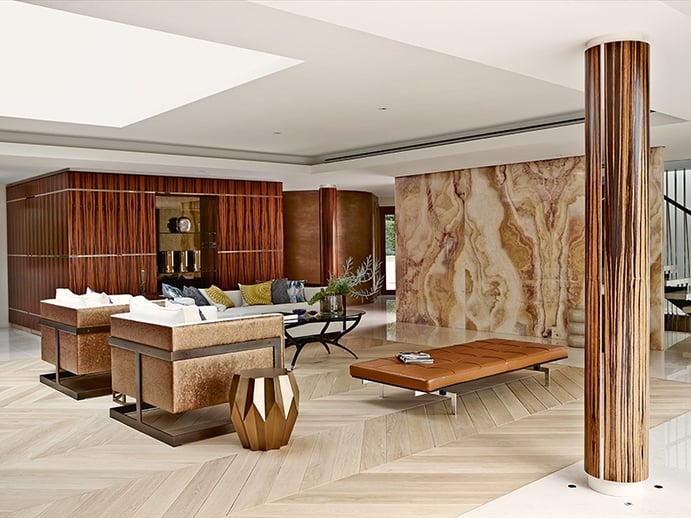 It's about the power of place, as ethereal as the effect of sunlight on the golden wall of onyx around which its characters dance. Trained as a stonemason, Mies van der Rohe personally sought out the onyx in the Atlas Mountains, supervising the cutting and finishing himself.
For Cherry Hill, mottled caramel onyx walls, green Tinos marble partitions and a glass-enclosed central spiral staircase echo the work of Hill and Mies van der Rohe. To the west of the main house, a new three-level wing has been built, housing the grand living room—with the onyx wall as a luminous room divider—two guest bedrooms, a spa, and a dramatic underground swimming pool with descending floor.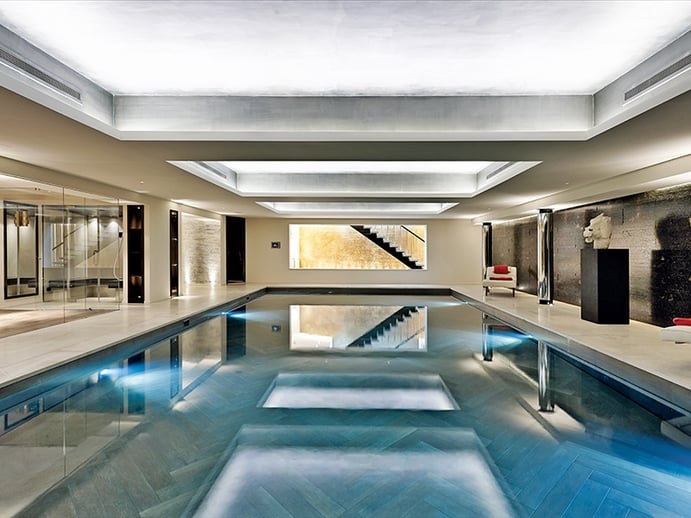 Yet this home isn't just about what you see on the surface; it's equally sophisticated underneath. The final result is, says Mackenzie, "quite unlike anything you'll find elsewhere. It's a masterpiece to suit a connoisseur of the period." The house tells its own story. "You can buy luxury things," says Bath, "but to find something with a storied heritage… that's much rarer."