In an area so rarefied, where vast luxurious residences nestle secluded in the hills of Rancho Santa Fe, and a perfect balance of indoor-outdoor living is envied, Del Dios Ranch, a sprawling 210-acre estate, manages to stand apart.
From the beginning, Del Dios Ranch was destined to be different. In 1969, a local family bought 50 acres in the exclusive Covenant of Rancho Santa Fe and set about building their dream home. Eschewing the typical Spanish stucco Southern Californian style of the region, they hired Laguna Beach-based Fred Briggs. A West Coast pioneer of modernist architecture, Briggs was given free rein. "It's every architect's dream," Briggs recalled. "I went in and expressed myself in redwood and poured-in concrete." Other emblems of the property's modernist provenance abound. The sublime stones that make up the surrounding walls are original to the property and region, and New Orleans-made glass figures in floor- to-ceiling windows and skylights that let light pour in.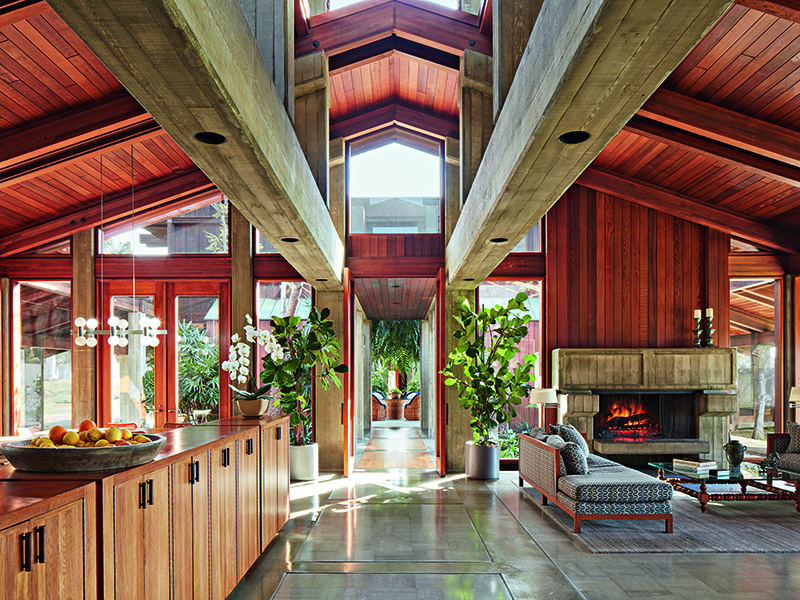 The redwood for the house was hand-selected and taken south from its roots in northern California. All interior cabinetry was made from wood milled on site. "Redwood is so uncommon here," says Linda Sansone, who, along with Linda Daniels, is listing agent for Willis Allen Real Estate, an affiliate of Christie's International Real Estate. "That and the poured concrete are what make Del Dios Ranch such a unique residence. For such a magnificent stately home, it is also incredibly private, unseen from the roadside," adds Daniels.
The house, at the end of a winding road, was completed in 1972, its interior lovingly created by a maestro of mid-century-modern style Arthur Elrod, most famous for his Palm Springs home. Its timeless, classic design means today Del Dios Ranch remains a grand, contemporary dwelling.
For such a magnificent stately home, it is also incredibly private, unseen from the roadside
Marble floors that run throughout took six months to lay – entirely without grout. The formidable vaulted ceiling of the living room lends a sense of the divine, abetted by the splendidly soaring floor-to-ceiling fireplace of custom-made rare white bronze. There are three en suite bedrooms on a first-floor wing, and at the top of the grand spiraling staircase the master suite boasts views over the manicured grounds and the mountains and countryside beyond.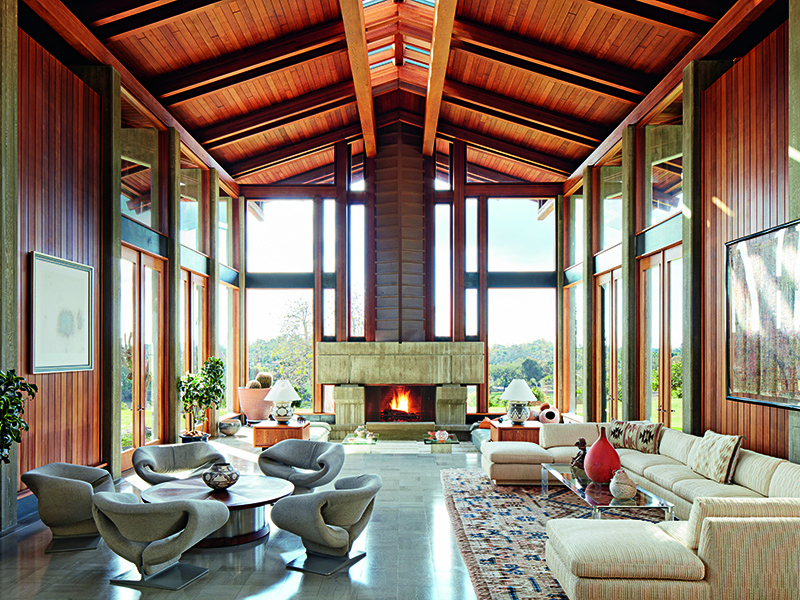 An adjoining pavilion houses a jaw-dropping 3,900-plus square-foot pool and spa. A personal tropical paradise with arched skylights, it is hung with exotic ferns, and has a bar at one end. There is a 6,080-square-foot office and, 100 yards from the main entrance, a guesthouse allows visitors freedom.
Del Dios Ranch was built for sharing. "It's a phenomenal structure," says Zackary Wright, a Senior Vice President at Christie's International Real Estate. "It's perfect for entertaining – I've even known the pool area to be configured so that an orchestra can play there."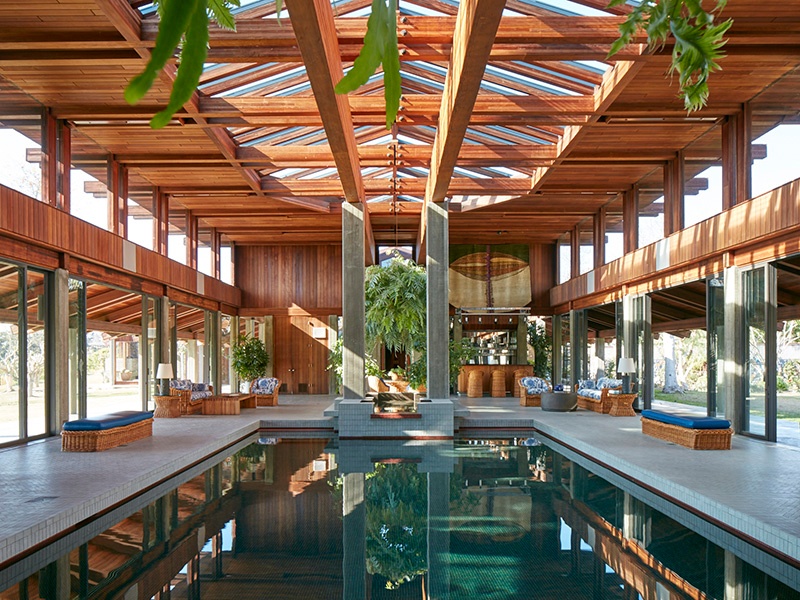 There is space aplenty for socializing and soirées, parties, and proms – and then there is outdoors. Rancho Santa Fe, just 30 miles north of downtown San Diego, is a haven for fans of outdoor pursuits. Residents of the Covenant, a historic area formed in the 1920s to preserve the character and landscape of the community, have automatic membership to the elite Rancho Santa Fe Golf Club. But it is equestrian lovers in particular who see the area as paradise, with 40-50 miles of horse trails. Once home to prize-winning Thoroughbred Super Diamond, the estate now boasts a six-stall stable, corrals, pastures, and grounds for daily canters.
The original owners gradually bought up pockets of land – 160 acres of it, around their initial 50 – to make up today's breathtaking estate, complete with tennis court, cypress trees, lake, and hiking and trekking paths. The grounds have hosted lavish parties and events, and so rich and varied is the landscape that Hollywood has come calling, finding it a perfect movie set. There are many acres of organic lemon orchards and a great expanse of undeveloped land, which, says Wright, "adds great value."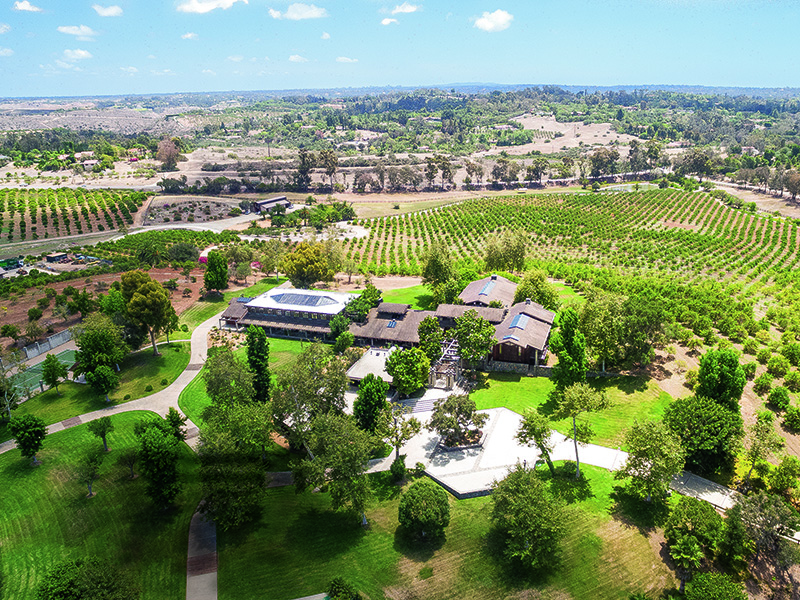 Should you wish to leave the idyll of Del Dios Ranch, its position in the Covenant is as showstopping as the estate itself. Just minutes away is the village, Rancho Santa Fe's community hub. A pedestrianized crisscross of streets lined with boutique shops and restaurants, a bimonthly village market, and celebrated inn built in the 1920s. In terms of having it all, Del Dios Ranch has it pretty much covered. It's private and discreet, stunning, elegant, and classic. It's striking, at its best when filled with people and a pivot for enjoying the great outdoors.