There's no place like home for the holidays, when those welcome hordes of relatives and friends descend upon the family household, where merrymaking—and logistical chaos—ensue. Here we present an alternative to that "relative" chaos with this collection of epically proportioned homes. Spanning from 15,000 to 56,000 square feet, these are no ordinary houses: among this box of delights is the inimitable L.A. manor house built for TV mogul Aaron Spelling; a fairytale French château (complete with a moat); the ultimate New England family compound, with its own helipad, amphitheater, and dock; and a stately villa to waltz in the famous Viennese New Year Ball. All have exquisite décor, five-star amenities, dedicated entertaining areas, and—most importantly—ample accommodations for family and friends. Happy Holidays!
The Manor (56,000 square feet)
Holmby Hills, California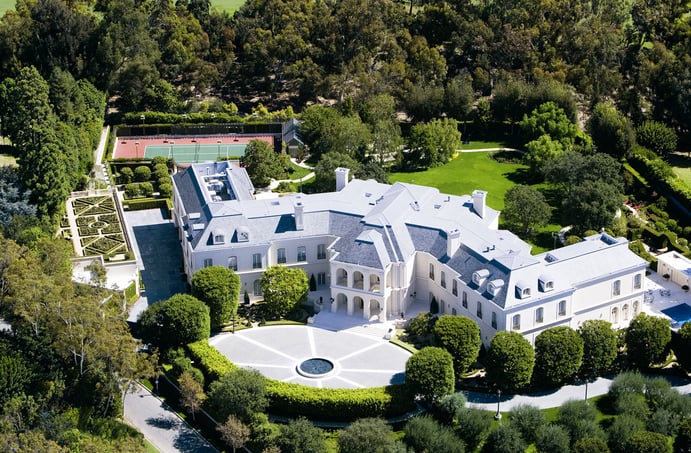 The Manor is the largest and grandest private residence in Los Angeles and one of the most luxurious homes in the world. Perched atop approximately five acres of exquisitely landscaped land in prestigious Holmby Hills in Los Angeles' Platinum Triangle, the elegance and grandeur of this world-famous estate put it in a category of luxury all on its own. The French château-style residence was built by entertainment royalty Candy and Aaron Spelling. Originally designed by architects James Langenheim & Associates in 1988, the main residence's most recent renovations took place in 2011, and the current owner spared no expense to update the estate to a contemporary style.
Longview (Two residences: 38,196 square feet & 24,833 square feet)
Alton, New Hampshire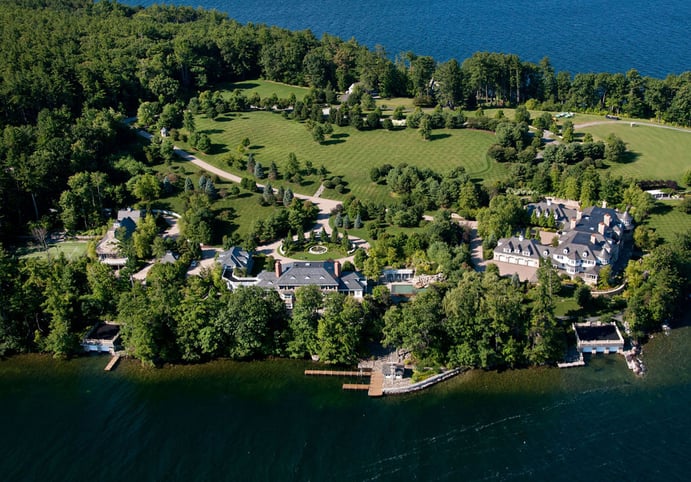 The most significant offering ever to come to market in New Hampshire, Longview is aptly named for its views down the length of Lake Winnipesaukee. This world-class estate is sited at the tip of Clay Point in Alton and comprises three lots totaling nearly 17 acres with 1,594 feet of lake frontage. Built from 2000 to 2004, Longview is indeed impressive. It has two stately colonial-style residences which together span 63,000 square feet, with 12 bedrooms and 26 bathrooms, as well as a 7,655-square-foot post-and-beam entertainment barn, and a picturesque tea house overlooking the lake. The gated entrance opens to a long drive that meanders through nearly six acres of formal gardens. The recreational amenities are equally alluring: a lakeside amphitheater and studio, two stone boathouses, multiple docks, an infinity pool with a grotto, a tennis court, and a helipad.
Renaissance Château (19,375 square feet)
Cognac, France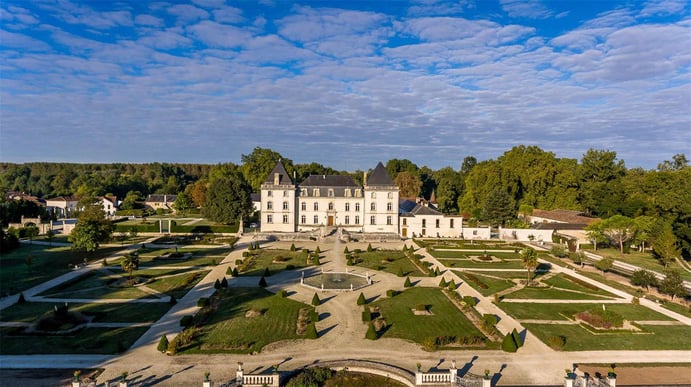 Dating from the Middle Ages, this enchanting Renaissance château is set within 104 private acres amid the pastoral landscape of Cognac, just a few miles from the Atlantic seaport of La Rochelle. Reminiscent of a fairytale castle, the entrance is formed by a resplendent tree-lined driveway crossing over an ancient moat. This one-of-a-kind property has been restored and refurbished with high-end fittings, a heating system, double glazing, and excellent insulation, yet has retained its romantic, historical character. Sunlit and spacious reception rooms with 12-foot-high ceilings, original stone floors, and fireplaces form the heart of the main residence. There is extensive space for further development, both in the main château and in the ancillary structures that grace the estate. The grounds encompass neoclassical gardens enhanced with exquisite water features, bordered by meadows, woodland, and crystal-clear rivers for world-class hunting and fishing.
Stillness Manor (17,760 square feet)
Cape Town, South Africa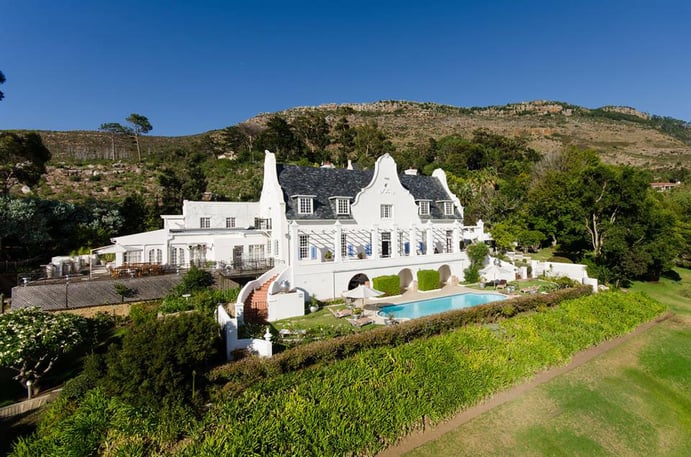 Stillness Manor is a private four-acre compound in Cape Town's breathtaking Constantia Valley wine region. The centerpiece of the estate is a colonial Cape Dutch manor house, which is complemented by an array of rare amenities: a conference facility and a wellness center with an indoor and outdoor swimming pool, sauna and steam room, treatment rooms, and a gym. The manor house can comfortably accommodate up to 20 overnight guests. In addition to 14 bedrooms and 14 bathrooms are grand reception rooms, an expansive entertaining terrace, a professional kitchen, and an organic vegetable garden. Bordered by the exclusive Steenberg Estate, renowned for its world-class vineyard, five-star hotel, and golf club, this private and secure property enjoys a memorable setting in the foothills of the Constantiaberg Mountains with sweeping views over the valley and forest towards False Bay.
Stately Villa (15,187 square feet)
Vienna, Austria
This regal mansion is located in the prestigious 13th district of Vienna—the perfect place to gather friends and family prior to waltzing at the city's famous New Year's Eve Ball at the Hofburg Palace. This notable estate was built at the turn of the 20th century for a member of the Austrian nobility by the esteemed Austrian architect Ernst von Gotthilf. In recent years, the property has been sensitively restored and today provides 15,187 interior square feet with eight bedrooms and eight full bathrooms, formal reception rooms, two dining rooms, a vaulted wine cellar, and garage. Among the luxurious modern touches are remote-access home automation, a contemporary kitchen with walk-in refrigerator, a gym, and an infrared-steam sauna. The villa has a wealth of outdoor entertaining areas, including a balcony, ground-floor terrace, and parklike gardens graced with a 200-year-old copper beech tree.
Eagles Rest (15,000 square feet)
Bigfork, Montana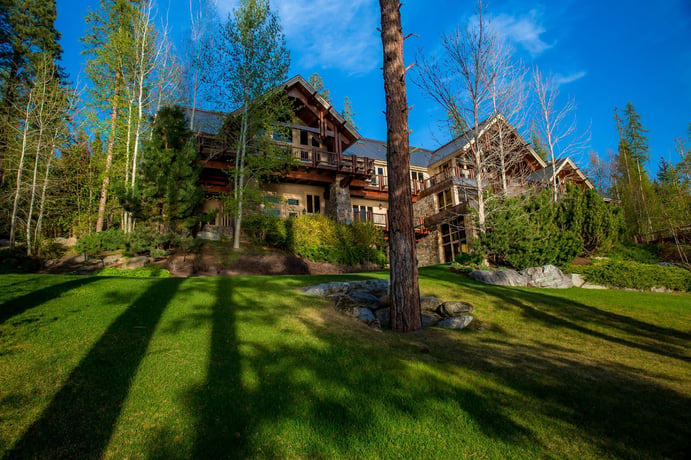 One of the most luxurious private homes in the state of Montana, Eagles Rest is as majestic as its name suggests. This extraordinary lodge-style home is idyllically positioned on nearly 27 pristine acres on the shores of Flathead Lake in the Flathead National Forest, bordering Glacier National Park. Gated, private, and secure, this ultra-luxurious 15,000-square-foot home was designed for the most discerning homebuyer. There are five bedroom suites, four full and three half bathrooms, and recreational options aplenty for family and friends during the holiday season and beyond. Inside is a library, game room, bar, wine cellar, theater, gym, and beautiful indoor pool overlooking the lake. Outside are wooded, landscaped grounds enhanced with a patio, deck, and covered boat dock.
La Maison de Rêves (15,000 square feet)
Saddle River, New Jersey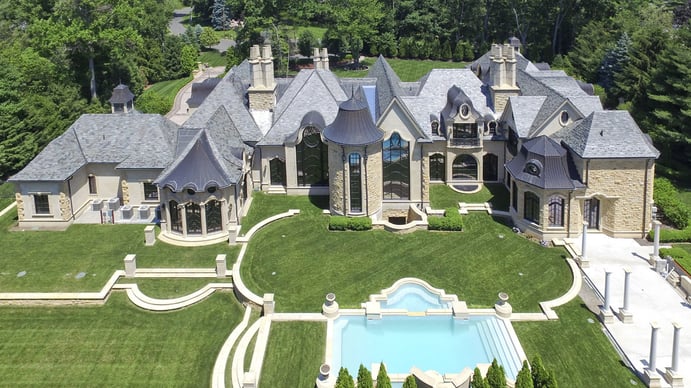 Defined by architectural elegance and artisan craftsmanship, La Maison de Rêves is an homage to the great châteaux of France. A long driveway leading to a private motor court creates a memorable impression upon arrival. The grand foyer transitions into a two-story rotunda, adorned with a coffered ceiling, Versailles-paneled walls, and a sweeping grand staircase. A groin-vaulted colonnade connects the great room to the dining room, served by a chef's kitchen with professional-grade appliances and butler's pantry. Overnight guests have a choice of five luxurious bedroom suites overlooking the grounds. The separate master wing boasts a hand-carved Louis XVI marble fireplace, vaulted spa bathroom, and morning bar. Other stellar features include a 30-seat screening room, wine cellar and tasting bar, fitness room and sauna, and elevator. The formal grounds are ideal for summer events with a full outdoor kitchen, pergola, and a spectacular, three-tiered pool with in-water seating.