Soaring above the trees on a 1,696-foot promontory, the St Lawrence Estate is quite a departure from the traditional Canadian ski chalet in Quebec's Charlevoix region. Inspired by tall ships and a love of sailing, it's a dream come true for its creator. "We knew it would become our signature project, our calling card," says architect Olivier Bourgeois of Bourgeois/Lechasseur, the local firm that got its start in 2014 with this commission. "The owner is a well-known builder in the region and this was his dream house, so we were able to push the limits in terms of concept and style. He wanted something dramatic, something different."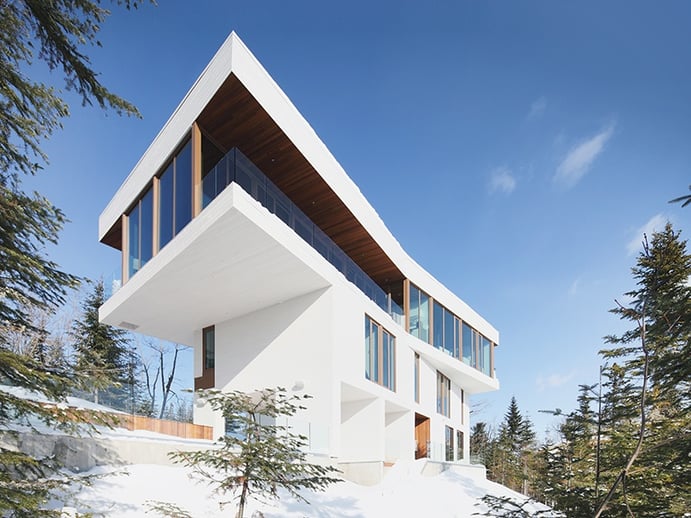 Bourgeois/Lechasseur delivered, winning a Nobilis prize from the Association Provinciale des Constructeurs d'Habitations du Québec and a nod in Architectural Digest along the way. Its contemporary, three-story chalet is an homage to tall ships and sailing, with panoramic views of the mighty St Lawrence River, dotted with boats and whale watchers. There's a 12-foot bridge, or nautical passerelle, leading to the front door, and the exterior pine walls are painted in the palest shade of gray to recall white sails on a ship.
"Standing in the living room, you feel like you're sailing the St Lawrence­—and that's what I wanted," says owner Marc Turgeon, a sailor and residential contractor who hand-picked his crew to build the home. "I had one rule for this construction: no compromises."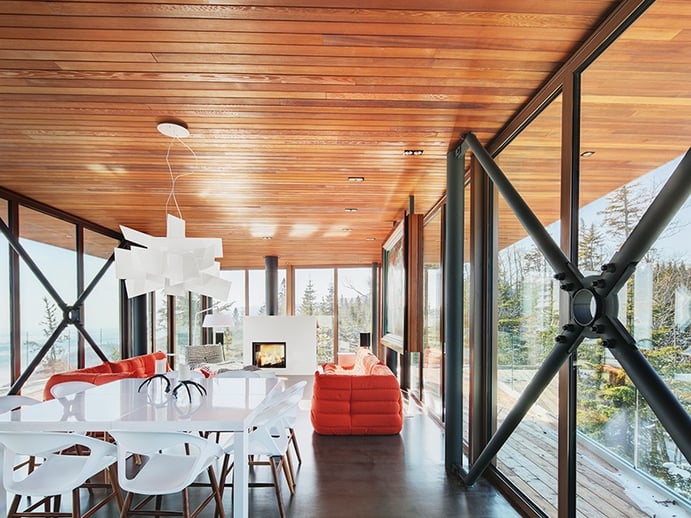 Facing south on nearly two acres of pine forest, and spanning 4,059 square feet, the estate has a dignified luxury associated with Scandinavian modernism. It's minimal, but warm, with red cedar accents on the walls, stairs, and ceilings. There's the occasional industrial touch, too—exposed black "X" braces to support the cantilevering and resist wind.
One standout feature of the property is the open-concept kitchen, living room, and dining room on the top floor, which has nine-foot ceilings and floor-to-ceiling windows. "It's a great space for quiet contemplation as well as holiday entertaining," notes Guillaume L'Ecuyer, a broker at Profusion Realty Inc., an affiliate of Christie's International Real Estate.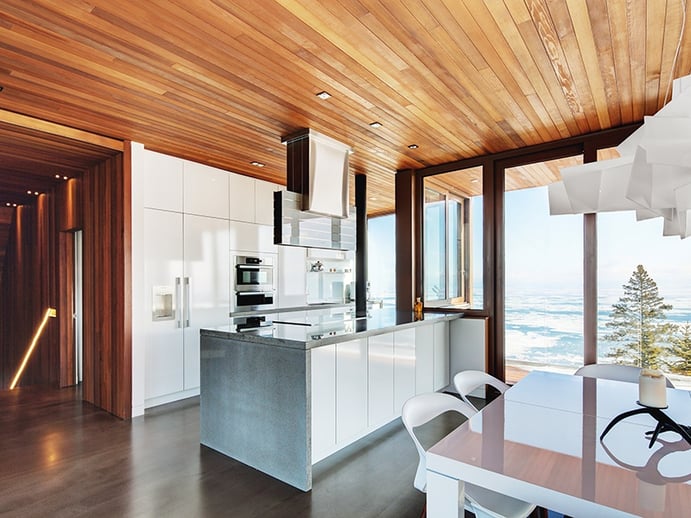 Indeed, guests can mingle around the freestanding fireplace or watch skiers and snowboarders on the nearby slopes of Le Massif resort, while lounging on designer sofas from Ligne Roset. The room also has a custom system designed to exhibit and light works of art. A large-scale canvas hanging in the main salon can be easily replaced by a television, should you ever tire of the view.
The St Lawrence Estate's kitchen is fittingly sleek, with white cupboards and two wall-mounted ovens, as well as a discreet Sub-Zero fridge freezer. There's also a cook top in the concrete island, which, ingeniously, Bourgeois extended out onto the balcony, adding a pass-through window to make indoor–outdoor entertaining a breeze. The 10-foot concrete counter also acts as a bar and serving area.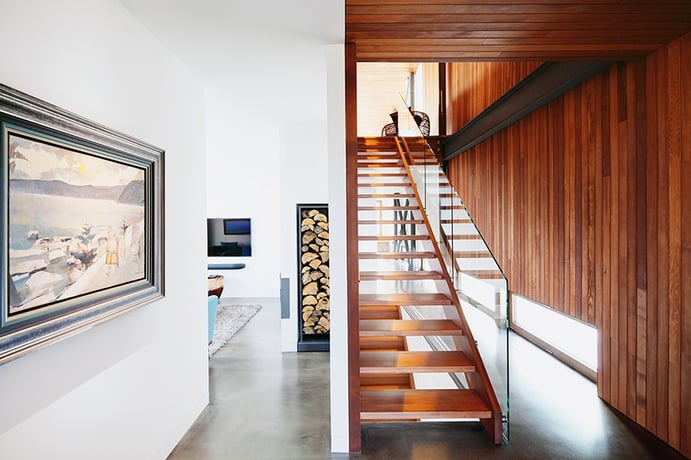 Behind the kitchen is the spacious master bedroom and walk-in closet. The open-concept en suite has an independent glass shower and tub. While taking a soak, bathers can look out over the treetops and see ice floating down the river—with heated concrete floors in the master bedroom, and throughout the house, however, getting out of the tub isn't an act of courage.
Two additional bedrooms—perfect for teens, guests, or grandparents—can be found on the main entrance floor, along with a second bath, laundry facilities, a television area, and a fireplace. Providing every possible convenience, Bourgeois put a home office, gym, and wine cellar on the lowest level, which opens out to the grounds and pool.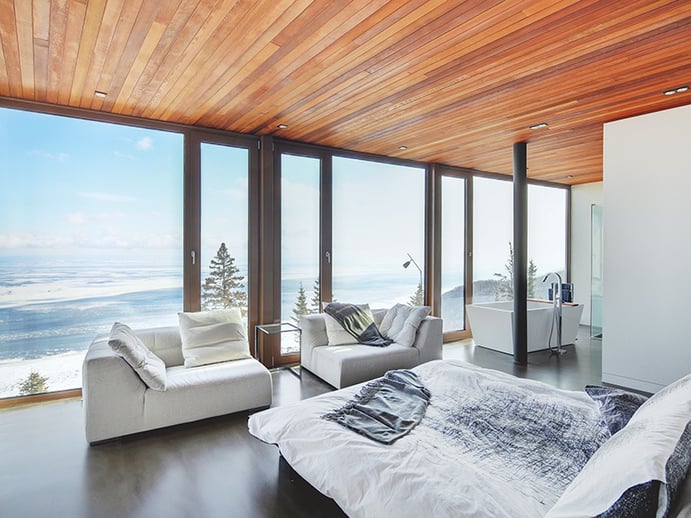 Tree cover on the surrounding acreage is thick, and 984 feet of the famous Trans Canada Trail, now known as The Great Trail, passes through the grounds, further adding to the unspoiled charm of the estate. Owners have direct access to this network of hiking, biking, cross-country skiing, and snowshoeing trails spanning the country. It's not uncommon to spot deer and rabbits in the yard, on their way down to the river for a drink.
"The property is quiet and secluded, by design, but it isn't isolated," says L'Ecuyer, a fan of the Charlevoix region's many attractions.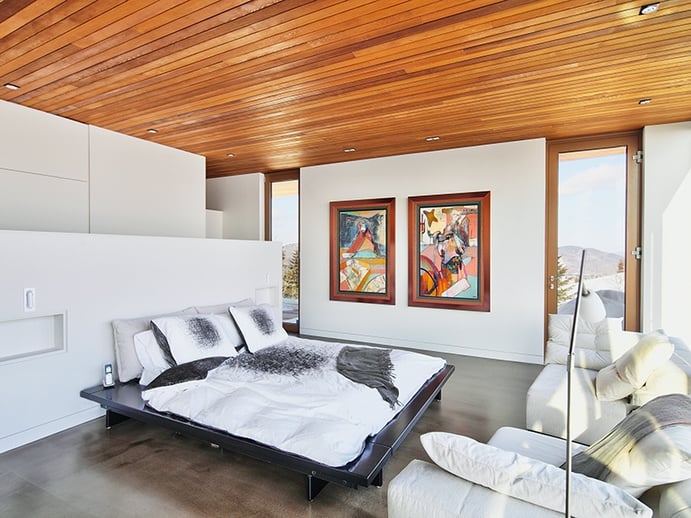 Just 15 minutes east is the quaint city of Baie-Saint-Paul. This charming enclave is known for its concentration of artists, art galleries, microbreweries, and dairies. Visitors come for the tomato wine and stock up on packages of Le Migneron de Charlevoix artisanal cheese and other local produce.
Above all, there's the lure of the ski hills. Le Massif and Mont-Sainte-Anne are nearby, offering two very different alpine experiences. Le Massif is a "best-kept secret" just 15 minutes away, while Mont-Sainte-Anne is a thriving ski hub 45 minutes down the road. And after a day on the slopes, there's nothing like coming home to a country retreat that raises the bar for chalet chic.