Each July, baseball fans enjoy watching top players from the American and National Leagues compete against one another in the Major League Baseball All-Star Game. For retired Atlanta Braves pitcher John Smoltz, an eight-time All-Star, the game likely brings back many fond memories. Smoltz, who was voted Most Valuable Player of the National League Championship Series in 1992, infused his love for the game of baseball into the 10-bedroom estate he built in Greystone, a gated community in Milton, Georgia. This impressive property reflects how much staying active means to Smoltz, who personally designed many of the home's spectacular athletic facilities—including its full-size baseball diamond. He now provides expert commentary and analysis for Major League Baseball broadcasts and was elected to the Baseball Hall of Fame in 2015.
A veteran of 21 seasons of Major League Baseball, Smoltz is revered as part of a trio of starting pitchers (that includes Greg Maddux and Tom Glavine) who helped the Atlanta Braves dominate the National League in the 1990s and win the 1995 World Series. Smoltz retired from the Braves in 2008 and played a final season with the St. Louis Cardinals and the Boston Red Sox. Though he no longer plays professionally, Smoltz remains engaged in the world of baseball, and the athletic facilities he built for his Georgia home have often been the sites of practice games and workouts. For a serious athlete (or a serious fan), this expansive estate that sits on 19 acres in a secluded area of Milton about 30 miles north of Atlanta, is a dream come true.
Like Smoltz's baseball stats, the house is larger than life, from its eight-car garage to the floor-to-ceiling stone fireplace in the living room. An elegant stone driveway leads to the entrance, which is protected from the elements by a porte cochere.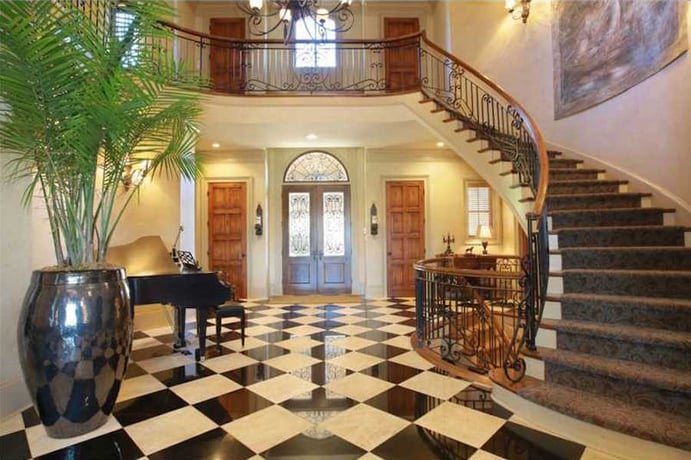 The focal point of the entryway, a grand spiral staircase leads to the second floor. Hand-carved wood and decorative elements like coffered ceilings and wainscoting give the interior a look that's at once cozy and luxurious.
In addition to the home's 10 bedrooms, there is an au pair suite, a separate studio apartment ideal for staff quarters, and an inviting gourmet kitchen with plenty of room for entertaining. An impressive wood-paneled office as well as a screening room, indoor fitness center, and full bar offer varied options for entertaining and relaxing.
And while the interior is quite impressive, the grounds could fairly be called a work of art. The exterior is clad in traditional red brick, and though the grounds are extensively landscaped, clusters of mature trees provide seclusion and greenery.
The regulation-size baseball diamond boasts custom turf designed to withstand the wear and tear of both players and the elements. The grounds also include a full-size basketball court plus a field for soccer or football matches, a tennis court, a walking or running trail, and a stocked pond. Golfers will delight in the estate's custom course, which boasts a synthetic putting green, two synthetic golf greens, and nine tee boxes, offering players a total of 18 challenging shots.
HGTV's Million Dollar Homes interviews John Smoltz and tours the grounds and the interior of his spectacular estate: