June marks the sesquicentennial of the birth of Frank Lloyd Wright, arguably America's, if not the world's, most celebrated modernist architect, who was as equally adept at designing public buildings and residences as he was the furnishings and interiors that distinguished them. It is a rare occasion indeed when a Wright-designed home comes on the market, and while Christie's International Real Estate Affiliates have been privileged to offer Wright-designed properties for sale in recent years, today we must find inspiration in those residences that, while not designed by Wright himself, were distinctly influenced by him. Happy 150th, FLW!
Natural Harmony in the Garden State
Princeton, New Jersey
One of Wright's hallmarks was to harmonize his buildings with their natural surroundings, and La Maison de Verre, in Princeton, New Jersey, is an exemplar of this practice and directly linked to Wright in another way: one of its architects had been chosen by him to oversee construction of Manhattan's Guggenheim Museum. The home has been modernized and expanded, while sensitively preserving its original architecture, and Wright motifs can be found throughout the airy interior, including four original copper-and-glass ceiling fixtures designed by Wright himself as well as some of the master architect's trademark stained-glass panels. If that were not enough, this splendid residence of more than 10,000 square feet (thanks to a tasteful expansion) exhibits such additional Wrightian details as earth-toned colors in its brickwork, natural lighting, and enclosed gardens that foster privacy yet intimacy with nature.
Pacific Northwest Symmetry
Lake Oswego, Oregon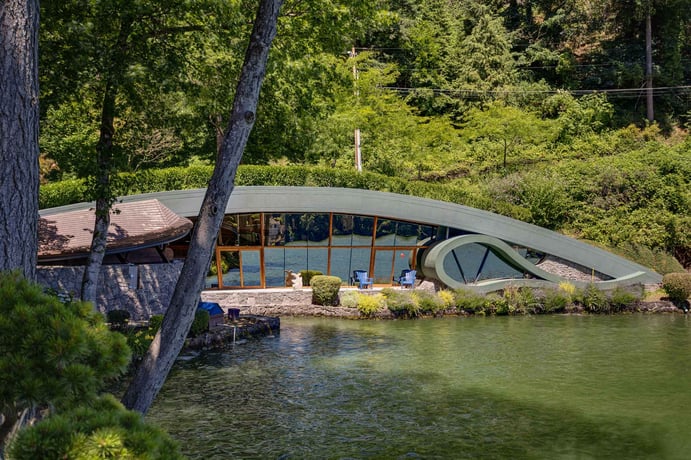 Other Wright hallmarks are his geometric designs and his appreciation for the Japanese aesthetic. In Lake Oswego, Oregon, stands a house nestled lakeside that clearly pays homage to the Arts-and-Crafts aspect of the architect's style. Here, interiors are livened by rectangular forms, upswept pagodalike roofing, and masterful stained-glass effects that are clearly indebted to Wright. The home's stunning lake frontage displays its subtle, wavelike form that seems to take its cue from the water itself.
Low Country Linearity
Utrecht, The Netherlands
In many of his homes that characterize his Prairie Style, Wright liked to employ low, linear ceilinged rooms to contract with vaulted ceilings in adjacent areas. This stunning Wright-inspired lakeside residence not far from Amsterdam is noted for its comfortable family room with tall monumental ceilings that contrast with adjacent areas and their low-pitched roofs. It also exemplifies the architect's penchant for employing robust natural materials in construction—in this case slate and zinc for the roofs and eaves.
Sunshine State Streamline
Fort Lauderdale, Florida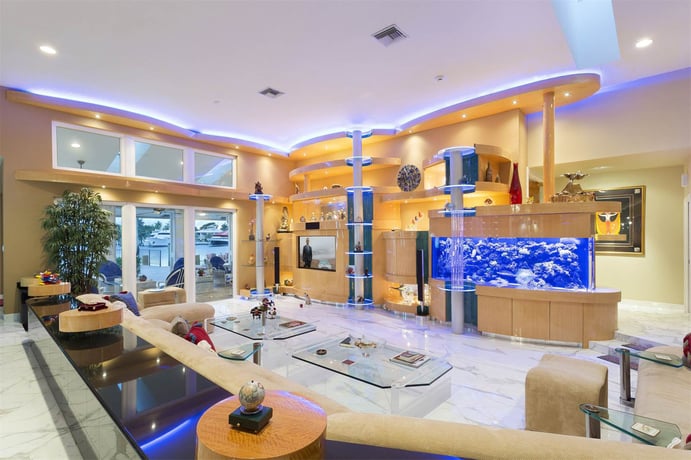 Wright's designs were not always linear and rectangular—some of his signature projects such as the Guggenheim Museum and the Johnson Wax building are curvilinear masterpieces, and this Fort Lauderdale home, while perhaps not Wrightian on the outside, is a joy to behold on the inside. Luminous rooms gleam with curved surfaces and furnishings that organically blend with their host enclosures. Elsewhere, in contrast, cubist forms take shape where least expected, and, as always, the outdoors is welcomed inside.
Yankee Style
Essex, Connecticut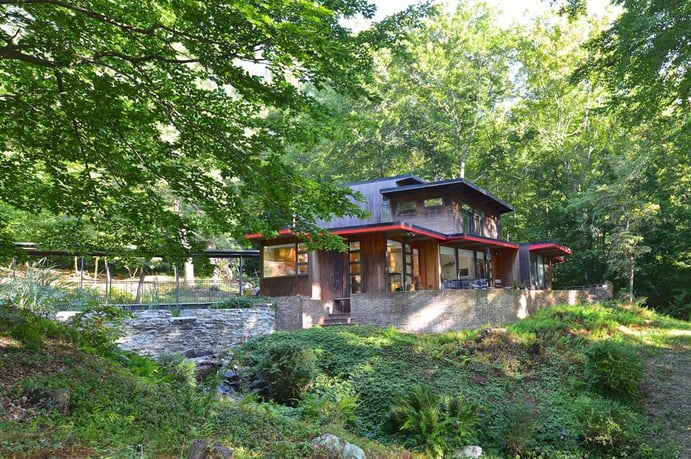 Fallingwater, in rural Pennsylvania, is another iconic Wright project that famously straddles and incorporates the adjacent stream, Mill Run. This home in Essex, Connecticut clearly drew inspiration from the famed residence as it also incorporates a streamside waterfall into its landscape plan and revels in the low-key, linear stylings that are emblematic of many Wright projects. This home, couched as it is amid luxurious woods, is a celebration of Wright's fondness for private sanctums that embrace the surrounding natural world.
Central American Retreat
Guanacaste, Costa Rica
Perhaps farthest afield, in a place where one might least expect a Frank Lloyd Wright homage, is a stunning residence in Guanacaste, Costa Rica, that also draws inspiration from the renowned Fallingwater. Again, this elegant home follows a linear pattern to create several subtle levels, embracing both its enclosed swimming pool and the dramatic Caribbean coastline as if in one bold flourish. The interiors here need not overwhelm, because they embrace and welcome in the spectacular surroundings that beckon just beyond.