June 8 marks the birth of Frank Lloyd Wright, arguably America's, if not the world's, most celebrated modernist architect, who was as equally adept at designing public buildings and residences as he was the furnishings and interiors that distinguished them. It is a rare occasion indeed when a Wright-designed home comes on the market, and while Christie's International Real Estate Affiliates have been privileged to offer Wright-designed properties for sale in recent years, today we can find inspiration in those residences that, while not designed by Wright himself, were distinctly influenced by him. Happy 151st, FLW!
Prairie-Inspired
Palos Verdes, California
This Californian contemporary home was inspired by Frank Lloyd Wright's iconic Prairie Style. The residence sits 20 feet above the street, affording complete privacy and Pacific Ocean views from all major rooms. The organic, open plan and abundant fenestration and glass doors flood the living spaces with light. The dining room features 25-foot ceilings with an Ingo Maurer chandelier and double doors opening onto the pool. The living room is appointed with a pair of Steinway grand pianos and a wet bar, and designer lighting. Other highlights include a recording studio and a great room, which opens to the rear garden with kitchen, fire pit, and lovely lawns.
Raven Stone
Ontario, Canada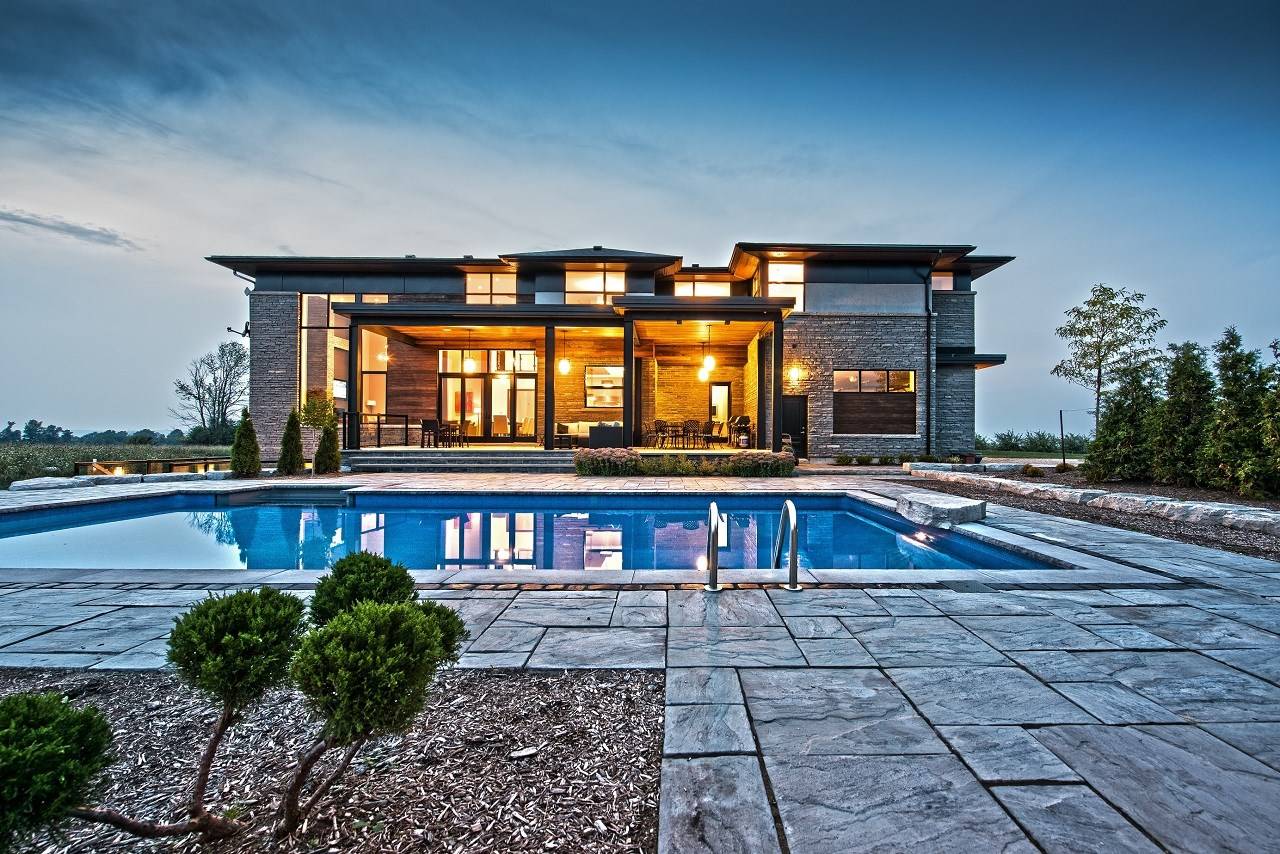 Defined by clean lines and dramatic angles inside and out, Raven Stone takes its cue from Wright's Prairie Style. Award-winning architect David Small designed the property in 2014 using natural materials which blend seamlessly with the surroundings, yet withstand the elements. The 5,000-square-foot interior provides fluid, light-filled living spaces across several levels. True to its influences, the six-bedroom residence features a 23-foot high entry foyer which draws the eye to massive floor-to-ceiling windows, which provide abundant natural light and views of the Blue Mountains and Georgian Bay. The residence is perfectly at one with its 36-acre setting, which benefits from an enviable location close to world-class outdoor recreation, including golf, skiing, and boating.
Desert Contemporary
Paradise Valley, Arizona
Vaulted, sky-lit ceilings, stone and copper details, marble and wood flooring, and a beautiful open design impart Wright's aesthetic to this five bedroom, six-and-a-half-bathroom contemporary home. Wright would have loved its bold lines, its ingenious use of stone, brick and wood, and its desert palette of cream, pale brown marble, and dark wood. Completely restored with a new certificate of occupancy in 2011, the home lends itself to resort-inspired living and grand-scale entertaining. Floor-to-ceiling doors allow a seamless transition from indoor to outdoor living, with expansive patios, water and fire features, and professional landscape design.
Low Country Linearity
Utrecht, The Netherlands
In many of his homes that characterize his Prairie Style, Wright liked to employ low, linear ceilinged rooms to contract with vaulted ceilings in adjacent areas. This stunning Wright-inspired lakeside residence not far from Amsterdam is noted for its comfortable family room with tall monumental ceilings that contrast with adjacent areas and their low-pitched roofs. It also exemplifies the architect's penchant for employing robust natural materials in construction—in this case slate and zinc for the roofs and eaves.
Central American Retreat
Guanacaste, Costa Rica
Perhaps farthest afield, in a place where one might least expect a Frank Lloyd Wright homage, is a stunning residence in Guanacaste, Costa Rica, that also draws inspiration from the renowned Fallingwater. Again, this elegant home follows a linear pattern to create several subtle levels, embracing both its enclosed swimming pool and the dramatic Caribbean coastline as if in one bold flourish. The interiors here need not overwhelm, because they embrace and welcome in the spectacular surroundings that beckon just beyond.